Best Fitness Tracker For Kids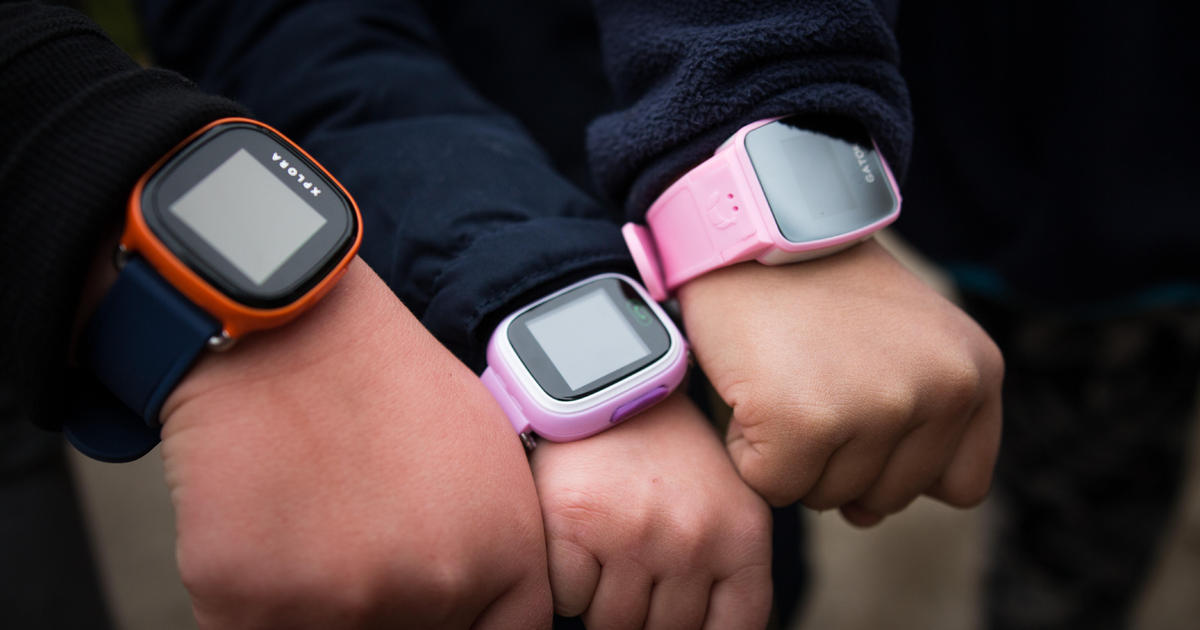 For many parents getting their children to be more active is a real challenge and one that doesn't seem to be getting any easier. In my experience children are either all for playing sports and participating in outdoor activities or they prefer to stay indoors and play computer games and watch the television. With child obesity rates on the up and increasing at an alarming rate it seems that many of us just aren't doing enough to encourage our children to eat healthy and be more active. One simple but effective way to get your child on the move is with a kids fitness tracker. These handy devices provide the fun and encouragement to get children off their backsides by allowing them to set goals and earn rewards in the form of virtual coins. There are of course many different activity trackers for kids of all ages making finding the right one for your child a bit of a nightmare.
In this guide we will be sharing everything you need to know about finding the best fitness tracker for kids of all ages.
Best Fitness Tracker For Kids
[amazon table="7380″]
Choosing A Kids Activity Tracker
When choosing a kids fitness tracker it is vital that you find one that is suitable for your child's age. Kids activity trackers are designed with different age ranges in mind are there isn't one model that is suitable for all. Most fitness trackers for kids fall in to one of three age ranges these are 4-8, 7-10 and 10 years old and upwards. Many of the models aimed at the youngest of children have games and a reward system that more than likely won't appeal to older children. Models like the Fitbit Ace which is designed for older children and teenagers allow friends and family to compete against each other and have a competitive element to them.
Regardless of your child's age the following features are the ones you should be considering when choosing a kids activity tracker.
Step Counter – Being able to keep track of the amount of steps taken every day is a must have feature and one that is built-in to all kids models except from the ones aimed at the youngest of children. These tend to focus more on combining games with playful activity. Either way a step counter is a great way for children to set daily goals.
Sleep Monitoring – Good sleep habits play a critical role in a child's health and well-being and being able to monitor the amount of sleep your child is getting is a useful tool. Sleep monitoring detects any movement and is able to accurately detect the difference between movement while sleeping and being awake. If you don't know if your child is getting enough sleep this is a great way to find out.
Battery Life – A good battery life is essential and you will find that most models have a battery life of roughly 5 days. The Garmin Vivofit is the exception with a 1 year battery life. Recharging is simple enough and is done with a USB cable in most cases.
Adjustable Strap Or Wristband – This will more than likely come down to personal preference and you are probably best asking for your child's opinion. Fitness trackers with an adjustable strap tend to be able to accommodate a wider range of wrist sizes than models that have a stretchy wristband.
Best Fitness Tracker For Kids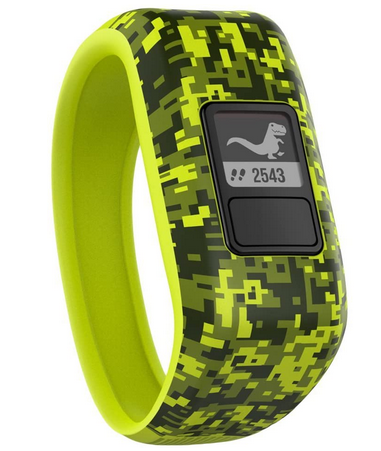 The Garmin Vivofit Jr is the ultimate kids activity tracker designed to encourage a healthy and active lifestyle for kids aged from 4 to 9 years old. Due to it being made by one of the top sports watch brands in the world it is one of the least affordable options but then it does have a lot of features.
What we really like about the Vivofit Jr is the mobile app that gives parents the ability to set tasks for their children. Once a task is completed your child will be rewarded with a virtual coin. These virtual coins can then be exchanged with parents for something you have both agreed on. This earn/reward system is a great motivator and can be used for household chores like cleaning their bedroom.
The Vivofit comes with a built-in step counter and has the ability to monitor your child's sleep duration. There is also a 60 minute daily goal which is completed after an hour of activity/movement.
With a 1 year battery life, a durable stretchy wristband design and water resistant up to a depth of 50m it is built to last. In total there are 3 different colour options to choose from these include the digi camo in the image above as well as a red and a multicoloured one.

Children's chore and activity tracker to encourage a lifetime of healthy habits
Robust, comfortable, stain resistant, secure, swim and bath safe plus 1 year battery life.No recharging needed. Display resolution 64 x 64 pixels
Last update was in: August 11, 2022 5:50 am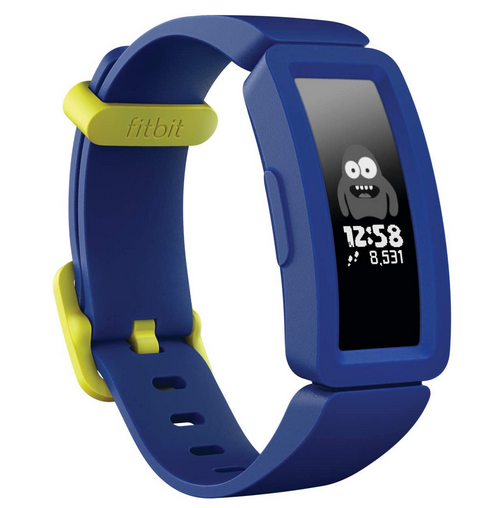 Fitbit activity trackers are very popular among adults and its good to hear that they have started to make some very good activity trackers for children. The Fitbit Ace 2 is one of their best sellers and is designed specifically for 6 to 10 year old's.
In terms of what it does the Fitbit Ace 2 is very similar to the Garmin Vivofit having both a step counter and a sleep monitoring device. There is also the option to open a Fitbit account to monitor performance related data. The account is a family one which gives parents control but also allows children to see how good they are doing. Compared to the previous model featured in our reviews there is a lack of versatility with this feature but nonetheless it is still a good one to have.
One thing we like about these activity trackers is the wide selection of colour options meaning it shouldn't be hard to find one your child is happy with. There is also the option to buy replacement straps if needed. Another positive is that they are water resistant up to a depth of 50m and can be used when swimming.

Up, down, all around kid-friendly
Make family time fun time
Discover motivation around every corner
Water Resistant to 50M
Up to 5 Days of Battery
Free shipping
Last update was in: August 11, 2022 5:50 am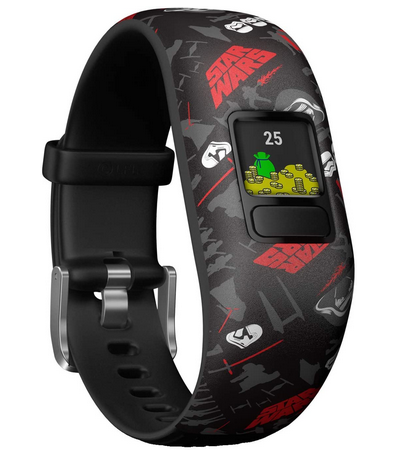 The Garmin Vivofit 2 is the new and updated version of our number one choice the very popular Garmin Vivofit Jr. In terms of features there isn't much to separate the two with the biggest difference being that you can do more with the mobile app with this model. If your child loves star wars, Disney or Marvel super hero movies then they will love these fitness trackers.
With a step counter and sleep monitoring the basics are covered for monitoring activity. As mentioned there is a mobile app and a very good one it is too allowing both parents and children to see their progress.
One thing we really like is the ability to unlock games if your child reaches their goals. This is a great incentive and a feature that you don't get with more affordable options. T
The choice of an adjustable strap or wristband design is another positive as is the 1 year battery life.

Swim-friendly kids activity tracker with Star Wars theme;
Kid-tough adjustable band, features a customisable colour screen and 1+ year battery life; no recharging needed;
Tracks steps, sleep and 60 minutes of daily recommended activity;
Last update was in: August 11, 2022 5:50 am
The LeapFrog Leapband is designed with the youngest of children in mind as is ideal for 4 to 7 year old's. Like most kids activity trackers it is incentive based and children can earn points for completing activity based tasks. It also comes with the choice of 8 pets that can be fed, accessorised and pampered on the completion of challenges. With 50 games and challenges in total the best thing about this model is that kids will learn about staying active and being healthy while they play.
In total there are 3 different colours to choose from with options for both boys and girls. A full battery charge will last for 5 days and recharging can be done through the use of a USB cable.
If you are looking for a fun way to get your little one active then the Leapband is a good choice. Kids will love the random commands to "wiggle like a bug" or " hop like a bunny".

The only wearable virtual pet that gets kids active
Jump, dance and run to power your pet: 8 pets to choose from 50 games, activities and challenges
Includes cool tech watch features (digital and analogue)
1 used from £30.00

Free shipping
Last update was in: August 11, 2022 5:50 am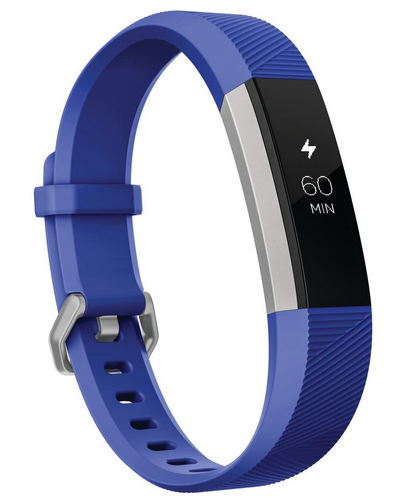 The Fitbit Ace is very popular among older children and is a great motivational tool for an active lifestyle. Similar to the adult model it receives excellent feedback from previous buyers and is regarded by many as the best kids fitness tracker. In our opinion it is a little overpriced as it only has the same features as many of the more affordable fitness trackers available.
In terms of activity tracking the Fitbit Ace counts your steps, total activity time and sleep duration. The feature that makes it appealing to children is the family app which allows friends and family to compare stats and compete against each other in step challenges.
Unfortunately this model is only showerproof and therefore can't be used when swimming which is a drawback for those that include swimming as part of their active lifestyle. Like most other activity trackers there is a 5 day battery life and recharging can be done with the provided USB wire.
Fitbit are without doubt one of the top brands when it comes to activity trackers and their models are very popular with both kids and adults. In our opinion you are paying for the branding with this choice and the fact that Fitbits are pretty much classed as a fashion accessory by kids these days. There are plenty of more affordable options with similar if not identical features if you look around .

Tracks steps, active minutes and sleep and shows stats on a bright, tap display
Rewards kids for hitting goals with celebratory messages and achievement badges. Kids can challenge others to step competitions plus send each other messages or cheers
Last update was in: August 11, 2022 5:50 am
6
moreFit Kids Fitness Tracker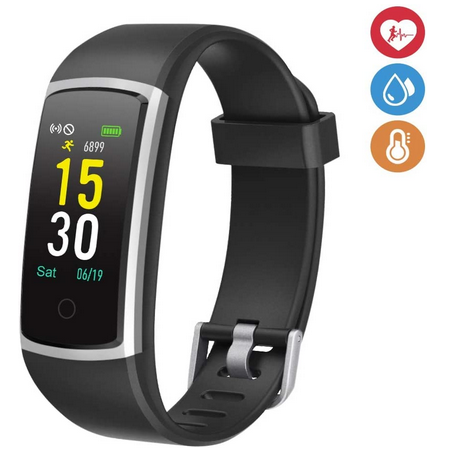 A great alternative to the more expensive Fitbit is this kids activity tracker by MoreFit. Costing less than half the price of the previous model featured in our reviews and coming with additional activity tracking capabilities it has a lot to offer.

Last update was in: August 11, 2022 5:50 am
Final Words
A kids fitness tracker is a great way to give your child a little encouragement to be more active. For the very youngest of children we recommend the Leapfrog Leapband due to the fun way it combines exercise with playful activity. The Garmin Vivofit JR is a good choice for 6 to 10 year old's and comes in at a very affordable price. Older children will love the Fitbit Ace as it is probably the model their friends all have. In our opinion it is a little bit expensive and the Morefit fitness tracker is a more affordable alternative.