Best Cross Trainer Reviews 2022 – Comparison & Buying Guide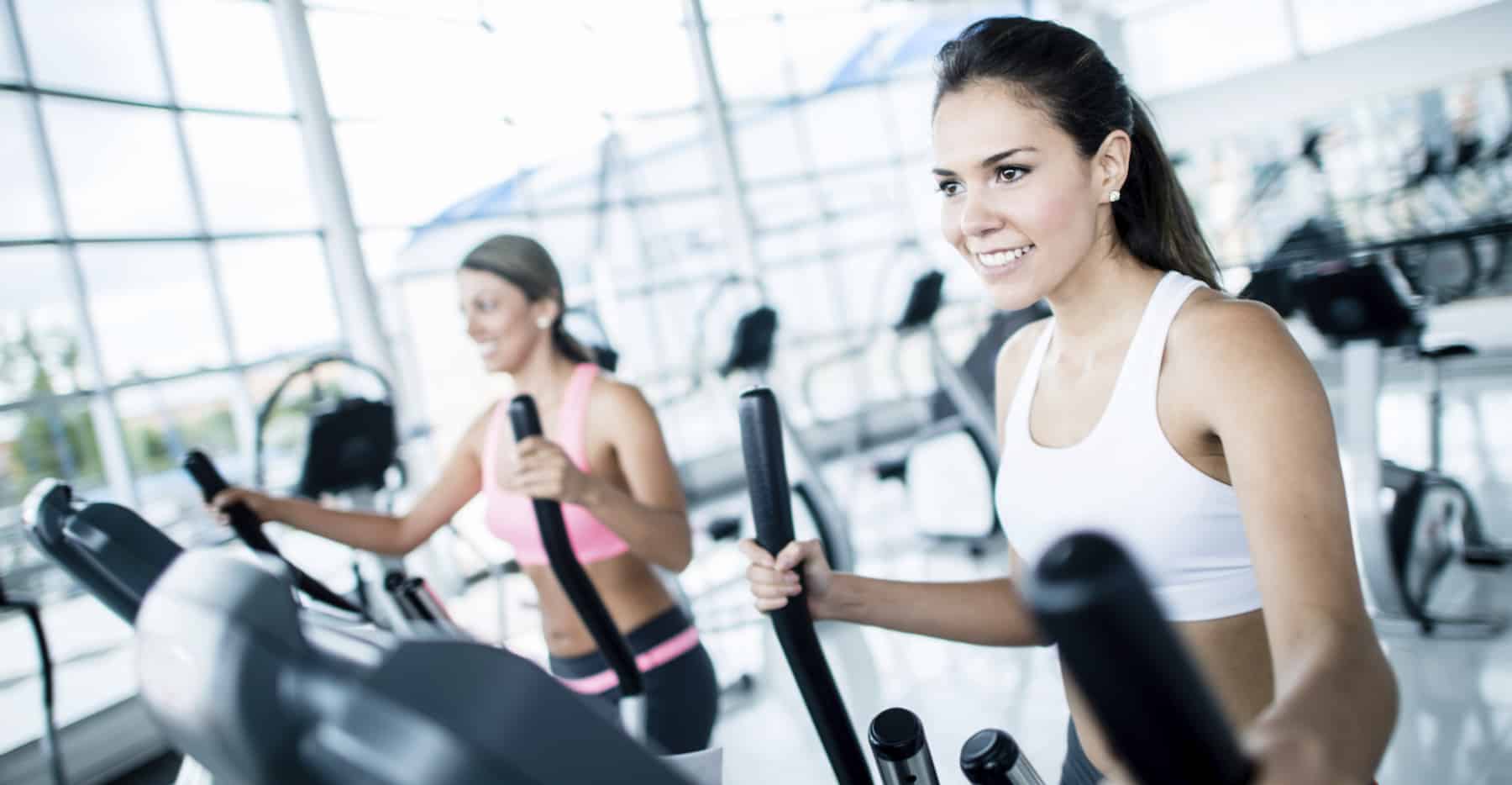 Cross trainers are one of the most recent editions to the growing list of home exercise machines as they have only been around since the mid 1990's. In that relatively short time they have become just as popular as treadmills, rowing machines and exercise bikes. Consequently you can now find them in pretty much every gym up and down the country. But just like their counterparts cross trainers have also been designed for home use and there are now many models to choose from which are designed specifically for this purpose. But which is the best cross trainer available in the UK?
This is a question many people ask and it should come as no surprise! A good home cross trainer provides a low impact exercise for both the upper and lower body. In addition they give a full cardiovascular workout and are great for burning calories.
But with a vast range of brands and models to choose from getting the best value for your money is time consuming. That is why we've done the research for you and compiled a list of models that offer great value for money along with having excellent quality in the areas that matter most. In our cross trainer reviews you will find something for all budgets from the more affordable options to the best cross trainers in 2021.
Best Cross Trainers Comparison Table
Why Buy a Cross Trainer?
Choosing A Cross Trainer – Buying Guide
When buying a cross trainer there are quite a few things worth considering first, especially if you have never bought an elliptical cross trainer machine before. If you are to get the most for your money and the best model for your needs then it is definitely worth knowing what features and specifications to look out for.
Resistance/Flywheel
The resistance is an important factor when buying a cross trainer as it plays a big part, in combination with the flywheel, in how hard a workout there is to be had. A magnetic resistance system comes recommended as the one to go with as it causes less wear and tear than friction based resistance. This is due to the fact that no components come into contact with each other which also makes the best magnetic resistance cross trainers virtually silent when in use.
Incline
An incline option adds extra intensity to a workout. In addition it helps to work different muscle groups for a more well-rounded workout. This feature is found in some mid-price models and in all premium models as a standard feature.
Stride Length
The stride length is the maximum distance that the footplate moves from front to back. Most cheap cross trainers have a fixed footplate that can't be adjusted. The main benefit of having adjustable footplates is that you can find the correct stride length for your height.
Exercise Programs
Exercise programmes go a long way in adding variety to a cross training workout. To have this feature buyers will have to be looking at models in the mid-price range and above. There are a wide variety of workouts offered with some of the best models these include intensity training, cardio, calorie and performance workouts among many others. I would recommend buying an elliptical cross trainer with exercise programs as it tend to lead o longer workouts.
Monitor Functions
The monitor functions on an elliptical cross trainer show various data about your workout. These can include speed, time, distance, pulse calories and RPM. Similar to exercise programs it is well advised to buy a model with as many monitor functions as you can afford. The more monitor functions there are the easier it is to track any progress made.
Maximum User Weight
The maximum user weight is a good indication of how well-built a cross trainer is. The higher the maximum user weight the better. In addition you will find that the more expensive a model is the higher the max user weight is as the best home cross trainers are made from stronger and more durable materials than budget priced ones.
Warranty
When buying any exercise machine you should always check the warranty. Generally speaking a cheap elliptical cross trainer will come with a 1 year warranty and a mid-price to premium cross trainer can be anything up to 5 years. Furthermore some models offer a warranty on the frame and a separate one (usually shorter) on parts and labour.
Which Are The Best Cross Trainers For Home Use In 2021?
Best Budget/Value Cross Trainer
When it comes to buying a budget cross trainer there are a lot of models to choose from. The problem with buying one is that it can take a long time to go through the specifications to see which is the best value cross trainer. The following models are without doubt the best cheap cross trainers UK customers can get their hands on.
Confidence 2 in 1 Elliptical Cross Trainer & Bike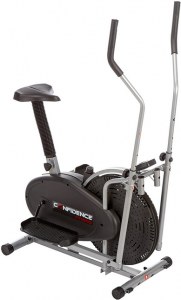 When it comes to the best budget cross trainer there are a few contenders for this accolade. The Confidence 2 in 1 Elliptical Cross Trainer & Bike is one of the best-selling cross trainers in the UK. With hundreds of positive customer reviews on Amazon previous buyers seem to be happy with this budget model. This is hardly surprising as it doubles up as an exercise bike as well as an elliptical cross trainer machine, making it great value for money.
The on-board computer has four monitor functions, which are speed, time, distance and calories. Due to this being a budget cross trainer the on-board computer is fairly basic, however, that also makes it east to use. 
The Confidence 2 in 1 Elliptical Cross Trainer comes with adjustable resistance. To increase or decrease the level of resistance all the user has to do is turn the dial located below the handlebars. 
XS Sports Pro Cross Trainer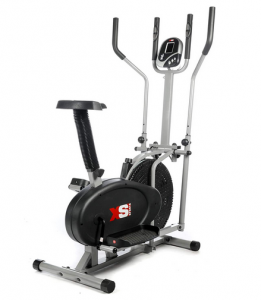 XS Sports are a brand well-known for their affordable exercise machines, in addition they also have a good degree of quality to them. The XS Sports Pro 2 in 1 Elliptical Cross Trainer is another contender for the best cheap cross trainer and it too comes with hundreds of good customer reviews and an overall four star rating on Amazon.
In terms of price this home cross trainer is very similar to the Confidence 2 in 1 Cross Trainer, however, there are a few differences in the features. The XS Sports pro comes with 6 monitor functions compared to the Confidence 2 in 1 model. In addition one of these is a pulse reading function. Located in the none moving handles is a pulse reading device to keep track of your heart rate while exercising.
Other features and specifications are pretty much the same as the Confidence Cross Trainer. These include a max user weight of 110Kg, a two-way crank for both forward and backwards pedaling and adjustable resistance. Definitely worth a mention is the fact that this model does offer a slightly more intense workout on the highest setting.
JLL® CT300 Home Luxury Elliptical Cross Trainer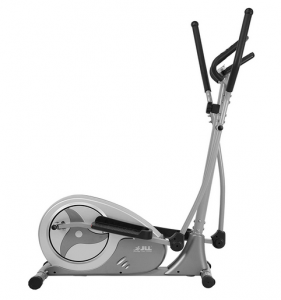 The JLL CT300 Elliptical Cross Trainer comes recommended as a good value for money cross trainer for those on a budget.
Due to the magnetic resistance system and belt drive technology this model is noticeably quieter when in use than most other budget models. There are 8 levels of magnetic resistance and with a 5.5 Kg flywheel, there is a good workout to be had on the highest setting.
With 9 monitor functions there is plenty of data to keep track of any progress made. The 9 monitor readouts are as follows RPM, speed, distance, time, temperature, heart-rate, calories, body fat & pulse recovery.
Due to the two-way pedal system the user can pedal both backwards and forwards which helps to more muscles than a one way pedaling. Dual action handlebars mean you can hold the stationary central handlebars or use the moving side swing bars.
With a good number of positive customer reviews and due to been made by a well-known fitness brand, the JLL CT300 comes highly recommended as the best budget model cross trainer. Features that separate it from other cheap cross trainers are the magnetic resistance system and a massive 9 monitor functions.
Best Mid-Price Cross Trainers
There are plenty of mid-priced elliptical cross trainers to choose from, however, not all of them offer good value for money. The models featured in our mid-price range are some of the best home elliptical cross trainers and come with very good features and specifications. In addition they also have very positive customer feedback which is always a good sign of a quality cross trainer.
Viavito Sina Elliptical Cross Trainer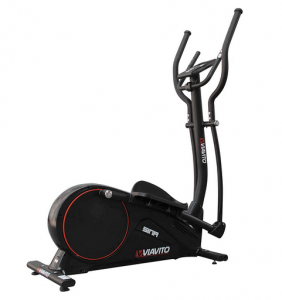 The Viavito Sina elliptical cross trainer provides great value and comes in at the lower end of the mid-price range. With a 5 star rating previous buyers don't seem to have a bad word to say about this model.
With a 9 Kg flywheel this home cross trainer is best suited for beginners and intermediate users. There are 32 levels of resistance in total and the highest setting will give most people a good workout. Furthermore the resistance is magnetic and can be adjusted via the on-board computer.
With 20 workout programs there is plenty to keep users entertained while exercising. In addition there are four user profiles making this a good cross trainer for the whole family to use. Other features include large footplates and pulse measurement capabilities. There are pulse sensors built into the handlebars of the Viavito Sina. Furthermore, there is the additional option of a wireless receiver for use with a pulse chest strap.
Even though the Viavito Sina is at the lower end of the mid-price range it has a lot to offer. With a decent size flywheel, 32 levels of resistance, 20 exercise programs and 4 user profiles you do get a lot for your money.
JTX Strider-X7 Magnetic Cross Trainer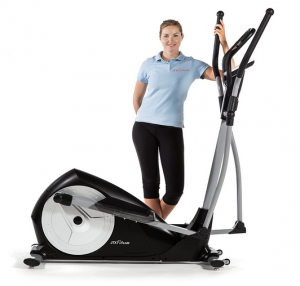 JTX are well-known for their high-quality exercise machines and the JTX Stryder X7 Cross Trainer is a prime example. Due to this model being a mid-price cross trainer you get a lot more for your money than with a budget model.
First of all the JTX Stryder-X7 is a very sturdy and robust home cross trainer machine. With an overall weight of 54 Kg buyers can be certain they are getting a well-built and solid model. In terms of the workout offered, users should expect a tough workout on the higher resistance settings, making this a good model for both beginners and experienced users.
There is a hefty 12.5 Kg flywheel and 16 levels of magnetic resistance with the JTX Stryder. The LCD is a touch screen and looks very modern in design. From the LCD screen users can keep track of a number of readouts these include speed, time, distance, calories and watts. In addition there is also a pulse receiver for heart-rate monitoring and the ability to check your BMI (body mass index). Featuring 21 workout programs and 4 personalized workouts there is plenty to alleviate boredom while exercising.
At this price range the JTX Stryder-X7 comes recommended as the best cross trainer for home use. With a solid design and some good features and specifications this one is well worth taking a look at. Furthermore there is a 5 year frame warranty and a 2 year in-home repair warranty. With a warranty this good it's plain to see that this elliptical cross trainer machine is built-to last.
Best Premium Cross Trainer
When buying a top rated cross trainer there are a number of things to look out for. Considering that you will be paying a good amount of money, it,s best to get the most you can in terms of features and specifications. The following three models offer the most in these areas for their price and come with excellent feedback in customer reviews on Amazon.
JTX Tri-Fit Cross Trainer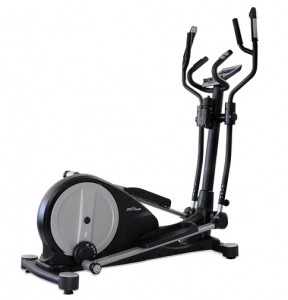 The first model in  our premium cross trainer reviews is another model by the JTX brand. The JTX Tri-Fit Cross Trainer comes with excellent customer feedback from previous buyers and has all the features that you expect to get with one of the best cross trainers for home use. In addition it has recently been given a big discount making it the perfect time to snap one up.
If you are an experienced user of elliptical cross trainers then you will love this model, it comes with an electro-magnetic resistance system and at the highest setting there is a very demanding workout to be had. Furthermore due to the incline option there is an even harder workout to be had. With the resistance and incline on their highest settings you will definately feel the burn.
Featuring a large LCD screen which provides constant workout data the user can keep track of readouts such as time, distance, speed, calories, pulse and RPM. There are 19 exercise programs with the JTX Tri Fit and these include heart rate controlled, intervals, sprints, endurance, fat burning & fitness tests. The heart rate chest strap  & heart rate programmes auto-adjust resistance for a more effective workout. Finally, there is the option to create your own workout on the programmable console.
With a maximum user weight of 135 Kg the JTX Tri-Fit Cross Trainer is as robust as they come. With a lot of exercise programs and monitor functions there is more than enough to keep you occupied on your journey towards your fitness goals. If you are looking for the best home cross trainer, depending on your needs and budget, this might be the one for you.
NordicTrack Elliptical Cross Trainer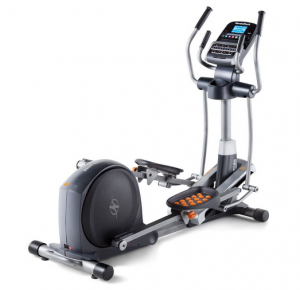 NordicTrack have been making elliptical cross trainer machines for a long time and are regarded as one of the best cross trainer brands. As you can see from the image this model differs from any of the others in our reviews in the way it looks and is more akin to the cross trainers you find in a commercial gym setting.
The Nordic Track E11.5 is the perfect cross trainer for those looking for a bit of variety in their workout. With a 10 to 30 degree incline option and 20 resistance levels users can target a wide range of muscle groups. There are a few positive feature to the magnetic resistance system the first been that it is virtually silent making it ideal for home use. In addition the magnetic resistance system provides smooth friction-free resistance with every stride. Furthermore the stride length can be adjusted between 20-22 inches.
The NordicTrack E11.5 Cross Trainer comes with a 5″ LCD screen which considering the amount of functions it has, is still simple to navigate and use. From the LCD screen users can choose from 30 built-in workouts including calorie, performance and intensity training.
Other features include a polar wireless chest strap, built-in heart rate sensors in the handlebars, Google Maps feature, personalized workouts, iPod and mp3 capabilities and for comfort there is a large built-in fan.
ProForm Cardio HIIT Elliptical Cross Trainer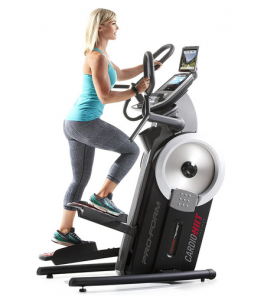 The Proform Cardio Elliptical Cross Trainer is the ultimate home cross trainer/stepper machine. With all the features that you get with a commercial cross trainer a very solid and robust design as well as a host of training options this is the number one cross trainer in the UK for home use. With a space-saving design it takes up half of the space of a traditional designed cross trainer.
If you are thinking of buying the Proform Cardio HIIT Trainer, it is worth knowing that it gives a very intense workout. Due to this it is best suited for those that are serious about getting fit and healthy. There are 24 levels of silent magnetic resistance with it and the highest setting will test even the most experienced users.
With 32 pre-set workouts there is plenty in terms of exercise variety. The iFit Coach-led workouts allow you to train in and explore the best and most beautiful workout destinations all over the world from the comfort of your home.
Another positive feature to the iFit Coach app is that it can create custom workouts and meal plans. Finally the iFit app allows you to plot your route or ride anywhere in the world and it will adjust your equipment's resistance or incline to reflect the terrain.
The Proform Cardio HIIT Trainer truly is an amazing piece of home fitness equipment. If you are looking for a versatile cross trainer with all you need to get fit and healthy this one is well worth taking a look at. The only downside to this model is the expensive price tag.
Final Words
Buying an elliptical cross trainer doesn't have to be a hassle, especially if you know what to look for. if you have read the full article including our buyers guide then finding the best cross trainer for your needs should be a lot easier. Happy training on any of the cross trainers that you buy, which are all good value for money.