Bluefin Fitness Tour SP Bike Review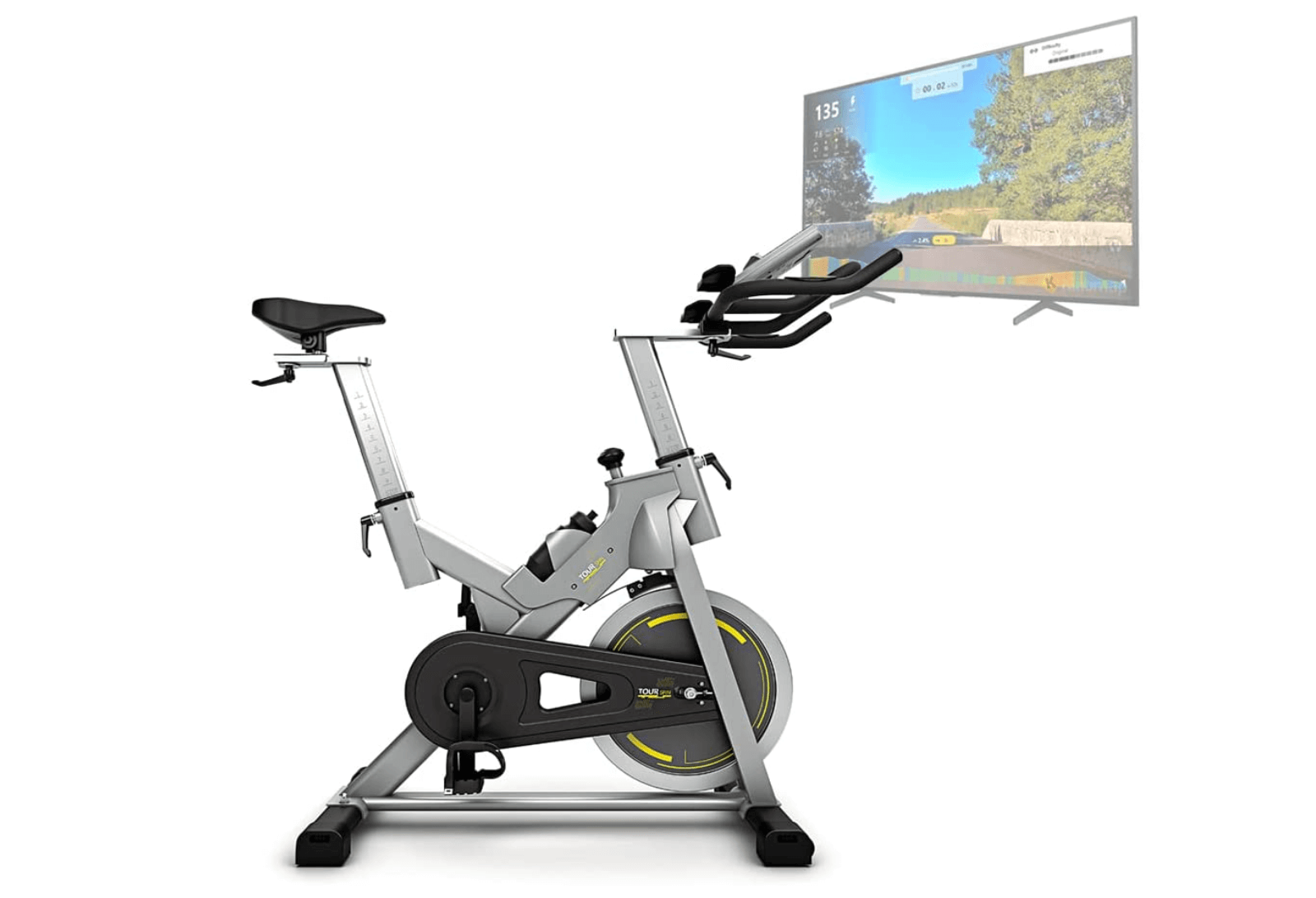 Becoming fit is becoming increasingly easier. With the pandemic forcing all gyms to close, home exercise bikes have seen a massive surge in popularity, and rightfully so.
They provide tremendous health benefits and can be used from the comfort of your own home. What's not to like?
But this new trend has brought along plenty of exercise bikes that are not up to standard and can make your biking experience poor. That's why it's important to properly read exercise bike reviews online and find out if the bike is actually worth it or not.
Personally, that's what I did before purchasing the Bluefin Fitness Tour SP bike and I can proudly say I made the right decision. So, with the goal of helping other readers make the best decision for themselves, I decided to write my own Bluefin Fitness Tour SP review.
Let's get to it!
In this Bluefin Fitness Tour SP bike review:
– Best Features
– What's in The Box?
– Technical Specifications
– Customer Reviews
– Pros & Cons
– Is it The Right Choice for You?
Best Features

The Bluefin Fitness Tour SP comes equipped with all the essential features you'd need from an exercise bike, such as an integrated smartphone app, LCD display, adjustable resistance, water bottle holder, and a silent drive.
The silent drive is achieved thanks to the belt drive transmission, so you can easily use the Bluefin Fitness Tour SP bike without disturbing your family members.
Let's take a look at the other main features of the Bluefin Fitness Tour SP.
Integrated Kinomap Smartphone App
The Bluefin Fitness Tour SP is fully compatible with the Kinomap fitness app, which features thousands of training videos you can use to make your home workouts much more enjoyable.
It also has plenty of coaching and training classes if you're unsure about how to start on your fitness journey. It's a great way to enhance your training since they also offer scenic challenges from thousands of biking tracks around the world. You can discover amazing routes and landscapes that are thousands of kilometres away from you, all from the comfort of your own home.
There's also the option to challenge your friends or other Kinomap users and ride along with them, or even compete who will be the fastest.
LCD Display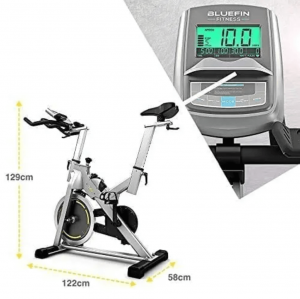 While riding the Bluefin Fitness Tour SP exercise bike, you can track your real-time statistics on the multifunctional LCD display. It displays your speed, time, distance, pulse, and calories burned.
This is all very valuable information as you can use it to push yourself further and progress throughout the months, ultimately reaching your fitness goals. All those results can be saved with the integrated Kinomapp app and analyzed on your personalized fitness dashboard.
There's also a handy smartphone/tablet holder above the display to follow the Kinomap workouts or watch some of your favourite shows while you exercise.
Adjustable Resistance
All of us are at different fitness levels, so the Bluefin Fitness Tour SP features adjustable resistance for finding your perfect tension. Once you feel comfortable at your current resistance level, you can start increasing it and build up your fitness.
You can also do this mid-workout so you can simulate cross-country journeys with variable incline and decline resistance. This is very handy when using it with the scenic challenges offered with the Kinomap app, as you can use higher resistance when going uphill and lower resistance for downhill tracks.
Comfortable Design
Although not as comfortable as exercise bikes found in professional gyms, the Bluefin Fitness Tour SP is still pretty good for home use.
It features a fully adjustable seat and handlebars, so you can set it up however you prefer. This also comes in very handy if there will be multiple people in your household using it, as each one can set it up to fit their specific needs.
The pedals come with an anti-slip protection, and also have adjustable straps, so you can rest assured that your feet will never slip out, no matter how fast you pedal.
And once you're done using the Bluefin Fitness Tour SP exercise bike, you can easily tilt it and roll it away to storage thanks to the built-in wheels.
What's in The Box?
Instruction Manual
Tool Kit for set up & maintenance
Technical Specifications
Weight: 25kg
Dimensions: 122 x 129 x 58cm
Max. weight capacity: 120kg
Drive system: Belt
Material: Aluminium
Display: LCD
Flywheel: 25kg
View Latest Bluefin Fitness Prices
Customer Reviews
Looking through the Bluefin Fitness Tour SP bike reviews, it's clear that users are satisfied with their decision. It has a 4.9 average rating on their website, with people mostly having good words for the ease of use and the sturdiness of the bike.
Let's check out one of them.
I must say I've had this item for 3 weeks now. I'm very impressed with its functioning. It's quiet. It's comfortable to use. It's efficient. I enjoy half an hour a day cycling and increasing the tension. – Jhoon Hares
However, one Bluefin fitness tour sp bike review mentions that they had some issues with connecting the app:
The machine is sturdy and well built, assembly was straightforward and I was able to enjoy a few workouts so far. The problem is the electronics, namely the Kinomap app. From the very beginning, the app didn't work. We have contacted the app developer but with no luck. In conclusion, the bike itself is fine but the electronics are pretty pointless. – Thomas F.
Pros & Cons
Pros
Quiet operation, won't disturb your family
Integrated Kinomap app
Adjustable resistance levels
LCD display with important metrics
Phone & tablet holder
Easy to assemble
Adjustable seat and handlebar
Affordable
Cons
Kinomap app can be hard to connect
Is it The Right Choice for You?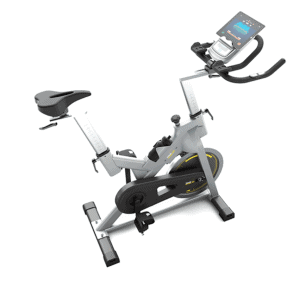 If you're looking for an easy-to-use home exercise bike, the Bluefin Fitness Tour SP is the perfect choice for you. It's very quiet so it won't bother anyone in your family, and can be easily transported away when you're not using it.
You can enjoy different kinds of workouts and scenic routes through the integrated Kinomap app, as well as track all the important metrics for improving your fitness.
Conclusion
Overall, the Bluefin Fitness Tour SP is a great exercise bike that will surely help you reach your fitness goals. It has all the important features of an exercise bike, as well as an integrated Kinomap app for enhanced workouts.
In addition, there are plenty of positive Bluefin fitness tour sp bike reviews online that further suggest people love using this bike, so chances are you will too!
View Latest Bluefin Fitness Prices