Concept2 Model D Rowing Machine Review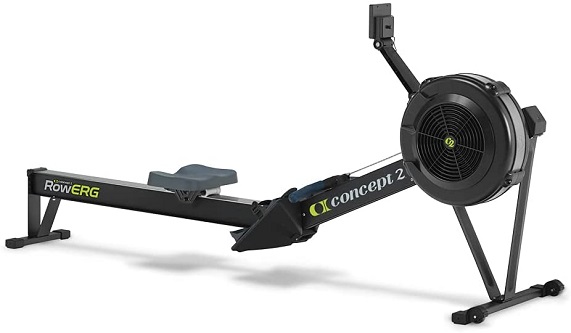 Concept2 Model D Rowing Machine Review
Maintaining your fitness levels to a certain degree is very important. It helps you live a healthier life and feel better overall. But it's becoming more and more difficult to do so, with gyms closing almost everywhere around the world, as well as our lives becoming busier and busier.
One way you can reach a certain balance is to get some workouts that engage your entire body without taking up too much time off your schedule. Rowing immediately comes to mind here. 
But the sport of rowing requires plenty of equipment and will definitely take some precious time. There's been a big trend recently where people, including myself, have started using indoor rowing machines.
Yes, you read that right. Indoor rowing machines replicate the movement of rowing a boat, and thus, provide your body with the perfect workout from the comfort of your own home. And the benefits are tremendous – strengthening your whole body, improving your posture, keeping your joints free from pressure, and so on.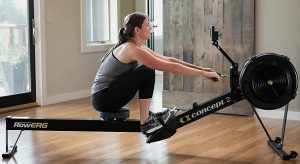 I've been using one since early in the pandemic, and I must say, it's definitely become my favorite piece of equipment in my home gym. It's so easy and convenient to use that I've finally managed to keep a steady workout schedule. 
Today, I'll be reviewing the rowing machine I've been using to hopefully help you decide if it's the right one to achieve your own fitness goals. 
Concept2 Model D Rowing Machine Review
With 10 levels of air resistance and a monitor to track your progress, you'll reach your fitness goals in no time. The rower can connect to a wide range of apps for online challenges and tracking data. It's also very easy to store away when not in use.
For more details and hands-on experience, continue reading the review below. 
What I Liked About The Concept2 Model D Rowing Machine
It's been almost two years of me using the machine, and I pretty much loved every day of it. Yes, it was a pricey purchase, but it's worth every single dollar. 
The Concept2 Model D rowing machine is of the highest quality and is actually being used in most commercial gyms nowadays. That's a testament to how well this machine is built. 
Once it arrived at my home, it was incredibly easy to assemble, much easier than other fitness equipment I had to assemble. All I had to do was attach the legs with 8 bolts and was done in 5 minutes.
And straight out of the box, you immediately notice how sturdy and well-built it is. It's made out of aluminum and designed to last for years. The handle and footrests are all very comfortable to use and can be adjusted to your specific needs. 
But the part I like the most about the design is that you can easily disconnect the rower into two upright sections for compact storage without any tools needed. There are also caster wheels on the front foot that allow you to roll the machine to storage and back with ease.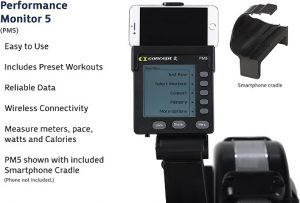 Another important thing I must note is the incredibly smart PM5 performance monitor. It displays plenty of data for every workout, and I've been using it to set up a variety of different workouts. There's an option to display either the data, the force curve, the bar chart, the large print, or a pacer. All this information helped me improve my rowing times and get fitter in the process.
I also connected my phone through their free ErgData app, and I've been using it to save all my workouts and track my progress over time. Their website is also quite helpful as well, offering useful videos and daily challenges. A great cohesive experience overall. 
What I Didn't Like About The Concept2 Model D Rowing Machine
The only thing I didn't like, and I repeat, that's the only thing, is the price. It's well over $2000, but as I said, it's worth every single dollar. 
I absolutely haven't regretted the purchase at all, I even wish I bought it even sooner. Yes, the price is quite high, but for what you're getting, which is a premium machine built to last, it's not that much. It's also the best-selling rowing machine in the world, used by both professional athletes and commercial gyms, so that fact speaks for itself.
Product Features
PM5 Performance Monitor

– allows you to track and compare your data for every workout. You can use it to set up different workout types, as well as connect to your smartphone via Bluetooth.

Easy storage

– quickly separate the rower into two pieces, which can be stored upright and take up little space around your home. There are also wheels on the front for easier transportation.

High-quality design

– the Concept2 Model D rowing machine is made with aluminum for increased durability. It's built to last and it's quite sturdy compared to other rowers.
Pros & Cons
Pros
Made to last for years to come

Easy to assemble and use

Monitor for tracking data

Can connect to ErgData app via Bluetooth 

Adjustable air resistance

Compact storage
Cons
View Latest Kanadian Best Prices
Comparing The Best Rowing Machines in 2022
| Brand/Model | Marcy Foldable | DMASUN Foldable | Serenelife Smart  | Concept2 Model D  | Fitness Reality 1000 Plus  | JTX Freedom Air  | JLL® R200 |
| --- | --- | --- | --- | --- | --- | --- | --- |
| | | | | | | | |
| Dimension | 189.23 x 50.8 x 81.28 cm | 125 x 66 x 24 cm | 212.09 x 49.02 x 88.39 cm | 243.84 x 60.96 x 35.56 cm | 224.79 x 54.61 x 54.61 cm | 230 x 55 x 88 cm | 180 x 52 x 49 cm |
| Weight | 33.5 kg | 30 kg | 48.08 kg | 26 kg | 28.8 kg | 40 kg | 26.2 kg |
| Frame Material | Alloy Steel | Alloy Steel | Aluminum | Stainless Steel, Aluminum | Alloy Steel | Iron monorail. Iron & stainless steel frame. | Alloy Steel |
| Resistance | Magnetic | Magnetic | Magnetic | Air | Magnetic | Air | Magnetic |
| Resistance Levels | 8 | 16 | 16 | 10 | 14 | 8 | 10 |
| Display | LCD | LCD | LCD | LCD | LCD | LCD | LCD |
| Monitor Features | Time, Count, Calories | Time, Count, Distance, Calories, Strokes/Min | Time, Distance, Strides, Pulse, Calories | Distance, Pace, Calories | Time, Distance, Count, Calories, Strokes/Min | Time, Distance, Strokes/Min, Total Strokes, Calories | Time, Count, Calories, Distance |
| Foldable | Yes | Yes | No | No | No | Yes | Yes |
| Price | Check on Amazon | Check on Amazon | Check on Amazon | Check on Amazon | Check on Amazon | Check on Amazon | Check on Amazon |
Is it The Right Choice for You?
If price isn't too much of an issue for you, the Concept2 Model D rowing machine is probably the best one you can get. It's very well built, comfortable to use, and can be easily stored away when not in use.
You can track and compare all your data either on the monitor or on your phone by connecting it through Bluetooth. So, if you're looking to improve your fitness levels at home, the Concept2 rower will help you achieve just that.
Verdict
It's easy to see why the Concept2 Model D is the best-selling rower in the world. The high-quality design, reliable data on the monitor, and the ability to easily store it away put it head and shoulders above other rowers.
Overall, it's definitely a worthwhile purchase to get started with home workouts.