The Best Rowing Machines In The UK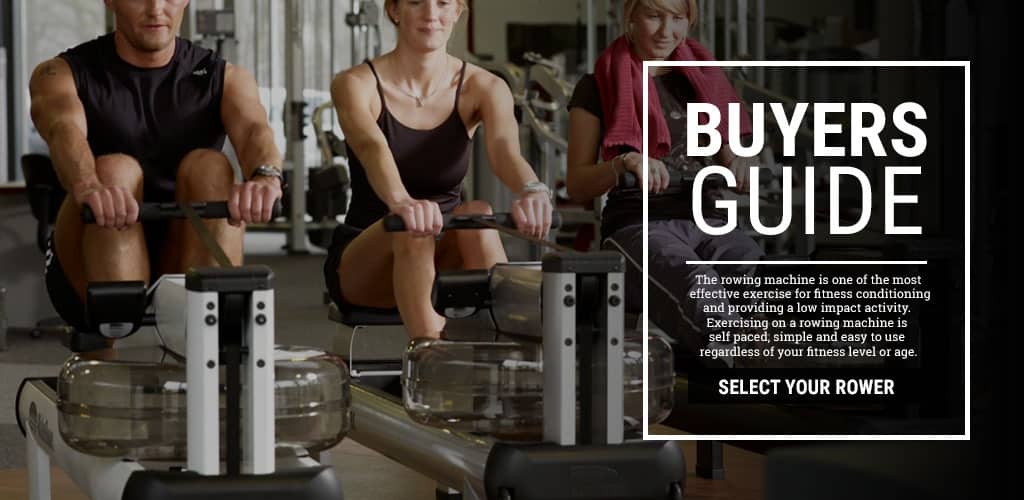 Best Rowing Machines In The UK
The list of rowing machines available to buy is a long one and not all of them are good. Due to this many people buy the wrong rowing machine the first time around. In this guide to choosing the best rowing machine UK customers can buy we will be bringing you all the best models at varied prices. Furthermore we will be highlighting all that is needed to be known before buying a rowing machine in our buyer's guide.
But first let's take a look at the different types of rowing machines.
Different Types Of Rowing Machines
For those that don't know there are four types of rowing machine available. The difference between each type is based on the resistance system used. Essentially there are four different types of resistance that a rower machine can use.
Below is a brief rundown of each resistance system and any benefits or disadvantages associated with it. Knowing which resistance system you want your rower to have will help in narrowing the search down in finding the best rowing machine for your needs.
Hydraulic
Hydraulic rowing machines are best suited to those on a limited budget. The way they work is by providing resistance through the use of a piston or cylinder. The piston or cylinder compresses air or fluid to create the tension needed.
As already mentioned this type of rower tends to be very low-cost. Due to this there are some disadvantages associated with this type of rowing machine. The main drawback is that the user is usually sat in a fixed position. This means that there is no natural rowing motion and consequently no synchronization between the arm and leg movements.
Flywheel/Air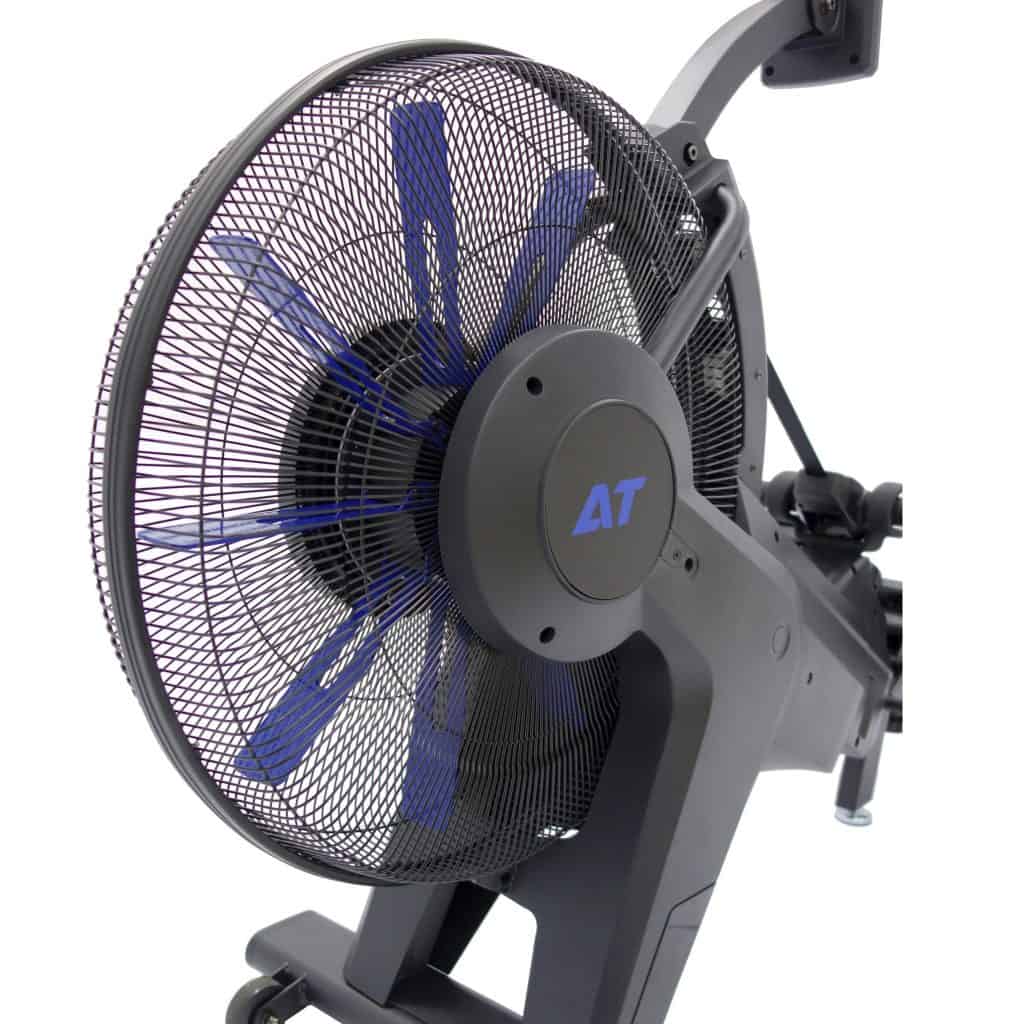 When compared to hydraulic/piston rowers an air rowing machine provides a much more realistic rowing motion. In addition the movement is smoother and overall a more enjoyable workout is provided.
The resistance is provided through the pulling motion of the cord attached to the handles. This cord spins a flywheel which has fan blades attached to it which provide the air/wind resistance. Unlike other rowing machines where the user has to change the resistance all that has to be done with an air rowing machine to create more resistance is for the user to pull harder.
Magnetic
Magnetic rowing machines are very popular and for good reasons. Due to this type of rower using a magnetic braking system there is virtually no noise at all.
The resistance is provided by magnets which can be adjusted to give a harder or lighter workout. Another positive about this type of rowing  machine is that there is no friction associated with the resistance provided. Due to this there is less wear and tear on the components.
Personally I prefer magnetic rowers out of all the different types. the main reason been that they provide a good rowing workout that feels very like the real thing. In addition this type of rowing machine tends to come with plenty of functions and exercise programmes.
Water
Water rowers are the best rowing machines on the market. Due to this they are also the most expensive. This type of rowing machine uses a patented water flywheel to mimic the movement of an outdoor rowing boat. The resistance is provided by water which is located in a tank at the bottom end. As the user pulls on the handle/cord the water is forced through the tank and drag is created.
This type of resistance is also very quiet when in use. When buying you will also notice that most water rowing machines come with a wooden frame. The wooden frame is very pleasing to the eye and many people prefer this type of rower for home use, due to this reason. Another positive is that vibrations are also kept to a bare minimum.
The Best Rowing Machine UK
Now that we have gone over all of the different types of resistance systems you should be better informed on which type of rowing machine is best for your needs. So it's time to take a look at some of the best rowers in varied price brackets. Each of the models featured is a best seller and comes with excellent customer feedback on Amazon.
Best Cheap Rowing Machine 
Body Sculpture Rower & Gym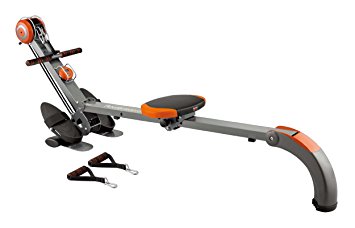 The Body Sculpture Rower and Gym is the best of a bad bunch. When spending £100 or less on a rowing machine don't expect too much in terms of quality or functionality.
What this rower does have though is the added gym function. This allows the user to exercise the upper body and adds variation to a somewhat limited rowing workout. The on board monitor on this rower shows time, stroke count, total count, calories and scan.
Overall this is a very basic rower. However, reviews and customer feedback is generally positive and for what it is, this is the best rowing machine under 100 pounds.
£153.45
£199.99
in stock
3 new from £149.99

Amazon.co.uk
Free shipping
Last updated on April 18, 2019 10:12 pm
Best Budget Rowing Machine 
JLL R200 Home Rowing Machine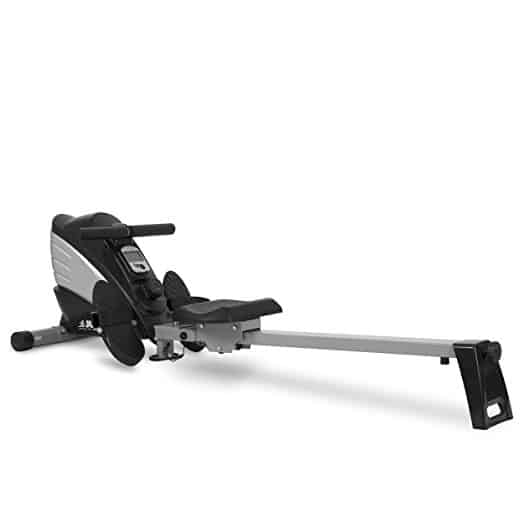 This rowing machine by JLL gives great value for money and currently has a massive discount on Amazon. With four and a half stars overall rating and good reviews this is considered by many to be the best rowing machine under £200 for home use.
The reason this rowing machine is considered great value for money is due to it been a magnetic rower and it having a considerable amount of monitor functions.
There aren't too many rowing machines under 200 pounds that use a magnetic resistance system so this is a plus for the JLL R200. This model features ten levels of resistance and is suitable for both beginner and more advanced user's of rowing machines,
The LCD monitor has seven functions and these are total count, calories, count/min, count, distance, time and scan mode.
Compact in design, as well as being foldable, this is a very good home rowing machine for the price. Click the link below to check out what people who have already bought this rower think about it, you won't be disappointed.
You can find more information on the best budget rowing machines in our reviews of the top rated models.
£198.98
£209.99
in stock
1 new from £198.98
Last updated on April 18, 2019 10:12 pm
The Best Rowing Machine Under £300
V-Fit Tornado Air Rower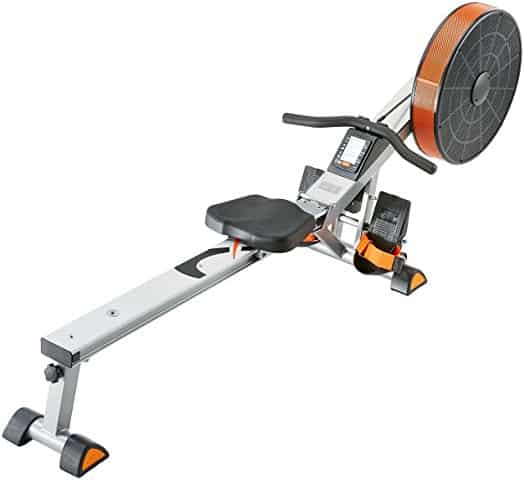 The V-Fit Tornado Air Rower is the deluxe version of the V-fit AR1 Artemis Air Rower. This rowing machine comes highly recommended as it is a good quality yet affordable model.
Due to this been an air rower the resistance is continuous. The harder you row the more resistance is created, so a tough workout is guaranteed.
The on board monitor has six functions and these are strokes per minute, theoretical distance and calorie burn, time, speed and total strokes.
Reviews on Amazon say how comfortable this rowing machine is to use. In addition for a fairly lightweight rowing machine it is sturdy and smooth when in use.
Overall this is still a budget rowing machine but in its price bracket it is one of the most popular selling rowing machines. This is mainly due to its functionality and the fact that  it is simply a well designed rowing machine.
£280.79
in stock
2 new from £279.99

Amazon.co.uk
Free shipping
Last updated on April 18, 2019 10:12 pm
The Best Rowing Machine Under £500
JTX Freedom Air Rower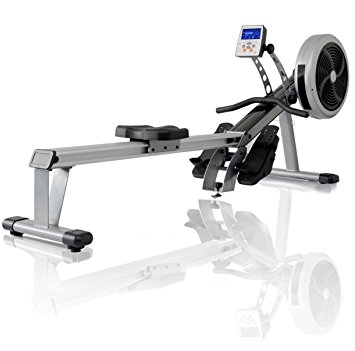 The JTX Freedom Air Rowing Machine is a highly desirable home rowing machine. Buyer's on Amazon have given this rowing machine an overall rating of four and a half stars. So let's take a look and see why this is the best rowing machine under £500.
First of all this is a rowing machine for those looking for a solid rowing workout. The resistance is a combination of both air and magnetic. Working together a hard workout is guaranteed for the user.
There are 16 levels of resistance and eight exercise programmes for a varied workout.
The LCD screen shows a wide range of readouts and are as follows speed, distance, stroke, 500m split time, revolutions, time, torque or power, strokes/minute, heart rate.
This is one of the most sturdy rowing machines on the market. Been made from reinforced aluminum and with a maximum user weight of 130Kg there is none of the shuddering associated with less well made rowers.
to sum up this is a very good piece of home exercise equipment and one of the best rated rowing machines on the UK market. If increasing stamina and endurance in the comfort of your own home is your desired fitness goal, then the JTX Freedom rowing machine is the ideal home rowing machine.
£499.00
£699.00
in stock
1 new from £499.00
Last updated on April 18, 2019 10:12 pm
Best Home Rowing Machine
Concept 2 Model D Indoor Rower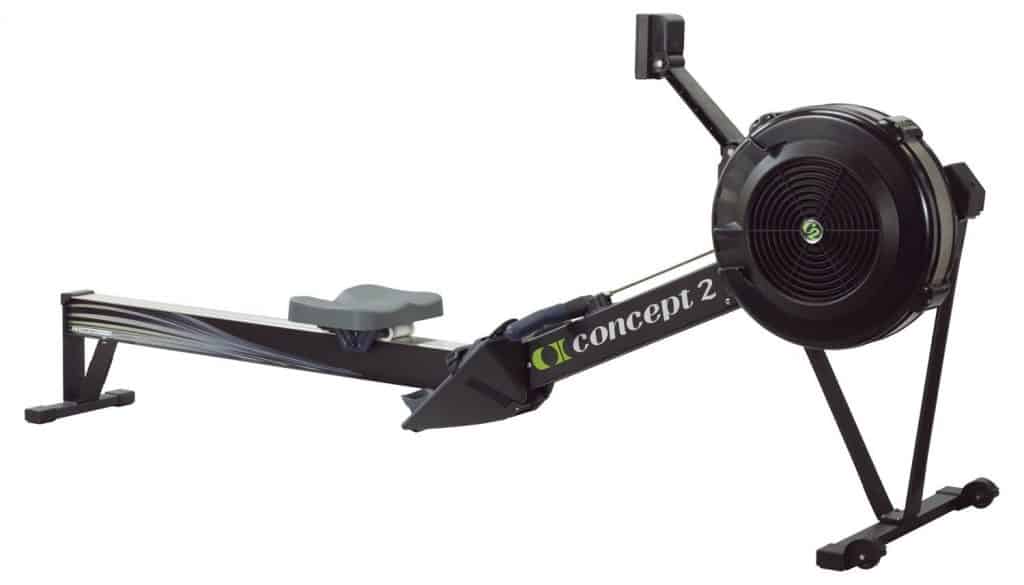 The Concept 2 Model D Indoor Rower is regarded by many to be the best rowing machine for home use UK customers can buy. With five stars on Amazon and some of the best customer reviews out of all rowing machines let's take a look.
If it's a rower that offers a hard workout that you are after then look no further, this model is used by olympic athletes to train with. The Performance Monitor 5 allows you to track data such as distance, speed, pace, calories burned, and watts. The user-friendly menu helps you manage a wide range of features such as preset workouts and games. in addition the wireless capabilities of the PM5 also support machine-to-machine racing and connectivity to computers and smartphones.
This rowing machine is full of features and caters for both beginners and advanced users. There is a reason this is the best-selling rower in the world and it's simply because it is one of the very best available to buy.
Last updated on April 18, 2019 10:12 pm
Water Rower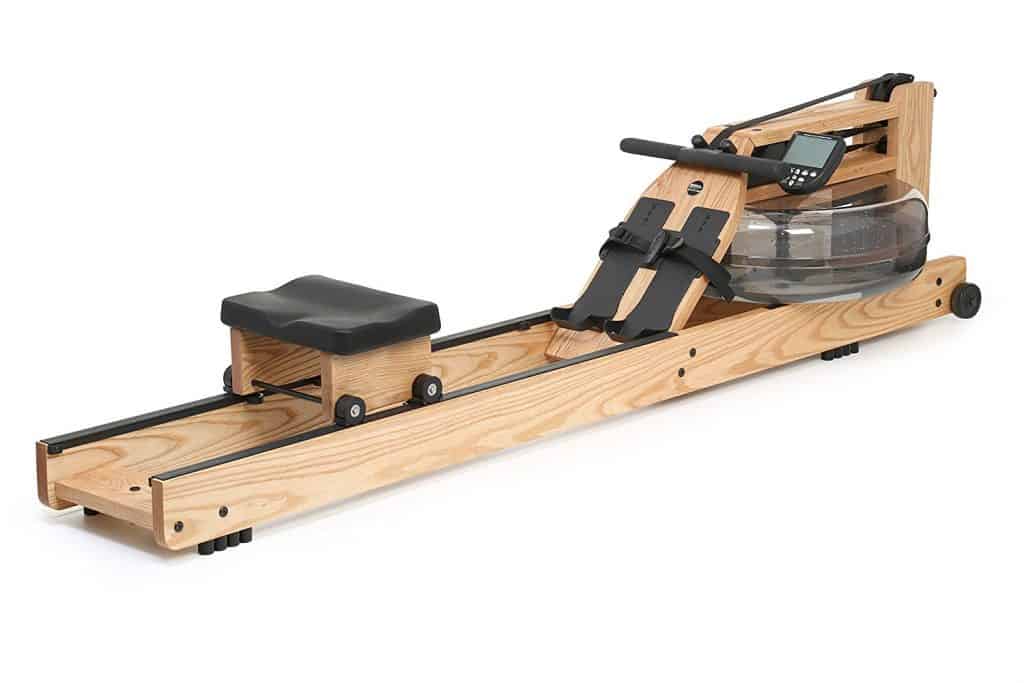 Water rowers are the daddy of al rowing machines. There design and overall functionality makes them the best rowing machines available. The leading brand goes by the name Water Rower and the team behind this brand are all ex or current rowing athletes, so they know a thing or two about rowing.
So let's take a look at one of their best-selling models.
Handcrafted to perfection and with a whopping maximum user weight of 350Kg the durability and sturdiness of Water Rowers is unmatched.
There are two main programmes which are distance and time. In addition the monitor has a host of functions and shows the users stroke rate, total strokes, duration, distance (in metres, kilometres and miles), intensity (in m/s, mph, time/500m, time/2km, watts and calories per hour).
For those with limited storage space this rower is even better than a foldable rowing machine. when not in use it can be stood upright and barely takes up any floor space at all.
There is no denying the quality and functionality of this rowing machine. However, it does come at a costly price. If you are serious about rowing as a form of exercise and are in it for the long haul then you may well want to consider investing in a Water Rower.
£999.00
in stock
6 new from £999.00
Last updated on April 18, 2019 10:12 pm
Rowing Machine Quick Buyer's Guides
Before buying a rowing machine there are a few things to consider first. The list below has the main things to think about before buying.
Resistance Type
As mentioned earlier the resistance type is a very important factor when buying the best rowing machine for home use. The resistance that a rower uses has a lot to do with the price. If your budget allows it avoid hydraulic rowing machines as they tend to be poorly made and not very functional. Air rowers and magnetic are both a good choice as they tend to be of good quality and offer the user a solid workout.
LCD Functions
The LCD screen is where the user can see their readouts. These readouts show all the vital information while exercising. Generally speaking the more expensive the rowing machine the more monitor functions/readouts there will be. Budget rowers tend to show time, speed, distance and calories. In the mid range there will be the same readouts as a budget rower. In addition mid range and high-end rowers will come with a pulse reader which measures the user's pulse usually through a chest strap. Many brands give a free chest strap with each purchase. However, not all do and it has to be bought separately, keep an eye out for this info in the products description as this is where it usually says if a free one is included.
Rowing Exercise Programmes
Exercise programmes are very helpful in keeping you motivated to workout longer. The more programmes a rowing machine has the more likely the user is to reach their fitness goals. Most notable is that programmes are usually only featured on mid-range and high-end rowers, so bear this in mind when buying.
Maximum Weight
The maximum weight of a rowing machine is a very good indicator of how well-built it is. The standard for most rowers is around the 125Kg mark. Anything above 125Kg is more likely to be better in terms of materials used in the construction.
Warranty
With some of the very best rowing machines costing over £1000 it makes sense to look at the warranty. As a minimum a twelve month warranty is what any buyer should expect to get. However, most brands offer a two-year warranty. Furthermore some brands will give a lifetime frame warranty and a varied amount of years on parts and labour.
Final Words
So, what is the best rowing machine UK customers can buy? Well, we have brought you all of the very best models on the UK market based on sales and customer reviews, so you could say it's any of the ones featured in this article. In my opinion the best one to buy is the one that suits your exercise needs and fits within your budget. If you can get these two things right then you are on to a winner.
Last updated on April 18, 2019 10:12 pm