The Best Rowing Machines In The UK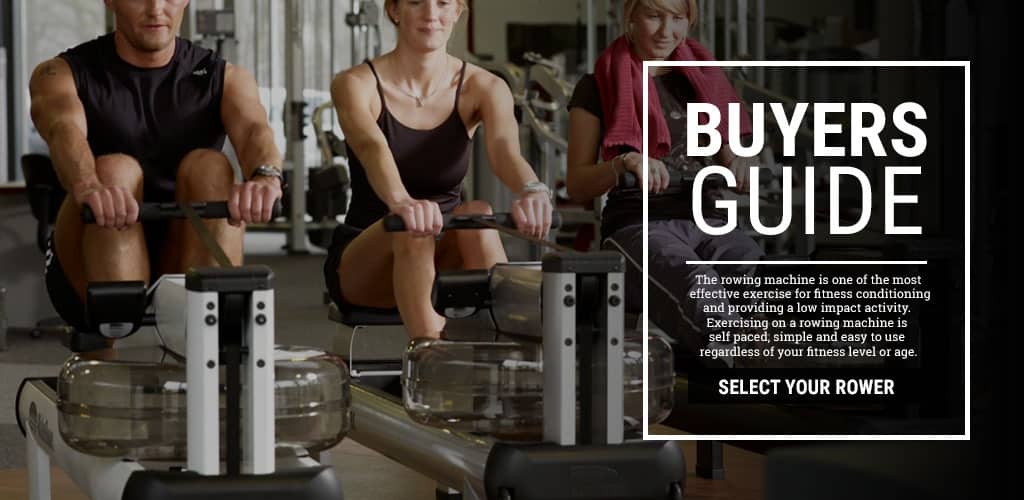 For many people exercising in the comfort of their own home is much more preferable than going to the gym. This could be for a number of reasons including not having enough time, wanting to save money or simply just not feeling confident enough to workout in front of other people.
Whatever your reasons are for wanting to purchase a home exercise machine, it is wise to remember that an important factor in overall fitness is giving yourself a full-body workout. Both cardio and muscular training are key to staying fit and healthy. Combine this with a healthy diet and you are on the right track to a fitter and healthier you.
A rowing machine is a great all in one solution to giving yourself a full-body workout. They can give a high-intensity workout that is also super effective for burning calories. In this guide to the best rowing machines in the UK we will be sharing any useful information you need to know for when choosing a home rowing machine.
In our reviews you can find models suitable for all budgets from the more affordable options to the more expensive models for the experienced user. If this is your first time buying a rowing machine, I recommend checking out our buying guide. In there you will find lots of useful information that will make you aware of what to be looking for and how to get the best value for money.
Top 5 Best Rowing Machines UK 2022
1
Concept 2 Model D Indoor Rowing Machine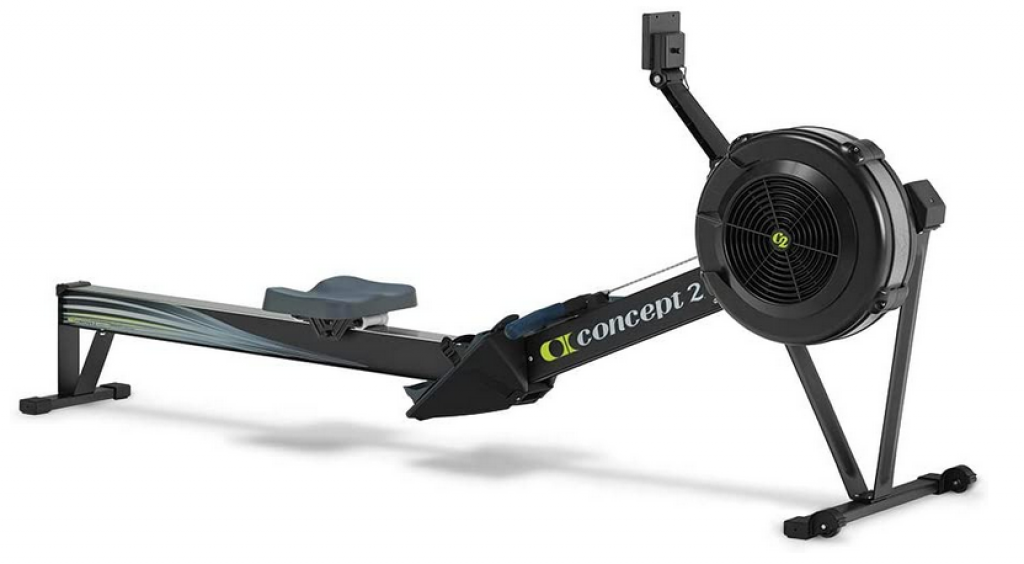 Air resistance/flywheel
Toughened aluminium frame for a sturdy training session
Performance 5 Monitor for the most accurate workout results
Adjustable footrests and ergomomic seat for maximum comfort
Chest strap compatible for heart rate training
Maximum user weight of 227 kg
Comes with a 5 year frame warranty
Our View
When it comes to choosing the best rowing machines, the Concept 2 Model D comes first place in many reviews and top lists. The reason for this is because it is simply the best model on the market. If you are a regular gym goer you may even have seen it in your local gym next to the treadmills and cross trainers. It goes without saying that this is a gym quality rowing machine with some of the best features available.
The main selling point for many is the very impressive PM5 monitor. This has a reputation for been the most accurate monitor for tracking distance, speed, pace, calories burned, and watts. In addition if you have a compatible phone, you can wirelessly connect to the Concept2 app to store workout data, track your performance and analyse your results.
Another positive is the overall sturdiness and robust design. With a maximum user weight of 227kg it is very well-built and will last a lifetime in the right hands. For a comfortable workout it has both an adjustable seat and foot pedals allowing you to find the best position for rowing comfortably.
Due to the air resistance it uses it is also a lot quieter and smoother than most other models. Combine all of the above features and you have got yourself a very good home rowing machine.
The Model D by Concept is ideal for anyone that is looking to invest in a top quality rower. It is perfect for beginners to grow with as their fitness levels increase and for the experienced user, it offers the most intense and varied workout options.
READ OUR FULL REVIEW OF THE CONCEPT 2 MODEL D ROWER
---
2
JTX Freedom Air Rowing Machine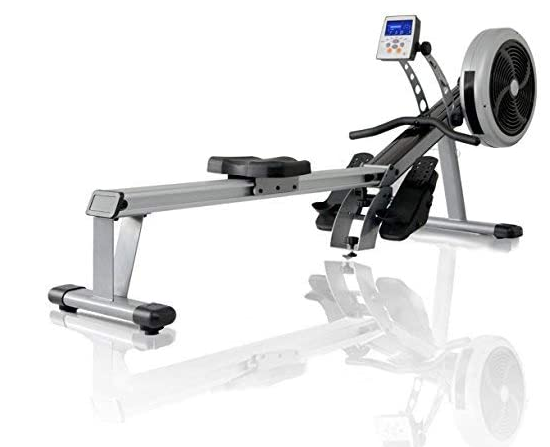 Key Features:
16 levels of air resistance
8 training programs for a varied workout
Reinforced aluminium frame for a stable rowing experience
Maximum user weight of 130kg
Folds away with ease with transport wheels for portability
2 year in home repair warranty including both parts and labour
Our View
The JTX Air Rower is a very popular mid priced high-quality indoor rower. At nearly half the price of the previous model it makes a good alternative for those looking to buy an air resistance rowing machine without the expensive price tag. In fact it uses a combination of both air and electromagnetic resistance providing a wide range of resistance. This makes it suitable for users of all experience and fitness levels.
In total there are 16 levels of resistance with the top setting offering an intense sweat dripping, heart pumping workout. From the LCD screen it is possible to monitor all the vital readouts including your speed, distance, stroke rate, power and split times. With a large brightly lit screen and a easy to use interface navigating between the different settings is simple enough according to previous buyers.
With 8 exercise programs including interval training, HIIT and heart rate options, there is plenty to keep you busy with this rower. Those that like to exercise for longer than most will be glad to hear about the motionrail system this rowing machine uses. This gives it a super smooth motion as well as offering a smooth and stable rowing experience.
Made from mostly aluminium and with hardly and plastic components this is a top quality rower. Furthemore the high quality materials used in its construction ensure the durability and longevity of the JTX Freedom. With a 2 year warranty and positive reviews from previous buyers it comes recommended as a top choice for a good home rowing machine.
READ OUR FULL REVIEW OF JTX FREEDOM AIR ROWING MACHINE
---
3
JLL® R200 Luxury Home Rowing Machine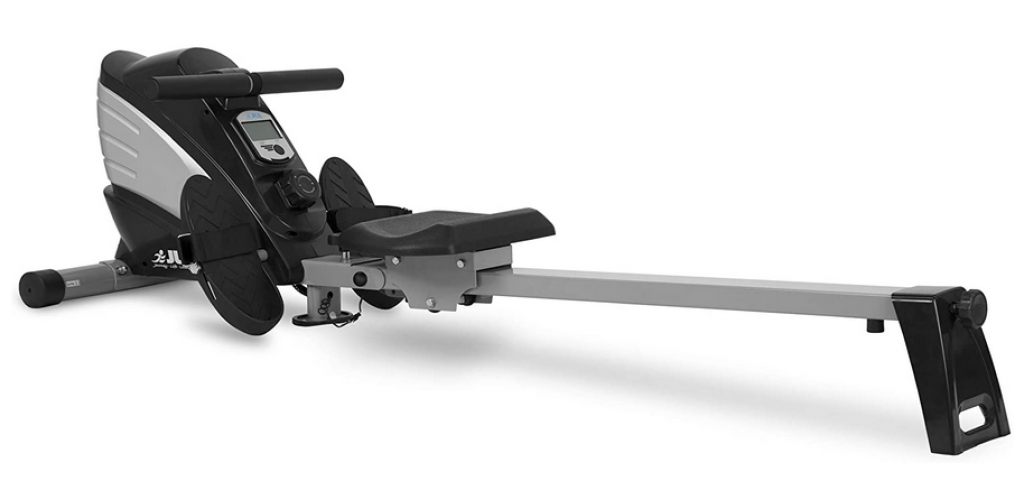 Key Features:
10 levels of Magnetic Resistance
Direct belt driven ensuring a quiet rowing session
Features a LCD that monitors your workout
Readouts given include calories burned, stroke count, distance and overall exercise duration
Maximum User Weight of 100kg
Compact folding design for easy storage
Our View
With affordability in mind the JLL R200 is well suited for anyone on a budget. To call this a cheap rowing machine though would be an insult, although it is affordable, it also has quality features that you don't get with many similar priced alternatives. This is evident in the popularity of the R200, with it been one of the best selling indoor rowers in the UK.
It features 10 levels of magnetic resistance and is belt driven for an overall quiet and smooth rowing session. The various readouts give you the ability to track your workout as well as any progress you have made.
One of the main selling points of this model is the compact design and foldable option. If space is limited at home then a foldable rowing machine should be on your radar. When folded it is quite compact and the rear floor rest has wheels which touch the floor when lifted. This makes moving it around and storing away no problem at all. In terms of comfort the thickly padded seat, ergonomic handles and seamless movement of the rail sliding mechanism work well together for extended workouts.
If its an affordable rowing machine you're after, they don't get better than this one. With features that surpass more expensive options the R200 offers really good value for money. In addition it has recently been given another price drop making it one to definitely consider.
READ OUR FULL REVIEW OF JLL R200 HOME ROWING MACHINE
---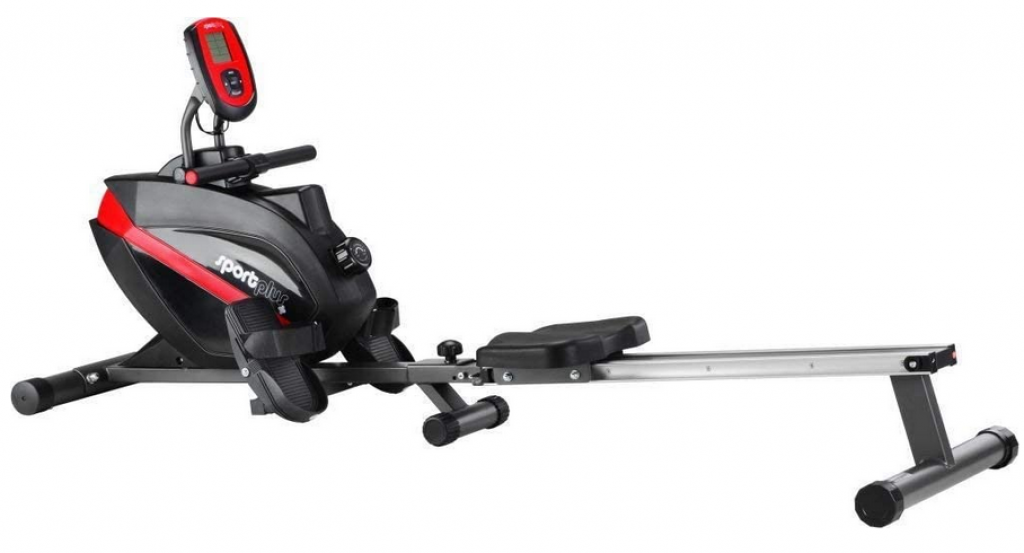 Key Features:
8 levels of magnetic resistance
6 pre-set exercise programs
Maximum user weight of 150kg
Foldable design and wheels for easy storage and portability
Comfortable ergonomic seat designed for maximum comfort
Heart rate chest strap compatible (sold separately)
LCD monitor with 6 different readouts for tracking your workout
Our View
The Sportplus range of rowing machines are one the latest series of machines to hit the market. In the relatively short time they have been available they have racked up some impressive feedback from previous buyers. This particular model is the most popular from their full range and it just goes to show that you don't always have to spend a lot of money to get a good quality and reliable rowing machine.
Like most models of a similar price it features 8 levels of magnetic resistance. Combined with an 8kg flywheel there is a good workout to be had with the Sportplus Rower. It comes with 6 training programmes and the LCD allows you to track readouts such as time, distance, speed, calories and stroke count.
In terms of offering a comfortable workout it performs very well. The ergonomic seat and large foot plates make for an enjoyable training session. In addition the rail system is surprisingly quiet and overall noise levels are kept to a minimum. Another positive is the load capacity of 150kg, which is a good indicator of how well-built it actually is.
When it comes to buying a entry-level rowing machine there are a lot to choose from. This one by Sportplus has a good mix of quality and affordability and is one of handful of models I would recommend for beginners and intermediate users.
READ OUR FULL REVIEW OF SPORTPLUS INDOOR ROWER MACHINE
---
5
XS Sports Model R010 Home Rowing Machine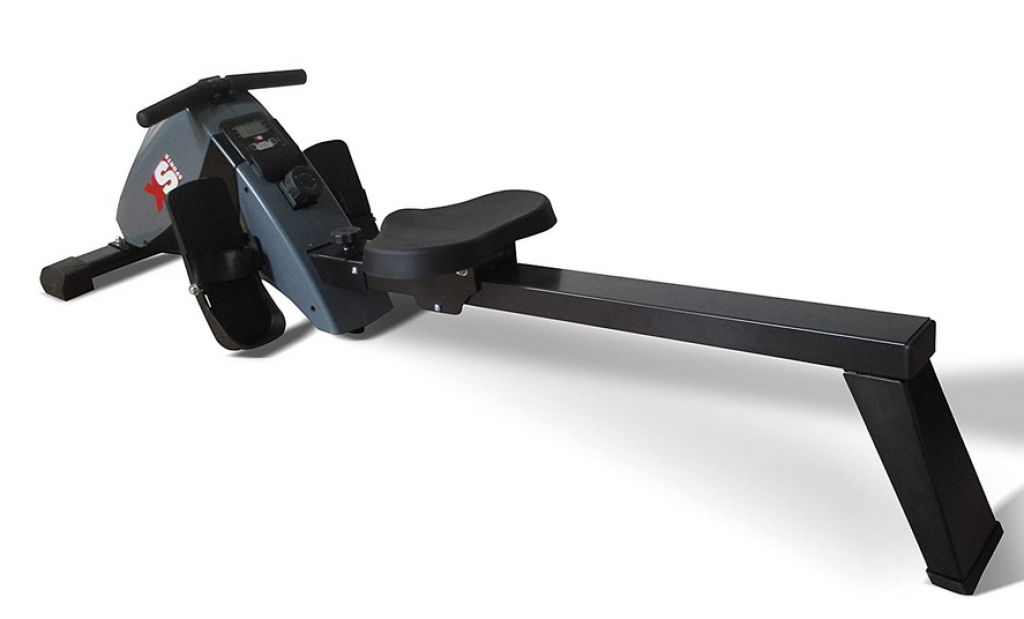 Key Features:
10 levels of magnetic resistance
User friendly LCD shows your stroke count, calories, distance, time and scan
4kg flywheel for an intense workout
Features a folding design making it very compact
comes with transport wheels for portability
Maximum user weight of 100kg
Our View
The R010 by XS Sports is a very affordable option aimed at those on a limited budget. In terms of features it is rather limited, but this is to be expected due to the low price. What you get for your money is a very well-built rowing machine by a brand with a reputation for providing home fitness equipment with a good mix of affordability and quality.
It features 10 levels of magnetic resistance and according to previous buyers the highest setting provides a testing rowing workout. The LCD is fairly basic, but it does give all the readouts needed to monitor your workout. Unfortunately, there are no exercise programs with this model, to get this feature you will have to spend a bit more of your hard earned cash.
The overall design is solid and it is very stable when in use, that is as long as you don't weigh more than the maximum user weight of 100kg. It is also worth mentioning that if you are taller than 6″ 4″, you will more than likely struggle to find a comfortable rowing position.
This is by no means the best rowing machine money can buy, but if you are on a limited budget it is one of a handful of good quality cheap options available. The frame is solid and sturdy when in use. In addition the inner components are made of better materials than most other similar priced rowing machines. There are plenty of affordable models to stay well away from, the XS Sports R010 is an exception.
---
What Is A Rowing Machine
A rowing machine also commonly known as an indoor rower is a machine that is designed to simulate the motion of rowing on water. Designed initially as a training aid for competitive rowing they also make a very good exercise machine. There are a number of different types of indoor rowers available, however, they all incorporate the same essential design features.
This consists of a resistance system that is connected to a wire with handles to pull the wire back and forth. Then there is a seat which is attached to a rail system, which also moves back and forth in conjunction with the pulling motion on the wire. Overall this simulates the feeling of rowing on water. There is a noticeable difference in the realistic sensation of rowing provided by the different types of choices available. If you are just wanting to get fit this may not be of concern, but if you want the most realistic feeling of rowing without actually rowing it is recommended you invest in a water rower.
For more information be sure to check out our article on the history of rowing machines.
What Are The Benefits Of Rowing Machines?
The reasons to buy a rowing machine far outweigh the reasons not too. In fact, indoor rowing machines are considered to be the best piece of home fitness equipment money can buy. This is due to them being the only home exercise machine that gives a full body workout. With the benefit of a cardiovascular workout and their muscle building capabilities, indoor rowers are the best all in one solution for staying fit and healthy.
It's a little known fact that using a rowing machine engages up to 80% of the musculature system. Combine this with the testing cardio workout they offer and you can see why they are so effective. Rowing regularly will strengthen your shoulders, arms and back muscles as well as your glutes and hamstrings. It will also improve the strength and tone of your core muscles.
Due to injury or old age low impact exercise is the only option for many people. Another benefit of using a rowing machine is the low impact it has on the joints. Unlike a treadmill a rowing machine is very friendly to the ankles, knees and hip joints. For these reasons they are recommended for for those in recovery from injury as a virtually risk free way to help with rehabilitation.
If weight loss is your fitness goal you will be glad to know that a 60 minute rowing session can burn on average up to 600 calories. When compared against an exercise bike a rowing machine is 30% more effective at burning calories. Typically you would have to exercise for 80 minutes on a exercise bike to burn the same amount of calories.
Different Types Of Rowing Machines
For those that don't know there are four types of rowing machine available. The difference between each type is based on the resistance system used. This means there are four different types of resistance that a rower machine can use.
Below is a brief rundown of each resistance system and any benefits or disadvantages associated with it. Knowing which resistance system you want your rower to have will help in narrowing the search down in finding the best rowing machine for your needs.
Hydraulic Rowers
Hydraulic rowing machines are best suited to those on a limited budget. The way they work is by providing resistance through the use of a piston or cylinder. The piston or cylinder compresses air or fluid to create the tension needed.
As already mentioned this type of rower tends to be very low-cost. Due to this there are some disadvantages associated with this type of rowing machine. The main drawback is that the user is usually sat in a fixed position. This means that there is no natural rowing motion and consequently no synchronization between the arm and leg movements.
Flywheel/Air Resistance Rowing Machine
When compared to hydraulic/piston rowers an air rowing machine provides a much more realistic rowing motion. In addition the movement is smoother and overall a more enjoyable workout is provided.
The resistance is provided through the pulling motion of the cord attached to the handles. This cord spins a flywheel which has fan blades attached to it which provide the air/wind resistance. Unlike other rowing machines where the user has to change the resistance all that has to be done with an air rowing machine to create more resistance is for the user to pull harder.
Magnetic Rowing Machines
Magnetic rowing machines are very popular and for good reasons. Due to this type of rower using a magnetic braking system there is virtually no noise at all.
The resistance is provided by magnets which can be adjusted to give a harder or lighter workout. Another positive about this type of rowing machine is that there is no friction associated with the resistance provided. Due to this there is less wear and tear on the components.
Personally, I prefer magnetic rowers out of all the different types. The main reason been that they provide a good rowing workout that feels very like the real thing. In addition this type of rowing machine tends to come with plenty of functions and exercise programmes.
Water Rowers
Water rowers are the best rowing machines on the market. Due to this they are also the most expensive. This type of rowing machine uses a patented water flywheel to mimic the movement of an outdoor rowing boat. The resistance is provided by water which is located in a tank at the bottom end. As the user pulls on the handle/cord the water is forced through the tank and drag is created.
This type of resistance is also very quiet when in use. When buying you will also notice that most water rowing machines come with a wooden frame. The wooden frame is very pleasing to the eye and many people prefer this type of rower for home use, due to this reason. Another positive is that vibrations are also kept to a bare minimum.
How To Choose A Rowing Machine – Buying Guide
Before buying a rowing machine there are a few things to consider first. The list below has the main things to think about before buying.
Resistance Type
As mentioned earlier the resistance type is a very important factor when buying a rowing machine for home use. The resistance that a rower uses has a lot to do with the price. If your budget allows it avoid hydraulic rowing machines as they tend to be poorly made and not very functional. Air rowers and magnetic are both a good choice as they tend to be of good quality and offer the user a solid workout.
LCD Functions
The LCD screen is where the user can see their readouts. These readouts show all the vital information while exercising. Generally speaking the more expensive the rowing machine the more monitor functions/readouts there will be. Budget rowers tend to show time, speed, distance and calories. In the mid range there will be the same readouts as a budget rower. In addition mid range and high-end rowers will come with a pulse reader which measures the user's pulse usually through a chest strap. Many brands give a free chest strap with each purchase. However, not all do and it has to be bought separately, keep an eye out for this info in the products description as this is where it usually says if a free one is included.
Rowing Exercise Programmes
Exercise programmes are very helpful in keeping you motivated to workout longer. The more programs a rowing machine has the more likely the user is to reach their fitness goals. Most notable is that programmes are usually only featured on mid-range and high-end rowers, so bear this in mind when buying.
Maximum Weight
The maximum weight of a rowing machine is a very good indicator of how well-built it is. The standard for most rowers is around the 125Kg mark. Anything above 125Kg is more likely to be better in terms of materials used in the construction.
Warranty
With some of the top rowing machines costing over £1000 it makes sense to look at the warranty. As a minimum a 12 month warranty is what any buyer should expect to get. However, most brands offer a two-year warranty. Furthermore some brands will give a lifetime frame warranty and a varied amount of years on parts and labour.
How To Use A Rowing Machine And Correct Rowing Technique
Learning the correct way to use a rowing machine goes hand in hand with correct rowing technique. Most people know the basics and simply hop on their rower, strap their feet in, pull the handle and slide back and forth on the seat. Although this is pretty much the essence of using a indoor rower, there is a bit more to it than that. Using a rowing machine in this way will be fine for the majority of people in the short term. However, incorrect technique is the main cause of injury for this type of exercise machine.
The best way to learn to use a rower is to break it down in to the four key phases. These are the catch, drive, finish and recovery, with each been just as important as the next.
6 Steps To Correct Technique
Strap In And Get Comfortable
The first thing to do is to make sure your feet are securely strapped to the footplates and that you are sat comfortably on the seat. The footstraps should be tight to the point your feet don't move around on the footplates.
Starting Position
Once you are comfortable and strapped in you should bend your knees with your body been at the front of the machine. With the handles held firmly and back straight, it's time for the next step.
The Drive
Once positioned correctly it is time to push yourself away from the footplates. It is important to remember to keep both your back and arms straight when doing this. As you extend the legs to push away it is advised you lean back ever so slightly. In addition you should prepare to bend your arms slightly ready to pull the handle.
The Finish
As you are extending your legs and now that your elbows are bent, you can pull the handle towards your chest.
Recovery
Once your legs are fully extended and the seat is as far back as it can go, you should straighten your arms. As the cable attached to the handle starts to retract back in to the flywheel. you should should start to lean slightly forward. Then gradually bend your knees as the seat slides forwards back to your initial start position.
The Catch
The catch is the final stage and is the preparation for starting the whole sequence again. This involves straightening the arms with the wrists flat as you come back to the start position.
Final Words
There you have it then, our complete guide to the best rowing machines currently available in the UK. Hopefully, with all the information contained in our guide you managed to find what you have been looking for. From the different types of rowing machines to correct rowing technique, I think we have covered everything you need to know for when buying. If you can think of anything we have left out drop us a message in the comments section. For further reading check out our guide on the best budget rowing machines features some of the most affordable models currently available.
Last updated on November 19, 2023 2:19 pm