DKN AM-E Exercise Bike – Upright Bike Review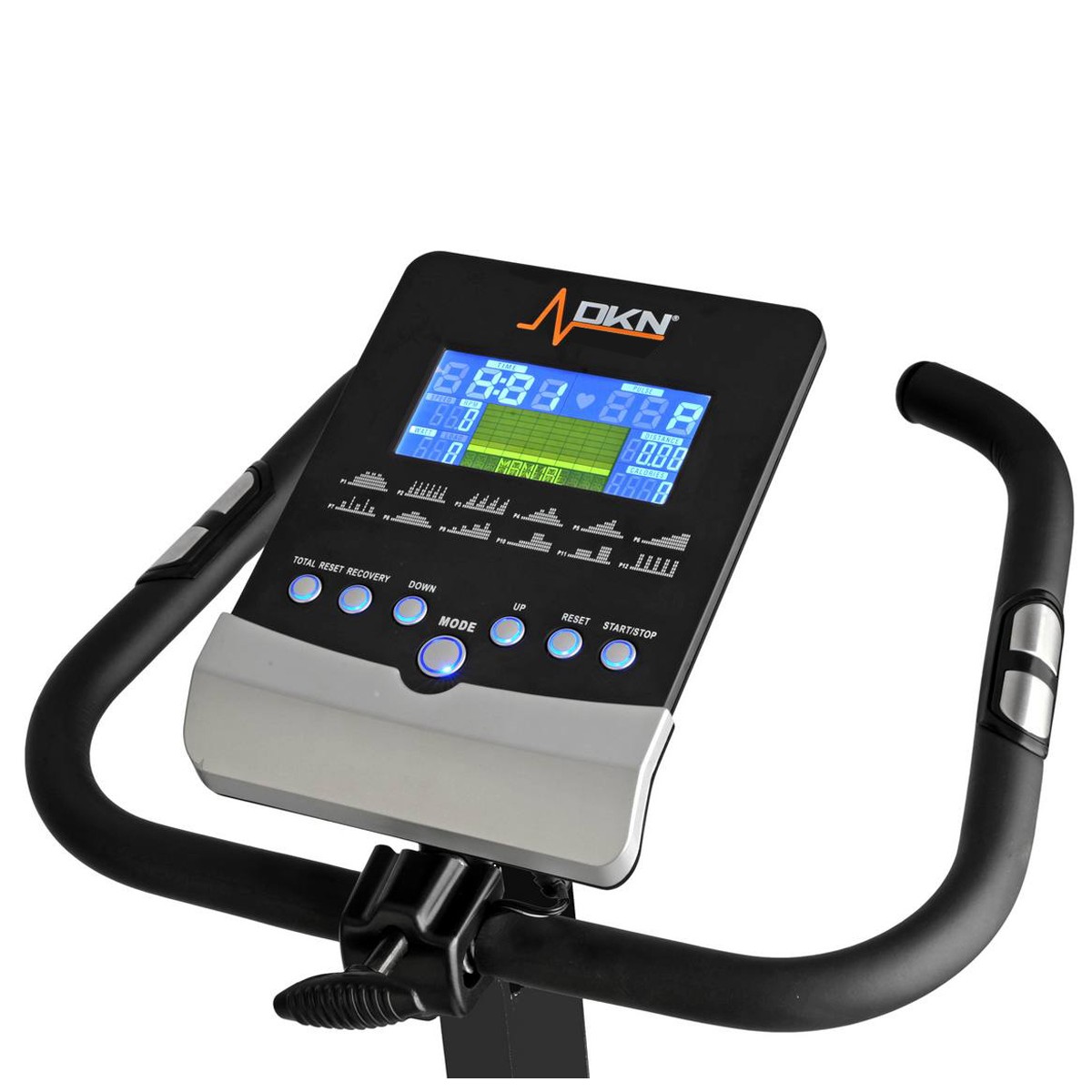 The DKN brand has built a reputation for designing high quality and very affordable exercise bikes. The DKN AM-E Exercise Bike has good reviews on Amazon and customers have rated it at a very good four stars. In this review we put it to through the Fitness Fighters test to see how good of an exercise bike it really is.
So lets take a look!
DKN AM-E Exercise Bike Review
What The Manufacturer Has To Say
The DKN AM-E exercise bike provides quiet operation ensured by an 8kg flywheel and a wide choice of 32 resistance levels to make your workouts more versatile and challenging.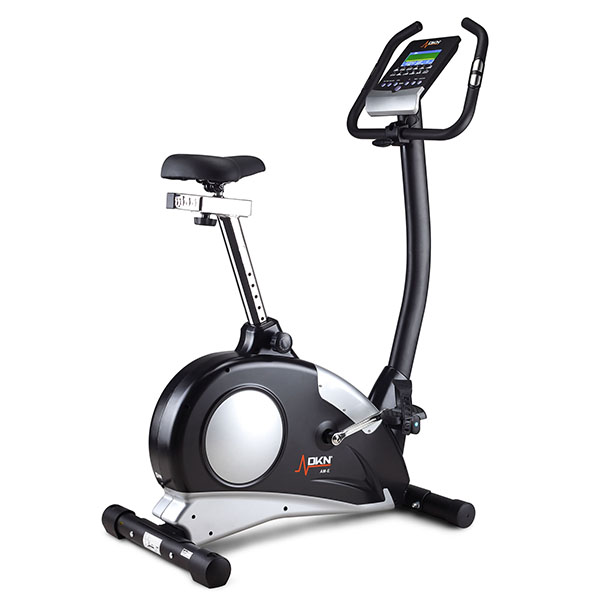 £229.99
in stock
2 new from £229.99
as of November 17, 2023 2:54 pm
Last updated on November 17, 2023 2:54 pm
---
Bike Reviewed –
DKN AM-E Exercise Bike
---
The Need To Know
Type Of Exercise Bike: Upright Bike
Flywheel: 8Kg
Resistance Type: Magnetic, Adjustable to 32 levels
Monitor Functions: RPM, speed, Watts, pulse, recovery, time and distance
Programmes: 12 pre-set programmes
Seat: Adjustable
Dimensions: (L) 87cm (W)52cm (H) 135cm
Warranty: 2 years
---
What We Think
DKN are a fairly new brand to the exercise bike market and up until recently they have focused their attention mainly on budget exercise bikes. In doing so they have built a solid reputation for making high quality yet affordable fitness equipment and have many bestsellers on Amazon. However the DKN AM-E is a step up from a low-budget exercise bike been more low to mid range in terms of price. There are the usual expected features such as wheels for portability and an adjustable seat.
So the big question!
Is it any good ?
To answer that question we tried and tested this model including all the features and functions.
First of all the assembly of this bike is said to be fairly straightforward and we have to agree. Setting up the DKN-AM E took just over 30 mins which is more or less the same as with other models. When fully assembled the sleekness in the design of this exercise bike can be appreciated and when compared to others in the same price bracket the difference is very noticeable.
So Now the features of the DKN AM-E Exercise bike.
Flywheel
There is an 8Kg flywheel built into this exercise bike and for those in the know that is not the heaviest. However with this been a bike that uses magnetic resistance a good workout if not hard is guaranteed.
Seat
First of all the seat on the AM-E is fully adjustable both horizontally and vertically. With a minimum height of 79cm and a maximum height of 100cm making this bike suitable for people of most heights.
Amongst reviews on Amazon the seat of this exercise bike is a bit of a hot topic. Quite a few buyers have stated how uncomfortable the seat is. Due to this a few said how they had to buy a gel cover and others went on to say that after a few months the seat had worn in.
Programmes
Coming with 12 pre-set programs which to be honest isn't the most but for a bike of this price that is to be expected. In addition there is a further manual, Watt and user programme. However the HR or heart rate programme is a good feature. It allows the user to select a pulse rate that they would like to stay within. This is a very good for the user that wants to set gradual fitness targets. Through the use of the LCD screen the programmes are easy to select unlike some exercise bike LCD screens.
Monitor Functions
Featuring a blue LCD console and monitoring up to seven statistics this bike will give many details about workout progress. The seven functions in question are RPM, speed, Watts, pulse, recovery, time and distance.
Most noteworthy and definitely worth a mention is the pulse rate function. Most exercise bikes take a user's pulse through a heart rate sensor that is built into the handles. This bike has that feature, in addition there is the option to use a wireless receiver that gives readings to a chest strap monitor
Resistance
There are 32 levels of resistance to this bike and the resistance level is selected on the LCD. For beginner and intermediate level the resistance is more than enough for a varied workout. However if using an exercise bike has been your way of staying fit for a while then the resistance provided won't seem enough.
Been an exercise bike with magnetic resistance there will be no problem with the wear and tear associated with friction based resistance exercise bikes
Max User Weight
The DKN AM-E has a maximum user weight of 140Kg or 22.4 stone.
Pros
Resistance levels give a good workout
Smooth ride for an upright bike in this price range
12 pre-set programmes
LED control panel
Polar compatible wireless heart rate receiver
4 user profiles
Cons
No bottle holder
The seat takes a while to wear in
Good Customer Review
The DKN AM-E has proven to be a very good buy. Service from DKN has been exceptional. A truly professional team who put the customer first. I have no hesitation in recommending DKN
Bad Customer Review
Only one fail for me…..the saddle……it is somewhat hard and uncomfortable. It really does need a gel cover on it if one is available. After several weeks the comfort level has not improved and the posterior is a little sore!
After using the cycle for a few months the saddle has settled in and is not a problem so stick with it people!.
Latest Customer Reviews 2023
Good
"I use my exercise bike 5/6 times a week. My old one was 10 years old and was malfunctioning. I am very pleased that the DKN is doing everything that I wanted it to" – Pierre
Bad
"I have no confidence in the calorie counter although the only comparison I can make is that for a similar amount of exercise the calories reported used are at least 2-3 times that reported on my previous York exercise bike." – Amazon Customer
Extras
Features a wireless receiver for pulse measurement this is a feature that not many exercise bikes have and is an added bonus.
Final Words
Overall the DKN-AM-E exercise bike seems to be a good buy. With four and a half stars on Amazon the feedback seems to agree. The only negative thing to say is that the seat is a bit hard but that is to be expected at first.
Last updated on November 17, 2023 2:54 pm