JTX Freedom Air Rower Review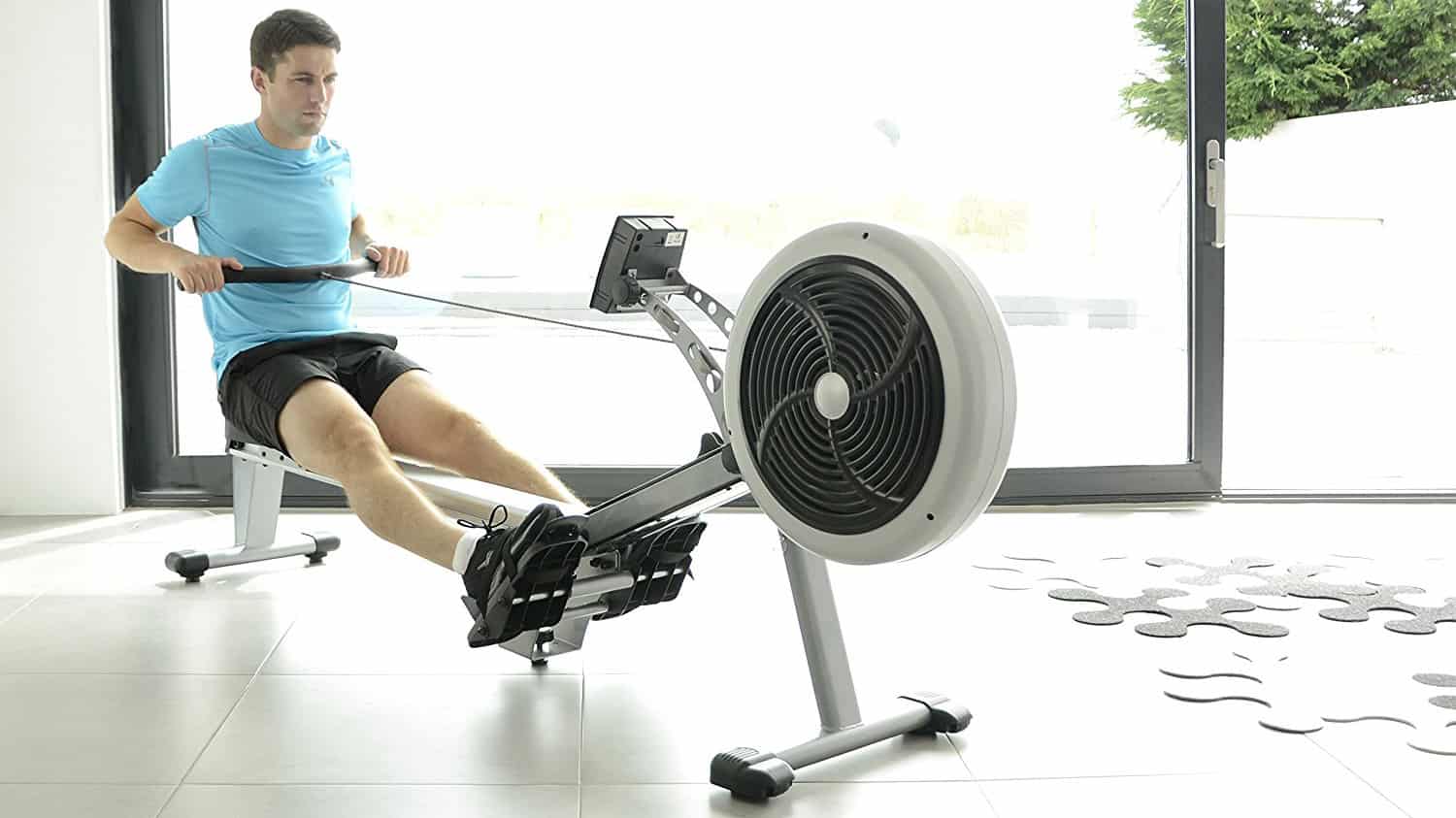 JTX Freedom Air Rower Review
If you are looking to buy one of the best rowing machines on the market then the JTX Freedom Air Rower should be on your radar. This model is one of the best sellers in the UK and comes with excellent customer feedback and a four and a half star rating on Amazon. With premium features expected of more expensive rowers this model represents great value for money and is well worth taking a look at.
So, lets take a look!
What The Manufacturer Has To Say
Maximise the potential cardio and muscular benefits of indoor rowing with the JTX Freedom Air Rowing Machine.
Last updated on August 3, 2020 6:59 am
---
Rowing Machine Reviews – JTX Freedom Air Rowing Machine
---
The Need To Know
Resistance: air and electromagnetic
Flywheel: n/a
Levels of Resistance: 16 levels
Monitor Functions: time, speed, distance, RPM, stroke count and calories
Dimensions: 225 cm (L) x 55 cm (W) x 86 cm (H)
Max User Weight: 130 kg
Warranty: 2 year warranty, parts and labour included
---
What We Think
If you have read our article "the best rowing machines under £500" you will already know what we think of the JTX Freedom Air Rowing Machine as it came top. For those that don't know this model comes recommended by many fitness websites as it is a very good rowing machine. In addition to the wide range of resistance there is also a good amount of pre-set programs to make your workout more enjoyable. Out of all rowers available to buy this one looks one of the most modern in terms of design and aesthetics, there are some ugly-looking models out there, this isn't one of them.
Resistance
Unlike most other rowers the JTX utilizes a dual resistance system. This resistance system is a combination of both air and electromagnetic resistance. The advantages of this dual system is that it gives a wide range of resistance levels making this home rowing machine suitable for beginners through to the very experienced.
LCD Display & Monitor Functions
As mentioned earlier this machine is very modern looking and that includes the LCD display. When compared to any other rowing machine under £500 you won't get more for your money. In total there are seven monitor functions and these show the following readouts speed distance, stroke rate, revolutions, heart rate, power and split times. In addition to the monitor functions there are also eight pre-set workout programs. Finally and definitely worth a mention is the heart rate controlled programs. These allow the user to set a program to an optimum heart rate, via the wireless chest strap the heart rate is measured and adjustments in the resistance are made accordingly.
Seat & Handles
The seat is made from a very durable plastic and is firmly fixed to the rail with an array of nuts and bolts. Buyers can be sure they wont get a loose-fitting seat that moves with every rowing action like the ones associated with cheaper models.
The handles for this rower feature an ergonomic design that is intended to cause less strain on the body than an ordinary straight handle.
Foot Plates
As with the seat the foot plates are firmly and securely fixed to the rower. The straps are fully adjustable and provide a very secure footing.
Maximum User Weight
If you want to be sure that you are buying a sturdy rower then check the maximum user weight out. The heavier the user weight is the more likely the rowing machine will be of a robust and sturdy design.
With the JTX rower there is a very respectable maximum user weight of 130 kg which is equivalent to 20 stone. That been said and with taking customer reviews into consideration buyers can be certain they are going to get a very sturdy model with this rower machine.
Pros
Air and electromagnetic resistance system
16 levels of resistance
8 pre-set programs
Very sturdy
Easy to assemble
Foldable
Good warranty
Cons

 
Good Amazon Review
Awesome bit of kit! Rower fit nicely in garage gym. Easy to assemble. Very much like rowers in professional gyms. I'm a half marathon runner and wanted a rower to improve my cross-training fitness. The resistance levels for this rower are excellent and can work you hard (if you want!). Very happy with my purchase.
Bad Amazon Review
I only have one issue and that is with the back light on the computer which has started flickering on and off. Will be contacting JTX directly for a replacement.
To Sum Up
JTX have got it just right with this rower with a wide range of resistance and pre-set programs there is plenty to keep you going. Overall the design is very robust and sturdy when in use which is always a good thing. Customer reviews on Amazon speak highly of the JTX Freedom Air Rower and we at Fitness Fighters have to agree. This is among the best home rowing machines and a good investment as the quality is top-notch.
Last updated on August 3, 2020 6:59 am