Sportstech Professional Indoor Cycle SX500 Review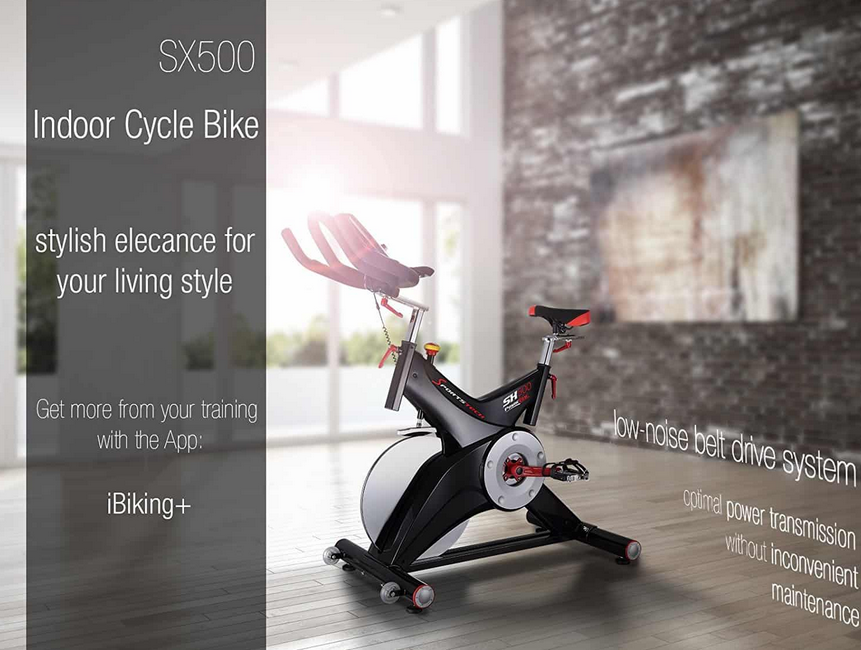 Sportstech Professional Indoor Cycle SX500 Review
The Sportstech Professional Indoor Cycle SX500 is the latest top of the range spin bike to hit the UK market. This German designed spinning cycle is full of features and has very impressive specifications. Due to this been a new model there isn't really that much information to be found on the Internet about it. In this review we will be putting the Sportstech SX500 under the microscope to see if it offers good value for money, as it is quite expensive.
So lets take a look!
What The Manufacturer Has To Say 
With the app compatible console and tablet holder in connection with the fitness application you'll be able to train on your favourite route with the GoogleMaps Street View function and track your training history.
Thanks to the belt drive system there may be an optimal power transmission on the flywheel. Additionally it is very quiet and nearly does not need maintenance compared to the chain drive system
Beside the leg musculature you train nearly all main muscle groups. This allows a more effective and balanced, joint-secure training. Beside the fat burning you are also training your endurance and condition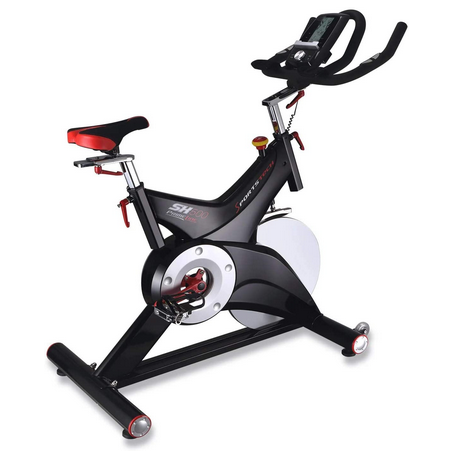 Last updated on May 9, 2021 8:04 pm
---
Bike Reviewed – 
Sportstech 
SX500 
Professional Indoor Cycle 
---
The Need To Know
Type Of Exercise Bike: Spin Bike
Flywheel: 25Kg
Resistance Type: Magnetic
Monitor Functions: Speed, Time, , Pulse, Calories and RPM
Seat & Handlebars: Adjustable
Dimensions: 112cm (H) x 105cm (L) x cm 48(W)
Max User Weight: 150Kg
Warranty: 12 months
---
What We Think
The first thing most people will probably notice about the Sportstech SX500 is the price. There is no denying that this is an expensive spinning cycle, however, with the big price tag comes a very good, if not one of the best spinning bikes UK customers can buy. In terms of features and specifications this spin bike matches or beats all the competition. With many of the smaller features they have gone the extra mile to make this a very well-rounded spin bike suitable for both beginners and vastly experienced users.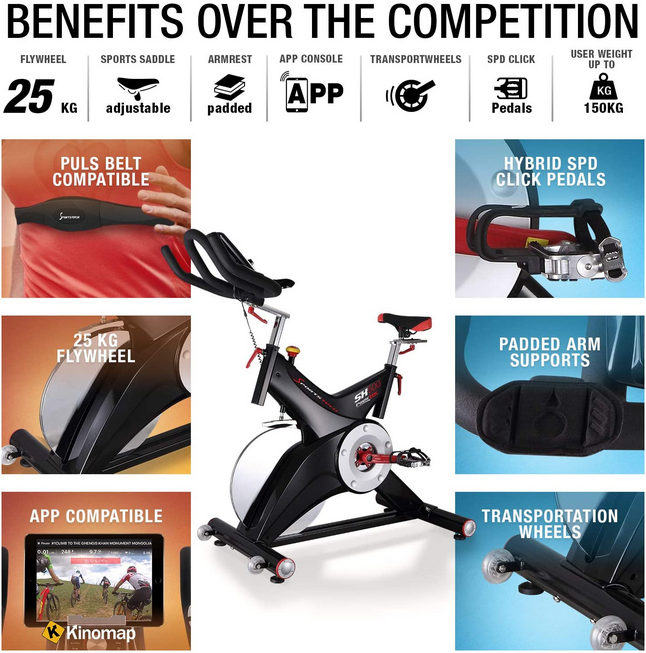 Resistance/Flywheel
As with all the top rated models the SX500 comes with a magnetic resistance system and a very good one it is too. When in use the noise levels are kept to a bare minimum. Due to this been a robust exercise bike the only noise you can hear is the flywheel as it rotates. Due to the whopping 25Kg flywheel anyone that uses this exercise bike should expect a very testing workout at the top end of the resistance. At the low-end of resistance it still gives a good workout making it a good model for beginners looking to progress over time.
LCD Display & Monitor Functions
The LCD display is where you can track the stats of your spinning workout. In total there are five monitor functions with the SX500 and these are speed, time, pulse, calories and RPM. Another good feature is the iBiking+ app which allows you, through the use of a tablet, to utilise the Google Maps function and the street view display. Furthermore there are a number of training programs as well as heart rate base training. Overall this is a well-rounded spin bike in terms of the LCD display and monitor functions as it does offer a variety of readouts and training options.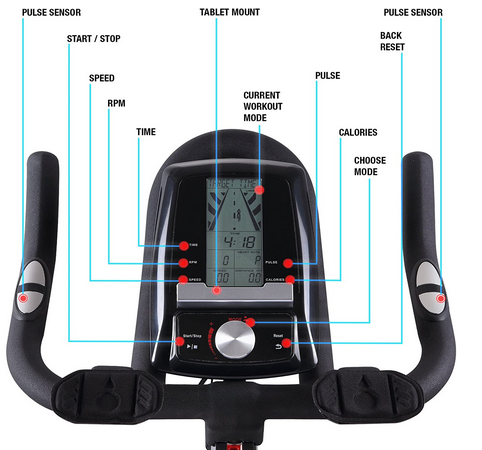 Seat & Handlebars
Both the seat and handlebars are fully adjustable which is always a plus as it allows the user to find the most comfortable riding position. The Sportstech SX500 also boasts a sport seat which are considered to be far comfier than most other exercise bike seats. Furthermore studies have shown that the more comfortable you are while exercising the longer you workout for.
The handlebars are also designed for maximum comfort and have built-in foam padded armrests for when training in the aero position. In addition there are also built-in pulse sensors for taking a heart-rate reading.
Pedals
Great consideration has been put into the design of the pedals on the Sportstech Professional Indoor Cycle. The pedals are anti-slip and feature a holding basket for a secure footing. In addition the pedals also have an SPD click system for those that prefer to wear cycling shoes.
Max User Weight
The Sportstech SX500 has a very impressive maximum user weight of 150Kg. With a maximum user weight this high buyers can be certain that this is a very sturdy and robust spinning bike.
Pros
Very quiet when in use
Exceptional overall quality
Variety of training options
Sturdy when in use
Cons
Good Customer Review
This excellent bike was easy to assemble and is extremely well finished and feels professional. I would highly recommend purchasing from this company.
Bad Customer Review
At the time of writing there isn't a bad customer review to be found..
Final Words
If you are looking for a top of the range spin bike with all the features needed to provide an enjoyable spinning session, then the Sportstech Professional Indoor Cycle SX500 is worth considering. The only obvious downside to this model is the expensive price tag. Although this is a costly spin bike when compared to exercise bikes of a similar price it does provide good value for money.