MaxiClimber Vertical Climbing Fitness System Review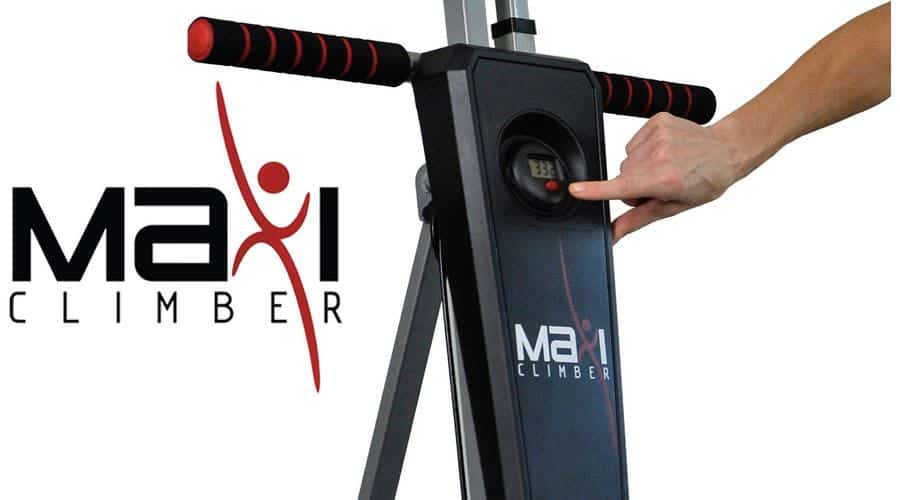 The MaxiClimber is the number 1 best-selling vertical climbing machine in the UK. With excellent reviews on Amazon and a very impressive four and a half stars feedback looks positive. In this review we put the Maxiclimber Vertical Climbing Fitness System under the microscope to bring you all the good and bad points.
So, let's take a look!!
Maxi Climber Vertical Climbing Cardio Exercise Machine Review

What The Manufacturer Has To Say
Climb your way to a fitter, healthier you, with MaxiClimber, the vertical climbing fitness system that mimics the movements used in rock climbing to engage all the major muscle groups and give you a calorie-burning, muscle-toning workout in the comfort of your home.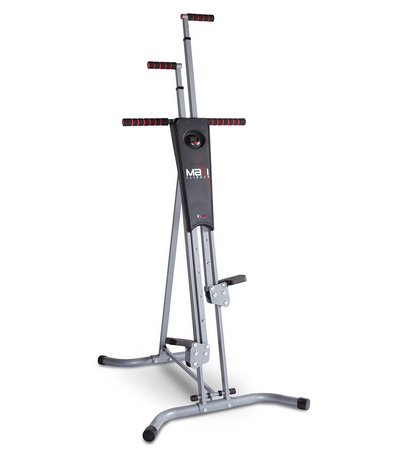 £99.99
£149.99
in stock
as of November 24, 2023 7:32 am
Last updated on November 24, 2023 7:32 am
What We Think
Vertical climbers are an excellent way to get a full body and aerobic workout. The movements involved are similar to rock climbing and are of a high intensity. Tests have shown that using one of these machines can burn more calories than when using a treadmill or exercise bike. In addition they are ideal for toning the arms, legs, abdominals and bum.
Been very compact makes this exercise machine perfect for those with limited space in their home gym as they do take up hardly any room.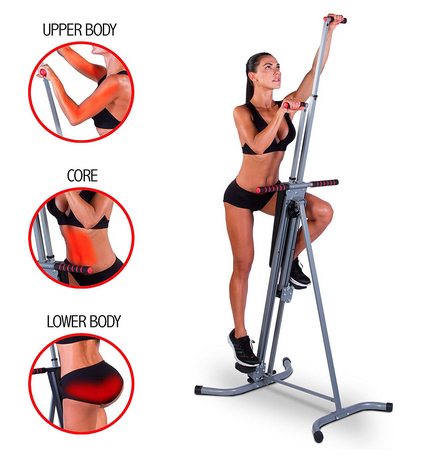 The MaxiClimber is one of the better models and is constructed from thick tubular steel which gives it durability and sturdiness. This is something that you just don't get with most of the other models available.
Due to the ergonomic design and five height adjustment settings, finding the most comfortable position isn't a problem.
Digital Monitor
The digital monitor is probably the most basic monitor you will find on any fitness machine. The monitor readouts shown are calories burned and user step count. Due to there only been two readouts there really is no need for anything more advanced.
Resistance
The resistance offered by the this exercise machine is created by the user and determined by the users weight. First of all you have to gain some momentum by engaging both your arms and legs, not long after the resistance generated becomes noticeable. When you have become familiar with how to use this vertical climber correctly you will also be able to feel it work the calves, thighs, buttocks, core, hips, abs and arms among others.
Maximum User Weight
This is a crucial purchasing consideration as the maximum user weight is a very good indicator of how well-built a vertical climbing machine is. Generally speaking the heavier the maximum user weight the better the design quality is. There is a maximum user weight of 110 kg or 17.5 stone with this model, which is a very respectable amount.
Pros
Good max user weight
Solid design
Very sturdy
5 height settings
Cons
Some customer reviews state that there is a fair bit of squeaking when in use
Good Amazon Review
Absolutely great product.great workout and can store away easily. Doesn't take up much room. A fantastic product bought at a great price
Bad Amazon Review
A good product although no tension, you still get a good workout, the foot pedals are hard plastic which will hurt your feet unless you wear trainers with a thick sole on them also can hurt your knees so wear knee supports and away you go!!!
Latest Customer Reviews 2023
Good
"Had the maxi climber for 2 weeks now. Easy to put together, I'm 4ft 11 and had no trouble getting on. Just adjust the handlebars ." – Tara
Bad
"The timer and step counter didn't work, but I wasn't going to use it anyway, I prefer to time my workout on my phone. The highest pedal is 65cm from the floor at the lowest height setting, so anyone close to 180cm must measure the ceiling height to avoid hitting their head. " – Barnsey
Extras
With every purchase there comes a free exercise chart and diet plan.
To Sum Up
The MaxiClimber Vertical Climbing Fitness System is without doubt one of the best vertical climbers UK customers can buy. With a very good maximum user weight and sturdy design all the essentials are there for a good model. If you are considering purchasing, do remember that this is a high intensity exercise machine and not for the faint hearted. However, if you can handle the punishment of a full body aerobic workout, you will also reap the rewards, from a chiselled body to increased stamina the MaxiClimber offers it all.
Last updated on November 24, 2023 7:32 am