SportPlus Indoor Rower Review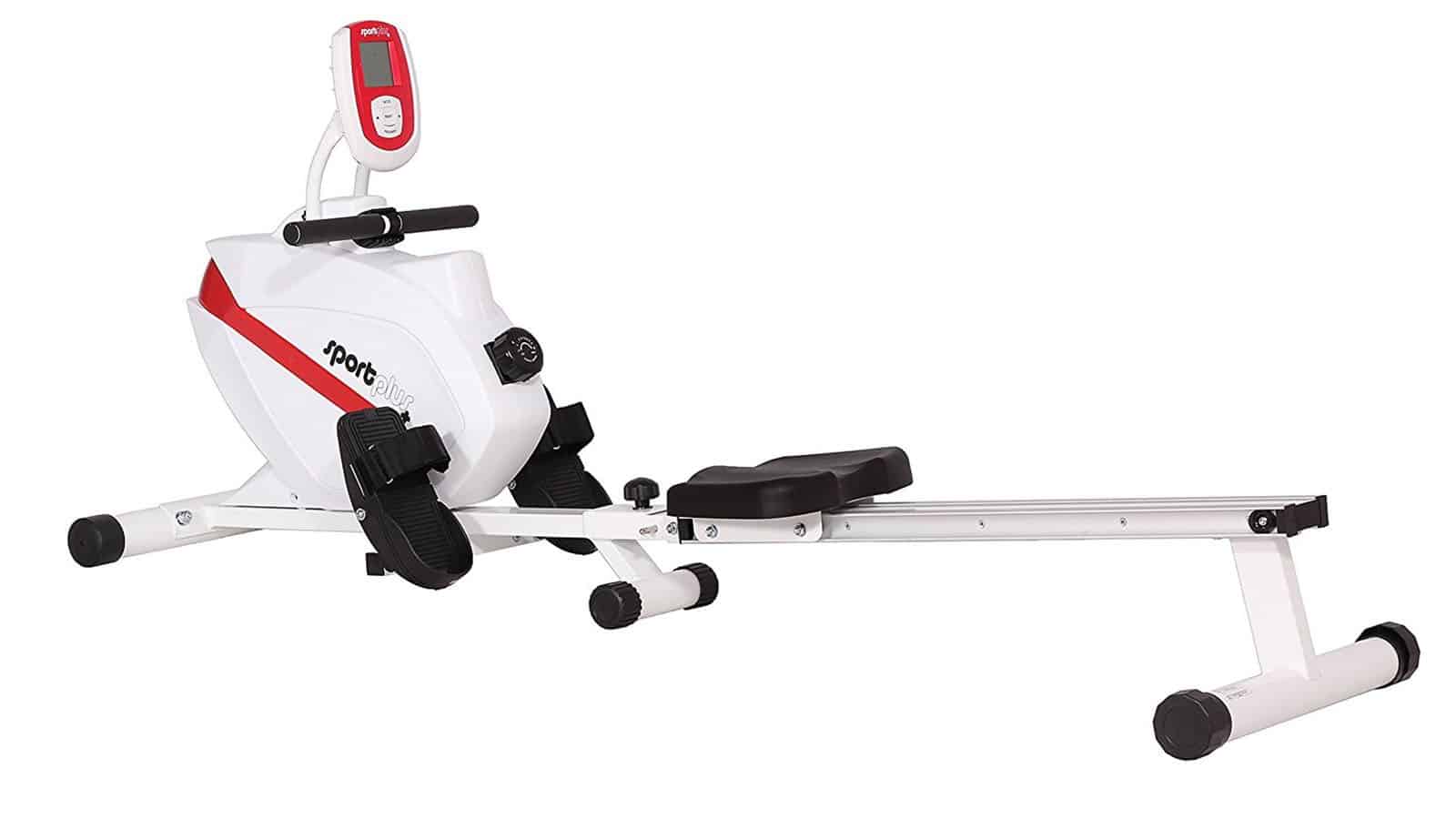 SportPlus Indoor Rower Review
Sportplus are one of the least well-known brands when it comes to rowing machines and that is hardly surprising as it is a very competitive market. However, they do make some good home rowing machines and at an affordable price too. In the Sportplus range there are four main rowing machines these are the SP-MR-008, SP-MR-008-B, SP-MR-009-iE and the Turbine Rower SP-MR-010. In this review we will be checking out the Sportplus Indoor Rower SP-MR-008-B. This model is the same as the SP-MR-008 the only difference between the two is the colour.
So, lets take a look!
What The Manufacturer Has To Say
High-quality magnetic brake system with motor control, maintenance-free belt driving system and 8 kg flywheel mass. Control resistance in 24 levels of intensity via computer.

Last update was in: August 2, 2020 1:05 pm
Rowing Machine Reviews –
SportPlus Indoor Rower
The Need To Know
Resistance: magnetic
Flywheel: 8kg
Levels of Resistance: 8 levels
Monitor Functions: number of rowing strokes, approximate energy and calorie consumption, stroke frequency, beat frequency counter of the current training unit, time, pulse, distance
Dimensions when folded: 122 cm (L) x 51 cm (W) x 91 cm (H)
Max User Weight: 150 kg
Warranty: 12 month warranty
---
What We Think
As already mentioned Sportplus aren't the biggest of brands, but they do make some good quality fitness equipment. With good reviews on Amazon, which is always a good indicator of a a quality product, the Sportplus indoor rowing machines is quickly becoming a popular home rower.
In terms of features this model has some good specifications, there is a decent resistance offered and a good amount of monitor functions for keeping track of your progress. Before giving you are final decision on this model lets take a look at the features in more detail.
Resistance
As always the resistance that a rowing machine offers is always an important purchasing consideration. With this model there are in total eight levels of resistance this can be adjusted by simply turning the rotary knob located just above the foot plates for easy access.. At the low end the resistance is suitable for beginners and is fairly light. When approaching the top end there is a good amount of resistance offered and more experienced users will get a good workout from this machine.
LCD Display & Monitor Functions
The all important LCD display and monitor functions are a big factor to consider when buying a rower machine. With the Sportplus Indoor rower there is a good amount of readouts given these are as follows  total number of rowing strokes, approximate energy and calorie consumption, stroke frequency, beat frequency counter of the current training unit, time, pulse, distance.
Most noteworthy when talking about this model is the fact that the computer has a 5kHz receiver for accurate pulse readings. However, to utilize the pulse reading you do have to buy a chest strap seperately.
Seat & Handles
If you are going to exercise for extended periods of time on a rowing machine then you are going to want a comfortable seat. Luckily this is an area where reviews are very positive with a good number of Amazon buyers stating how comfy the seat is even though it is plastic. When in use the aluminium rail provides for a smooth and quiet movement which is always a good thing with home rowing machines.
The handles do allow the user to get a firm grip and are fairly comfortable to use. However, they would be far more comfortable if they had a bend in them like some other rowers do. A bend in the handles allows for a more natural arm movement and is beneficial for long workouts.
Foot Plates
The foot plates on this rower are quite big, which is a good thing. In addition they are covered with a tread for extra grip. The adjustable foot straps are also quite big and chunky. Overall users can be sure of a firm footing when using this rowing machine.
Maximum User Weight
In our opinion at Fitness Fighters the higher the maximum user weight is the better the rowing machine. Home Rowing machines with a low maximum user weight tend to be flimsy and not that sturdy when in use. The Sportplus Indoor Rower has a very respectable maximum user weight of 150 kg putting it in the mid range for home rowers.
Pros
Magnetic reasistance system
8 levels of resistance
Very sturdy
Foldable
Good warranty
Cons

 
Not suitable for those above 6ft 4"
Good Amazon Review
Excellent quality rowing machine, delivered very fast and works flawlessly, just for information I am 6'1 and weigh roughly 23 stone, I have had no problems with this machine at all. More expensive than some other machines but so worth it in my opinion.
Bad Amazon Review
My biggest criticism of the whole machine lies in the design of the folding roller rail which I consider is very crude. I'm concerned that there is a danger of damaging the rail pivot bolt and/or the safety pin over prolonged use.
To Sum Up
For the price it costs the Sportplus Indoor Rower gives good value for money. There are a good range of resistance levels and plenty of monitor functions for users to keep track of their fitness goals. If you are looking for an affordable rowing machine you could do a lot worse. In addition to been foldable it also features a silent braking system making it perfect for home use.
To check out more of the top rated rowing machines in the UK head over to our full guide featuring rowing machines for all budgets.
Last updated on August 2, 2020 1:05 pm