Sportstech Professional Indoor Cycle SX100 Review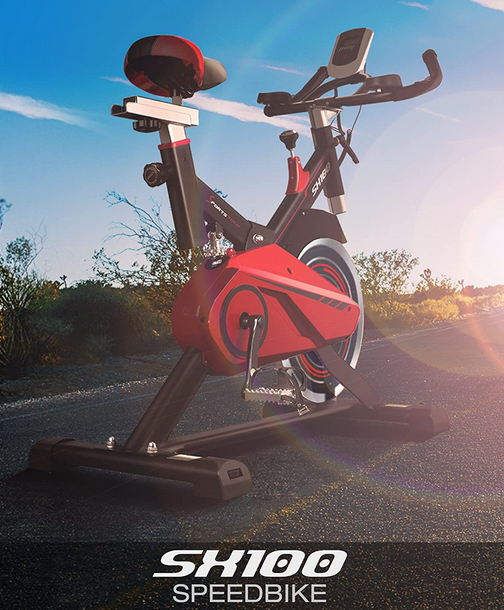 Sportstech Professional Indoor Cycle SX100 Review
The Sportstech Professional Indoor Cycle SX100 is the one of four spin bikes in the Sportstech series. With some very good features and specifications the Sportstech SX100 is quickly becoming a very popular model. Customer feedback is overall very positive with previous buyers going on to say how sturdy, well-built and functional it is, it seems to tick all the right boxes for a good home spinning bike. In this review we will be taking a closer look to see if it is as good as it seems to be.
So lets take a look!
What The Manufacturer Has To Say 
Keep healthy with a Sportstech Speedbike. Beside the leg musculature you train nearly all the main muscle groups. This allows a more effective and balanced, joint-protected training. In addition to the fat burning you are also training your endurance and condition.
Thanks to the belt drive system there is an optimal power transmission on the flywheel. It is also very quiet and hardly needs any maintenance in comparison to the chain drive system.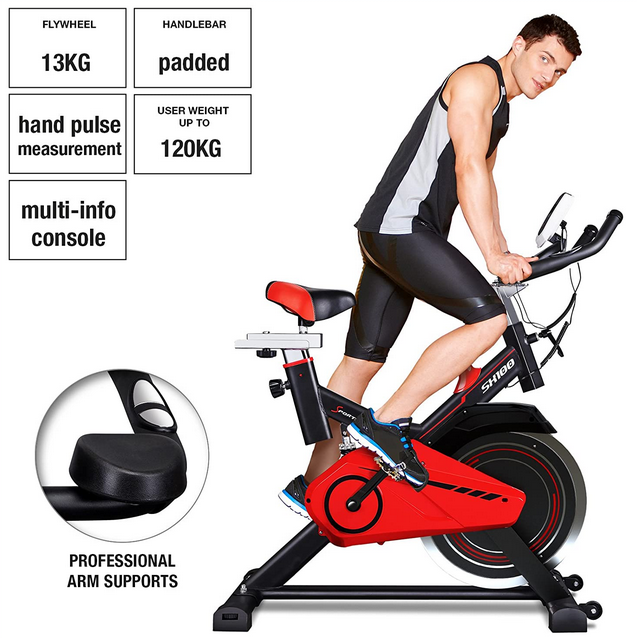 Last updated on May 11, 2021 6:43 pm
---
Bike Reviewed – 
Sportstech 
SX100 
Professional Indoor Cycle 
---
The Need To Know
Type Of Exercise Bike: Spin Bike
Flywheel: 13Kg
Resistance Type: Magnetic
Monitor Functions: Speed, Time, Distance, Pulse, Calories and Odometer, Scan
Seat & Handlebars: Adjustable
Dimensions: 97cm (L) x 106cm (H) x cm 50(W)
Max User Weight: 120Kg
Warranty: 12 months
---
What We Think
After only recently been released onto the UK market the Sportstech range of home spin bikes are quickly gaining a reputation for their overall quality. The Sportstech SX100 is the budget model in the range, however, it comes with some excellent features. With a decent size flywheel and a very respectable amount of monitor functions, it offers enough workout data to keep track of any progress made. One thing can be said for certain about this brand and its that they only build high quality home exercise machines, from cross trainers and treadmills to rowing machines and the SX spin bikes they are definitely a brand to keep an eye on.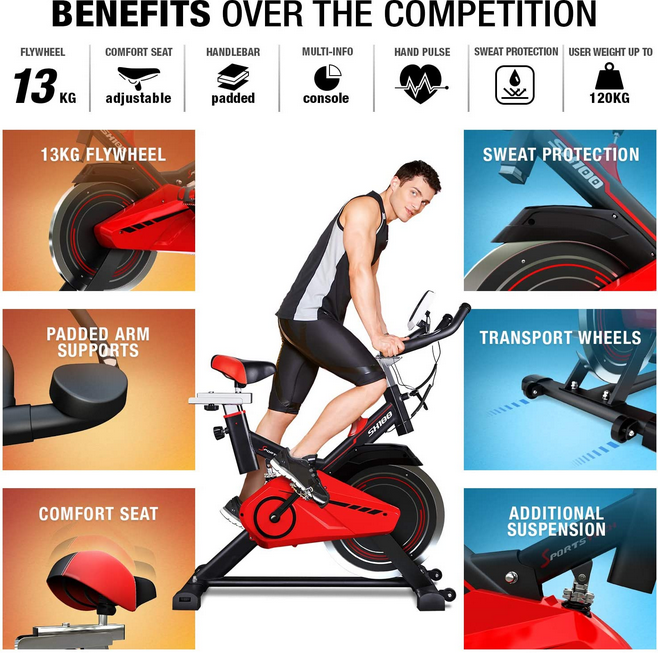 Resistance/Flywheel
The SX100 incorporates what is known as a step-free magnetic resistance system. Due to the design of this type of resistance it tends to be almost silent when in use. Consequently it makes this model a good choice for home use, as some spin bikes can be quite noisy when been used.
The intensity of the resistance offered with this home spin bike comes from the 13 Kg flywheel. At the top end of the resistance setting there is a good workout to be had. If you are an experienced user of spin bikes then you may find the resistance a little light. I would recommend the SX100 as a good introductory model that is also suitable for intermediate users.
LCD Display & Monitor Functions
The SX100 comes with a multifunctional console with digital display. Although it is fairly basic in terms of the way it looks, it does have a good number of functions. In total there are 7 monitor functions and these are scan, time, speed, distance, calories, odometer and pulse. Built-in to the handlebars are hand pulse measurement sensors for heart rate based training. Simple to navigate and easy to use users should soon get to grips with the console.
Seat & Handlebars
The Sportstech SX100 is designed to be as comfortable as is possible. Featuring an extra thick padded seat for added comfort, as well as padded armrests for when training in the aero position, a lot of consideration has been put into making using this indoor exercise bike an enjoyable experience. With an adjustable seat and handlebars it is easy enough for someone to find the most comfortable riding position during a spin workout.
Pedals
The Sportstech Professional Indoor Cycle SX100 comes with anti-slip pedals and adjustable pedal cages. If you are not familiar with pedal cages they go a long way in providing a secure footing during a workout. If you have ever slipped your foot off the pedal and banged your shins on the pedals then you may well like this feature as it eliminates this problem.
Max User Weight
The Sportstech SX100 has a very respectable maximum user weight of 120 Kg. With a maximum user weight this high it can be taken as a good indication that this model has a very solid and robust design.
Pros
Very quiet when in use
13 Kg flywheel
Exceptional overall quality
Variety of training options
Sturdy design
Cons
Good Customer Review
This excellent bike was easy to assemble and is extremely well finished and feels professional. I would highly recommend purchasing from this company.
Bad Customer Review
Only thing was the glue type tube for putting on screws etc was missing I asked for it to be sent to me but nothing came . Other than that I love it.
Final Words
There is no denying that the Sportstech range of indoor exercise bikes have a lot of positive features. The SX100 is a good introductory model and well worth taking a look at. When compared to models of a similar price it trumps them in most areas. If you are looking for a good home spin bike it comes highly recommended.
Sportstech Professional Indoor Cycle SX200 
SX500 Professional Indoor Cycle Review