Sportstech F65 Professional Treadmill Review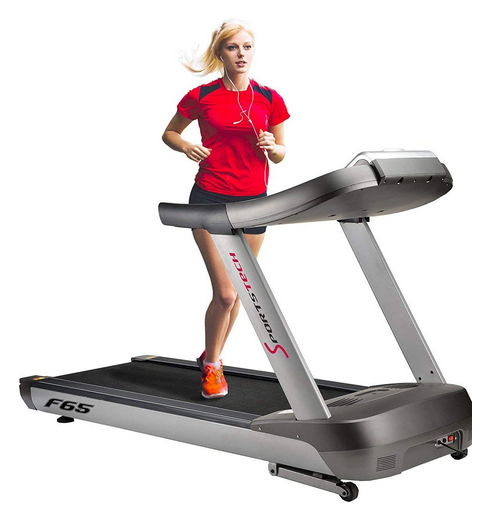 Sportstech F65 Professional Treadmill Review
Sportstech are the latest brand to unleash their home fitness equipment and exercise machines on the UK. The Sportstech F65 Professional Treadmill is their top of the range home treadmill and it comes with some of the best features and specifications that we at Fitness Fighters have seen for a treadmill.
So lets take a look!
What The Manufacturer Has To Say
Developed and tested by professionals for duration training – superior technology compared to competitors – the ideal treadmill to lose weight.
Only 30 minutes training on the F65 treadmill and a healthy lifestyle will help you to lose excess weight within weeks.
Start today the training for your dream body.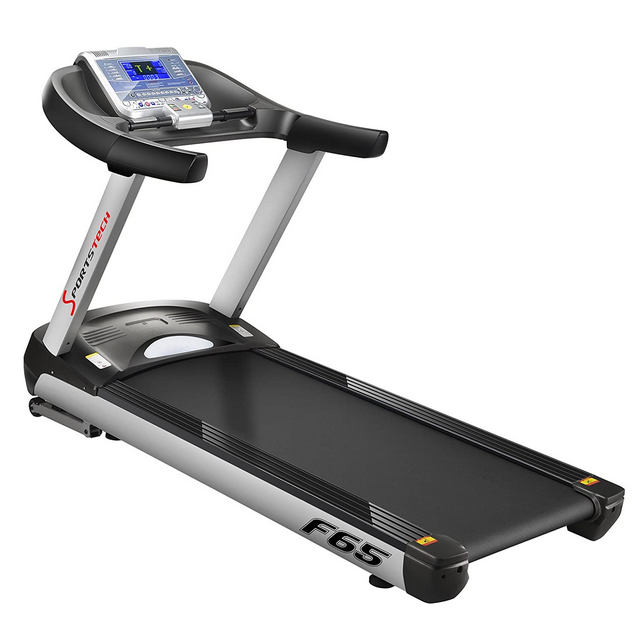 out of stock
as of May 17, 2022 3:58 pm
Last updated on May 17, 2022 3:58 pm
---
Treadmill Review –
Sportstech F65 Professional Treadmill
---
The Need To Know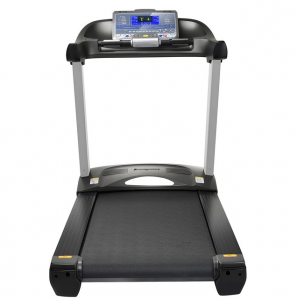 Speed: 25 km/h
Running Area: 160 cm (length) x 60 cm (width)
Incline: 15%
Programs: 109 professional running programs
Shock Absorption: multi zones absorption system
Monitor Functions: speed, time, distance, heart rate, calories, incline
Dimensions: 220cm (L) x 89cm (W) x 152cm (H)
Warranty: 5 year warranty
---
What We Think
Although this is an expensive treadmill for home use, it still gives good value for money. When compared to models of a similar price the Sportstech F65 trumps them all in terms of features and specifications.
Speed & Incline
With a powerful 8.5 horsepower motor there is a very impressive top speed of 25 km/h, which should be adequate enough for even the most experienced users. Combined with the 15% incline a hard workout is available even for those with a very good level of fitness.
Running Deck 
The running deck puts most other premium treadmills to shame as the running area is a massive 160cm x 60cm. The benefit of a large running deck is that you can take full strides when running on your treadmill. This may seem obvious, however,budget treadmills have a significantly smaller running area and taller people have to alter their stride position constantly to accommodate for this.
Another outstanding feature is the 5 layered high-tech shock absorption system. This nifty feature reduces the impact force on the joints. Due to this users are less likely to pick up an injury while exercising. This is a feature that you tend to only find with high-end treadmills and it can be hit or miss. Sportstech have done a good job with their design as you can actually feel less force on the soles of your feet due to the little bit of give in the running deck.
LCD Display & Monitor Functions
The LCD display can be a deal clincher when choosing a treadmill, too simple and people think there isn't much in terms of functions, too complex and people can get put off by all the buttons, functions and programs. Ideally you want a complex display with lots of features and workout options. At the same time you also want it to be simple to navigate and easy to operate. The Sportstech F65 Professional Treadmill has hit the sweet spot as it has a host of functions and programs and although the display looks quite technical it is straighforward to use.
Users can keep track of 5 monitor functions with the Sportstech F65 Treadmill these are speed, time, distance, calories and incline. In addition there is the HRC function which allows you to connect a pulse belt and monitor your heart-rate.
One of the most notable features with this treadmill are the 109 workout programs, yes 109. With this many workout programs it will be a very long time before you get bored. When compared to other treadmills nothing comes close to the amount of exercise programs the Sportstech F65 offers.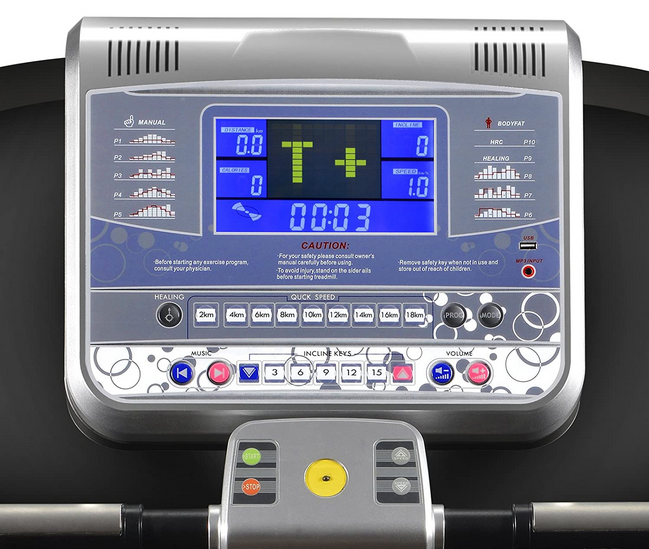 From the display users can alter the speed with the quick speed buttons in increments of 2km/h all the way from 2km/h to 18km/h. In addition there are a number of incline buttons one for up and down and 5 quick change buttons ranging from 3% incline up to 15% in increments of three. Both of these features save you from button bashing while running and are a handy feature to have.
Entertainment
The Sportstech F65 Professional Treadmill comes with two high-quality speakers that are built-in to the display. From the display users can utilise the MP3 function through the USB. One benefit that i have found from having speakers built-in to a treadmill is that been able to listen to your favourite music while exercisising gives you an added motivation boost. Many models that feature speakers have low-quality tinny speakers that are pointless to be honest, however it seems Sportstech have ignored the norm and actually installed a decent pair in the F65, so some bonus points there.
Maximum User Weight
As always the maximum user weight of a running machine is a very good indicator of the overall build quality. The Sportstech has a maximum user weight of 200Kg which is the most that we have come across with any home treadmills we have reviewed. Bearing that in mind it is safe to say that this is a very robust and sturdy treadmill.
Pros
109 programs
25km/h top speed
15% incline
Very large running area
Excellent shock absorption system
Very good warranty
Cons 
Good Customer Review
A brilliant piece of German engineering worth every penny. I've been using this treadmill for over a year now, I use it for interval training and regular runs. I do go through the speeds regularly and heights sometimes, especially when I am doing my interval runs. it still works flawlessly, runs smoothly and quietly. Very sturdy and reliable, with it's 8.5 HP DC engine at this price point is just unheard of! If you're looking for a machine that feels and performs like a Gym-grade professional treadmill look no further!!
Bad Customer Review
At the time of writing there is currently no bad customer reviews on this product
Extras
Features two bottle holders
To Sum Up
Undeniably the Sportstech F65 Professional Treadmill is a very good home treadmill if not the best treadmill in the UK. With more exercise programs than any other model out there and some of the best specifications we have seen on a treadmill this model comes highly recommended. The only downside is the expensive price tag.
Last updated on May 17, 2022 3:58 pm