Marcy Regatta Folding Rowing Machine Review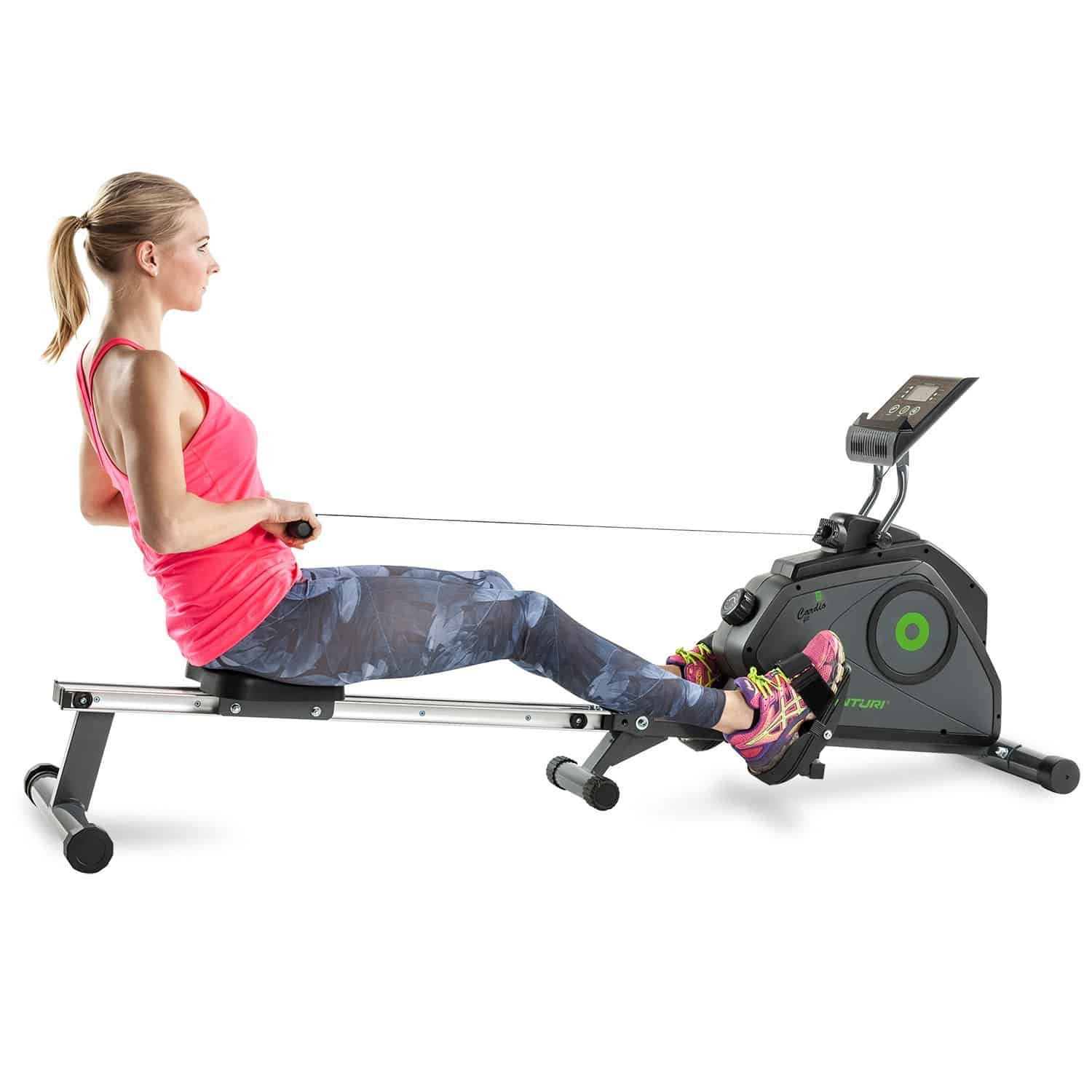 Marcy Regatta Folding Rowing Machine Review
The Marcy Regatta Folding Rowing Machine comes with some very good customer feedback and an impressive four star rating on Amazon. Considering this is a budget rowing machine previous buyers seem to be very impressed with the overall design and build quality. In this review we will be taking a closer look to see if it is as good as people say.
So, lets take a look!
What The Manufacturer Has To Say
The Marcy Tunturi Regatta Rowing Machine is your gateway to a new you, rowing activates almost all of your major muscles in one fluid motion to burn calories and shred away fat quicker than biking or running could ever hope to.

Amazon.co.uk
Last updated on July 31, 2020 4:46 pm
---
Rowing Machine Reviews – Marcy Regatta Rowing Machine
---
The Need To Know
Resistance: magnetic
Flywheel: 4 kg
Levels of Resistance: 8 levels
Monitor Functions: speed, time, distance, calories, strokes per minute
Dimensions: 191 cm (L) x 51 cm (W) x 70 cm (H)
Max User Weight: 115 kg
Warranty: 2 year warranty, parts and labour included
---
What We Think
At first glance it is easy to see that this is a very modern looking rowing machine and it does look a lot better than some other models we have reviewed that cost a lot more. When it comes to the features and specifications there are some good ones. First of all the magnetic resistance means this indoor cycle won't suffer from wear and tear as much as a friction based resistance system, which is a good thing as this means less maintenance. The monitor is fairly basic in terms of functions, however, this is a budget rowing machine so that is to be expected. In our opinion one of the best things about this indoor rowing machine is the overall build quality. Been made by Marcy buyers are sure to get a very robust and solid rowing machine.
Resistance
As mentioned this rower machine incorporates a magnetic resistance system which is better for causing less wear and tear on the flywheel. The flywheel weighs 4 kg and provides enough resistance for beginners and intermediate users. More experienced users would find the tension a little light and would be better off looking at the Marcy Onyx Geneva 6000.
To adjust the resistance this rower comes with a dial that simply has to be turned to increase or decrease the resistance.
LCD Display & Monitor Functions
When compared to most budget rower machines the Marcy Regatta folding rowing machine has a very modern looking LCD display. In total there are four monitor functions to navigate through and these are time, distance, calories and strokes per minute. This is quite basic, if you are looking for more functions and maybe some workout programs you will have to invest a bit more in a rower.
Seat & Handles
The ergonomically designed PU seat is said to be comfortable by some customer reviews and then uncomfortable by others. As with all seats on exercise equipment it depends on each individual as to whether it is comfy or not.
The rowing handle is the standard one that comes with most budget models and is covered with a soft foam for comfort.
Foot Plates
All the best rowing machines come with pivoting footplates for a more natural foot movement and adjustable fasteners for a firm and very secure footing. Luckily the Marcy Regatta Rower has both of these features. Another positive is that the footplates are of a good size making this rower suitable for the taller individual or a small person with very big feet 🙂
Maximum User Weight
If you want to know how well-built a rowing machine is then take a look at the maximum user weight. This is always a good way of knowing if you are buying a solid, robust and sturdy rower or a flimsy piece of junk. With this model there is a maximum user weight of 110 kg which transfers to just over 17.5 stone, so a good weight. Anyone looking to buy this model can be sure they are getting a sturdy machine.
Pros
Magnetic resistance system
4 monitor functions
Very sturdy
Easy to assemble
Foldable
12 month warranty
Cons

 
Not suitable for those taller than 6 foot 4 inches
Good Customer Review
Great for the home, not too big and works well. Very pleased with this purchase.
Bad Customer Review
Good rower and value for money ,but could do with a bit more resistance.
To Sum Up
For a fairly cheap rower the Marcy Regatta Folding Rowing Machine has some good points to it. The only downside is that the resistance at the top end isn't good enough for advanced users, but that is to be expected for the price. If its a solid and robust rower at an affordable price that you are after then this is a good contender.
Last updated on July 31, 2020 4:46 pm