Top 10 Best Weight Benches For Home Gyms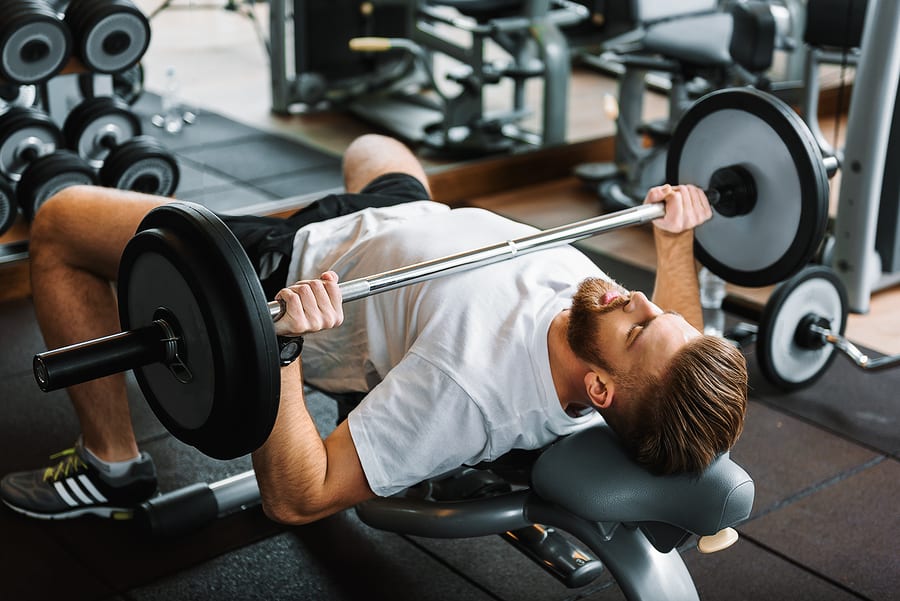 Top 10 Best Weight Bench Reviews
A home gym isn't a home gym without a good weight bench and there are plenty of different brands and models to choose from. However, not all of them are as good as they claim to be. That is why in this guide we will be highlighting the best weight bench UK residents can buy in our top 10 reviews. As usual, all of the models reviewed come with good customer feedback and are among the best sellers in the UK, which is usually a good indicator of quality.
So let's take a look!
Top 10 Weight Benches
Gallant Weight Lifting Utility Bench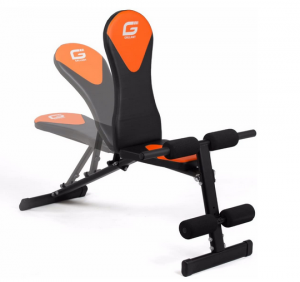 The Gallant brand are well-known for making good quality and affordable fitness equipment. For a cheap utility bench this model comes with some good customer feedback on Amazon and has an impressive four star rating.
The frame is made from durable steel and the overall design is actually quite sturdy.
One problem a lot of affordable weight benches have is that the upholstery is not the best. However, the Gallant utility bench utilises a durable synthetic material to its best ability and it tends to last a while.
With a maximum user weight of 100 kg, this may not be the best bench for the biggest of muscle heads. Ideally this is suited to people of light and average weight.
There are four adjustable positions between flat and 90 degrees with this bench. In addition it can be used as a sit up bench when in the decline position.
To sum up: For a cheap weight bench under £50 buyers will struggle to get anything better than this model. The gallant brand are known for their good quality and affordability. All in all a good beginners bench, however, do remember if strength training is something you are serious about then you will need something with a better weight capacity at some point in the future.
Last updated on August 11, 2022 8:30 am
York Fitness 5 Seat Position Bench

York Fitness make some of the best home gym equipment available. The York Fitness 5 seat position bench is one of the best sellers in the UK.
When it comes to strength training this is a very good weights bench. With a maximum user weight of 200 kg this model is suitable for most people. In addition the durability of this product goes without saying, as it is made from the best materials with a solid and very sturdy design.
There are five adjustable positions and there is no need to fiddle with pins. Changing the incline angle is done simply by moving the back rest support bar to the desired level.
Another feature includes a mini dumbbell rack below the bench. Take note the weight of the dumbbells that can be stored is minimal.
To sum up: Overall this is a very good adjustable weight bench from a reputable brand. With an impressive maximum weight capacity and countless positive reviews this model comes highly recommended.
£99.99
£119.99
in stock
as of August 11, 2022 8:30 am
Last updated on August 11, 2022 8:30 am
Bodymax CF325 FID Utility Bench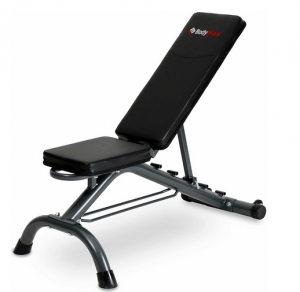 Bodymax are another brand with a good reputation for their quality fitness equipment. The Bodymax utility bench is similar in design to the previous featured model the York Fitness 5 seat position bench but costs a bit less.
With five positions adjustable from flat to 90 degrees, a durable synthetic upholstery and thick padding, there really isn't that much difference between the two models. There are two noticeable differences though. These are the maximum weight capacity, which is 180 kg and 20 kg less than the York weights bench 200 kg. The second difference is the fact that quite a few reviews say this bench is only suitable for people 5 ft 10 or under.
To sum up: This is a good bench and has a decent maximum user weight. However, with quite few reviews saying how there is no head support for those around six-foot tall, i would suggest purchasing a different model if you are above this height. 
Last updated on August 11, 2022 8:30 am
York Fitness 13 in 1 Utility Bench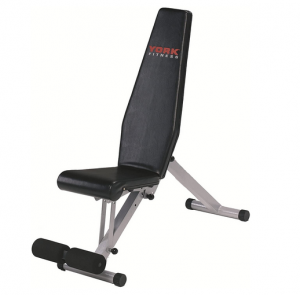 Here we have another high quality weight bench by the York Fitness brand. The York 13 in 1 utility bench comes with four stars on Amazon and is another best seller in the UK. In terms of versatility this is probably the best utility weight bench on the market.
The following list shows all of the positions this weight bench offers.
4 incline positions

3 decline positions

4 hyper-extension positions

1 bicep curl position

1 flat position
As with all York fitness equipment this weights bench is made to the highest standard. The solid steel tubular frame guarantees longevity as does the highly durable upholstery.
For those with limited space in their home gym this model conveniently folds flat for easy storage.
To sum up: Offering a wide range of exercises this bench is perfect for a home gym. The overall design is as solid as they come. In addition this bench will last for a good number of years and would be a good investment. 
Last updated on August 11, 2022 8:30 am
Escape Fitness Deck V2.0 Workout Platform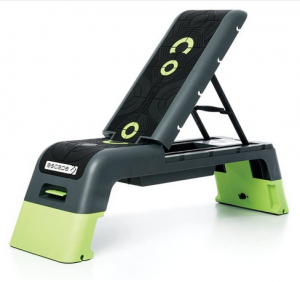 The escape fitness deck is another highly versatile adjustable weight bench. In addition to been a weight bench it can also be used as a step platform. In total this bench has 16 positions which helps to add variety to any workout.
The step platform has two height settings and these are 20 cm and 35 cm.
Due to the low centre of gravity this model is very sturdy and perfect for training with heavy dumbbells.
When compared to other weight benches this model weighs half as much, if not less. This would normally be a bad thing as lighter benches are generally less sturdy. However, this bench is made from a very durable and lightweight material. In addition customer reviews on Amazon confirm this bench to be a lot tougher than it looks.
To sum up: If its variety in a workout that you are after then this bench is for you. If weight training is your main objective then i would recommend the York 13 in 1 utility bench. With good customer feedback and many sales this is a very popular model. Due to its versatility it is well worth taking a look at.
£140.40
in stock
3 new from £134.99
as of August 11, 2022 8:30 am
Last updated on August 11, 2022 8:30 am
Mirafit Adjustable Folding Weight Bench with Dip Station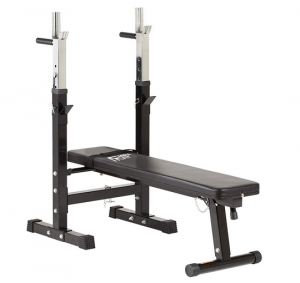 Mirafit are similar to the Gallant brand in the way they make affordable fitness equipment with some quality to it. The Mirafit adjustable weight bench with a dip station is a good example of this. The main selling point of this weights bench is its affordability. In addition it also adds versatility to a workout.
The barbell rack is adjustable to five positions. The bench itself can be set to decline for sit ups and so forth.
Been a folding bench it also takes up very little room when not in use.
Made from solid steel with a tubular design would lead buyers to believe this is a solid and sturdy weight bench. Unfortunately it does rattle about a bit when at the top end of its maximum weight capacity.
To sum up: For the same price of an adjustable weight bench, if not cheaper, you can get yourself a bench with a dip station. Admittedly this is not the best model on the market, however, if on a limited budget this is a good buy.  
£99.99
in stock
as of August 11, 2022 8:30 am
Last updated on August 11, 2022 8:30 am
Gorilla Sports Weight Bench with 100KG Vinyl Complete Weight Set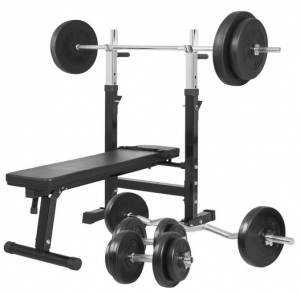 Gorilla Sports have put together a complete weight bench package here with their sports weight bench with 100 kg of weights. Included in this package is a 170 cm barbell, two dumbbells and a 120 cm EZ curl bar. In addition there are 14 weight plates in total and these range from 1.25 kg to 15 kg.
With a maximum weight capacity of 200 kg this is a very well-built bench. Furthermore it is also said to be very sturdy, with a maximum weight of 200 kg it would have to be.
To sum up: This adjustable weight bench package has a lot to offer and for a very good price. In addition been made by a reputable brand buyers can be sure of a well-designed weight bench that will last for years to come. With positive customer reviews on Amazon people seem to be happy with what this package offers. 
£389.99
in stock
as of August 11, 2022 8:30 am
Last updated on August 11, 2022 8:30 am
York Fitness B530 Heavy Duty Incline and Decline Bench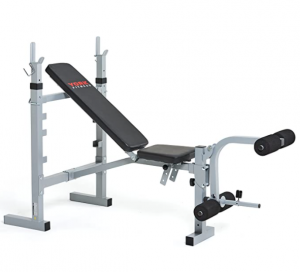 The York Fitness B530 is another weight bench that is popular due to the versatility it offers. In addition to the barbell there is also a leg attachment for a varied full body workout. Furthermore, there is the option to add an arm curl pad and a lateral tower. These can be purchased separately and when attached make the York workout station more akin to a home multi gym than weight bench.
In terms of quality this is a very well-built fitness bench and the 200 kg maximum capacity is a good indicator of just how sturdy it is.
There are five adjustable positions for the bench with both an incline and decline option.
With good customer reviews and numerous sales this is worth taking a look at.
To sum up: With the option to build up this weight bench into something similar to a multi gym it is easy to see why the York Fitness B530 is a very popular home weight bench. For a varied workout at an affordable price this bench comes highly recommended. In addition it won't break the bank.
Last updated on August 11, 2022 8:30 am
Marcy MD857 Diamond Elite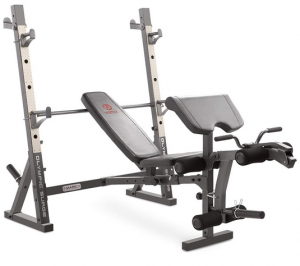 The Marcy Diamond Elite is a beast of a machine and a complete workout system that offers users a wide range of exercise options. First of all the bench has six positions ranging between the decline, flat, incline and fully upright positions. Next up is the rear walk in squat, which is a welcome addition for anyone who loves leg workouts and with a leg developer as well there are no excuses for skipping leg day. Finally we have the arm curl for bulging biceps. For a full breakdown of the exercises this fitness bench offers the list below shows them all.
Chest: Incline Press, Flat Press, Decline Press
Back: Bent Over Row, Reverse Bent Row, Deadlift
Shoulders: Seated Shoulder Press, Front Raises, Upright Rows, Shrugs
Biceps: Barbell Curls, Preacher Curls, Reverse Curls
Triceps: Tricep Press, Tricep Extensions, Bench Dips
Legs: Squats, Leg Curls, Leg Extensions, Romanian Deadlifts
Abs: Barbell Rollouts, Decline Crunches
Weighing in at over 50 kg there is a good weight to this weight bench set. Consequently, this is usually a good indicator of a well-built and sturdy bench. furthermore there is a maximum weight capacity of 270 kg. However, this does include the users weight as well, the maximum load on the rack is 135 kg and the arm curl is 45 kg.
To sum up: Marcy make some of the best home gym equipment on the market and this model is a good contender for the best weight bench for a home gym. Durable and offering a wide range of exercises this complete workout system caters for all muscle groups. Consequently a full body workout is guaranteed with the Marcy Elite.
Last updated on August 11, 2022 8:30 am
Final Words – Best Weight Bench
As you can see from our top 10 best weight bench list there are a good number of quality models out there to choose from. All the weight benches featured in our reviews give the most value for money in terms of features and build quality. In addition they are made by some of the best home gym equipment brands. If you think we have left any models off this list then please mention in the comments below, if we think it is worthy of a place then we will happily add it.
Last updated on August 11, 2022 8:30 am