XS Sports Aerobic Indoor Training Exercise Bike Review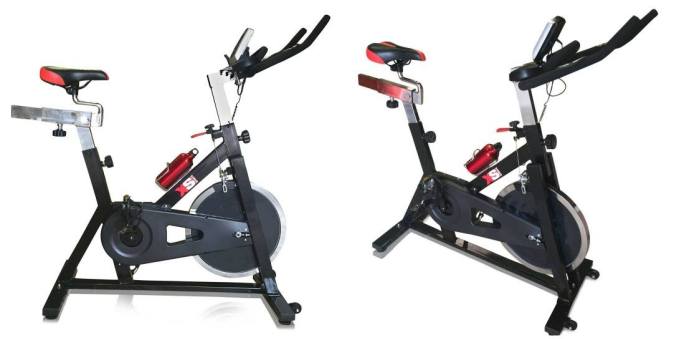 XS Sports have a good reputation for making affordable yet high quality exercise equipment. There range of exercise machines are some of the best sellers on Amazon. The XS Sports aerobic indoor training exercise bike is one of their most popular items. With four and a half stars overall rating and very positive customer feedback it seems like this is a very good spin bike.
So lets take a look!
XS Sports Aerobic Indoor Training Exercise Bike Review
What The Manufacturer Has To Say
This bike features a massive 15kg solid steel flywheel, fully adjustable to suit your level of resistance. It is very sensitive so you really can set this to your perfect level. The deep padded seat is fully adjustable up, down, forwards, backwards, and tilt, and the handlebars are also adjustable up and down. You will be able to set this bike up to give you the perfect spinning experience.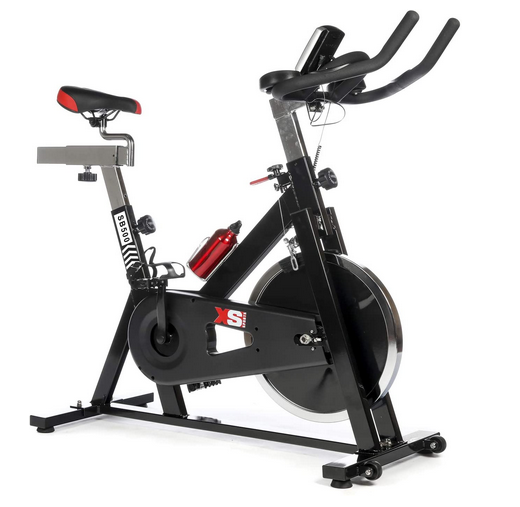 £179.99
in stock
as of January 25, 2022 12:26 am
Last updated on January 25, 2022 12:26 am
---
Bike Reviewed –

XS Sports Aerobic Indoor Training Exercise Bike
---
The Need To Know
Type Of Exercise Bike: Spin Bike
Flywheel: 15Kg
Resistance Type: Adjustable
Monitor Functions: Speed, Time, Distance, Pulse, Calories
Seat & Handlebars: Fully Adjustable
Dimensions: 112cm (H) x 105cm (L) x cm 48(W).
Warranty: 12 months
---
What We Think
If it's a budget spinning bike that you are after there are plenty to choose from. The XS Sports spin bike is without doubt one of the best spinning bikes on a budget. When compared to other models of the same price you get a lot of value for money with this one in terms of specifications and features.
Flywheel
First of all there is a 15Kg steel flywheel which is quite heavy for a bike of this price. Some bikes of a similar price come with a flywheel that is only 8Kg. For those that don't know, the heavier the flywheel is the more resistance can be created and consequently a harder workout for the user.
Seat & Handlebars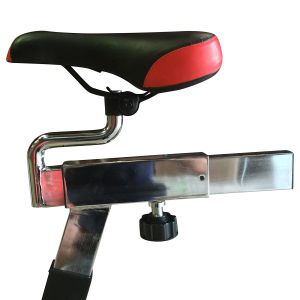 The seat and handlebars are both fully adjustable. The seat can be adjusted up, down, forwards and backwards and for extra comfort there is even a tilt movement on the seat. This allows the user to get the perfect riding position for a good spin workout. The handlebars can be adjusted up and down. In addition there are also added arm/elbow rest bars so the user can obtain a true racing position.
Pedals
The pedals have straps which are fully adjustable. Due to this bike having a 3 piece crank, which is better than a 1 piece, the pedal action is smooth and there is no shuddering like with some budget models so another positive. This spin bike also features a two-way pedal system so the user can pedal both forward and backwards. This is beneficial for working different muscles and not all spin bikes have this feature.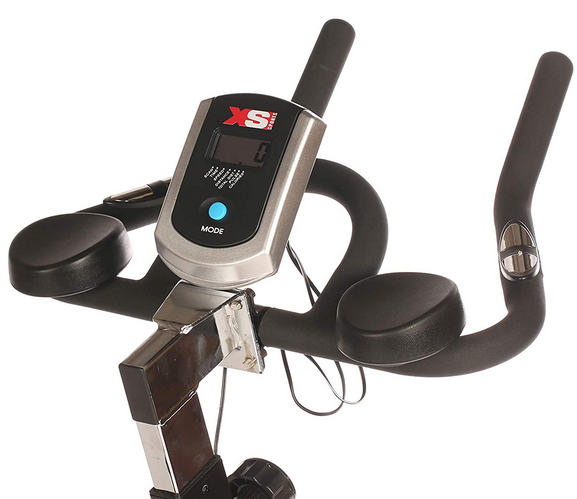 Monitor Functions
Been a budget spin bike the monitor on the XS Sports indoor exercise bike is of a simple design. Consequently it is also easy to use. The monitor shows all the readout statistics that are needed to track progress. The readouts given are , speed, time, distance, pulse and calories.
Resistance
Most noteworthy is the resistance system on this spin bike. It is highly sensitive, with just a slight turn of the dial the resistance alters quite significantly which is a good thing. Some spin bikes have dials to alter the resistance, where you have to turn them again and again to notice the difference in resistance created, it's like a workout in itself lol. The resistance on this bike is chain driven, so the user gets the feeling of riding a real bike.
Max User Weight
There is a maximum user weight of 125Kg for this exercise bike and that is the standard amount.
Pros
Fully adjustable seat, handlebars and pedals
Two way pedal system
Very sturdy
Excellent customer feedback
Cons
Quite a few reviews go on to say how uncomfortable the seat is
Good Amazon Review
Fantastic piece of equipment. Very pleased, arrived on time, easy to put together and is very good quality.
Bad Amazon Review
Bike was suitable for spinning and a good cardio workout. Unfortunately mine had a fault with it and had to be returned. This was arranged for me by the company, which saved me any hassle. Good customer service..
Extras
In terms of extras the only thing worth mentioning is the free water bottle. Most spin bike brands chuck in a free water bottle with every purchase. However the XS Sports is made of aluminium compared to the usual plastic.
Final Words
For the price it would be hard to find a spinning bike that is as good as the XS Sports aerobic indoor training exercise bike. It has all the features of more expensive models and comes with excellent customer feedback on Amazon. If it's a budget spin bike your after this is a hot contender for the best budget spin bike as well as best spin bike under £200.
Last updated on January 25, 2022 12:26 am