We R Sports Aerobic Training Cycle – Spin Bike Review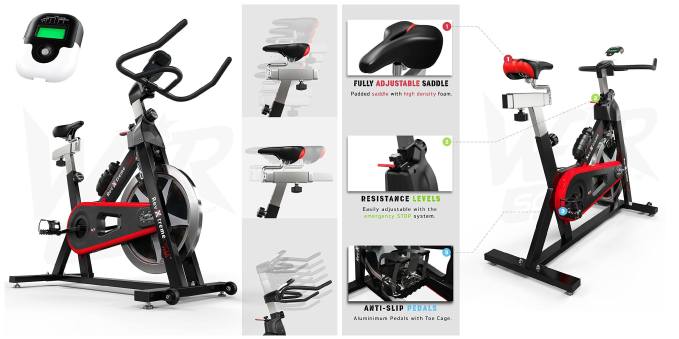 We R Sports are a brand that is synonymous in the exercise bike world with affordability. With many bestsellers on Amazon they have built a good reputation with excellent customer feedback. The We R Sports aerobic training cycle is one of their bestsellers and in this review we put it to the test to see if it is worth buying.
We R Sports Aerobic Training Cycle Review
What The Manufacturer Has To Say 
This black and red RevXtreme XPower exercise bike is sturdy, robust and built to last. If you're looking for something to help you to fine tune your workout then this indoor cycle is the one for you. The step-less resistance system and chain driven mechanism deliver a smoother, more realistic training session whilst the 13kg balanced flywheel offers a superior ride.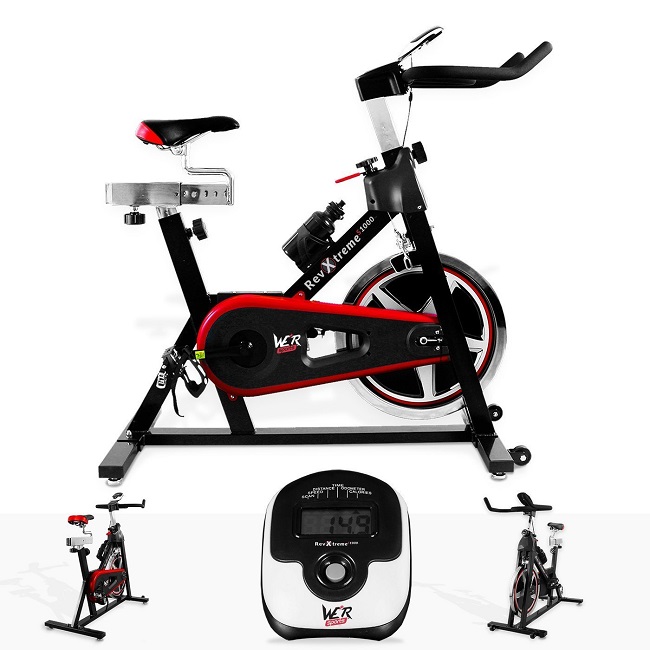 £199.00
in stock
as of July 2, 2022 10:00 am
Last updated on July 2, 2022 10:00 am
---
Bike Reviewed – We R Sports Aerobic Training Cycle
---
The Need To Know
Type Of Exercise Bike: Spin Bike
Flywheel: 13Kg
Resistance Type: variable resistance
Monitor Functions: calories, distance, sped, scan and time
Programmes: 0 pre-set programmes
Seat: Adjustable
Dimensions: (L) 53cm (W) 108cm  (H) 124cm
Warranty: years
---
What We Think
At first glance the We R Sports Aerobic Training Cycle does indeed look the part. Due to the sleek red and black finish this model does make others in the same price range look a bit dated.
With an overall weight of 38 Kg the sturdiness and smoothness of riding this spinning bike is comparable to more expensive models, so some bonus points there.
Most noteworthy and definitely worth mentioning though is that this exercise bike is quite loud when in use and a few Amazon reviews agree. This is the a downside to this spin bike that we found too.
So the big question, is it any good?
Lets take a look!
Flywheel
First of all the flywheel which weighs in at 13Kg is a respectable amount. A flywheel of this weight will go a long way in offering a challenging workout. There are other models in the same price range with a flywheel that weighs a lot less, so be rest assured this is more than a decent weight. In combination with the resistance system the workout the RevXtreme Indoor Cycle S1000 gives a solid workout.
Seat, Handlebars & Pedals
Along with most spin bikes in this price bracket the seat and handlebars are fully adjustable. The seat can be raised by 20cm vertically and adjusted up to 10 cm horizontally. This amount of adjustability does allow for a wide range of movement making this bike good for users at a height of five foot and above all the way to six foot.
The handlebars feature a non slip grip and are adjustable by 10 cm. To adjust is straightforward with the user simply having to turn a dial. Take a look at the graphic below to see what we mean more clearly.
The pedals on this bike are made from aluminium and feature a toe cage. The aluminium pedals are very lightweight and the difference is noticeable compared to ordinary stainless steel. the toe cage is a good feature on this bike as it does the job that others don't. The secureness is nice and snug so no scraping your shins anymore.

Monitor Functions
The built in monitor on board this exercise bike has a total of five functions. These are calories burnt, distance, speed, scan and time. This isn't the most advanced monitors but for a bike of this price it is the same as similar models. Overall it is easy to use and it tracks all the relevant data that is needed to chart fitness progress.
Max User Weight
The We R Sports RevXtreme Indoor Cycle S1000 has a maximum user weight of 125Kg which converts to 19.6 stone.
Pros
Very affordable and aesthetically pleasing
Adjustable seat and handlebars
Easy to use
Very sturdy
Cons
Some reviews say it can be quite noisy
Good Amazon Review
Great spin bike, fairly easy to put together, nice finish and easy to move around with front wheels 🙂
Bad Amazon Review
Does the job but the seat is VERY uncomfortable so had to spend more on a seat cover. Also quite noisy so can only use at certain times of the day.
Extras
The We R Sports Aerobic Training Cycle comes with a water bottle holder in addition there is also a free water bottle.
Final Words
In our opinion this bike well deserves its status as an Amazon bestseller. Due to the sturdy design, ease of use and the fact that it is very functional, we would recommend this bike.
Ideally the We R Sports Aerobic Training Cycle is best suited to those at a beginner or experienced level . Advanced users of spin bikes would probably prefer something with just a little more resistance due to their higher fitness levels. All in all a good buy and a very good spin bike that gives great value for money.
£199.00
in stock
as of July 2, 2022 10:00 am
Last updated on July 2, 2022 10:00 am