York Fitness Active 120 Treadmill Review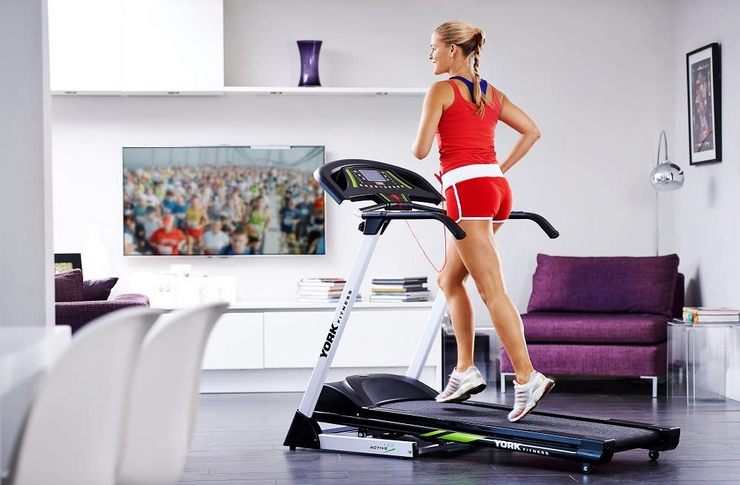 York Active 120 Treadmill Review
York Fitness are one of the oldest and most well-established fitness brands in the world. With over a hundred years of experience behind them, its safe to say they know a thing or two about fitness equipment. The York Active 120 Treadmill comes in the mid-price range and with this price tag it obviously has some good features and specifications. With above average reviews on Amazon the majority of previous buyers seem to be happy with their purchase and the after-care service. The only question left to ask, does it give good value for money.
So lets take a look!
What The Manufacturer Has To Say
The York Active 120 offers users a sleek and simple treadmill with a speed range of 1.0 – 16km/h. Ideal for beginner and intermediate users, the treadmill features 13 pre-set programs including a body fat analyser.
The treadmill features a 0 – 12% powered incline with direct touch speed and incline control.
An elastic cushioned deck, hand pulse sensor and full LCD display and storage compartments complete the package.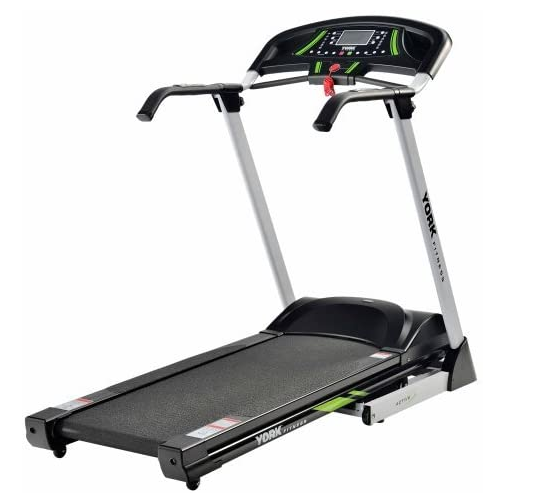 out of stock
as of May 14, 2022 10:00 am
Last updated on May 14, 2022 10:00 am
---
Treadmill Review – 

York Active 120 Treadmill 
---
The Need To Know
Speed: 16 km/h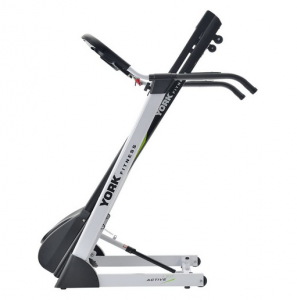 Running Area: 120 cm (length) x 41 cm (width)
Incline: 12%
Programs: 13 running programs
Shock Absorption: n/a
Monitor Functions: speed, time, heart rate, calories, incline
Dimensions: 164cm (L) x 73cm (W) x 129cm (H)
Warranty: 1 year warranty
---
What We Think
The York Active 120 is a sturdy and robust model and even though it does have some good features, there are other models that have more to offer for a similar price. The Sportstech F37 is a good example of being able to get more for your money. That been said, York Fitness have been around for a very long time and for some people brand reputation matters and York Fitness have an excellent one.
So lets take a look!
Speed & Incline
With a 1.25 hp motor (2.5 hp peak power) the York Fitness Active 120 Treadmill can reach a top speed of 16 km/h. This is more than adequate enough for most people except for more experienced users that may require something a bit more testing due to higher fitness levels. For ease of use while running there are quick speed buttons built-in to the display. These allow you to quickly adjust the speed setting with one touch of a button.
Due to this been a mid-priced treadmill it comes with an incline option. This helps to add far more intensity to a running workout and is a very good feature to have. In total there are 12 incline options which go a long way to adding variety to a workout.
Running Deck 
With a folding running deck the York Active 120 Active is a good model for those with limited space in their home gym. After each use it can be easily folded away and it only takes a matter of seconds to do. The total running deck area is 120 cm in length and 41 cm in width. This is a respectable size running area and the length is suitable for those up to 6 foot 4 inches in height, any taller and you may find yourself taking smaller strides than feels comfortable.
Another positive feature is how comfortable this running machine is to actually run on. Customer reviews say the deck is nicely cushioned and not too soft or too hard.
LCD Display & Monitor Functions
There is a 5″ backlit LCD with this treadmill and it shows users all the important information about their workout. In total there are five different readouts given and these allow the user to keep track of their speed, workout time, calories burned, incline and heart rate. The users heart rate is taken via the built-in sensors in the handlebars. In addition these sensors can also give an accurate body fat readout, which is another nifty feature.
In terms of exercise programmes there are 12 in total which is a good amount, however, for the price there are other treadmills with more to offer in this area. The 12 programmes can be easily selected as there is an individual icon for each programme. The benefit of this is that it saves you from button bashing when trying to select a workout at the same time as running. If you have had to do this before, due to your treadmill only having one button for selecting an exercise programme then you will how annoying this can be.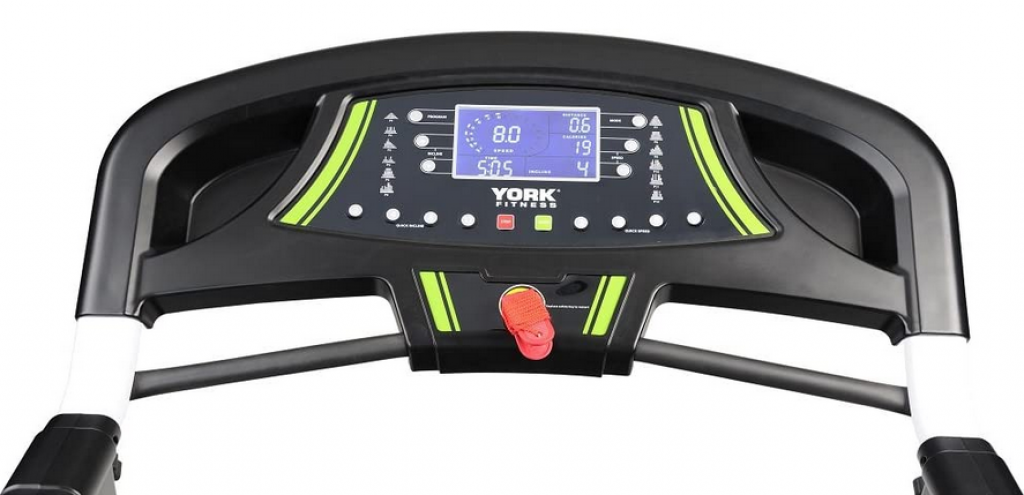 Maximum User Weight
When buying ane fitness equipment/exercise machine it's always good to check the maximum user weight as it is a very good indicator of how well-built it is. With a maximum user weight of 110 Kg the York Active 120 Folding Treadmill performs average in this department. Due to this been a mid-price treadmill 110 Kg is still a good amount and is a good indicator that this is a sturdy and robust running machine.
Pros
 programs
16km/h top speed
12% incline
Large running area
Cons 
Good Customer Review
We bought this treadmill as it seemed to be the best out there for the price. The delivery service was excellent and it was packaged well. We have used it a few times now but still getting used to it. It runs well and the incline mode is very good.
Thoroughly recommended. 
Bad Customer Review
A good treadmill. Only negatives are that the belt is a little short, and it tends to slip to one side or the other quite a lot. It's pretty easy to adjust, just a bit annoying. Could do with a bottle holder and phone/tablet rest, but these aren't really deal breakers for me. It's definitely a 2 person job to assemble it
Extras
To Sum Up
With a four star rating on Amazon the York Active 120 Treadmill seems to tick all the right boxes for most people. In our opinion its a very good treadmill but not the best in its price range.
For more reviews of the best home treadmills head over to our full guide featuring the best models for all budgets
Last updated on May 14, 2022 10:00 am