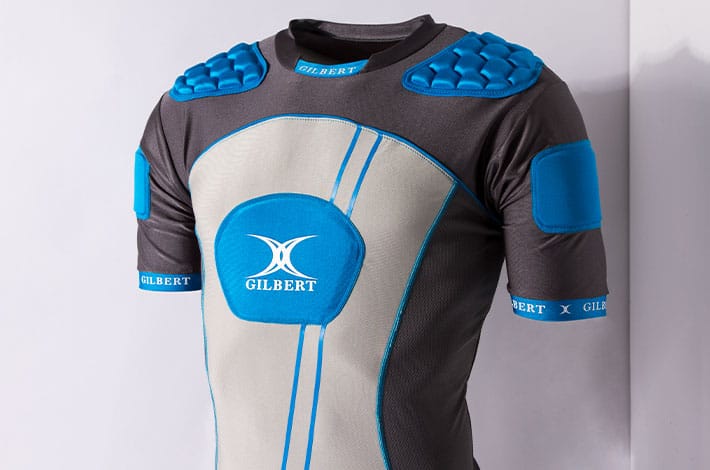 What Are The Best Rugby Shoulder Pads?
When I was a kid, there was no such thing as shoulder pads for rugby. We used to laugh at American Football because of how much padding and protection they wear. However, there is no doubt that shoulder pads do have their uses, especially if you are carrying an injury or have an old one that won't go away. In this guide to the best rugby shoulder pads we will be highlighting the top 5 shoulder pads on the UK market.
Shock Doctor Men's Shock Skin Ultra 3-Pad

When it comes to protective gear in sports the Shock Doctor brand know a thing or two. From their mouthguards to their rugby shoulder pads they offer high-quality protective gear at a very reasonable price.
In total there are three protection points with this item and they are both shoulders and the sternum. Most notable is how the contoured padding moves with the body as you run. Constructed from supportive four-way stretch material with anti-odour and moisture wicking fabrics which guarantee's that this is a very rugged item that won't end up smelling like the changing rooms. Another positive are the chafe free seams which are a welcome addition as nobody likes the annoyance of seams chafing their skin.
To sum up: very affordable and from a brand that can be trusted to provide good quality protective gear. With excellent customer feedback and 5 stars on Amazon this is well worth taking a look at.
Last updated on September 18, 2018 4:00 pm
Optimum Men's Tribal R.L. Protective Shoulder Pad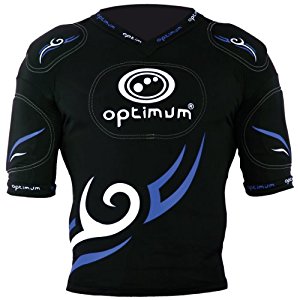 The Optimum brand are were known for their high quality yet very affordable rugby protective gear. The Tribal R.L protective shoulder pad is a prime example.
Made from strong Lycra the Tribal T.L is lightweight and durable. In total there are five points where padded protection is provided these are the shoulders, sternum and biceps. In addition the inner padding is 15mm thick which is a very good thickness providing ample protection. Furthermore the padding is removable and therefore can be machine washed which is obviously a bonus. The length of the shirt is extra long which makes it easier to tuck it in and keep it in place.
To sum up: Offering plenty of protection and coming in a whole rainbow of different colour options, the Optimum brand is a good buy for those looking for good quality protective rugby gear on a budget. 
Last updated on September 18, 2018 4:00 pm
Gilbert Rugby Atomic V3 Body Armour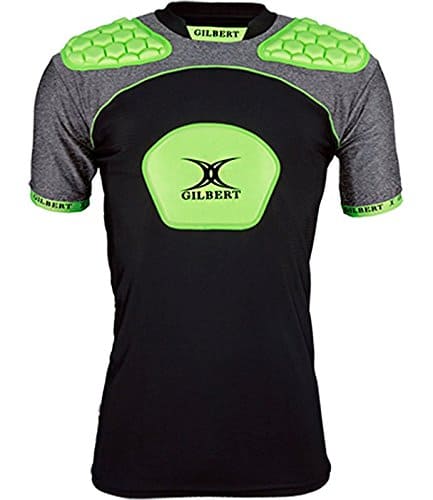 The Gilbert brand is synonymous with rugby and they have been making some of the best rugby gear for some time now. The Atomic V3 body armour is one of their bestsellers.
First of all there is a choice of three colours with these shoulder pads, these are green, red and blue. In terms of protection there are three points which are the shoulders and sturnem. In addition the padding is 5 mm thick which isn't the most but this is the preferred amount for a lot of rugby players. Made from four-way stretch material and Fastwick fabric which allows for fast drying when wet. The technology behind the Atomic V3 accelerates the pull away of moisture from the skin which consequently keeps the body dry and a lot warmer.
To sum up: this is a very good rugby body armour shirt with some good features especially the Fastwick fabric technology. If you are looking for some good comfortable shoulder pads then these may be the ones for you.
Last updated on September 18, 2018 4:00 pm
CCC Flexitop Plus Rugby Shoulder Pads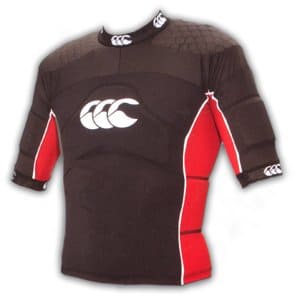 The Canterbury Flexitop is the ultimate protective rugby vest. The Canterbury brand are without doubt the makers of the best shoulder pads for rugby period.
There is no denying that this item Costa a fair bit more than the previous ones featured in our rugby shoulder pads reviews, however, with the extra cost comes a far superior product.
First of all the material used is super stretchy and ultra breathable and has anti moisture properties. The overall fit is snug and this item can be worn with the Canterbury hot or cold base layer. The most mentionable thing about these shoulder pads is the actual padding itself. The Flexitop has flexible 10ml honeycomb pads on the shoulders allows for good freedom of movement, breathability and most importantly very good protection. Furthermore there is also closed cell foam padding on the biceps sturnum and kidney area. Another positive is the option to remove the foam padding to machine wash them.
To sum up: if only the best will do then look no further than the Canterbury brand for the best quality and most functional protective shoulder pads .
Last updated on September 18, 2018 4:00 pm
CCC Flexitop Pro Rugby Shoulder Pads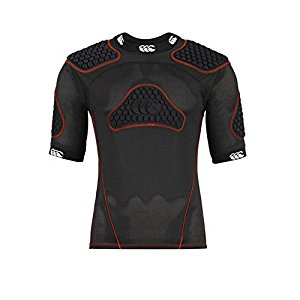 Another model by Canterbury and to be honest in terms of features and materials it is pretty much the same as the previously featured model. The reason we have included it though is because of how good it actually is. The Flexitop Pro is used by many professional rugby players which is a good indicator of its quality and overall functionality. So if it's the best shoulder pads you are after then the Flexitop Pro fits the bill there really isn't a better one out there.
Last updated on September 18, 2018 4:00 pm
Final Words
Protective gear for rugby doesn't have to cost an arm and a leg, however, the more expensive shoulder pads are far superior in overall quality and functionality. All of the items featured in our top 5 list are among the bestsellers in the UK and come highly recommended.
Last updated on September 18, 2018 4:00 pm