Top 5 Best Rugby Scrum Cap Reviews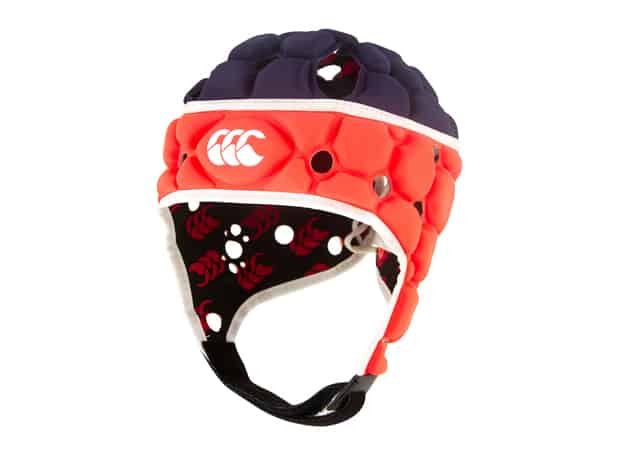 What's The Best Rugby Scrum Cap?
The best rugby scrum cap is one that provides adequate protection to the wearer. Other requirements are a snug fit and something that is comfortable to wear. With there been so many different brands making headgear for rugby players it can be hard to separate the good from the bad. In our top 5 rugby scrum cap reviews we will hopefully save you some time in searching for the best headguards as these are the top 5 best sellers in the UK and come with excellent customer feedback off verified buyers on Amazon.
Top 5 Rugby Scrum Cap Reviews
Optimum Tribal Rugby Headguard Scrum Cap Review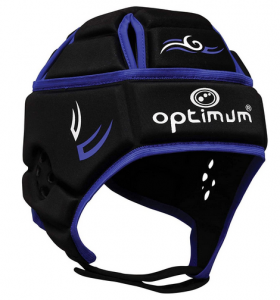 When it comes to value for money the Optimum range of rugby gear is hard to beat. The Tribal scrum cap is a good example of the brands quality to price ratio as this is a good headguard for rugby at a cheap price.
Made from an ultra lightweight material and designed to mould to the head. There is no denying this is a comfortable piece of protective headgear. The protection offered comes from closed cell foam which is the same technology used in more expensive models.
There is a velcro loop closure under the chin and at the back there is an elastic drawstring to adjust for the perfect fit.
To sum up: as with all things the Optimum brand makes the emphasis is on good quality and affordability. If you are looking for a cheap scrum cap that does the job it is supposed to do then look no further.
£30.75
out of stock
as of August 11, 2022 8:30 am
Last updated on August 11, 2022 8:30 am
adidas Rugby Headguard Review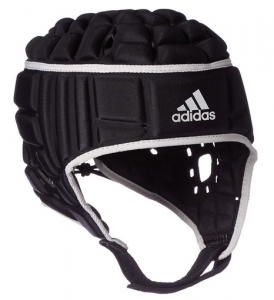 This rugby headgear by Adidas comes with excellent customer feedback and has 5 stars on Amazon. With a choice of different colours there is something for everyone with this headgear.
Due to this been made by Adidas the quality throughout is top-notch. The protection offered by this scrum cap easily meets the requirements of the Rugby Board playing standards.
Under the chin there is the usual Velcro strap and to the rear an adjustable drawstring. Furthermore this rugby headguard is used by many professional rugby players which is a good indicator of its quality.
To sum up: made by a brand with one of the best reputations for high quality products, this scrum cap by Adidas is a good buy and comes in at a good price.
£52.61
in stock
as of August 11, 2022 8:30 am
Last updated on August 11, 2022 8:30 am
Canterbury Men's Club Plus Rugby Head Guard Review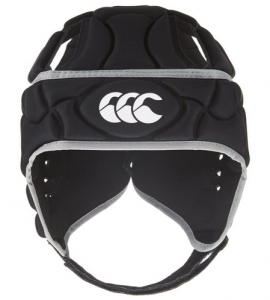 Canterbury have been around for a long time and supply kit to the England and Ireland national rugby teams as well as to many leading rugby club teams.
This rugby headgear is a step up from the previous ones featured in our rugby scrum cap reviews.
First of all the padding is of an interlock design which cleverly allows for 20% more padding. This ensures maximum protection which after all is the whole point of headgear. The padding itself is closed cell foam which is the standard among scrum caps.
As per usual there is a rear drawstring and velcro chin strap for a perfect fit. Customer reviews on Amazon stat how comfortable this headgear is and that it stays in place firmly.
To sum up: this is among the best rugby headgear on the market and provides some of the best protection. Comfortable to wear and very functional this scrum cap comes highly recommended.
Last updated on August 11, 2022 8:30 am
Gilbert Ignite Head Guard Review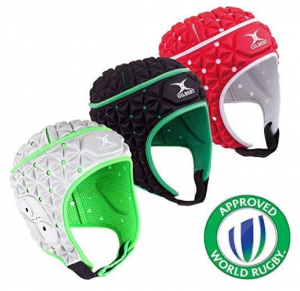 Gilbert are one of the most recognised rugby brands in the world and make nothing but high-quality gear. The Gilbert Ignite scrum cap is one of the best models on the market and has 5 stars on Amazon.
With a 3-dimensional fit and specifically designed to mould to the head a firm and secure fit is a certainty with this scrum cap. In addition the Velcro chin strap and rear drawstring are both simple to use and when adjusted correctly add to the secure fit, basically this scrum cap isn't going to shift out-of-place after every tackle.
There is a built-in moisture management mesh system which helps to evaporate any sweat. This leads to feeling a lot more comfortable which is always agood thing. With plenty of air vents and hollowed out ears for better player communication staying cool and calm under pressure shouldn't be a problem.
To sum up: Gilbert are well known for their quality rugby gear and this scrum cap is no different. If it's some very good rugby headgear that you are after from one of the best brands then the Gilbert Ignite would be one of the best headguards to buy.
Last updated on August 11, 2022 8:30 am
Canterbury Ventilator Rugby Head Guard Review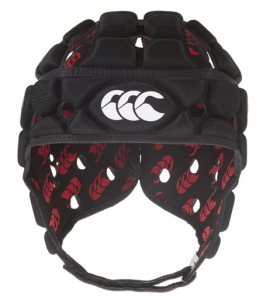 So here it is, the number 1 rugby scrum cap in the UK, the Canterbury Ventilator.
Let's take a look!
When it comes to the best protective gear for rugby the Canterbury brand will always be high on the list. The first thing to say about this model is that it comes with a highly regarded 5 stars on Amazon and nothing but positive reviews.
The padding is designed to deliver high impact protection and is the reason many professionals choose the Canterbury Ventilator. In addition the ventilation provided is second to none and keeps temperatures down. There is of course the usual rear drawstring and velcro chinstrap, however, this chinstrap is the most secure out of all scrum caps. Finally there is a polyester and cotton lining which features enhanced moisture management properties.
To sum up: if only the best protection and ventilation will do then this is the scrum cap to buy. Made by one of the most respected rugby brands and with excellent customer reviews it's hard to find a reason not to buy it.
Last updated on August 11, 2022 8:30 am
Final Words
For a very affordable price a very good rugby headguard can be bought. The protection offered by headgear can mean the difference between normal looking and cauliflower ears. This in itself is more than a good enough reason to invest in one of the best rugby scrum caps.