Top 10 Best Casein Protein Powders – Reviews & Comparisons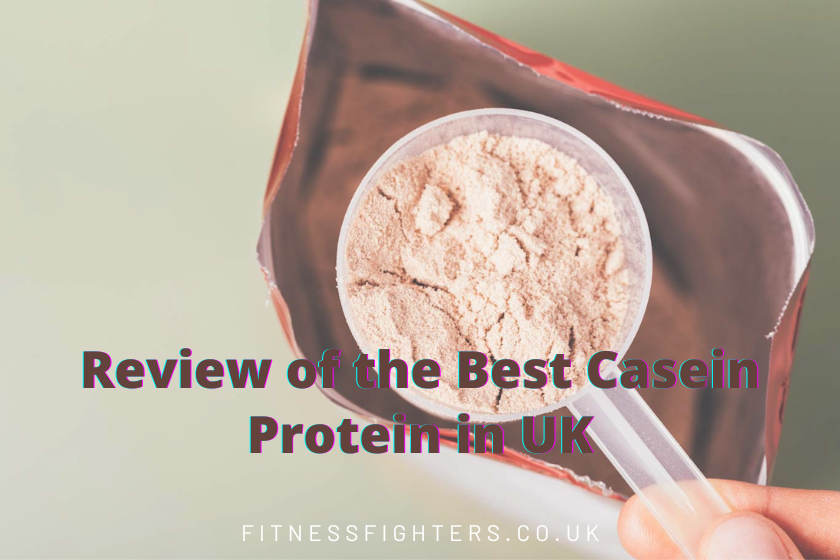 You may well be asking yourself, what is the best Casein Protein UK residents can buy? To answer this question we have reviewed all the top brands to bring you the best Protein Casein Supplements in our top 10 list.
Everybody knows that to build lean muscle mass you need protein and lots of it. However, not all people know that there are two different types of protein that can be taken as a bodybuilding supplement. First there is whey protein which is a fast-acting protein, which basically means it is absorbed by the body at a quick rate. Typically the body absorbs between 8-10g of whey protein an hour. Due to the rapid absorption rate whey protein is best taken during the day before a workout or after a workout to help aid in muscle recovery. Then we have Casein Protein which is absorbed by the body at about half the rate of whey protein, roughly around 5g per hour. Due to the slow release rate Casein Protein is the perfect supplement to take before bedtime as it gives the body a steady release of protein.
Top 10 Best Casein Protein Supplements Comparison's
| Product Image | Brand | Protein | Rating |
| --- | --- | --- | --- |
| | Muscle Pharm Hybrid Series Combat 100% Casein | 28g | |
| | Optimum Nutrition Gold Standard Casein Powder | 24g | |
| | Dymatize 907g Elite Casein | 25g | |
| | Grenade Hydra 6 Charge Protein Casein | 24g | |
| | MyProtein | 24g | |
| | The Protein Works | 24.5g | |
| | BULK POWDERS Micellar Casein Protein Powder | 25g | |
| | USN Casein Night Time Protein | 24g | |
| | Ascent Native Fuel Micellar Casein Protein Powder | 25g | |
| | Pink Sun Organic Micellar Casein Protein Powder | 11g | |
Best Casein Protein UK 2023

1

)

MusclePharm Combat 100% Casein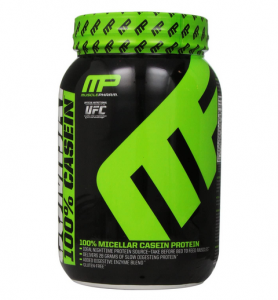 With 28g of protein per serving Musclepharm Combat Casein has one of the highest protein contents of all Casein Powders available. The protein comes from 100% micellar casein which is considered the best form of Casein out of the two types, the other been Calcium Casinate. To aid in the injestion of the micellar casein Musclepharm have added a digestive enzyme blend. Consequently this helps to alleviate any bloated feeling and gas that some people experience with a high-protein diet. In terms of vitamins and minerals there is a nice blend with good quantities.
Where this particular Casein supplement excels, aside from the high protein content, is the very impressive amino acid profile. Micellar casein breaks down to form high quality branched chain amino acids (BCAAs) that are ideal for muscle tissue recovery and have an anti-catabolic effect and with this brand been made from 100% micellar casein you can be sure to get a good dose of vital BCAAs. Another positive is that it is Gluten free, on the downside there is an artificial sweetener in the ingredients. Overall this is a very good casein supplement with a high protein content. In addition it provides a good dose of vitamins, minerals and BCAAs. In our opinion all of the above contribute to this been the best casein protein on the market.
Visit MusclePharm Amazon.com Store
2) Optimum Nutrition Gold Standard 100% Casein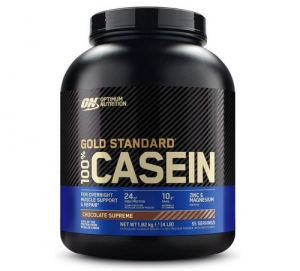 Optimum Nutrition are one of the world's leading supplement brands and the brand name speaks for itself. If it's a very high quality supplement from a brand with a solid reputation that you are after then look no further. Optimum Nutrition Gold Standard comes with 24g of high-quality micellar casein per serving. Due to micellar casein containing natural occuring BCAAs there is a healthy 5g mixed dose of Leucine, IsoLeucine and Valine per serving. Furthermore there is an additional 5g of naturally occurring glutamine and glutamic acid. Overall Optimum Nutrition have created one of the best casein powder supplements with this one. With a good combination of all the essentials for muscle growth and recovery it comes highly recommended. Taking all of the above in to consideration its easy to see why this is the number one best-selling micellar casein in the UK.
£74.99
in stock
7 new from £69.80
as of November 26, 2023 8:08 pm
Last updated on November 26, 2023 8:08 pm
3) Dymatize Elite Casein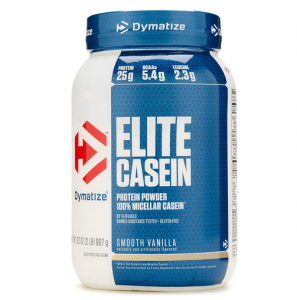 A single 35g serving of Dymatize Elite provides a very impressive 24g of protein. This protein is derived from a combination of calcium caseinate and the slower releasing micellar casein. A positive of calcium caseinate is that it does provide a high dose of calcium which is good for maintaining strong bones. Furthermore other benefits of the Dymatize blend are the high BCAA content of 5.4g per serving and a healthy dose pf Iron and potassium. With 130 calories in each shake and four flavours to choose from this is a well-rounded casein and one of the best rated casein protein powders in the UK.
4) Grenade Hydra 6 Charge Protein Casein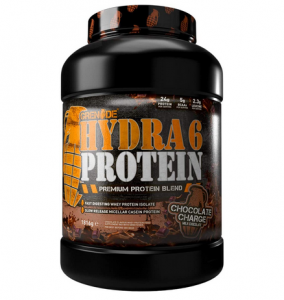 With each 35g serving of Hydra 6 there is 24g of protein. However, the protein is a 50/50 ratio of whey protein isolate and ultra-filtered micellar casein. The thinking behind this is that a combination offers the best of both and leads to not having to buy two different types of protein. With this been Amazon's choice casein product, in addition to been rated five stars overall from previous buyers, Grenade Hydra is obviously a very good casein supplement. Previous buyers state how easy it mixes and that it doesn't lead to any bloating. Coming in five wholesome flavours chocolate, cookie, peanut butter, strawberry and vanilla, this one is well worth a try.
£48.00
£49.90
in stock
9 new from £48.00
as of November 26, 2023 8:08 pm
Last updated on November 26, 2023 8:08 pm
5) MY PROTEIN Micellar Casein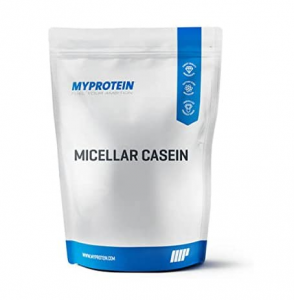 If you have been taking supplements for a while then no doubt you have come across the MyProtein brand. This brand offers great value for money as their products are very good at the same time as been affordable. Their micellar casein provides 24 grams of protein per serving and there are eight different flavours to choose from. Another positive about this brand is that they have some great offers on all the time and regularly offer their loyal customers discounts.
£24.99
£29.95
in stock
2 new from £24.99
as of November 26, 2023 8:08 pm
Last updated on November 26, 2023 8:08 pm
6) The Protein Works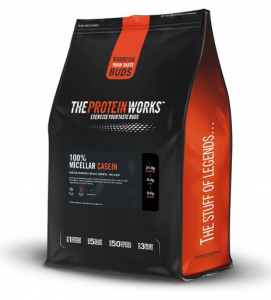 Due to their large range of high-quality protein products The Protein Works have built up a loyal customer base. The Protein Works 100% micellar casein comes with a very respectable 24.5 grams of protein per serving. In total there are four flavours and the chocolate silk is the favourite for many. Casein is known to be creamier in texture than whey and that is noticeable with the chocolate silk flavour. Mixability is also what you would expect from a premium quality protein and this makes a great shake for at night or any time you are not going to be consuming protein for a while.
£37.60
£38.99
in stock
as of November 26, 2023 8:08 pm
Last updated on November 26, 2023 8:08 pm
7) BULK POWDERS Micellar Casein Protein Powder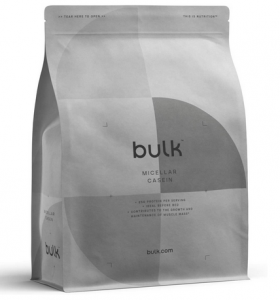 Bulk Powders micellar casein comes with a whopping 90% protein and is rich in minerals and electrolytes. In addition it provides a good dose of glutamine and BCAAs. On the opposite end of the scale it is low in fat and carbohydrates. Bulk Powders are well-known for the high-quality and affordability of their supplements and have a good reputation. Previous buyers seem to be very happy with this casein and customer reviews place particular emphasis on the creamy texture and tasty flavour.
out of stock
as of November 26, 2023 8:08 pm
Last updated on November 26, 2023 8:08 pm
8)
USN Casein Night Time Protein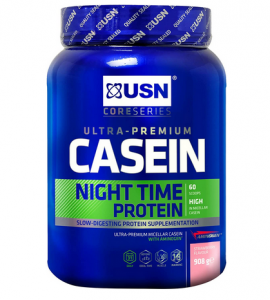 One of the market leaders in sports nutrition USN pride themselves in offering some of the best sports supplements. Night Time Protein from USN is no exception to these high standards and comes with 24g of protein per serving. Currently there are only two flavours these are strawberry and vanilla. Customer reviews speak highly of this casein protein with regards to the creamy texture and how easy it mixes. The only downside to this product is the addition of the artificial sweeteners Sucralose and Acesulfame-k.
out of stock
as of November 26, 2023 8:08 pm
Last updated on November 26, 2023 8:08 pm
9) Ascent Native Fuel Micellar Casein Protein Powder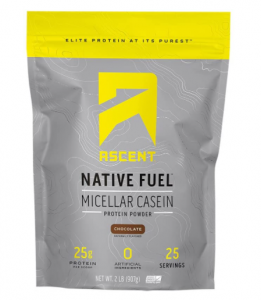 Now and again a company comes along and raises the bar and in our opinion Ascent have done just that. With a protein content of 25g per serving they are matching the bigger brands. Where they excel is with the purity of their micellar casein.Ascent filter their protein directly from milk making it among the least processed micellar casein protein available. Due to the purity there is 11g of BCAAs per serving and a good portion of essential acids. Furthermore this product contains no added sugar or artificial sweeteners such as sucralose. If you are looking for supplements free from any bad ingredients then the Ascent range is well worth taking a look at.
10) Pink Sun Organic Micellar Casein Protein Powder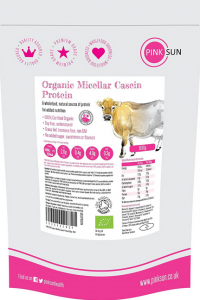 If you are looking for a casein protein powder that is free from any nasty additives, has no added sugar is also free from artificial sweeteners and is 100% certified organic as well as being gluten-free, then Pink Sun Organic Casein is the one for you. Made from 100% micellar casein from grass-fed and hormone-free organic cows milk this is a quality product. The only downside is that it is unflavored. For those that can't handle the taste or rather the lack of taste associated with unflavored protein you can always buy some PINK SUN Organic Coconut Cream, PINK SUN Raw Organic Cacao Power, PINK SUN Liquid Stevia Drops or add your own tasty ingredients.
The serving suggestion is only 15 g which provides 11g of protein per shake. This may seem low, however, if you doubled the serving you would get 22g of protein which is comparable to the amount you get with the best casein protein brands.
£28.45
in stock
2 new from £27.45
as of November 26, 2023 8:08 pm
Last updated on November 26, 2023 8:08 pm
Things To Consider Before Buying Casein Protein
Before buying casein protein there are a few things to think about first especially if you are to buy the right one for your supplementary needs.
Quality of the ingredients
The quality of ingredients varies from brand to brand and generally speaking the more expensive a casein protein is the better the quality of ingredients are. In our top 10 list we have tried our best to only include products with the best ingredients, however, these days it can be hard to escape the artificial sweeteners. If this is something of importance then maybe take a look at an organic casein protein as these are guaranteed to contain the best ingredients possible.
Value for money
Nobody wants to pay over the odds for their protein and rightly so. Unfortunately you do tend to get what you pay for with casein protein. The more expensive brands have a better quality protein and usually more of it per serving than the cheap protein brands. In our top 10 list there are a number of good value products in there that have all the requirements of a good casein protein powder at a reasonable price.
Taste and texture
This can be a tricky one as everybody is different when it comes to taste. Generally speaking if you are happy enough with the original chocolate, strawberry, banana and vanilla flavours that a brand offers, then its safe to say that you may like the more random flavours. Remember to always read the customer reviews on any particular product. These usually talk about the flavours, texture and how well it mixes.
F & Qs
Casein Vs Whey Protein, What's The Difference?
The main difference between these two protein supplements is the way that they are absorbed by the body. Whey protein is perfect for taking pre and post-workout as it is acid soluble and quickly enters the bloodstream. Due to the fast acting nature of whey it can quickly supply the body with the L-leucine it needs for protein synthesis that leads to muscle growth.
Casein protein is PH sensitive and when it comes into contact with stomach acid it forms a gel like substance. This takes the body longer to break down and leads to a steady dose of nutrients over a prolonged time. Due to this casein is best taken before bedtime to aid in the bodies recovery and to keep the body in an anabolic state rather than catabolic. When the body is in a catabolic state it uses muscle protein to replenish itself. As you can imagine this is not a good thing if you are trying to build muscle.
Can You Take Casein And Whey Protein?
There is no reason not to take both whey and casein protein. Many experts will tell you to take both due to the benefits. Aside from the protein, the whey will provide an L-leucine boost to aid in protein synthesis and the casein gives a steady release of amino acids for a long duration. In addition tests have shown that combining both whey and casein as opposed to whey, BCAAs and glutamine, can result in leaner muscle mass.
Can I take casein protein without working out?
Yes, you can take casein protein without working out. Casein protein is a slow-digesting protein that provides a sustained release of amino acids to support muscle recovery and growth. While it is commonly used by athletes and individuals engaged in regular exercise to optimize muscle repair and adaptation, it can also be beneficial for individuals who have increased protein needs or struggle to meet their protein requirements through dietary sources alone. However, it is important to note that the total protein intake, including casein protein, should align with your overall nutritional needs and goals. Consulting with a healthcare professional or a registered dietitian can help determine the appropriate protein intake for your specific circumstances.
Related guide: Benefits of BCAA supplements
Last updated on November 26, 2023 8:08 pm