JLL S300 Digital Folding Treadmill Review
JLL S300 Digital Folding Treadmill Review
The JLL S300 Digital Folding Treadmill is one of the best-selling treadmills in the UK and comes with very good customer feedback on Amazon. In addition to the four and a half star rating this model currently has a big discount making it great value for money and ideal for those looking for a quality treadmill at an affordable price. In terms of features the JLL S300 has a lot to offer and is considered to be one of the best rated treadmills.
So lets take a look!
What The Manufacturer Has To Say
The JLL S300 Folding Treadmill is perfect for those looking to be motivated and challenged. With the slightly larger running area of 122cm x 40cm, 15 programs and a 20 level incline this running machine is great for a variety of users from beginners to advanced runners. The 16 point cushion deck helps soften the impact to joints and simulates the feel of running on the road.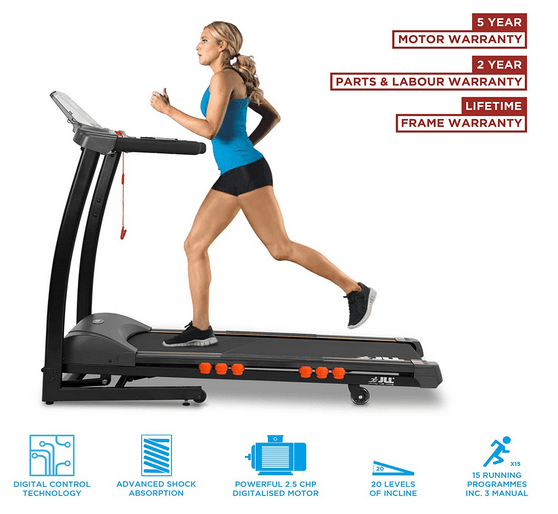 £499.99
in stock
as of July 2, 2022 10:05 am
Last updated on July 2, 2022 10:05 am
---
Treadmill Review –
 JLL
® 
S300 Digital Treadmill
---
The Need To Know
Speed: 0.3 – 16 km/h = 0.18 – 10mph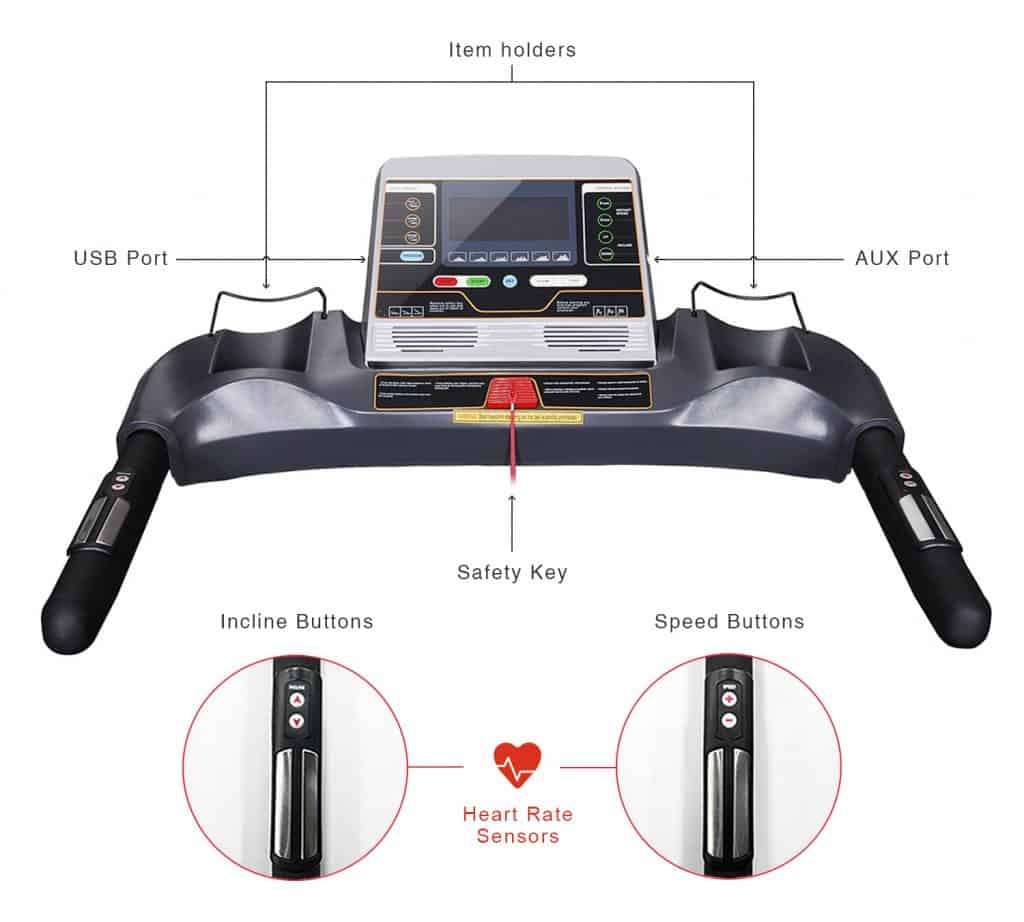 Running Area: 123 cm (length) x 41 cm (width) / 48″ x 16″
Incline: 20 levels
Programs: 15 professional running programs
Shock Absorption: 16 point cushion system
Monitor Functions: speed, time, distance, heart rate, calories, incline
Dimensions: 158cm (L) x 70cm (W) x 128cm (H)
Warranty: lifetime frame warranty, 5 year motor warranty, 2 years parts & labour
---
What We Think
As with all things the JLL brand make the emphasis is on quality and affordability, the JLL S300 Treadmill is no different. With many of the features that more expensive models have this is a great value for money treadmill. Due to the current discount the value for money ratio is even greater.
The specifications are impressive there is a decent top speed and plenty of programs to keep users on course to meet their fitness goals.
Speed & Incline
The JLL S300 has a top speed of 16 km/h which is approaching the top end of treadmill speeds. In addition this model has the slowest speed setting out of all treadmills at 0.3 km/h making it suitable for the elderly and less mobile.
With 20 levels of incline users are guaranteed a hard workout. At the maximum speed and incline setting it is hard to keep the pace up for long durations of time, which is good for advanced users of treadmills.
Running Deck 
Those that own or have previously owned a home treadmill will know how important it is to have a good-sized running area. A running deck that is too small leads to an uncomfortable workout, where you feel like you have to constantly adjust your running stride and arm movement to compensate for the lack of space. However, the JLL S300 has a very good-sized running area measuring in at 122 cm x 40 cm. A running deck of this size is good for those up to a height of about 6 foot 4 inches.
Featuring a built-in 16 point shock absorption system this treadmill is easy on the joints. In addition the absorption system reduces noise which is always a good thing especially if you have neighbours.
LCD Display & Monitor Functions
Compared to some running machines of a similar price the JLL S300 Folding Treadmill has a very modern looking LCD display. Simple to use and navigate even a technophobe would find it user-friendly. In total the display shows the users time, speed, distance, heart rate and calories.
Programs
There are in total 15 pre-set programs with this home treadmill with the first three been programmable to customise your very own workout. Having a wide variety of programs helps to alleviate boredom when working out. In addition it also means you are far more likely to exercise for longer.
Entertainment
Staying motivated during a workout is far easier when you have something to distract the mind from the task at hand, and what better way to stay motivated than listening to your favourite music. There are powerful speakers built-in to this treadmill and with the ability to hook up your iPod, iPhone or MP3 into USB the interface staying motivated shouldn't be a problem.

Maximum User Weight
Weighing in at 57.5 kg the JLL S300 Digital Folding Treadmill is a very sturdy and well-built model. Due to the robust design there is a maximum user weight of 120 kg which equates to just over 18 and a half stone.
Pros
15 programs
20 levels of incline
16 point shock absorption system
foldable
very good warranty
Cons 
Good Amazon Review
A very good product. Setting up is well explained in the booklet, and staff will quickly reply if you have any queries regarding this. All in all it is very stable and a very well constructed and very good value.
Bad Amazon Review
Arrived later than mentioned but ok
Speaker function not great.
Extras
Features two bottle holders
To Sum Up
currently this is one of the best budget treadmills available to buy in the UK. If you are looking for an affordable treadmill with plenty of features and quality in the overall design then the JLL S300 might be the one for you. With excellent customer reviews, which is a very good sign of a quality product, this treadmill is a good buy. However, if you are looking for something a bit more high-spec the JLL S400 is worth taking a look at.
If the S300 isn't for you be sure to check out our home treadmill guide with reviews of the top treadmills in the UK.
Last updated on July 2, 2022 10:05 am