The Top 10 Best Pull Up Dip Station UK 2022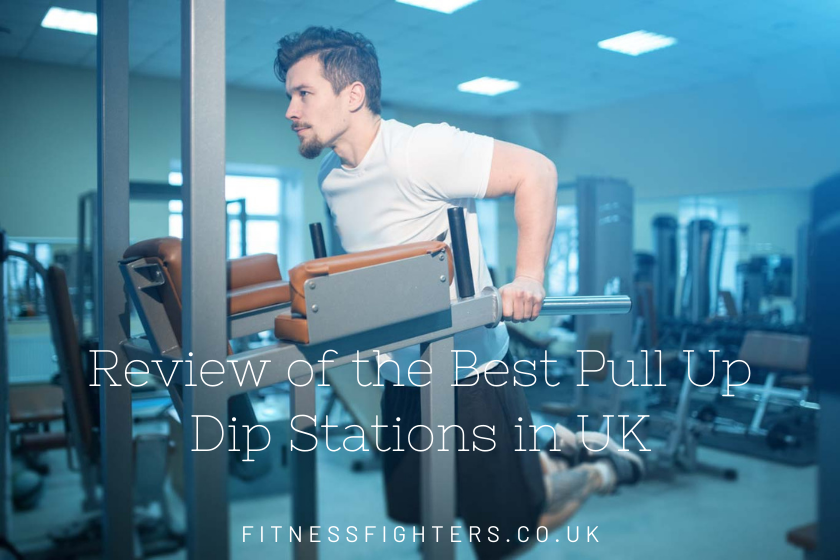 Best Pull Up Dip Station Reviews & Buying Guide
More and more people have started exercising at home during this past year. But doing fitness exercises at home can require plenty of equipment and take up quite a lot of space. That's why it's crucial that you shop carefully and select a fitness machine that can not only target your entire body but which will not take up too much space around your home.
Enter the adjustable pull up dip station!
Apart from dumbbells, a pull up dip station is the only addition you'll need for your home workouts. It consists of a pull up bar and two handles attached to a single station. These two simple features can provide a good workout for almost your entire body.
We'll discuss all the different exercises you can perform on a stand-alone dip station later, but for now, it's good to know that you can use it to train your back, arms, shoulders, chest, abs, and core. A pretty complete workout in my opinion!
In today's post, we'll go over some pull up dip station reviews to help you find the right one for you. Before we dive in though, let's first take a look at what you need to consider when buying the best power tower dip station for your needs!
Pull Up Dip Stations Buying Guide
Size
For those with limited space, the size of the station is crucial. Most dip stations have dimensions somewhere around H: 220cm / W: 100cm / D: 135cm, so make sure to measure the space where you plan on putting the station.
Stand-alone dip stations don't require any other additional equipment, so there's no need to consider additional space around it.
Stability
In order to prevent any accidents during exercising, having a strong and stable pull up, knee raise and dip station is essential. Some manufacturers produce their stations with thin steel or a small base, and as a result, they can get wobbly during pull ups.
Make sure to look for thick feet on the base and ensure that the base is outward-curving to provide that additional support and stability.
Max weight
The maximum weight capacity of a stand-alone dip station is a pretty good indicator of how well-built the station is. Usually, dip stations with a higher weight capacity have a larger base and are made from robust materials.
Additionally, make sure to get a station with a slightly larger capacity in order to accommodate additional weights you might use in the future when regular bodyweight exercises are simply not doing it for you anymore.
Pull Up And Dip Station for Home Comparison Table
| Product Image | Product/Brand | Max User Weight | Price |
| --- | --- | --- | --- |
| | Sportsroyals Power Tower Dip Station Pull Up Bar for Home Gym | 200 Kg | View Amazon Price |
| | RELIFE REBUILD YOUR LIFE Power Tower Station Dip Stands Adjustable Home Gym | 150 Kg | View Amazon Price |
| | TecTake Dip Power Tower Station with Sit Up Pull Chin Up | 100 Kg | View Amazon Price |
| | JX FITNESS Power Tower Adjustable Dip Station Pull up Bar Push Up Workout | 130 Kg | View Amazon Price |
| | Ultrasport Power Tower, Multifunctional Weight Station for a Varied Home Workout, Power Tower and Gym Tower, Dip Station, Pull-Up Bar, Push-Up Grips | 150 Kg | View Amazon Price |
| | ONETWOFIT Power Tower | 136 Kg | View Amazon Price |
| | DlandHome Multi-Function Power Tower Adjustable Height | 272 Kg | View Amazon Price |
| | YOLEO Adjustable Power Tower - Multi Function Pull up Station for Strength Training - Dip Stand | 100 Kg | View Amazon Price |
| | Bowflex Unisex's BodyTower | 136 Kg | View Amazon Price |
| | We R Sports Station Sit Up Bench | 100 Kg | View Amazon Price |
| | Max Strength Multi Gyms Power Tower | 150 Kg | View Amazon Price |
| | Body Sculpture Power Tower | 120 Kg | View Amazon Price |
Best Pull Up and Dip Station UK Reviews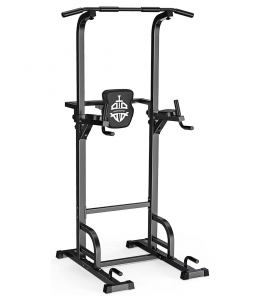 The Sportsroyals power tower is a multi-functional station that includes handles on the base for push ups.
It's made out of 14-gauge heavy-duty steel and has a maximum weight capacity of up to 200kg. The extra-long, 100cm H-shape base provides adequate support and increases the contact area with the ground, allowing for extra stability.
The handles where your arms go during leg raises are tilted 10 degrees inward to prevent your arm from slipping out, which is a nice safety feature. There is also foam padding for increased comfort.
The height of the pull up bar can be adjusted from 165cm to 225cm, while the backrest can be pushed backwards if you need to do so.
Because of the quality of the station, Sportsroyals offers a three-year service, including replacement of all parts during that period.
Pros:
Stable design
Adjustable elements
Comfortable padding
Safety locknut
Push up handles
Cons:
Some users have reported missing bolts in the package
---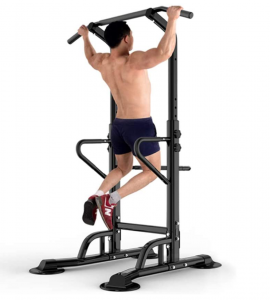 The power tower from DlandHome is an adjustable station made of heavy-duty metal. It's got a widened main support and a splayed base for increased stability and durability.
The height of the pull up bar can be adjusted from 190 to 230 cm so it can accommodate multiple family members. The assembly is pretty easy, and it comes with detailed instructions for further help.
It is advertised as having a maximum weight capacity of 300kg, but there have been reports of the base being different in real life from what has been shown in the pictures, so this capacity may be slightly lower.
All in all, a pretty solid pull up dip station for the money!
Pros:
Adjustable height
Easy to assemble
Large weight capacity
Cons:
Base may not be as advertised
---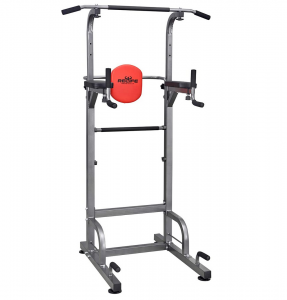 This is one of the best-rated power towers on Amazon, and rightfully so.
It's made out of sturdy steel and has four suction cups on the bottom of the base to serve as feet for increased stability. That way, you can focus on training and not worry about the station.
The strong base means that the maximum weight capacity is 150kg, which is pretty good for average trainers.
The RELIFE power tower also features push up handles on the base so you can do plenty of push up variations as an added benefit.
It has nine levels of height adjustment, from 147cm for kids, to 225cm for taller adults. The backrest can be adjusted as well, from 18cm to 24cm, so anyone from the household can use this power tower. Even the handles for leg raises are adjustable to suit everyone's needs.
As part of the guarantee for their product, they offer a one-year after-sale service and quality assurance for the main frame, and a lifetime warranty for all the other parts!
Pros:
Quality design
Adjustable elements
Comfortable padding
Suction cup for added stability
After-sale service
Cons:
Reports of certain parts being poorly welded
---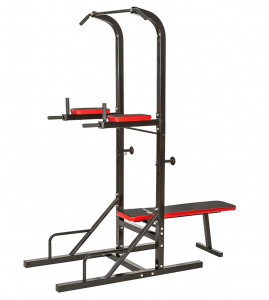 This power tower from TecTake is unique because it features a weight bench and a barbell rack above it.
It looks just like a regular power tower but has a foldable weight bench behind the main frame. The weight bench allows you to perform all sorts of exercises, from chest flys, bench presses, rows, and many more. There are also two handles on the base so you can do push ups. This will further strengthen your upper body, and, combined with the pull up dip station, will target every single little muscle in your body.
The entire station weighs 35kg and can support a maximum weight of 100kg.
Overall, a pretty good way to combine different exercises into one station.
Pros:
Foldable weight bench
Push up handles
Barbell rack
Cons:
Comes with German instructions
---
5. Bowflex Unisex's BodyTower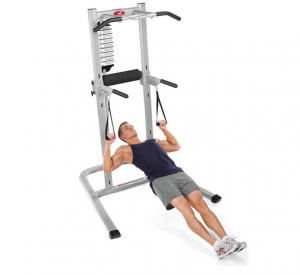 If you are looking to buy the ultimate home pull up and dip station, then there really is only one option and that is the Bowflex BodyTower.
The Bowflex BodyTower has seven levels of adjustment and E-Z adjust horizontal bars that allow you to perform more than 20 different exercises, making it perfect for a varied home workout.
It is made from commercial-grade steel and has a maximum user weight of 136kg.
Compared to some of the other options available it does have quite a compact design and a footprint that doesn't require an awful lot of room to accommodate it.
One thing that is for certain is that it is sturdy and very stable. The only downside that may put some people off is the price, as it is one of the most expensive options available to buy.
---
6. Sportstech 7in1 Power Tower PT300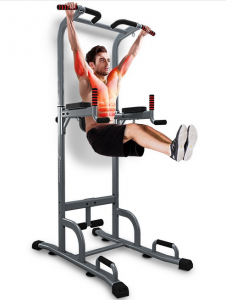 The Sportstech Power Tower PT300 is one of the latest models to hit the fitness market and it has all of the attributes to make it a top contender for the best pull up station.
As you can see from the product image, this is a very robust-looking power tower. This, as you may have gathered, is an essential requirement when purchasing any power tower.
With a wide-set design for added stability and rubber feet for extra grip, this free-standing dip station won't move an inch when being used. This model offers a total of seven workout options, not including variations.
To conclude, the Sportstech Power Tower PT300 is a bit pricey when compared to some of the other models available. However, it is significantly more affordable than the Bowflex and makes a great alternative for anyone that is looking to buy a top-quality model without breaking the bank.
---
7. We R Sports Station Sit Up Bench & Pull Up Bar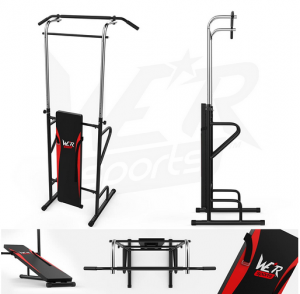 We R Sports make some very good home fitness equipment at a price that is affordable to the majority of people. The We R Sports Home Dip Station is a prime example of the brand's great value for money products. With the added bonus of a built-in adjustable weight bench, this model offers versatility and a lot of exercise options.
The frame is adjustable, allowing the user to change the height to the desired level. Other features include leg straps on the sit up bench and push up handles.
Offering great value and a varied workout at a good price, this one is definitely worth taking a look at. The only potential downside for some is the maximum user weight of 100kg.
What we really like about this equipment is its small size, meaning it can be tucked away when not in use. This is ideal for those with only a small space for their home gym
---
8. Max Strength Multi Gyms Power Tower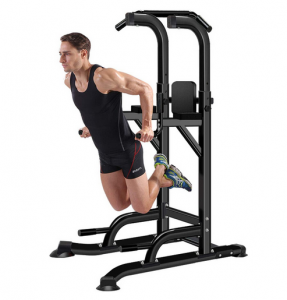 If you are a regular gym-goer, you may have already noticed that this model by Maxstrength is more akin to the ones that you tend to find in your local gym.
With a very solid and robust solid steel frame, it has a maximum user weight of 150kg making it ideal for those looking to buy a pull up and dip station that isn't going to move as you workout on it.
Fully adjustable, it has a maximum height of 280 cm. If you are on the tall side this may be the best option for you.
What we really like about the Maxstrength power tower is the super-easy assembly and the varied workout options it offers.
It also features durable padding and non-slip floor pads which work in combination with the sturdiness of this model to ensure it stays perfectly still even when you are going all out with your dips and pull ups.
---
9. Body Sculpture Power Tower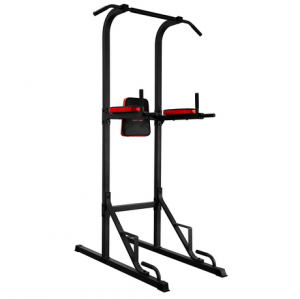 Even if you are on a limited budget, you are still not short of options when looking for a pull up and dip station. That being said, there is a big difference in quality among the lower-priced models, and you really do have to shop around if you are going to get the best value for your money.
With that in mind, the Body Sculpture Power Tower is one option that has plenty of good reviews from previous buyers and is well worth considering.
The overall design isn't as bulky as the less affordable models, but it is still designed to be sturdy and robust.
With a pull up bar and dip station as well as push up bars on the bottom there is the opportunity to have a decent workout with the Body Sculpture power tower, all without spending a fortune.
---
10. ONETWOFIT Power Tower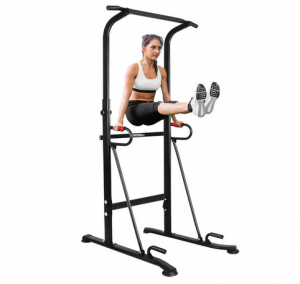 Another popular choice in the lower price range is the OneTwoFit Power Tower. Similar to the previous model, it isn't quite as bulky as the more expensive options, but that is the main reason it costs significantly less.
Surprisingly for a lower-priced model, the OneTwoFit Power Tower has a very good maximum user weight capacity of 136kg. As you may have gathered by now, this is due to it being made from heavy-duty steel, giving it a sturdy and stable design.
The only negative to this model is that there is no padded backrest due to a slight variation in the design of the dip station.
---
11. Hardcastle Bodybuilding Home Gym Power Tower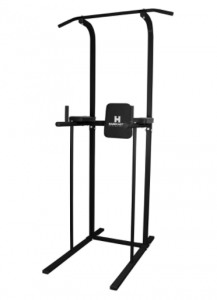 The Hardcastle brand is best known for its affordable home fitness equipment that comes with a good degree of quality. As this is a budget pull up station it is obviously not the best of the bunch, however, it is fully functional and does the job it is supposed to do.
With a maximum user weight of 90kg (14 stone), this model won't be suitable for everyone, so bear this in mind if you weigh more than this. With good customer feedback and positive reviews, previous buyers seem to be happy with their purchase.
If you are on a very limited budget, the Hardcastle Dip Station is the best buy out of all of the very cheapest pull up and dip stations.
---
Pull Up Dip Station Exercises
Doing home exercises to lose weight and build muscle has never been easier than with a pull up, knee raise and dip station. They are all bodyweight exercises primarily, but you can add additional weights and progress gradually as your fitness levels increase.
Generally, you can do four major exercises on a pull up dip station, but as we mentioned earlier, they are more than enough for targeting your main muscle groups. Let's take a look!
1. Pull ups / Chin ups
Pull ups are one of the most effective upper body exercises you can do. They target your entire upper back, your shoulders, and your biceps. They also broaden your shoulders and increase your pulling strength.
The good thing about them is that you can place your hands anywhere on the pull up bar, and as a result work out your muscles from different angles.
There's also the alternative where you place your hands with your palms facing towards you and getting your chin up and above the bar. This is known as the chin up exercise and targets your biceps much more efficiently.
It's best to mix your grips and see whatever works best for you, but still, do enough variations to target every muscle in your upper body.
2. Tricep dips
One of the most famous exercises, and one that's also in the name (pull up, knee raise and dip station), is the tricep dip. It's a powerful compound move that works your triceps, chest, and shoulders.
To perform dips, place your arms on the grips, and extend your triceps to raise your entire body upwards. Once you're there, return to the starting position slowly while being aware of the contraction in your tricep.
You can do some slight variations of this move to target your chest more than your biceps by simply leaning forward a bit.
3. Leg raises
Besides the pull up and dip, you can also do leg raises to improve your abs and core strength. You can do two different variations – one includes hanging from the pull up bar, while the other starts with your arms on the handles.
Either way, it's a great way to work out your abs and strengthen your core. You can also raise just your knees instead of the legs, which is more suitable for beginners that don't have the core strength.
To work out your obliques as well, you can add some diagonal movements to the raises by simply moving your legs diagonally. The options are nearly endless with a pull up dip station!
4. Push ups
And finally, some power tower stations feature two small handles on the base to allow push ups to be performed. This means that you can add another exercise to your upper body workout routine.
Thanks to the handlebars, you can perform deeper push ups and as a result, stimulate your chest muscles more effectively with a full range of motion.
Conclusion
As you can see, the exercises you can do on pull up dip stations can provide you with a full-body workout all from the comfort of your own home. There are plenty of good power towers with amazing specifications and all the features you need, so just choose one from our list of reviews and you can start improving your body right away!
If, however, a pull up dip station is simply not enough for you, check out our best home multi-gym reviews to find the right option for you!
| Product Image | Product/Brand | Max User Weight | Price |
| --- | --- | --- | --- |
| | Sportsroyals Power Tower Dip Station Pull Up Bar for Home Gym | 200 Kg | View Amazon Price |
| | RELIFE REBUILD YOUR LIFE Power Tower Station Dip Stands Adjustable Home Gym | 150 Kg | View Amazon Price |
| | TecTake Dip Power Tower Station with Sit Up Pull Chin Up | 100 Kg | View Amazon Price |
| | JX FITNESS Power Tower Adjustable Dip Station Pull up Bar Push Up Workout | 130 Kg | View Amazon Price |
| | Ultrasport Power Tower, Multifunctional Weight Station for a Varied Home Workout, Power Tower and Gym Tower, Dip Station, Pull-Up Bar, Push-Up Grips | 150 Kg | View Amazon Price |
| | ONETWOFIT Power Tower | 136 Kg | View Amazon Price |
| | DlandHome Multi-Function Power Tower Adjustable Height | 272 Kg | View Amazon Price |
| | YOLEO Adjustable Power Tower - Multi Function Pull up Station for Strength Training - Dip Stand | 100 Kg | View Amazon Price |
| | Bowflex Unisex's BodyTower | 136 Kg | View Amazon Price |
| | We R Sports Station Sit Up Bench | 100 Kg | View Amazon Price |
| | Max Strength Multi Gyms Power Tower | 150 Kg | View Amazon Price |
| | Body Sculpture Power Tower | 120 Kg | View Amazon Price |