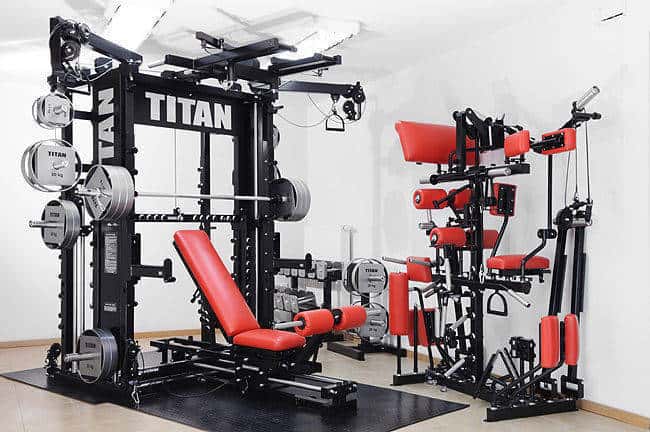 Best Home Multi Gym UK
Multi gyms are the perfect piece of home gym equipment for bulking up and improving overall strength and muscle tone. The problem with buying one is that there are so many available and not all of them are good. In this article we will be bringing you the very best home multi gym UK customers can buy at varied price ranges. If you haven't bought a multi gym before then our buyers guide at the end of this article has all the information you need to know for buying the best model for your needs and budget.
Top 5 Home Multi Gym Comparison Table
| Product Image | Model/Brand | Rating |
| --- | --- | --- |
| | Mirafit Multi Gym Lat Pull Down Machine | |
| | V-Fit LGF Herculean Cobra | |
| | Marcy Eclipse HG3000 Compact Home Gym | |
| | Sportstech unique 30in1 Premium Gym HGX100 | |
| | BH Fitness G152X Global Multi Gym | |
| | Marcy MD-9010G Home Gym Smith Machine with Weight Bench | |
Multi Gym's By Price
Below are is a list of the multi gyms featured in this article and their price bracket. We have included the best models for each price bracket. All the home gyms featured offer great value for money and plenty of exercise options.
Budget £250 or Less
Mirafit Multi Gym Lat Pull Down Machine
Mid-range £250 – £750
Marcy Eclipse HG3000 Compact Home Gym
High-End £750 – £1000
BH Fitness G152X Global Multi Gym
---
Best Multi Gym – Top 6
Mirafit Multi Gym Lat Pull Down Machine
The Mirafit brand are well-known for their budget/affordable fitness equipment. The problem with buying cheap fitness equipment is that it is usually not fit for purpose and rarely lasts too long before something breaks. Mirafit have managed to gain a solid reputation for their affordable and great value for money home gym equipment. The Mirafit Home Gym is a prime example of what the brand stands for. With a 5 star rating on Amazon from previous buyers its well worth taking a look at if you are on a limited budget.
Due to this been a very cheap home multi gym, it is obviously not the best there is to buy, however, it does have some redeeming features. The first been the overall compact design, if you have very limited space for a home gym then this might be for you. With a maximum weight on the pulley system of 180 Kg it is very capable of giving a solid workout. There is a pull down bar and a straight bar which between them offer a good number of exercise options.
The Mirafit home gym and lat pull down is best suited for those on a limited budget or those with very limited space. For a budget model it's one of the only ones worth mentioning in our home multi gym reviews as there aren't many good cheap ones available.
£139.99
1 new from £139.99
Last updated on October 20, 2018 1:24 pm
V-Fit LGF Herculean Cobra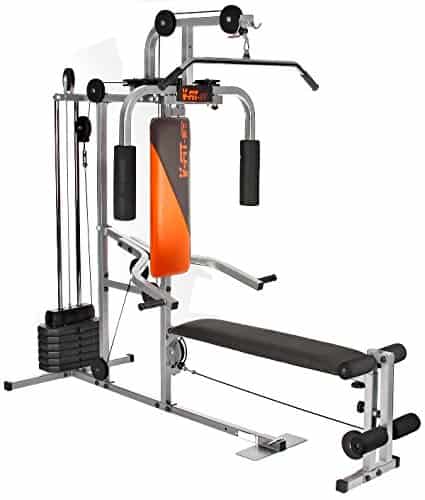 The V-Fit Herculean Cobra is affordability at it's very best. If it's a budget home gym with some quality to it that you are after this is probably the best option.
So let's take a look!
The first thing to say about this multi gym is the resistance system. There is a double up cabling system which provides a maximum of 64Kg training resistance. Although 64Kg is not a lot to some, for a budget multi gym it's a good amount.
In terms of exercise options there are a lot to choose from with this model. If it's a full body strength and toning workout that you seek from a multi gym the V-Fit Herculean has everything needed to work all the major muscle groups. The main exercises that can be performed on this gym are flat bench press, pec dec, lat pull, tricep press, upright row, bicep curl, leg extension and hamstring curl.
Most noteworthy and definitely worth a mention is that there is no need to change any cables like you have to with some multi gyms. For those worrying about the size of this multi gym the weight bench folds up for easy storage.
If it's a decent quality and affordable multi gym that you are looking for this is the best home multi gym in the budget price range. With four stars on Amazon and positive customer feedback the Herculean Cobra is the perfect introductory model home gym.
£239.99
£395.00
2 new from £239.99
Last updated on October 20, 2018 1:24 pm
---
Marcy Eclipse HG3000 Compact Home Gym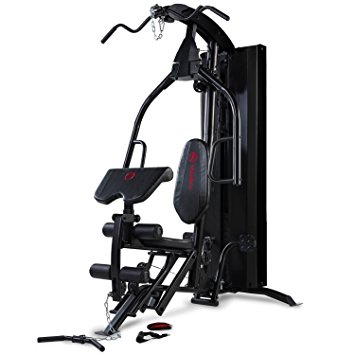 In terms of quality the Marcy HG3000 is a step up from the previous model. Marcy only use 50mm x 50mm thick steel gauge for their multi gyms. Due to this the overall stability and durability of this home gym is of a lot higher standard than any budget home gym.
So let's take a look!
When compared to many other home gyms this model is very compact in design. However, within that compact design is a solid and robust piece of home gym equipment.
There is 68Kg of training resistance provided with this gym making it suitable for both beginners and intermediate users.
The choice of exercise options is varied with the Marcy HG 3000. Both the high and low pulleys can use any of the gym attachments included, the high pulley is ideal for lat pulldown, tricep pushdowns and ab crunch with the low pulley better suited for seated rows, bicep curls and upright rows. The chest press uses independent press arms to provide an equal resistance to both arms and can also double up as a pec dec too, the addition of a preacher pad and leg extensions covers your arms and legs for a complete body workout.
Solid and robust in design with everything needed for a decent home workout the Marcy home multi gym is one of the best multi gyms for home use UK customers can buy.
£399.99
£549.00
3 new from £399.99

Amazon.co.uk
Free shipping
Last updated on October 20, 2018 1:24 pm
Sportstech Unique 30in1 Premium Gym HGX100
The HGX100 is the latest multi-gym to hit the UK market and it's an incredibly versatile multi station home gym. Furthermore it comes in at a price that can't be beaten for the amount of workout options it offers. In total there are 30 exercise/workouts that can be performed with this model.  The multifunctional homestation offers a lat pulling tower, biceps curl bar, butterfly arms, leg curlers, leg extension, bench press station, weight bench and many other highlights, an integrated and adjustable curl desk with which you can specifically train your biceps or your back by rowing.
As you can see the Sportstech HGX100 has a lot to offer, it is also very sturdy and robust due to the solid T-steel construction. Other outstanding features include the odourless EVA upholstery material and water-repellent handles.
Offering great versatility and a space-saving design this is definitely worth taking a look at. The Sportstech brand have just unleashed a whole range of fitness equipment on the UK and most of it beats the competition by a mile in terms of quality to price ratio.
£589.00
2 new from £589.00
Last updated on October 20, 2018 1:24 pm
---
Marcy MD-9010G Home Gym 
Another model by the Marcy brand and this one is the Marcy MD-9010G Home Gym and smith machine. There is a reason Marcy multi gym's make it into most top lists of the best models and it's because they only make very high-quality fitness equipment and they have a solid reputation for doing so.   
The first thing to say about this multi station gym is that it is one very heavy piece of equipment. With a total weight of 186 Kg it is without any doubt a very sturdy and durable multi station home gym. With a solid steel design it will last a very long time.
In terms of exercise options the list is almost endless. If you don't believe me then take a look at a full summary of exercise options below.
Chest: Incline, Flat, Decline Press (Smith or Free Weight), Pec Dec, DB Flyes, Cable Crossovers
Back: Lat Pulldown (Wide/Close), Seated Rows, Bent Over Rows, Single Arm Rows
Shoulders: Shoulder Press, Upright Rows, Shrugs, Lateral Raises, Front Raises
Triceps: Tricep Pushdowns, Tricep Press, Tricep Kickbacks, Overhead Rope Extensions
Biceps: Preacher Curls, Cable Curls, Hammer Rope Curls, High Cable Curls
Legs: Squats, Leg Extensions, Leg Curls, Deadlifts, Lunges
Abs: Cable Crunches, Woodchoppers, Weighted Leg Raises
Furthermore with a very respectable maximum user weight on the rack of 272 Kg, 45 Kg on the leg developer and 90 Kg on the pulley system, its easy to see how versatile and well equipped the Marcy MD-9010G really is.
Most people might look at this model and think that its really expensive and the truth is, yes it is expensive, however, with the high price tag comes high-quality and a very wide variety of workout options.
£999.99
1 new from £999.99
Last updated on October 20, 2018 1:24 pm
---
BH Fitness G152X Global Multi Gym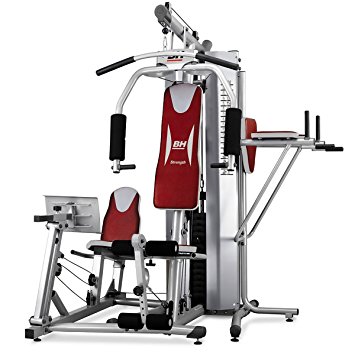 This multi gym by BH Fitness is a beast of a machine. Due to this been a high-end multi gym the design and overall quality is of an exceptional standard.
So let's take a look!
First of all this home multi gym has a five star overall rating on Amazon. In addition customer reviews go on to say how good it actually is.
If it's a top-end high spec multi gym with all the features needed for a solid workout then the BH Fitness is the best-selling model in that description. There is a maximum of 100Kg training resistance with this home gym which is more than enough for most people.
The global has all of the conventional traits from gyms like high and low pulleys, a chest press/pec dec and a leg developer. These are all extremely useful features to have but the leg press will pressure your legs to work harder, dips will sculpt and apply size to your chest and leg raises will force deep grooves into your lower abs, this is what makes all the difference
Overall this is rated the best home multi gym UK customers can buy. With excellent feedback from customers and a rare five-star overall rating on Amazon the BH Fitness G152X Global Multi Gym is the only home gym you will ever need to buy.
£944.99
1 new from £944.99
Last updated on October 20, 2018 1:24 pm
---
Best Home Gym Buyer's Guide
Before buying a multi gym there are a few things worth considering first. The following list has all of the most important considerations.
Size
The size of a multi gym is the first thing to look at. After all it's no good buying a piece of equipment that you don't have the room for. The dimensions of a home gym can be found in the product description. If you click on the links in this article it will take you to the product and all the features and specifications.
Weight Stack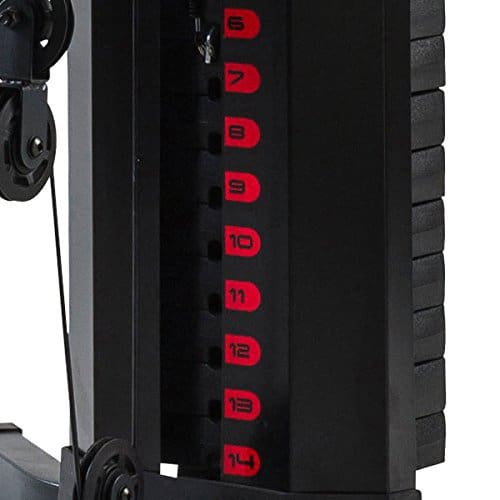 The amount of weight or resistance that a multi gym provides is a vastly important purchasing consideration. If you intend to use a home gym long-term then you should take into account any gains and improvements you will make in terms of strength. For example, 60Kg may seem a lot to you now, but after a few months of training and increased strength you may be left wishing you bought a multi gym with a bigger weight stack.
Comfort
Everybody wants to be comfortable while working out. The best way to find out if a certain home gym is comfortable is to check customer reviews. Amazon's customer reviews are a good indicator of how comfortable a product is as they are from verified buyer's.
Sturdiness
The sturdiness of a multi gym matters, a lot. Nobody wants to workout and have their equipment wobble around or make noises to the point where it feels like it's going to fall apart. A good indicator of a home gyms sturdiness and stability is the overall weight of the product. generally speaking the heavier it is the more sturdy it will be. Budget models tend to be made from quite thin steel tubing, which obviously isn't as sturdy as a more expensive model with 5cm square steel gauge. Again customer reviews are a good place to find out how sturdy a home gym is.
Range of Exercises
The whole point of buying the best home multi gym is so you can have a full workout in the comfort of your own home or garage. Generally speaking the more expensive the home gym the more options in terms of exercises. Before buying consider what it is you want to get from a multi gym and if it meets that criteria.

Warranty
It's the same when buying any piece of home gym equipment, always look for a warranty. Most multi gyms come with a warranty of a year or two. However the high-end models come with a much more comprehensive warranty.
Final Words
Buying the best multi gym first time will save you a lot of money in the long run. All of the models featured are some of the best-selling multi gyms and come highly recommended. Each one is fit for purpose and will give the user a solid full body workout
Last updated on October 20, 2018 1:24 pm