The Best Smith Machine Top 5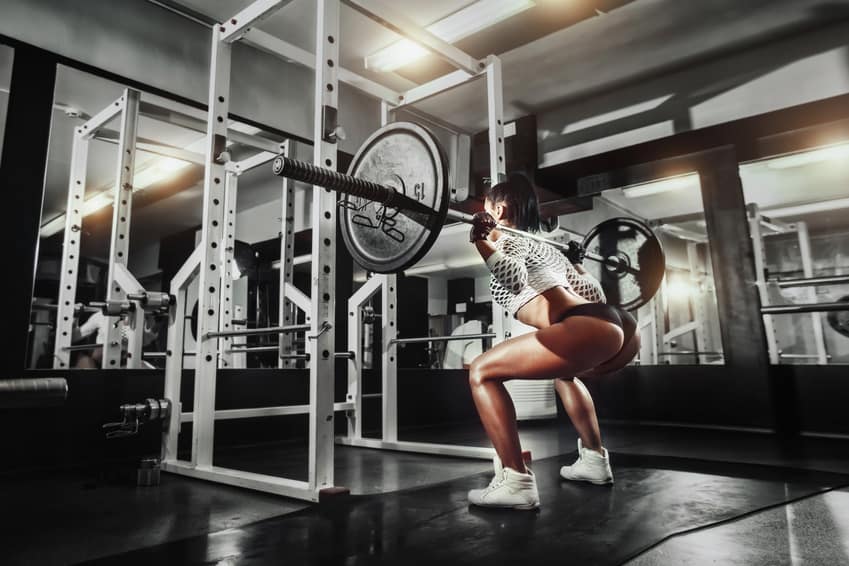 Best Smith Machine For Home Gym 
Smith machines have been around for quite some time now. They were first used in a commercial gym setting in the 1950's in America. Since then they have become an essential piece of equipment in most gyms. In this guide on the best smith machine in the UK we will be covering all you need to know about buying one and how to choose the one most suited to your needs.
For anyone considering buying a smith machine our reviews of the best models for a home gym are well worth taking a look at. All the models featured come with excellent customer feedback on Amazon. But first before we take a look at the top models we shall explain a bit more about training with a smith machine and the benefits of incorporating one in to your workout.
Benefits Of Using The Smith Machine 
Most gym goers will tell you that using a smith press/machine is cheating and that free weights are best. In truth this may be true when talking in terms of muscle-gains and strength building, however there are benefits to this piece of home gym equipment.
When it comes to versatility there is no other machine that offers as many training options and exercises as a smith machine. The versatility of this type of machine allows the user to perform reverse movements, angle-specific isometrics and partial reps. All of these strength techniques will help anyone grow in size.
Another important benefit is that there is no need for a spotter when using this type of gym machine. This allows you to workout alone and takes away relying on your gym partner to turn up, we've all been there.
Due to a smith machine balancing the weight for the user it allows for increased weight. The reason for this is because there is no need to waste energy engaging stabiliser muscles as they are not required.
We could go on all day about the benefits of smith machines, however, this is guide on the top 5 models.
So let's take a look at the best-selling models in the UK right now.
Marcy SM1000 Deluxe Home Gym Smith Machine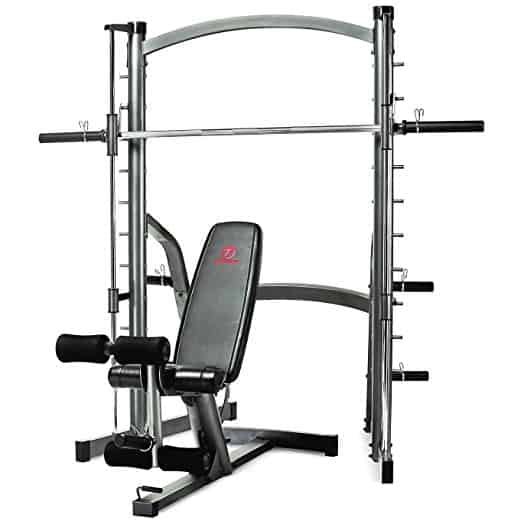 The Marcy SM1000 is an impressive piece of home gym equipment. The versatility of this model allows the user to exercise virtually every muscle group making it perfect for a home gym.
As with all Marcy gym equipment this model is extremely well-built with their signature heavy-duty construction. The framework is made from solid steel and is as robust and durable as they come. For anyone looking for more reassurance of the durability of this machine there is a lifetime manufacturers warranty on the frame and three years on any parts.
When using this smith machine it is noticeably smooth due to the ultra-glide bushings which is another big positive.
In addition to the smith machine this model comes with a weight bench for the complete package and a good weight bench it is too. With seven adjustable positions ranging through upright, incline, flat and decline this is a very versatile weight bench which also features a leg developer.
To sum up: when looking for an affordable compact model the Marcy SM1000 is a good choice. There is pretty much all that is needed for a good workout in this home gym package. 
---
Tunturi Pure Compact Smith Machine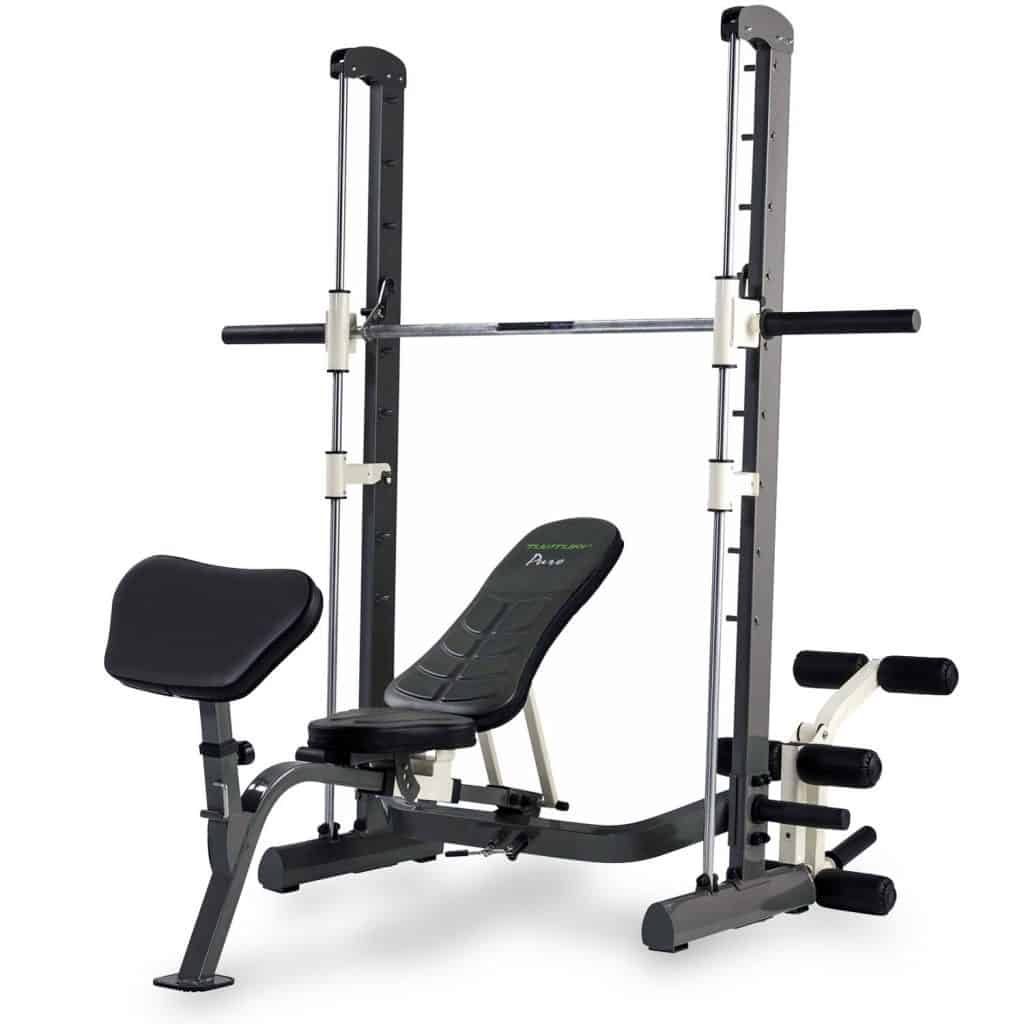 The Tunturi Pure compact smith machine is another model best suited for those with limited space. The Tunturi brand make all of their home gym equipment with a fold up feature and are well recognised for this.
So let's take a look!
The first thing to say about this smith machine is that it is full of features. One of the most relevant is the linear ball bearing system that allows for a super smooth machine and consequently a smooth workout.
There is a maximum weight capacity of 140kg which is more than enough for the majority of people. furthermore the bench has a maximum user weight of 150kg which is testament to the sturdiness and durability of this home gym package.
In terms of workout versatility this model gives the user a lot of options to choose from. In addition to the actual smith machine and bench there is also a leg developer and preacher curl.
To sum up: for a budget model there is a lot of positives to the Tunturi Pure compact smith machine. In terms of functionality a lot can be done which provides for a varied workout. As with the previous model featured in our reviews the Tunturi is best suited for those with limited space in their home gym.
---
Marcy Eclipse Deluxe Smith Machine Gym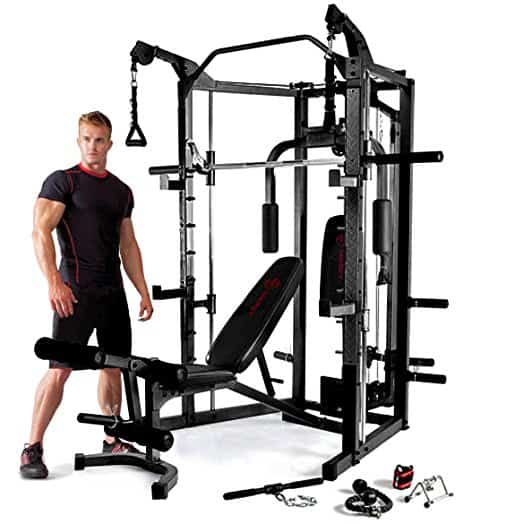 The Marcy Eclipse RS7000 is a complete home gym which can meet all training needs and is without any doubt up there with the best smith machine combo the Marcy MD-9010G.
Included in this all in one package is a free weight cage, power rack, smith machine and multi gym. In addition there is a high pulley and  low pulley station with a foot plate and for chest definition a pec dec. With this much versatility there really is no need to go to a gym again.
The smith press is built-in to the rack and is pretty impressive. Constructed with one inch guide rods it feels solid and very sturdy to use. The maximum weight capacity is 135kg. Furthermore this combo smith machine can use both 1″ and 2″ plates.
To sum up: if you decide to take the next step up from an ordinary smith machine and go for a combo then this model would be a good buy. Marcy pretty much dominate the market and make the best smith machine combo in the UK. With very good customer feedback on Amazon you can't go wrong with this model.
---
Marcy MD-9010G Home Gym Smith Machine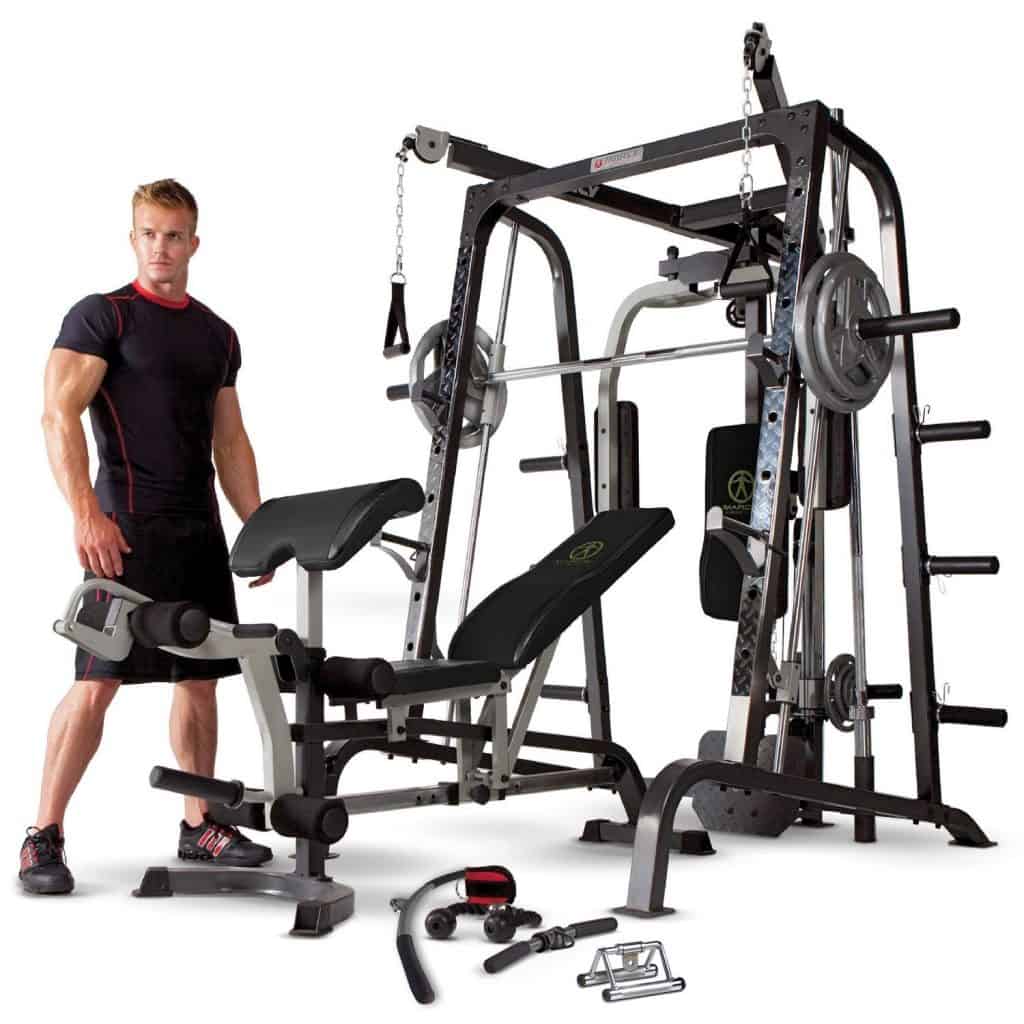 As you may have guessed by now the Marcy brand make some of the best home smith machines on the market. The Marcy MD-9010G is their top of the range model and is full of features.
Like the previous featured model this is an all in one package. In addition to the smith press there are dual high and low pulleys a rack and leg developer. The smith machine itself is of the highest quality and comparable to some commercial models. Finally there is a weight bench which completes this home smith machine/gym.
There is a maximum weight of 600 lbs/272 kg on the rack a respectable 100 lbs/45 kg on the leg developer and the pulley system tops out at 200 lbs/90 kg.
Customer feedback on this machine is excellent with four stars on Amazon this is one of the best-selling models.
To sum up: Marcy make some of the best-selling smith machines available, you really can't go wrong with the home gym equipment they make. Built from the most durable of materials and with a very high weight capacity this model is for serious muscle heads.
---
Gorilla Sports Smith Machine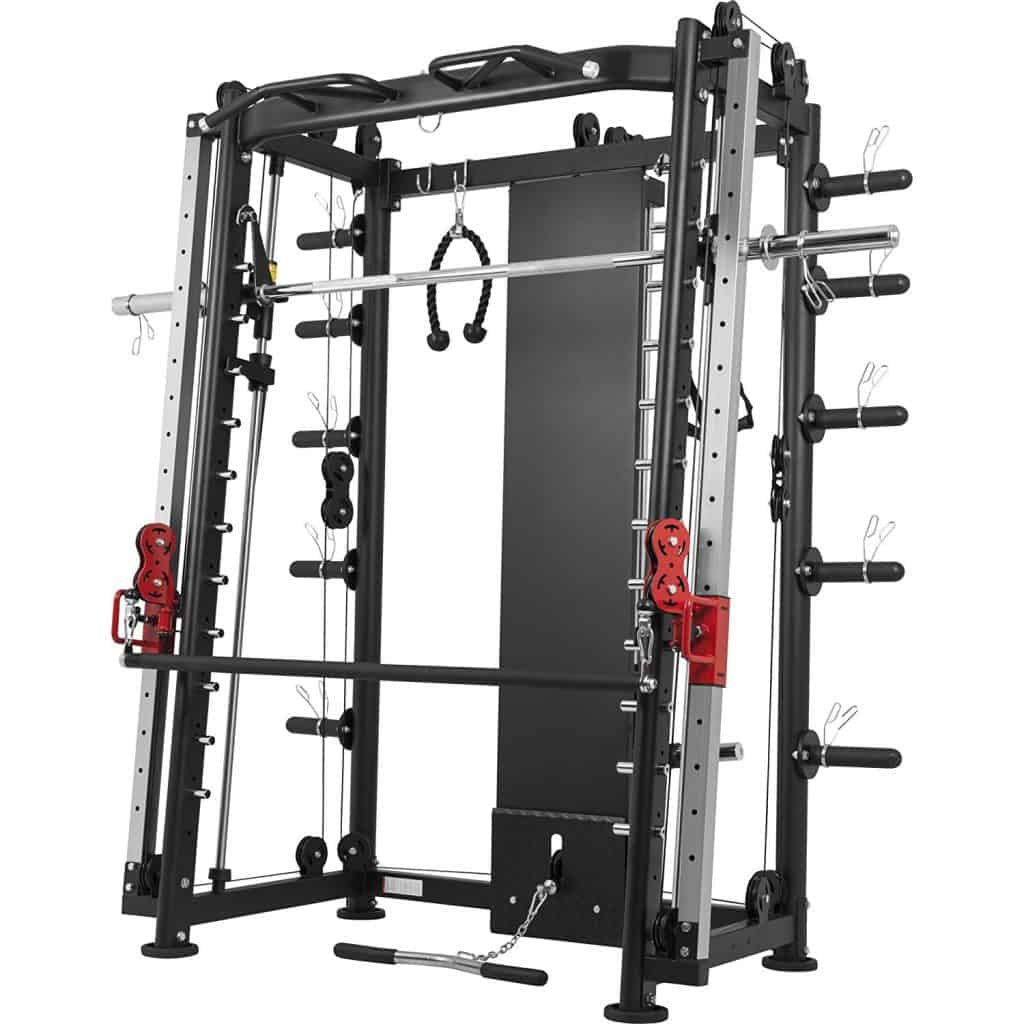 This model by Gorilla Sports is a beast of a machine and is best suited for anyone who takes their training seriously. Due to the high maximum weight capacity of this smith machine the user will be able to take their workout to the next level.
The pull up frame has a maximum weight of 150kg which is a good indicator of how well-built this machine is. Both the barbell and smith press have a maximum capacity of a massive 200kg, which should be more than enough for even the biggest of muscle heads.
To sum up: this is probably one of the best home smith machines UK customers can buy and even though it does cost a lot with that high price comes high quality. Weighing 200kg just goes to show how well-built this machine is.If you have the space and spare money I would highly recommend buying this piece of equipment for the ultimate home gym.
---
How To Use A Smith Machine
This video clip explains how to use a smith machine correctly and shows some of the workout options this type of machine offers.
[embedyt] https://www.youtube.com/watch?v=qPWXdq7idrI[/embedyt]
Final Words
Owning a smith machine especially a combo model like the Marcy MD-9010G will provide a big boost to anybody's training regime. If it's some serious gains that you are after then these are the perfect machines for them needs. All the models featured in our top 5 list come highly recommended and are of the highest quality.