The Top Ten Best Smith Machines UK 2022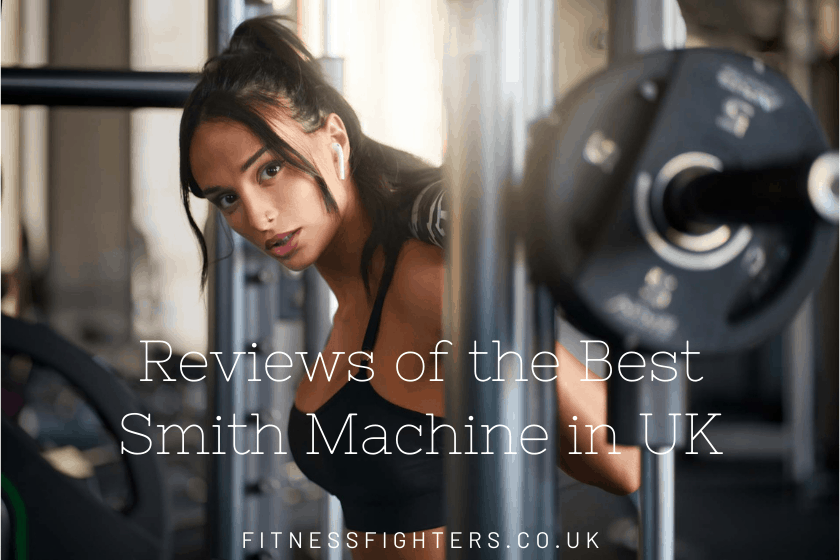 Best Smith Machine for The Home Gym 
Until now, building muscle at home hasn't been as easy as it is in the gym. That's mainly because there are specialized machines dedicated to building specific muscle groups in the most efficient way possible in the gym. And it's hard to fit all those machines in your garage!
Things have now changed. You can buy a weights machine that you can use to train in a dedicated space in the comfort of your own home. No need to head down to the gym at 5 am on a foggy morning, or in the pouring rain after work. Train at home any time you like. So, what is my favourite weights machine to use at home?
For me personally, my favourite machine in the entire gym has been the Smith machine. That's where I spend most of my time because it allows me to hit all the major muscle groups safely and without a personal trainer.
What is a Smith Machine?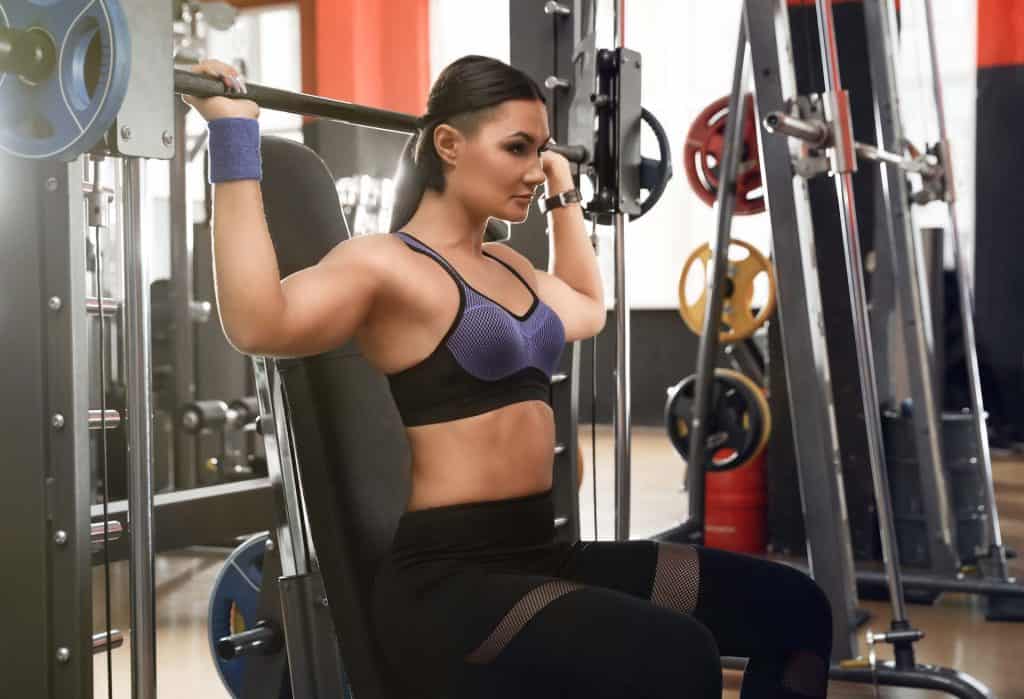 Essentially, the Smith machine is a weight machine consisting of a barbell fixed to a steel rail. Having the barbell attached to the rails allows for increased safety and training without a spotter.
Another essential feature of a Smith machine is the pegs every couple of inches, which lock the barbell in place. This ensures that, if you ever get stuck, you can safely exit the machine and leave the barbell on one of the pegs.
What is the best Smith machine?
Before we go through all the stuff you need to know to find the Smith machine that best suits your needs and budget for the money, check the list below.
Best budget Smith machine
Bodypower Compact Smith Machine
Best Smith machine under £1000
Marcy SM-1050 Home Gym Smith machine
Best Smith machine multi gym
Tunturi Uni SM80 Full Smith machine
In today's review, I'll be going through the best Smith Machines in the UK, as well as providing some information about the benefits of exercising and how to choose the right one for your needs.
Image
Brand
Key Features
Check Prices
Sportstech Premium 50in1 Multi Gym
30+ exercise variations, Sturdy EVA upholstery material, Water-repellent grips, 12 plug-in weights (55kg in total), Lat pull tower, biceps curl bar, butterfly arms, leg curlers, leg extension, bench press station, weight bench, curl desk and much more.
Best Amazon Price
DKN Studio 7400 Multi Gym
Station solid frame and extra-padded, Multi-position seat, 80kg (176.4lbs) weight stack, High & low pulley, dual-action chest station (chest press and pec-deck), adjustable preacher pad, one-piece butterfly press, leg curl
Best Amazon Price
Marcy Smith Machine SM 4903
50 possible exercises, High & Low pulleys, Dip Station, Smith Press Bar, Removable Bench.
Best Amazon Prices
ProForm Carbon Smith Rack
Integrated smith barbell features progressive bar holds, leg developer, preacher curl pad. Free weight training for solo weightlifters.
Best Decathlon UK Prices
Tunturi Uni SM80
Pull-up bar for pull-ups or chinnings, train with the pulleys or the press. Use your barbells for strength training or use additional accessories to enjoy many advantages with one device.
Best Amazon Prices
Marcy SM-1050 Smith Machine
Adjustable Bench, Preacher Pad, 14-gauge steel safe smith press can hold loads up to 135 kg, Dual Function Leg Developer and Deluxe Arm Curl Pad
Best Amazon Prices
Fit4home TF-7005A Multi Gym
Extra padded cushioned seat, Smooth running pulley cables, Max User Weight of 100kg, 50 different exercises, Train your back, shoulders, chest, abs, biceps, legs, various dumbbell exercises and more.
Best Amazon Price
Fit4home TF-3003C Multi gym
Protecting net, 80kg weight plates, leg press, padded seated, cushioned backrest. Workout stations include an Arm Curl, Chest Press, Dip Station, Lat Pull Down, Leg Press machine and Parallel bar
Best Amazon Price
TYTAX® M2 Multi Gym
117,5kg of weights
2 training stations
+200 VARIOUS exercises
Sliding bench with regulated angle of seating and backrest, upper pulley and other pulleys, leg press, butterfly, lower gate, preacher bench, handles for pull-ups, professional accessory rack and much more!

Best Amazon Price
TYTAX® T3-X Multi Gym
The Mother Of All Home Gyms. Sliding bench with regulated angle of seating and backrest, upper pulley and other pulleys, smith machine, leg press, butterfly, upper and lower gate, preacher bench, handles for pull-ups, professional accessory rack and much more!
Best Amazon Price
Marcy RS7000 Deluxe Home Gym
2x swivelling high pulleys
Low pulley with foot plate
Smith press with safety catchers
Free weight pegs with safety catchers
Pec dec system
Pull up / chin up bar
Adjustable weight bench with leg developer

Best Amazon Price
Benefits of Exercising on Smith Machines
Great for beginners – beginner lifters usually don't have the proper physique and confidence to do barbell squats. That's where the Smith machine comes in. It helps beginners stabilize the bar and worry only about their form.
Safety – when you lift heavy weights, especially on a Smith machine squat, it's likely you'll be using all of your energy to get the barbell up. This can present a danger if you get stuck. But the Smith machine allows you to drop the weight without worrying about an injury as there are pegs that help stop the bar.
Lifting heavier weights – when you remove the possibility of an injury, you can trust yourself more and, as a result, lift heavier weights. Due to the safety mechanisms on a Smith machine, you can lift as heavy a weight as possible without worrying about injuries.
No need for a spotter – if you often exercise by yourself, you'll need to wait and ask around the gym for someone to spot you (a spotter makes sure you don't injure yourself by dropping the bar. They will help to stabilise the weights bar when you get tired). But with a Smith machine, you don't have to do that. The fact that the barbell moves in only one plane ensures proper form, and the safety pegs reduce the risk of injury to almost zero.
Exercises to do on a Smith Machine
Many people think that Smith machine exercises are limited to squats. But that couldn't be further from the truth. There are plenty of Smith machine workouts you can do, and we'll go over them now.
Smith machine back workout
The trap muscles are an essential part of the back and allow shoulder stabilization. You can exercise your traps on a Smith machine by doing behind-the-back shrugs and isolating the trap muscles without your shoulders rounding during the lift.
Here's a video on how to perform this exercise:
A great exercise to target your entire back, including the lats, the rhomboids, and the traps. The Smith machine ensures proper isolation and the ability to lift heavier weights.
Here's a video on how to perform this exercise:
Smith machine glute workout
Also known as the Smith machine squat, this is a great exercise for all your leg muscles, including the glutes and the core.
Doing split squats with a Smith machine ensures more stability, greater hip flexion, and more stretching of the glutes.
Here's a video on how to perform this exercise:
Single leg vertical leg press on smith machines
For this exercise, you'll need a footplate attachment to prevent the barbell from slipping from the sole of your shoe. This is one of the best Smith machine exercises you can do.
Here's a video on how to perform this exercise:
Hip thrusts have recently emerged as the best exercise to grow your glutes. And it's one of those movements that makes sense as part of the Smith machine exercises. I personally like it much more on the Smith machine than the regular version.
Here's a video on how to perform this exercise:
Smith machine shoulder workout
Smith machine shoulder press
There's no better exercise for increasing your shoulder strength and size than working out with the shoulder press. Doing the shoulder press on the Smith machine has all the same benefits as the Smith machine squat – with increased stability and safety.
Here's a video on how to perform this exercise:
A great exercise for adding mass to your shoulder muscles. It also engages the trapezoid muscles in your back.
Here's a video on how to perform this exercise:
Smith machine bicep exercises
The bicep curl is one of the best arm workouts you can do on a Smith machine. It's easily one of the most effective exercises at providing an intense pump and constant tension on the bicep. You can always tell how hard you have worked when you check your bicep size out in the mirror after a training session like this.
Here's a video on how to perform this exercise:
Now that we have got all of that out of the way, let's take a look at the top 11 Smith machines in the UK.
Best Smith Machine (UK)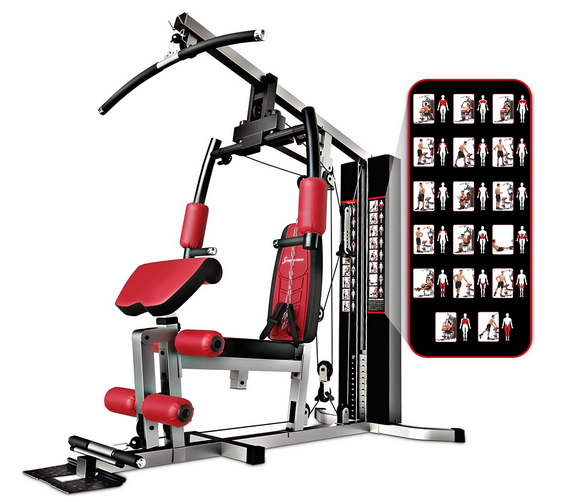 With the multi-gym from Sportstech, you can say goodbye to boring workouts. There are 50 different exercises you can do on this machine, from cable exercises, bicep curls, and leg extensions, to bench presses, pull-ups, leg curls, dips, and many more.
You can replace the entire gym and train your whole body at home with just one training machine.
It's made from high-quality materials, such as water-repellent and durable EVA padding. This ensures comfort even when training for a long period. The construction is sturdy and well-balanced, so there won't be any wobbling while you exercise.
There are 12 plug-in weights that together total 55kg, which is more than enough for training your major muscle groups at home. All the seats, handles, and leg pads are completely adjustable so you can set them to fit your preferences.
It also comes with an integrated exercise poster so you can always have a good overview of which exercise builds which muscles while you work out.
With a 4.2 star rating on Amazon, it's pretty clear that users who bought the multi-gym are pretty satisfied with the results.
Pros:
Multiple exercise options
EVA padding
Adjustable elements
Exercise poster
Space-saving
Sturdy construction
Cons: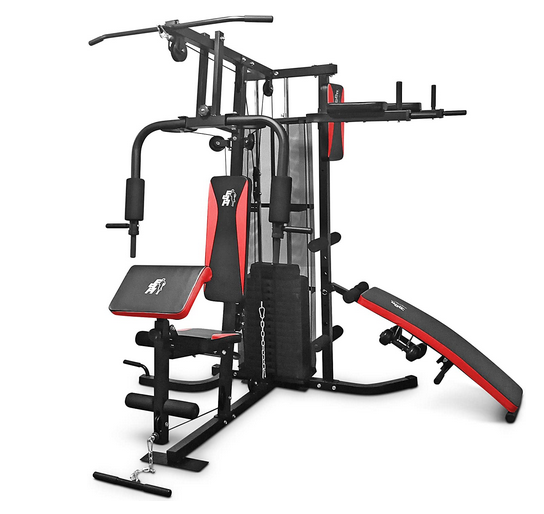 Another multi-functional home gym, this workout station from FIT4HOME has options for more than 40 different exercises. You can hit all major muscle groups through the main compound movements, such as chest press and flys, lat pulldown, cable curls, leg raises, declined sit-ups, dips, and much more.
It's built to last with durable materials, such as the enforced steel tubular frame and cushioned pads for added comfort.
It doesn't take up much space in your room considering how many exercises you can do with it. The dimensions are 166cm x 224cm x 205cm, and the whole machine weighs 154kg.
Note that like with many other home gyms, you need to assemble it yourself. The package comes with detailed instructions, and the whole process takes around 4 hours.
This machine also comes with two dumbbells, weighing 1.5kg each. But the main weights come as 14 plates, which unfortunately aren't labelled. The total weight of the 14 plates is 81kg, which is suitable for most fitness enthusiasts.
Pros:
Multiple exercise options
Comes with two dumbbells
81kg weight plate stack
Sit-up bench
Cons:
Some users reported having trouble assembling it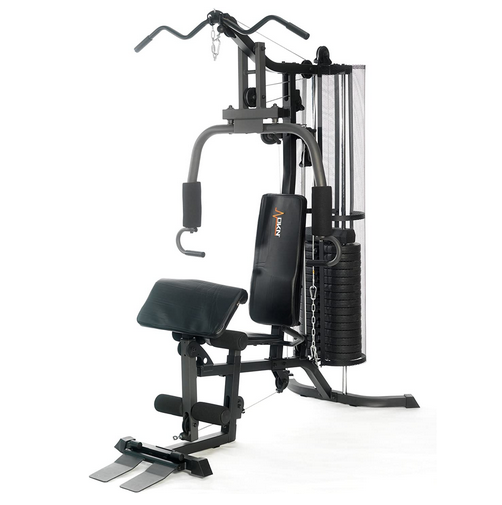 The Studio 7400 from DKN is an excellent home training machine for complete power training. You can perform a wide variety of effective exercises to strengthen your main muscle groups, all from the comfort of your own home.
You can do pull-downs, rows, shoulder raises, bicep curls, chest presses, leg extensions, leg curls, leg kicks, and many more.
The whole station weighs 144kg and doesn't take that much space, with areal dimensions of 165cm x 105cm.
The seat is padded for increased comfort while you work out and can be adjusted to suit whatever position works best for you.
At 80kg, the weight stack that comes with this multi-gym should be just enough to exercise your entire body. The weight is divided into 15 different stacks, so you can work on your progressive overload and build muscle with ease.
This machine also comes with a two-year warranty, and with a 4.5 rating on Amazon, it's clear that it delivers on being a high-quality product.
Pros:
Multiple exercise options
Extra padded seat
80kg weight stack
Two-year warranty
Cons:
Time-consuming, difficult assembly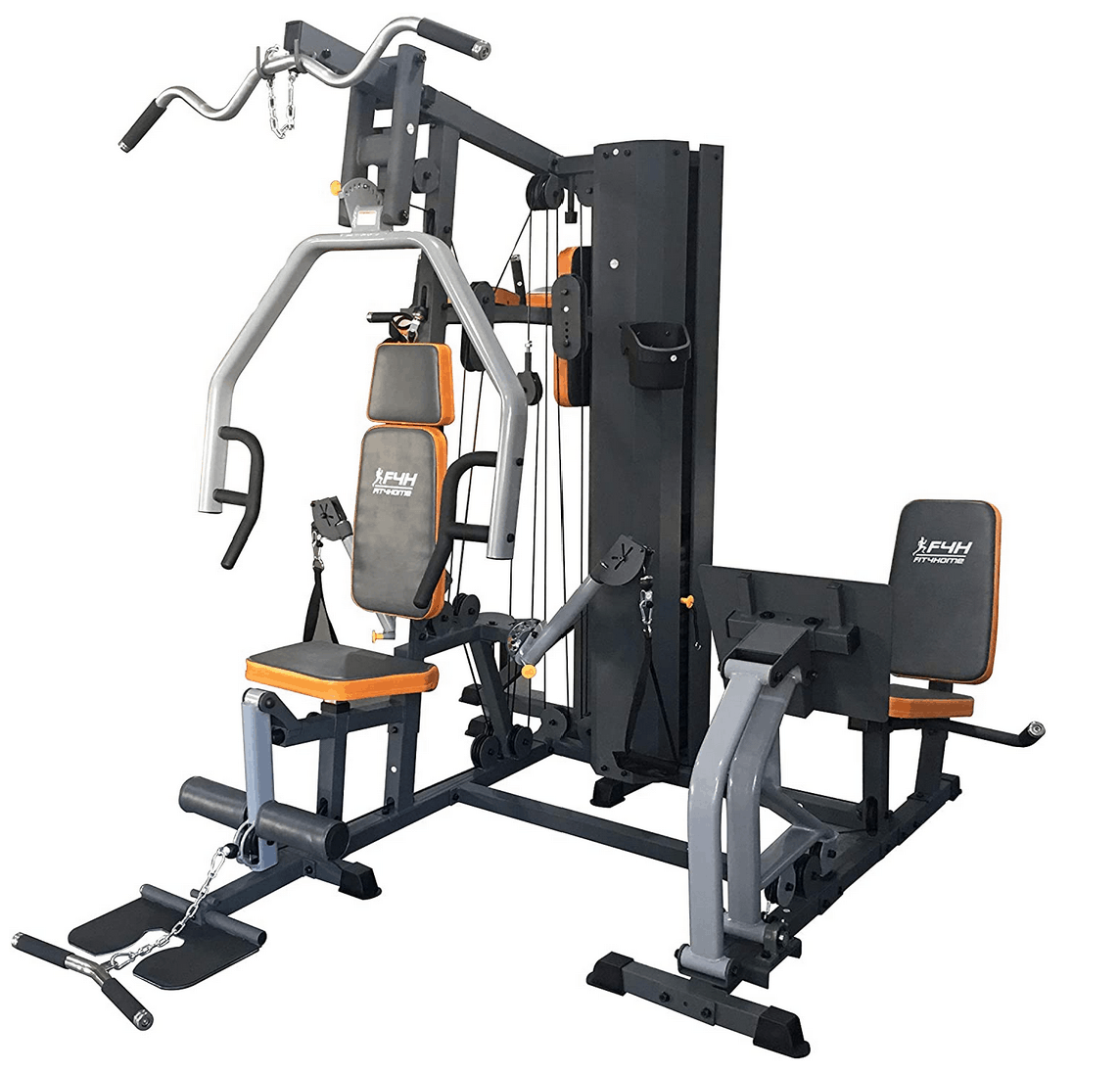 Another workout machine from FIT4HOME, but this time it comes with many more whistles and bells.
It includes various workout stations, such as the arm curl, chest press, dip station, lat pull down, leg press, parallel bar, and many more.
All these additional features add up and make the dimensions of this machine 266.5cm x 210cm, which is slightly more than the average home multi-gym. But it's definitely worth it for all the different workout stations.
So many elements might seem like too much to balance, especially with a total weight of 290kg. But the machine is constructed with the highest quality materials, including a sturdy tubular steel frame which can support a maximum user weight of 120kg.
The design is very well thought out and almost all elements can be adjusted according to your workout needs, just as you would in the gym.
This model also comes with an 80kg weight stack, with 14 different plates of 5kg each. The weight stack is protected by a net cover, providing increased safety.
Pros:
Multiple exercise options
Sturdy construction
Adjustable elements
80kg weight stack
Plenty of accessories
Cons:
Small user-weight limit, considering how big the machine is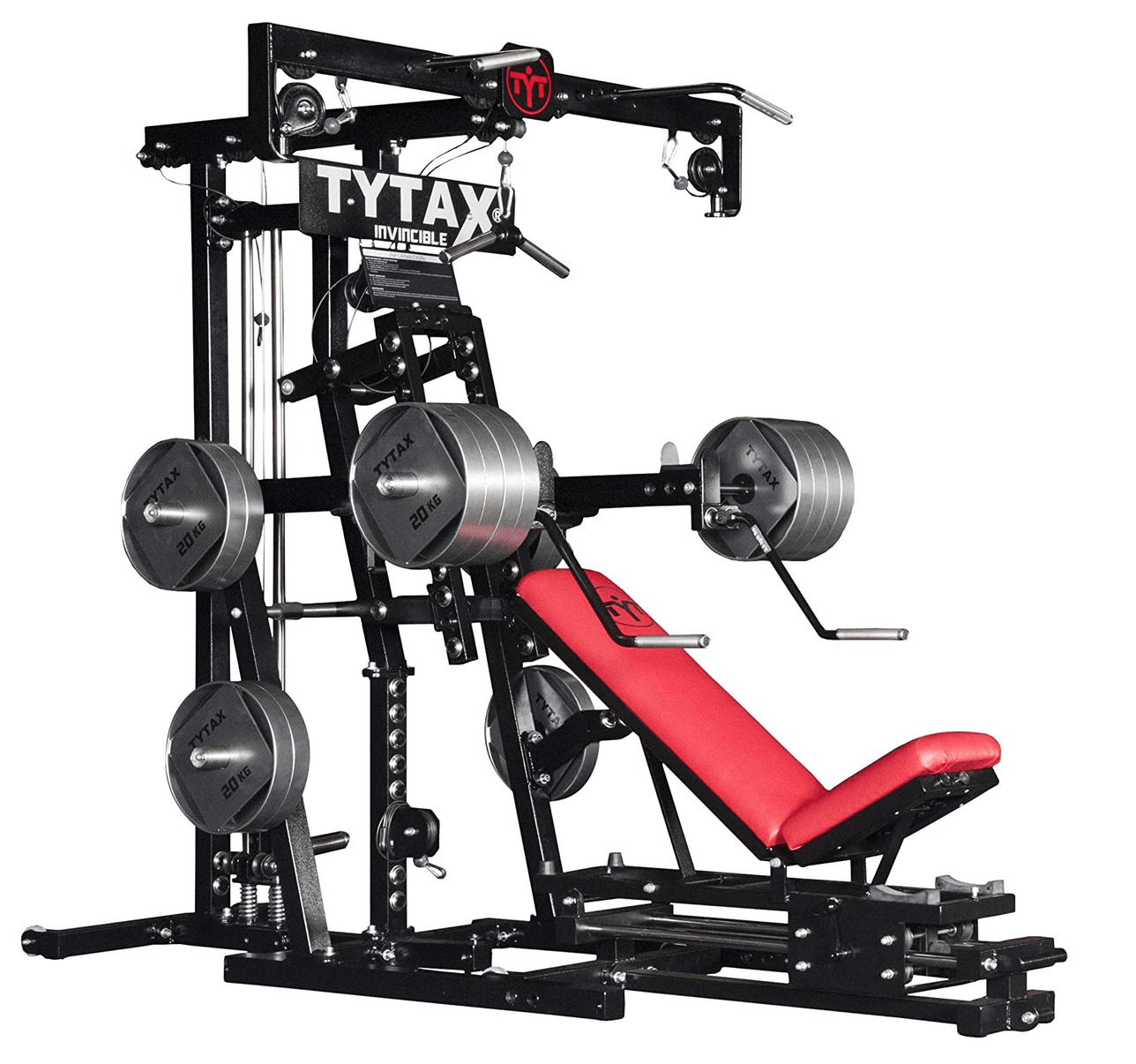 We reached the part of the more expensive home gyms. The TYTAX M2 comes at a whopping £5,200 price, but with good reason!
It comes with 117.5kg of weight plates, two training stations, and an independent sliding bench. These combinations allow you to perform more than 200 different exercises, targeting every muscle along the way. What more could you ask for?
Like all TYTAX products, this machine is made from stainless steel making it extremely durable. There are multiple racks all along the station for putting the weight plates on.
The bench slides on wheels with bearings, so it's very easy to position it next to the station. In addition, the linear guide rails provide an extended range of movement for the bench.
The machine is delivered inside specifically designed sturdy bulletproof crates, which means it will reach your doorstep intact. The assembly takes around three hours and requires two people to do it.
Once assembled, you'll need just 9.5m² (102 square feet) to use the machine comfortably.
Pros:
Incredible versatility
High-quality materials
Weight storage
Cons: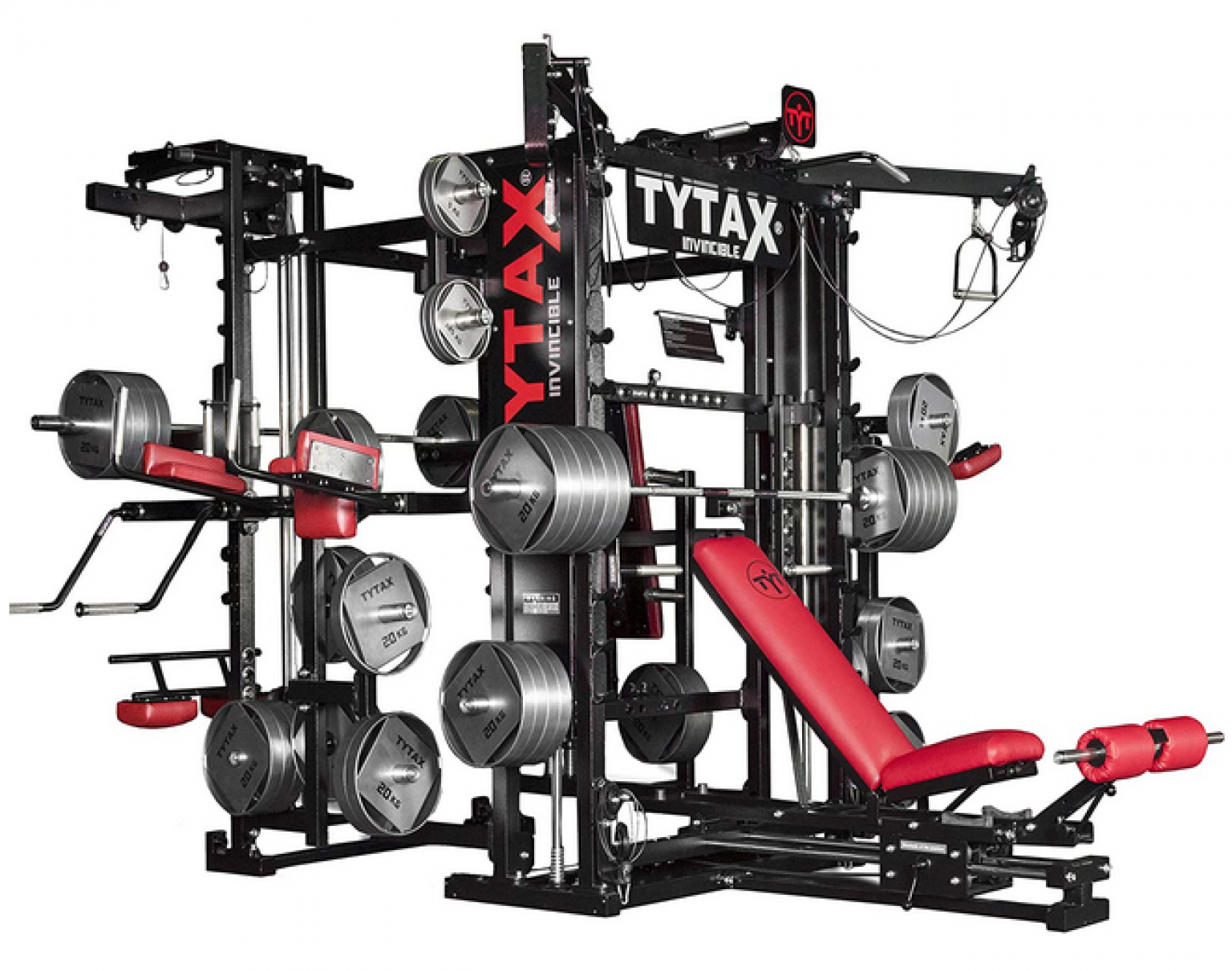 Another entry from TYTAX, but this time it's their 3-X model. This one is even pricier, almost double the price of the M2, at £9,400.
Yes, we know that's out of most people's budget, but wait till you hear everything this ultimate home gym has to offer!
It has seven (yes, seven!) independent training stations, on which you can perform more than 200 different exercises, even Smith machine exercises, and hit every single muscle part.  There's also a separate sliding bench with a regulated angle of seating and backrest, a Smith machine, leg press, preacher bench, pull-up handles, and much more.
It's built with the same high-quality materials as the previous TYTAX machine, but this one has a total weight of 762kg. Such a monstrosity of a machine takes eight hours to assemble with two people, so you'll need to do this on a day off.
Once assembled, you'll need 22m² (231 square feet) to comfortably use it, so make sure you have plenty of space.
Pros:
All-you-need gym
200 various exercises
Seven different training stations
Separate sliding bench
High-quality materials
Cons: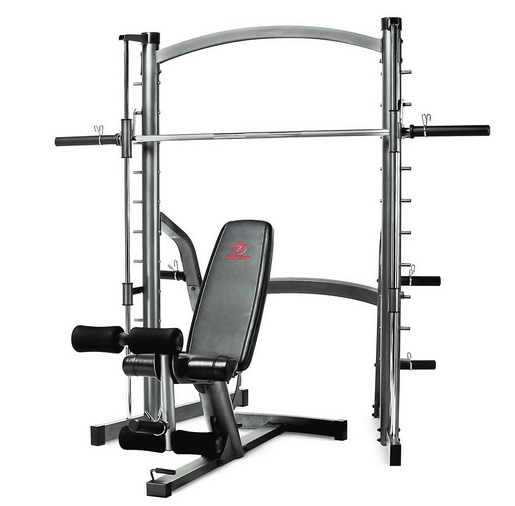 The Marcy SM1000 is an impressive piece of home gym equipment. The versatility of this model allows the user to exercise virtually every muscle group, making it perfect for a home gym.
As with all Marcy gym equipment, this model is extremely well-built with their signature heavy-duty construction. The framework is made from solid steel and is as robust and durable as they come. For anyone looking for more reassurance of the durability of this machine, there is a lifetime manufacturer's warranty on the frame and a three-year warranty on all parts.
When in use, this Smith machine is noticeably smooth due to the ultra-glide bushings, which is another big positive.
In addition to the Smith machine, this model comes with a weight bench for the complete package, and a good weight bench it is too! With seven adjustable positions ranging from upright, incline, flat and decline this is a very versatile weight bench which also features a leg developer.
To sum up: when looking for an affordable compact model the Marcy SM1000 is a good choice. There is pretty much all that is needed for a good workout in your home gym 
---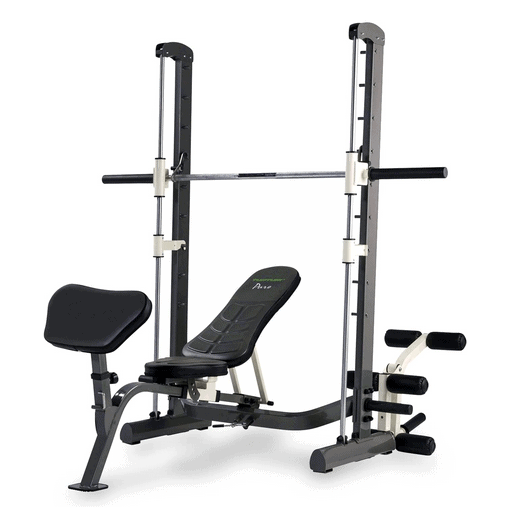 The Tunturi Pure Compact Smith machine is another model best suited for those with limited space. The Tunturi brand makes all of its home gym equipment with a fold-up feature and is well recognised for this feature.
So, let's take a look!
The first thing to say about this Smith machine is that it is full of features. One of the most relevant is the linear ball bearing system that allows for a super smooth machine and workout.
There is a maximum weight capacity of 140kg, which is more than enough for the majority of people. Furthermore, the bench has a maximum user weight of 150kg which is a testament to the sturdiness and durability of this home gym package.
In terms of workout versatility, this model gives the user a lot of options to choose from. In addition to the actual Smith machine and bench, there is also a leg developer and preacher curl.
To sum up: for a budget model, there are a lot of positives to the Tunturi Pure Compact Smith machine. In terms of functionality, a lot can be done with this machine which provides for a varied workout. The Tunturi is especially well-suited for those with limited space in their home gym.
---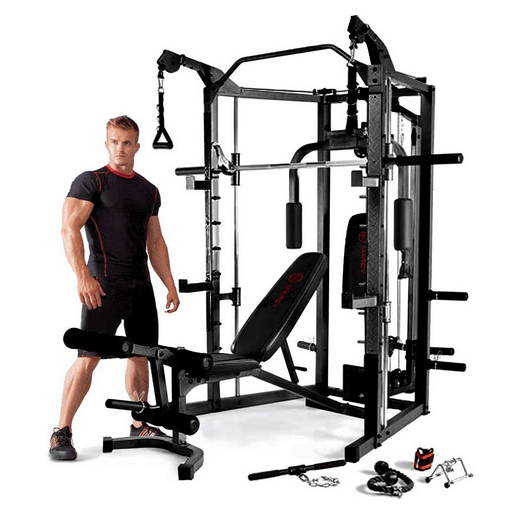 The Marcy Eclipse RS7000 is a complete home gym which can meet all training needs and is without any doubt up there with the best Smith machine combo, the Marcy MD-9010G.
Included in this all-in-one package are a free weight cage, power rack, a Smith machine, and a multi-gym. In addition, there is a high pulley and a low pulley station with a foot plate, and, for chest definition, a pec deck. With this much versatility, there really is no need to go to a gym again.
The Smith press is built-in to the rack and is pretty impressive. Constructed with one-inch guide rods it feels solid and very sturdy to use. The maximum weight capacity is 135kg. Furthermore, this combo Smith machine can use both 2.5cm (1″) and 5.1cm (2″) plates.
To sum up: if you decide to take the next step up from an ordinary Smith machine and go for a combo then this model would be a good buy. Marcy pretty much dominates the market and makes the best Smith machine combos in the UK. With very good customer feedback on Amazon, you can't go wrong with this model.
---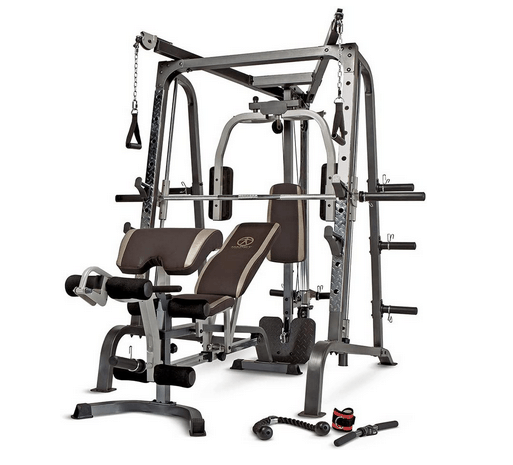 As you may have guessed by now, the Marcy brand makes some of the best home Smith machines on the market. The Marcy MD-9010G is their top-of-the-range model and is full of features.
Like the previous featured model, this is an all-in-one package. In addition to the Smith press, there are dual high and low pulleys, a rack, and a leg developer. The Smith machine itself is of the highest quality and comparable to the machines to be found in a professional gym. Finally, there is a weight bench which completes this home Smith machine/gym.
There is a maximum weight of 600lbs/272kg on the rack a respectable 100lbs/45kg on the leg developer, and the pulley system tops out at 200lbs/90kg.
Customer feedback on this machine is excellent, with four stars on Amazon, and this is one of the best-selling models.
To sum up: Marcy makes some of the best-selling Smith machines available, and you really can't go wrong with the home gym equipment they make. Built from the most durable of materials and with a very high weight capacity, this model is for serious muscle heads.
---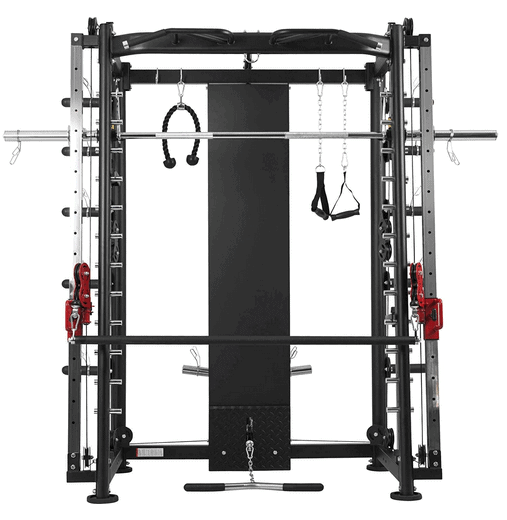 This model by Gorilla Sports is a beast of a machine and is best suited for those who take their training seriously. Due to the high maximum weight capacity of this Smith machine, the user will be able to take their workout to the next level.
The pull-up frame has a maximum bearing weight of 150kg, which is a good indicator of how well-built this machine is. Both the barbell and the Smith press have a massive maximum capacity of 200kg, which should be more than enough for even the biggest of muscle heads.
To sum up: this is probably one of the best home Smith machines UK customers can buy, and even though it does cost a lot, with that high price comes high quality. Weighing 200kg just goes to show how well-built this machine is. If you have the space and spare money, I would highly recommend buying this piece of equipment for the ultimate home gym.
---
Things To Look For In the Best Smith Machine UK
Not all Smith machines are built equal. They all have different specs, features, and dimensions, so you need to choose the one that suits your needs the most.
Let's take a look at the most common features to look for in order to choose the best Smith machine in the UK.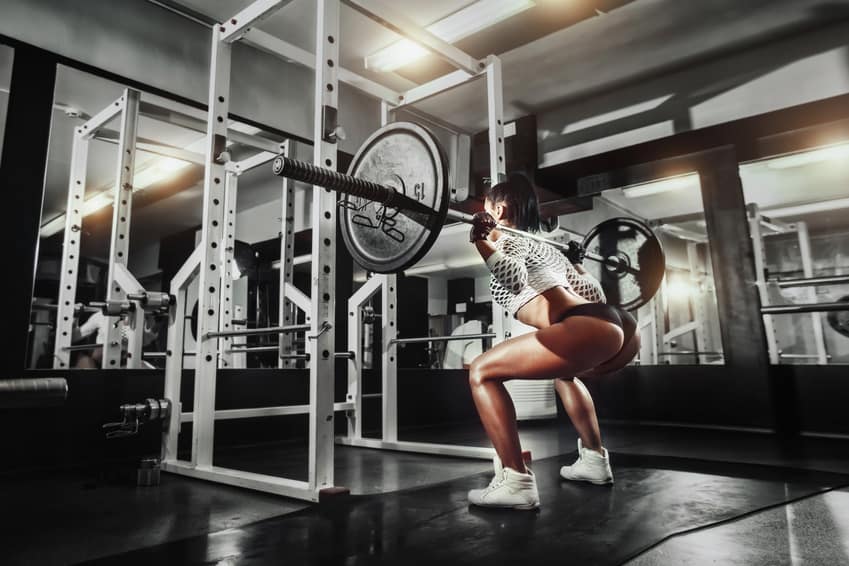 Linear bearings
Linear bearings are essentially a series of ball bearings connecting the barbell to the supporting bar. They enable the barbell to slide freely across the vertical bar, allowing smooth operation. This ensures you can do all Smith machine exercises with ease, just like you're used to in the gym.
Not all Smith machines come with linear bearings. They are usually only found on the higher-end models and the professional lines, whereas a cheap Smith machine will have a bushing system that is not as smooth.
Weight capacity
If you plan on lifting serious weights, you need to pay extra attention to the weight capacity of the Smith machine. Most Smith machines for home use have a weight capacity of up to 453kg (1000lb).
The capacity is greatly affected by how durable the construction is. High-quality machines have a stable frame and can handle heavier weights more safely.
You also need to consider the material used in its construction, as that also affects the weight capacity. Your Smith machine should be constructed with heavy-duty frames, which are usually 11 or 12-gauge steel. The thicker the steel, the more durable the machine.
Attachments
Depending on which Smith machine exercises you plan on performing, you'll need extra attachments for each of them. If your Smith machine comes with several attachments, that's a good sign and it means you can use it for more exercises rather than being just a shoulder press Smith machine.
If you're looking for a cheap Smith machine, opt for one without the attachments, and you can get them later as you see fit.
Most common attachments include:
Pec deck
Leg developer
Lat pulldown
Adjustable bench
Weight stacks
Pull-up bar
Dip station
Olympic vs Standard plates
If you're unsure of what the differences are between Olympic and standard plates, let us explain. It all has to do with the size of the hole in the middle.
Olympic plates have a 5.1cm (2") diameter, whereas standard weight plates have a 2.5cm (1") diameter hole in the middle.
Higher-end and professional models use Olympic plates since they're the gold standard for weightlifting, and a cheap Smith machine will use standard plates.
Final Thoughts
Smith machines are extremely versatile pieces of equipment and can completely transform your home gym. They help you perform a wide range of exercises in safety.
Even if you're lifting alone, you can stack up those plates and lift as heavy a weight as you can without worrying about any injuries, thanks to the safety mechanisms.
It's good to see more and more manufacturers making Smith machines for home use rather than just for commercial gyms. It's good for all fitness enthusiasts since we can now do all the Smith machine exercises from the comfort of our own homes.
Having all the factors we've outlined in mind, it's time to buy one of the best Smith machines in the UK from our list and get started!
Happy lifting!
Image
Brand
Key Features
Check Prices
Sportstech Premium 50in1 Multi Gym
30+ exercise variations, Sturdy EVA upholstery material, Water-repellent grips, 12 plug-in weights (55kg in total), Lat pull tower, biceps curl bar, butterfly arms, leg curlers, leg extension, bench press station, weight bench, curl desk and much more.
Best Amazon Price
DKN Studio 7400 Multi Gym
Station solid frame and extra-padded, Multi-position seat, 80kg (176.4lbs) weight stack, High & low pulley, dual-action chest station (chest press and pec-deck), adjustable preacher pad, one-piece butterfly press, leg curl
Best Amazon Price
Marcy Smith Machine SM 4903
50 possible exercises, High & Low pulleys, Dip Station, Smith Press Bar, Removable Bench.
Best Amazon Prices
ProForm Carbon Smith Rack
Integrated smith barbell features progressive bar holds, leg developer, preacher curl pad. Free weight training for solo weightlifters.
Best Decathlon UK Prices
Tunturi Uni SM80
Pull-up bar for pull-ups or chinnings, train with the pulleys or the press. Use your barbells for strength training or use additional accessories to enjoy many advantages with one device.
Best Amazon Prices
Marcy SM-1050 Smith Machine
Adjustable Bench, Preacher Pad, 14-gauge steel safe smith press can hold loads up to 135 kg, Dual Function Leg Developer and Deluxe Arm Curl Pad
Best Amazon Prices
Fit4home TF-7005A Multi Gym
Extra padded cushioned seat, Smooth running pulley cables, Max User Weight of 100kg, 50 different exercises, Train your back, shoulders, chest, abs, biceps, legs, various dumbbell exercises and more.
Best Amazon Price
Fit4home TF-3003C Multi gym
Protecting net, 80kg weight plates, leg press, padded seated, cushioned backrest. Workout stations include an Arm Curl, Chest Press, Dip Station, Lat Pull Down, Leg Press machine and Parallel bar
Best Amazon Price
TYTAX® M2 Multi Gym
117,5kg of weights
2 training stations
+200 VARIOUS exercises
Sliding bench with regulated angle of seating and backrest, upper pulley and other pulleys, leg press, butterfly, lower gate, preacher bench, handles for pull-ups, professional accessory rack and much more!

Best Amazon Price
TYTAX® T3-X Multi Gym
The Mother Of All Home Gyms. Sliding bench with regulated angle of seating and backrest, upper pulley and other pulleys, smith machine, leg press, butterfly, upper and lower gate, preacher bench, handles for pull-ups, professional accessory rack and much more!
Best Amazon Price
Marcy RS7000 Deluxe Home Gym
2x swivelling high pulleys
Low pulley with foot plate
Smith press with safety catchers
Free weight pegs with safety catchers
Pec dec system
Pull up / chin up bar
Adjustable weight bench with leg developer

Best Amazon Price