Domyos Basic Exercise Bike 100 Review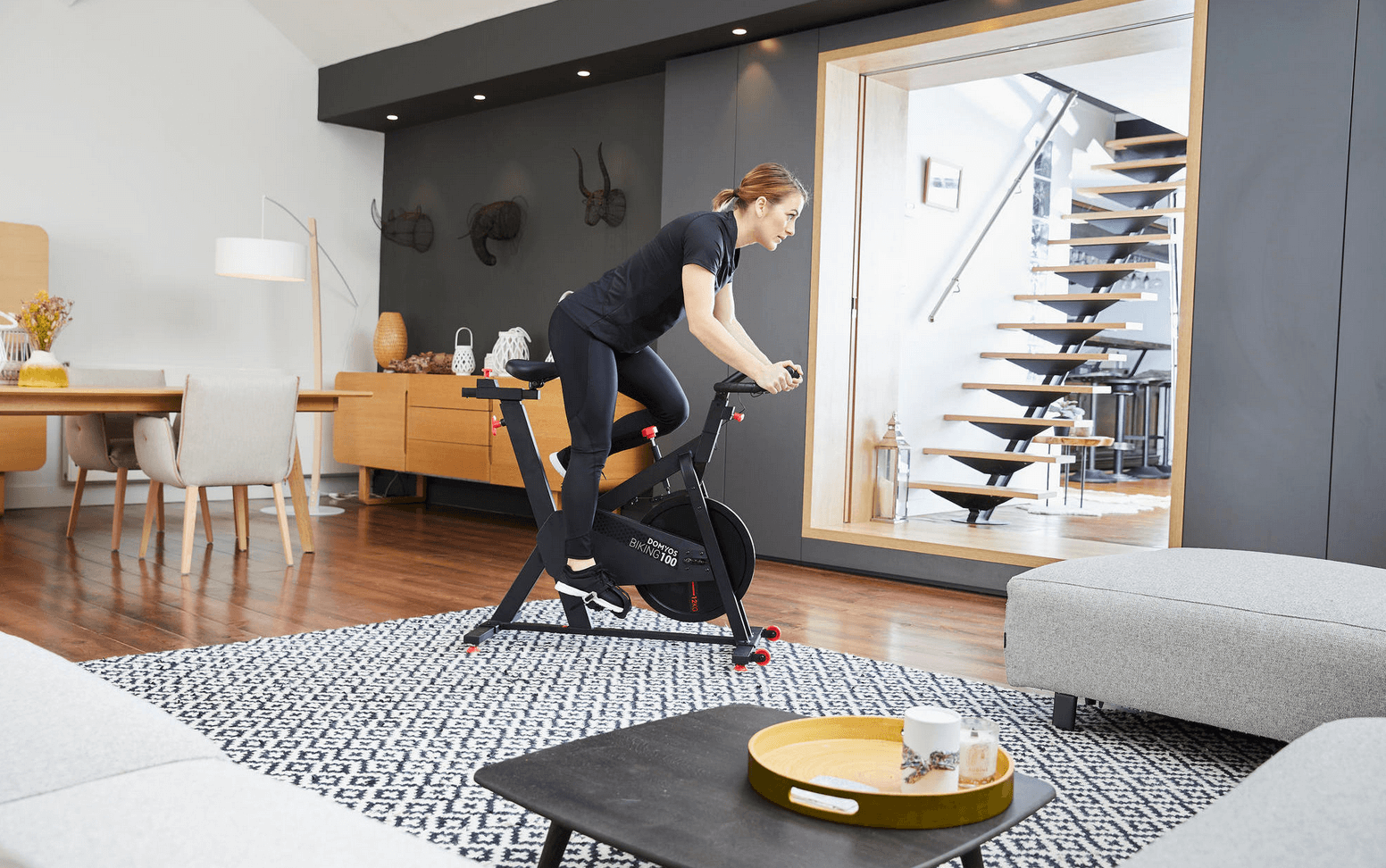 Cycling is one of the most effective forms of cardio exercises you could do. But going outside to ride a bike is not always the most convenient option. That's where indoor exercise bikes come into play.
Indoor exercise bikes help you mimic the movements of cycling on a real bicycle and get all the benefits, without even going outdoors. Whether you want to improve your fitness level, lose some weight, or get healthier overall, an exercise bike can help you achieve it all.
If you're looking to get started with indoor cycling without putting too big of a dent in your wallet, you should try out the Domyos Exercise Bike 100 from Decathlon. It's an affordable exercise bike with all the features you need to improve your fitness.
Let's take a closer look at what makes it the perfect choice!
Best Features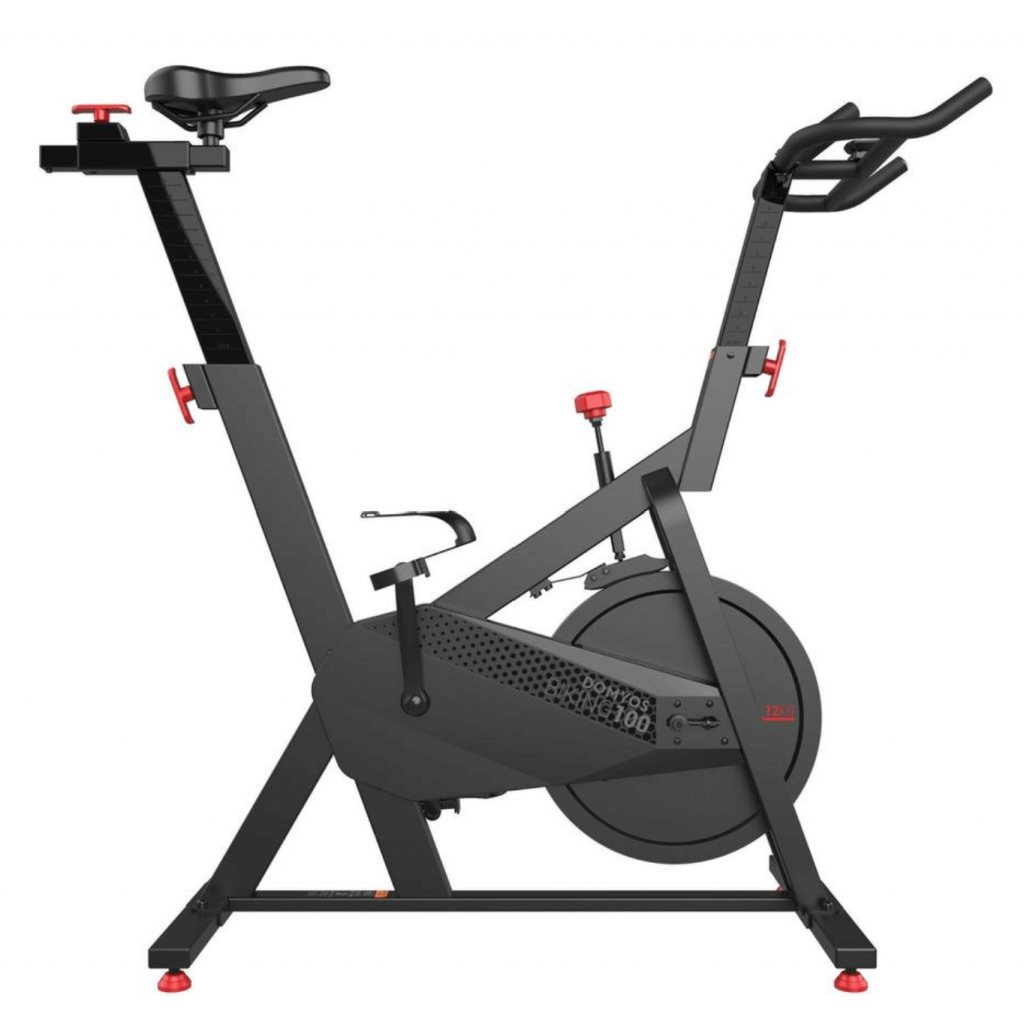 Smooth pedalling
The Domyos exercise bike features a 12kg flywheel and a mechanically applied leather brake for resistance. Coupled with the chain drivetrain, it perfectly recreates a smooth pedalling sensation, similar to a normal bicycle.
Stable design
Although this exercise bike is made for home use only and is not meant to be used in gyms, it's still quite robust and stable. The Domyos Exercise Bike 100 is made with a steel frame and features additional stabilising pads for better grip on uneven floors.
Comfortable to use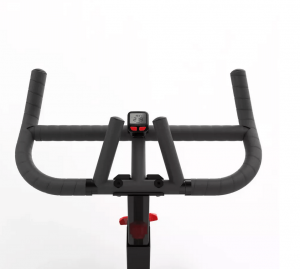 Both the saddle and the handlebars can be adjusted to suit your specific needs, so it's perfect for sharing it with your family members. The pedals feature toe clips to better support your feet while you pedal, and can even be changed with automatic pedals if you prefer.
Easy to move
If you're having guests over or if you don't want to stare at your exercise bike while you relax, you can easily transport it to another room. It weighs only 30kg and has wheels at the front for easy transportation. 
See it in action
To help you better understand how the Domyos Exercise Bike 100 works, here's a quick video:
Pros & Cons
Pros
Smooth pedalling action
Affordable
Stable design
Comfortable
Easy transportation
Quick assembly
Adjustable height
Cons
Can be noisy
No phone holder
Limited resistance
Technical Specifications
Drivetrain: Chain
Dimensions: 20 x 45 x 120 cm
Weight: 29 kg
Warranty: 2 years for parts, 5 years for frame, 10 years for spare parts
Structure: 100% steel
Max. user weight: 100 kg
View Latest Decathlon UK Prices
Customer Reviews
With a 3.9 star rating on Decathlon's website and other major retailers, it's clear that users are mostly satisfied with the Domyos Exercise Bike 100.
The most common thing people seem to love is the simplicity to use and set up, as well as the affordable starting price. Let's see what one reviewer had to say.
"I have had this bike for a couple of weeks and I have to say I am so impressed with it. You are not getting a commercial bike so you have to be realistic with what this bike is if you are used to spin studio bikes but I have rode many spin bikes and this feel really good. It's sturdy, the ride is smooth and you can get a really good amount of control on the resistance. It's easy to assemble and I like that you can get replacement parts and all with a guarantee." – Katy
And although there are more than 150 perfect ratings, there are still some that had issues with their product. In a few instances, people found the bike to be quite loud after a few uses, as well as the seat being uncomfortable.
"For the price it is great, I put it together in 30 mins with no issues. I follow some online spin classes on YouTube so goes to show you don't need expensive brands to get the same fitness. The seat was uncomfortable at first but you could get used to it. There's a really loud squeaky noise when pedaling as you increase resistance, but you can choose to let it slide when taking classes because the music takes that sound away" – Jessica
Is it The Right Choice for You?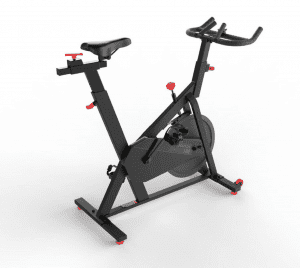 If you're looking for an affordable way to start improving your fitness levels at home, then the Domyos Exercise Bike 100 is the perfect choice for you. It offers great stability and a smooth experience for your cardio workouts.
You can measure your workout time, distance covered, as well as calories spent so you can track your progress and make sure you're constantly improving.
If you're an experienced cyclist or looking for tougher challenges though, you might want to look elsewhere (check out our review of the best exercise bike reviews). This exercise bike struggles with higher resistance levels and doesn't offer any online community where you can exercise together with other fitness enthusiasts.
But if you just want the freedom and flexibility of taking a few spin classes at home, this will be the perfect decision for you.
Conclusion
Overall, the Domyos Exercise Bike 100 is a great choice for beginners to start with indoor cycling and reach their fitness goals. It has all the features you might need in an exercise bike and offers a two-year warranty.
View Latest Decathlon UK Prices
FAQs
Q: How long does it take to assemble the exercise bike?
A: Around 30 minutes thanks to the instruction video.