Dripex Indoor Exercise Bike Review (New Version 2023)
In the world of fitness equipment, Dripex is known for providing outstanding quality. The brand is widely recognised as the industry standard. It is designed to meet the needs of dedicated exercisers and has everything an indoor gym freak will need.
The brand-new Dripex magnetic resistance workout bike is a convenient and efficient option. It's got everything someone interested in working out at home may want for a reasonable price. The essential qualities of this stationary bike are the easy assembly, comfort, loaded features, manoeuvrability, and sturdiness.
The price for such a high-quality item and a positive purchase experience says it all!
From pros to cons and best features to authentic customer reviews, you will get everything in this post. Read on for an in-depth review of the Dripex indoor bike.
Best Features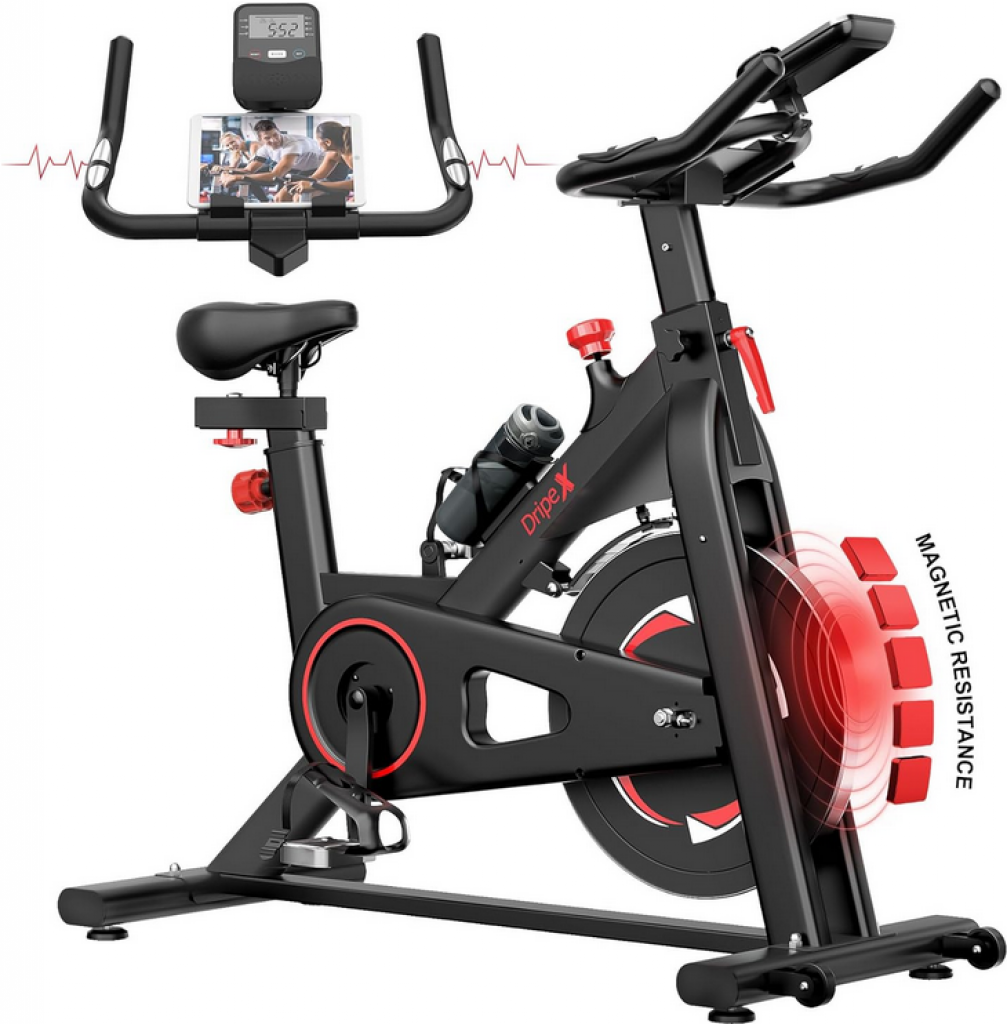 £169.99
£239.99
in stock
2 new from £169.99
as of November 21, 2023 12:51 am
Last updated on November 21, 2023 12:51 am
Heavy Duty Frame & 10 Kg Flywheel
This Dripex magnetic exercise bike has been improved to a higher safety standard, giving you peace of mind as you work out. The 10 kg flywheel and sturdy steel frame ensure your workout never slows. Also, it's built with the triangle stability principle in mind. So, you can rest assured that you'll have plenty of support and forward motion as you exercise.
Ultra Quiet Technology
The Belt Drive System and Infinite Resistance System make this bike exceptionally smooth and quiet. You may easily modify your workout's difficulty by turning a single knob. The stationary bike can be stopped instantly with a button on the emergency brake. A magnetic resistance adjustment system ensures bicycling in peace at home.
LCD Monitor with Multiple Functions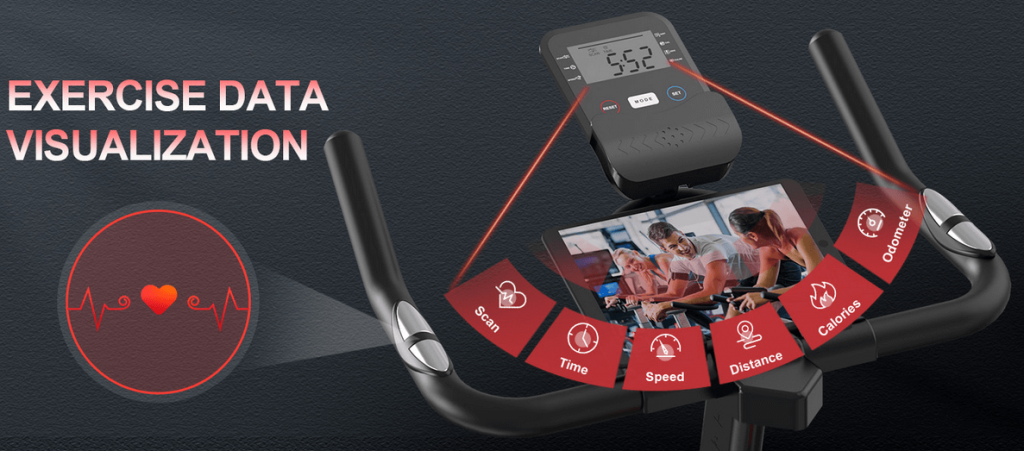 Dripex knows what they're doing when it comes to numbers. The Dripex magnetic resistance bike has an LCD screen that can be used for many things. It gives you all the important information. It shows time, calories burned, speed, and pulse data, which helps you keep track of your general progress. Its pulse tracker helps keep track of your heart rate and ensures you work out hard enough.
Adjustable Seat/Handlebar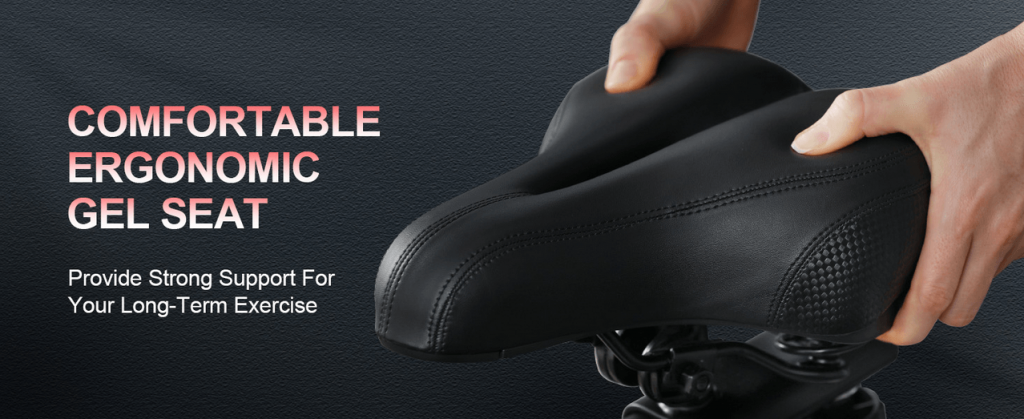 The Dripex bike has a spacious, air-permeable seat. You can easily adjust the seat back and forth for maximum comfort. This is designed to put the user at ease so they can concentrate on their exercise. The seats can be adjusted to one of nine heights. This will allow people of varying heights to use this indoor bike comfortably. Moreover, the handlebar can be adjusted to one of five heights to suit the rider better.
Easy to Move
Perfect for those who need to maximise a small area. The front wheels are removable and may be tilted out for usage or rolled in for storage, making it easy to move the bike from one location to another—no need for hard lifting or physical strain.
Functionally Diverse Handle Bar
Thanks to the Handlebars multiple functions, you can perform various exercises on this bike. The handlebars are adjustable so that you may ride with the correct posture. The purpose of the central armrest extension is to improve convenience and safety.
Pros & Cons
Pros
Easy to move: The front of the foot tube wheels makes it easier to move the bike around.
Smooth & quiet: The Belt Drive System and Infinite Resistance System make the ride smooth and quiet.
Adjustable foot straps: Its adjustable belt helps prevent the foot from slipping. Also, pedals with a caged form provide an increased level of safety.
Amazing framework: The robust and dependable framework makes it extra efficient and safe.
Easy seat & height adjustment: Enjoy the variable heights and adjustable seats for a comfortable ride. The seat is soft and comfy in a unique manner.
Improved safety measures: The vastly increased safety measures are included throughout the bike.
Holder for Water Bottle: Staying hydrated is crucial for a fitness freak, so a big shout out to Dripex for providing a water bottle holder.
Informative console: The information displayed on the console is of great value.
Cons
No tablet holder: The bike does not provide any media shelf for the phone or tablet.
Technical Specifications
Brand: Dripex
Colour: Black
Power source: Battery Powered
Material: Alloy Steel
Flywheel: 10 kg
Resistance mechanism: Magnetic
Maximum weight recommendation: 330 Pounds (150 Kilograms)
Transmission Mode: Belt Drive
Customer Reviews
Dripex indoor cycle is given 4.4 stars out of 5 on Amazon UK. The majority of the purchasers seem content with the exercise and its features.
Here is what some happy clients have to say about their purchase:
"Very quiet, and sturdy. Exactly as I had hoped. I read all the reviews before buying and I am very glad I made the purchase."
One more says:
"Very happy with the exercise bike easy to build very sturdy and a comfortable saddle and great value in amazons recent sale. Had one small issue regarding connecting the pulse monitor cable the cable seemed short it is tucked inside the handlebars but this was resolved with a quick e-mail to customer services."
Some of the issues addressed in the reviews are:
"This bike is a really nice buy. I am 5′ 120lbs and the bike is very sturdy and quiet. It did not take long to assemble either, and it is easy to move if you have to move to a different room.

Everything works great except the seat is hard."

"I'm 6ft and i have the seat / handle bars at maximum height & they aren't high enough, I'd probably say its for people at 5ft10 or under."
Is this the Best Option?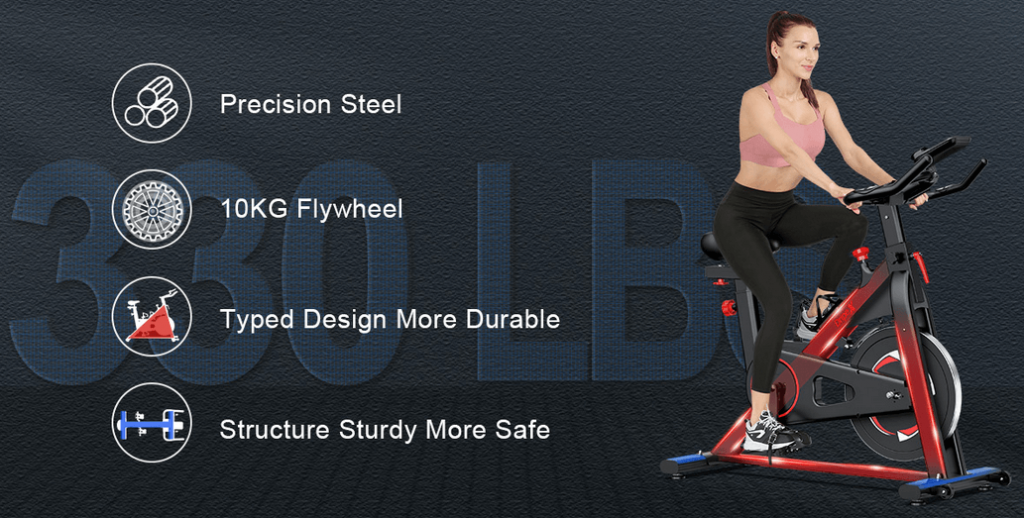 Dripex exercise bike is an excellent choice if you're in the market for high-quality and durable exercise machinery. You can get the most out of your workout with the Dripex magnetic resistance indoor cycling.
The bike features a user-friendly design that ensures maximum comfort. It is not only of high construction quality but it can also be adjusted to meet the needs of each individual. Its quiet operation and silky smooth magnetic resistance control are unrivalled. Giving maximum support reduces the likelihood of harm coming to you.
Also, it has a sturdy steel frame and a flywheel to provide plenty of forward motion. Belt drives, commonly used in modern upright exercise bikes, offer a smoother and quieter experience compared to their chain-driven counterparts.
Commonly included on exercise bikes is a useless LCD screen. The Dripex exercise cycle excels in this regard because it features an LCD with multiple functions. This exercise bike is great for users with varying heights to achieve the most suitable position and enjoy cycling accordingly.
In a nutshell, the Dripex exercise bike is both cheap and effective. It's an excellent buy for the money and has every feature desirable in a home gym.
Conclusion
Among many exercise bikes on the market, the Dripex Exercise Bike stands out for several reasons. One of the major reasons is the design's heft and strength, which automatically convey a sense of reliability and power to the user.
This stationary bike comes highly recommended due to its user-friendliness, which includes straightforward programming and easy-to-follow training. Therefore, it is simple to speak out for the Dripex exercise bike to anyone who wants to get out of their comfort zone and into a more advanced level of cycling.
With a Dripex indoor bike, get ready to experience the pinnacle of fitness right at your home!
FAQs
How to get the seat to the right height?
Finding the ideal saddle height requires actual sitting on the saddle. Place your bottom foot on the pedal and keep your knees slightly bent to get it right.
Can I safely cycle with no resistance?
Riding without resistance is not advised by the experts, except for warming up or cooling down. High-speed riding without resistance can be dangerous, whereas training against resistance improves strength, power, and speed.
Related guide: