JLL S400 Premium Treadmill Review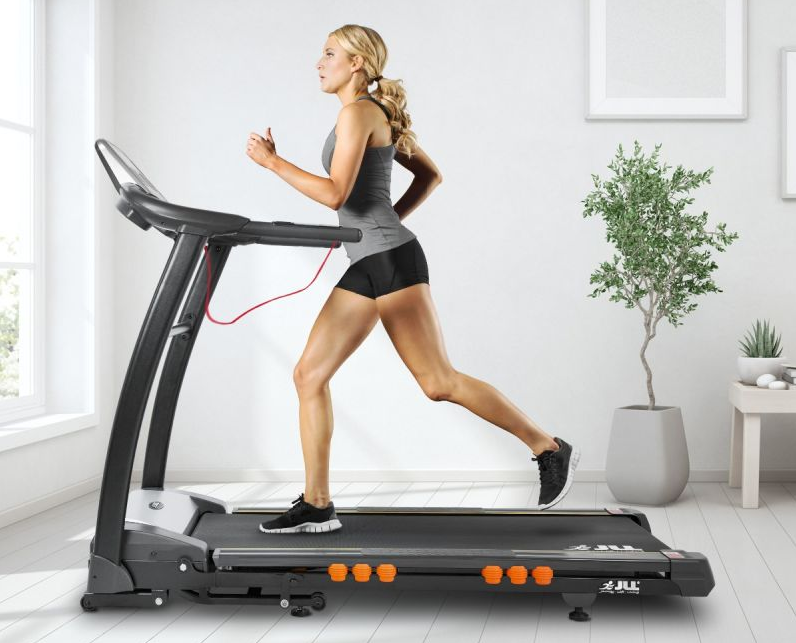 JLL S400 Premium Treadmill Review
The JLL S400 Premium Treadmill is the latest JLL treadmill to receive a whopping 40% discount, which now means it is far less expensive to own a very good treadmill. With a four star rating and excellent customer feedback we take a look at this treadmill in our JLL S400 review to bring you all the need to know information before buying.
So lets take a look!
What The Manufacturer Has To Say
The JLL S400 Premium Treadmill is a superior piece of equipment boasting a running area size of 135cm x 45cm great for all ambitious runners.
Digital Controller Technology allows the change of speed to feel smoother and safer and can be controlled with ease through the sensors built into the handrails.
This motorised treadmill is a step ahead of its rivals and is a really remarkable machine and a great investment for your health and fitness.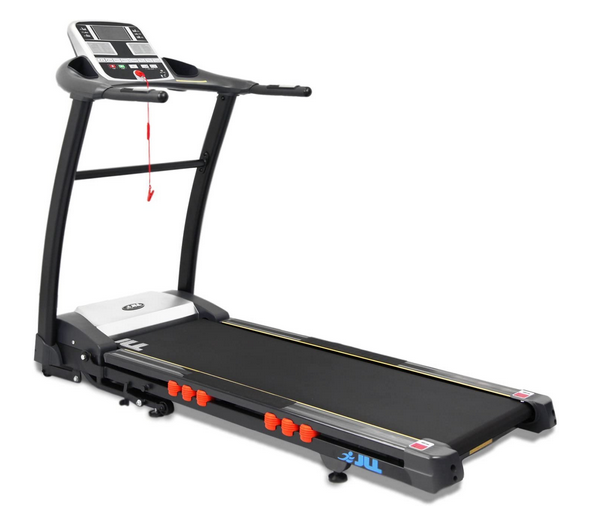 out of stock
as of May 16, 2022 4:55 am
Last updated on May 16, 2022 4:55 am
---
Treadmill Review –
 JLL
S400 Premium Treadmill
---
The Need To Know
Speed: 0.3 – 16 km/h = 0.18 – 10mph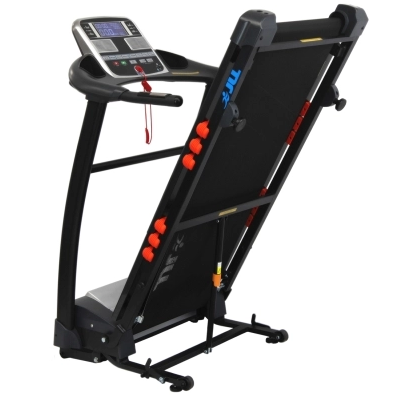 Running Area: 135 cm (length) x 45 cm (width)
Incline: 20 levels
Programs: 15 professional running programs
Shock Absorption: 16 point cushion system
Monitor Functions: speed, time, distance, heart rate, calories, incline
Dimensions: 158cm (L) x 70cm (W) x 128cm (H)
Warranty: lifetime frame warranty, 5 year motor warranty, 2 years parts & labour
---
What We Think
The JLL brand make some very good home fitness equipment and are one of the leading brands in the UK for home running machines. The JLL S400 Treadmill is the sister model to the JLL S300 and comes with premium features, at an extra cost of course.
Just by looking at the features and specifications it is easy to see that this is a well designed model. The question to ask yourself is, are the extra features worth the added cost?
Speed & Incline
With a powerful 2.5HP motor there is a maximum top speed of 16 km/h which equates to 10 mph. In addition there is a minimum speed of 0.3 km/h which makes this treadmill suitable for both beginners and advanced users.
In total there are 20 levels of incline and these offer a very testing workout. The incline can be changed by simply pressing a button built-in to the handrails. reviews on Amazon speak positively of the S400 incline stating that the transition between levels is very smooth and hardly noticeable.
Running Deck 
The running deck is a major selling point with any treadmill and this is where the S400 differs slightly from its sister model. With a running area of 145 cm x 45 cm compared to the 123 cm x 41 cm of the JLL S300, the S400 running area is considerably larger. However, this only comes in to play if you are over 6 ft 2" as this is the maximum recommended height of the S300. In other words if you are taller than 6 ft 2" the JLL S400 treadmill would be a better buy.
Built-in to this running machine is a 16 point cushioning system. This feature helps to eliminate impact forces placed upon the knee and ankle joints. The cushioning system absorbs the force placed upon it and dissipates it through the cushioning points accordingly.
LCD Display & Monitor Functions
The modern looking 5.5" LCD display has all the functions needed to keep track of any progress made. With large buttons and a simple to navigate interface it is easy to get to grips with. There are the five standard readouts that most treadmills in this price range have and these are time, speed, distance, heart rate and calories.
The pulse sensors are built-in to the handrails and obviously they have to be held to get a reading. Reviews state that the heart rate sensor is accurate and not a problem as with some brands and models.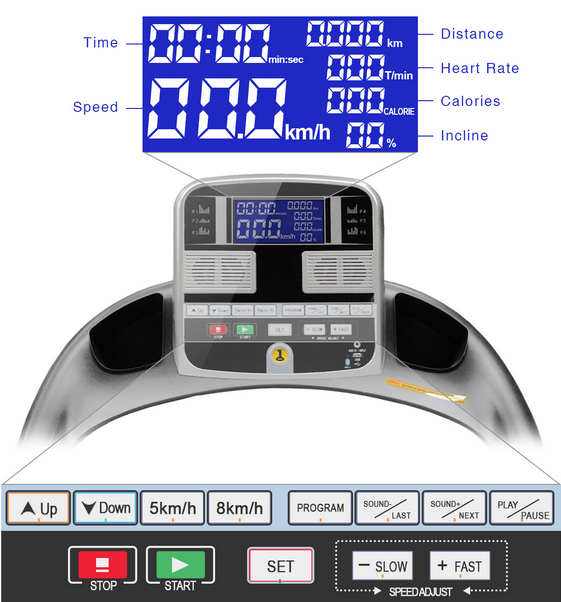 Programs
In total there are 15 programs built-in to this model and three of them can be altered to create your very own treadmill workout routine. All in all 15 programs is a very good amount and should keep users occupied on there fight to fitness.
Entertainment
With two powerful speakers and the option to hook up an iPod, iPhone or MP3 into the USB interface, or use the Bluetooth wireless technology, iPod, iPhone or MP3 into USB interface, or use the Bluetooth® wireless technology staying motivated and entertained shouldn't be a problem.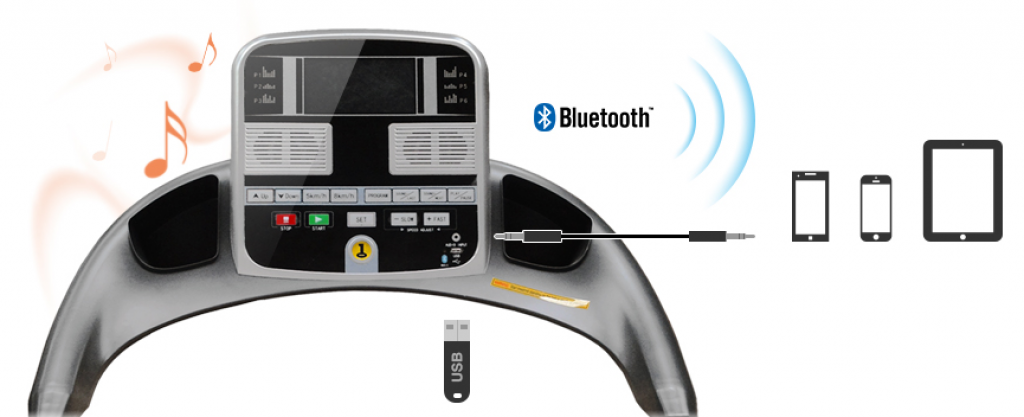 Maximum User Weight
With a very respectable maximum user weight of 120 kg the JLL S400 Premium Treadmill is suitable for people weighing up to 18.5 stone. When exceeding this maximum weight users will notice how the treadmill starts to vibrate slighly at the top speed and how it feels less sturdy.
Pros
15 programs
20 levels of incline
16 point shock absorption system
foldable
very good warranty
Cons 
Good Customer Review
Great all round treadmill for the home. Good size, plenty of program and speed selections and the Bluetooth music feature is superb. Definitely recommend it!
Bad Customer Review
I have had this item for about 18 months now and use it regularly – 3-4 times a week.
I usually run 5-10k each visit. I'm happy with my purchase, though if I were to buy again I'd probably go for the next model down which doesn't have the audio and is a bit shorter on the belt, save yourself £100 and just get the Jll S300.
Extras
Features two bottle holders
To Sum Up
With a big discount at the time of writing, the JLL S400 Treadmill represents great value for money. Compared to most of the treadmills in the same price bracket it has a lot more to offer in terms of features. If you are looking for a very robust and sturdy treadmill with a very good features and overall design then this model comes highly recommended.
If you are trying to decide whether to buy this model or its sister model the JLL S300. I would recommend going with the S400 only if you are taller than 6 ft 2" due to the larger running area.
Read our full guide on home treadmills to find out more information about the top rated treadmills in the UK.
Last updated on May 16, 2022 4:55 am