JLL Sonic 1 Air Bike review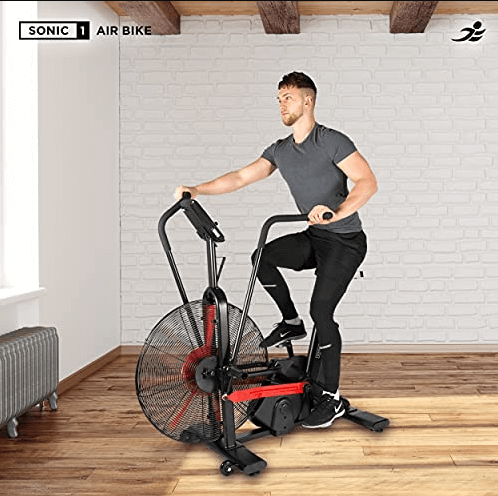 Just because you don't have a hefty budget for a top-of-the-line exercise machine doesn't mean you have to settle for something subpar. In fact, you can find some fantastic options in the lower price range that might be all you need. But if you're like me and you believe that improving your fitness means improving your life, then you deserve a machine that's all about the workout, no frills or distractions, and it shouldn't break the bank.
That's where the JLL Sonic Air Bike comes into play. It's hands down one of the greatest home gym gadgets JLL has put out. It's got this fantastic combo of big fan blades in the flywheel and an internal belt, which means you get a super smooth and steady ride every time.
But that's not all – there are some cool features in the JLL Sonic Air Bike that you won't find in other similar bikes. So, without wasting time, let's dive into why the Sonic 1 Air Bike should be your top pick for fitness.
Best Features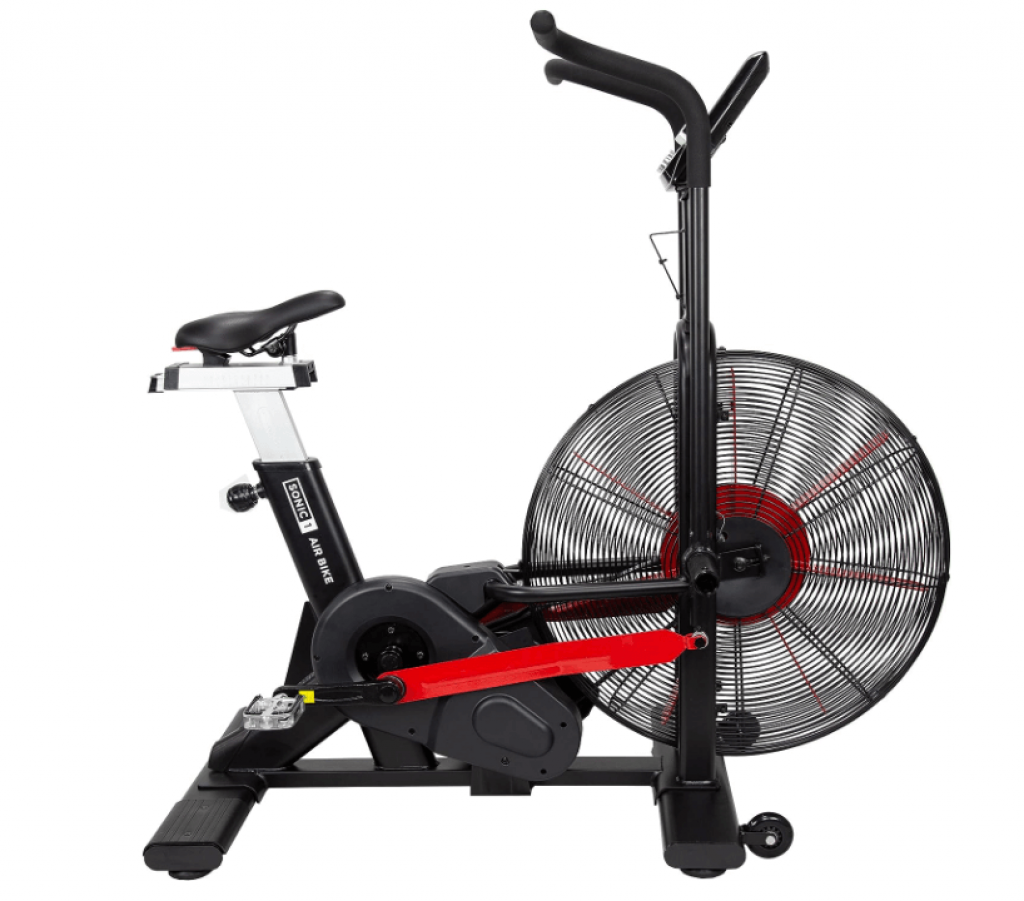 £599.99
in stock
2 new from £599.99
as of November 20, 2023 3:59 pm
Last updated on November 20, 2023 3:59 pm
If you're into air resistance workouts, the Sonic air bike is a great addition to your home gym. Unlike friction resistance, there's virtually no wear and tear on this machine, and the best part is, that you're in control of the difficulty level. Thanks to its smart design with a secure flywheel cage, the harder you pedal, the tougher the resistance gets – adding that extra intensity to your exercise sessions.
This JLL Sonic Air bike is powered by a rubber belt, which gives you a quieter and smoother workout compared to chain-driven ones. Plus, the cherry on top is that belt-driven exercise bikes need less maintenance. So, you get a peaceful workout without the hassle!
Keeping tabs on your progress is a breeze with this bike. Its LCD monitor boasts six different functions, including watt programs and customizable user data settings, making it one of the more comprehensive models out there. The bike also has a scan mode that lets you keep an eye on each function as you work out. Plus, there are three different watt programs designed for beginners through to the sporty types, allowing you to gauge and improve your fitness levels. You can also input your gender, age, height, and weight for a more personalised experience.
The JLL Sonic Air Bike boasts a solid design, with a total net weight of 53.5kg, ensuring it stays firmly grounded even during the most intense workouts.
This air bike offers a smooth and fluid pedalling experience, which not only feels comfortable but also minimises the impact on your joints.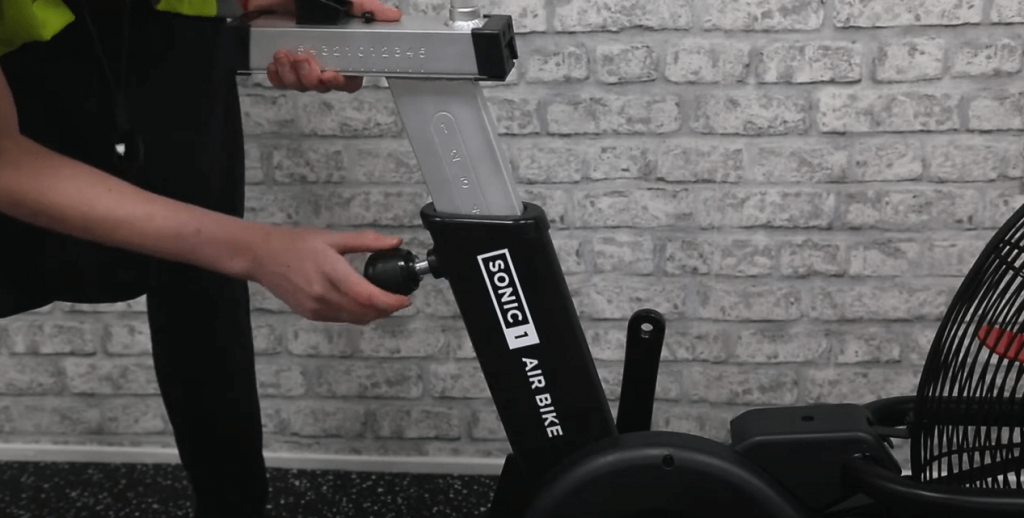 The Sonic Air Bike features a spacious and fully adjustable seat, offering maximum comfort and performance. You can easily move the seat up and down to find your perfect riding position.
With ergonomic handlebars padded with non-slip rubber, this bike allows you to push and pull them smoothly, providing a complete full-body workout.
Pros & Cons
Pros
Long-lasting fan resistance system
Large angled blades for increased resistance
Secure flywheel cage for safety
Adjustable padded seat for enhanced comfort
The console offers a variety of data streams
Utilises an internal belt system
Ensures a smooth and consistent ride
Cons
Pedals may not meet durability expectations
The tablet holder isn't very practical
Some bolts tend to loosen over time
Technical Specifications

Brand: JLL Fitness
Colour: Red and Black
Power source: Battery Powered
Material: Alloy Steel
Resistance mechanism: Air resistance
Maximum weight recommendation: 130 kilograms
Drive system: Belt
Customer Reviews
With a consistently strong average rating of 4.3 out of 5 on Amazon, the JLL Sonic Air Bike has certainly earned its reputation.
"This is a great product and so far has been perfect – bought during the 2020/21 winter lockdown for some home exercise. The assembly was relatively straightforward and once put together the bike is very sturdy. The trip computer is quite basic but does give important data. At 6ft 1, I would say I am at the limit for user height on the bike. All in all a very good experience for some high-intensity cardio."

"Easy to assemble with a basic practical ability. Overall fairly quiet. The electronic consul is basic but I use Iconsul+ free app on my Android Phone. I use it everyday still good I have used a Schwinn at a gym it compares well except for electronics. Hope that helps any one considering it, I bought it on price good value I think."
When it comes to concerns, some users have reported issues with the durability of the pedals, while others have found the tablet holder's position inconvenient and seat adjustments challenging.
"Pedal came off after three sessions on the bike. The pedal is a screw in but the thread stripped itself which is why it came out and now won't screw back in. Lot of money for the pedal to break so quickly after 3 uses."
Is the JLL Sonic Air Bike Your Best Fit?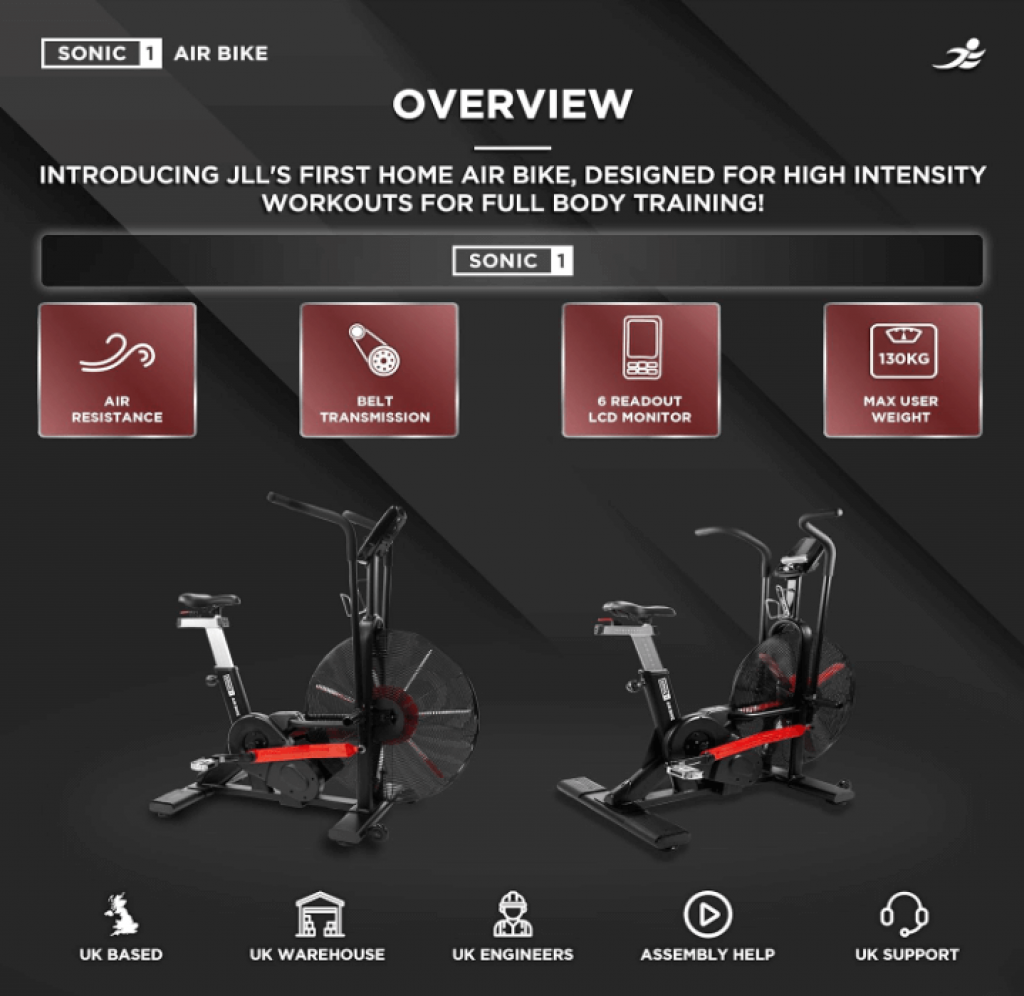 If you're a fan of air bikes, the Sonic 1 Air Bike should be on your radar. It stands out due to its remarkable durability, thanks to the robust air resistance system and the sturdy rubber belt. You can rest assured that you won't have to think about replacing it anytime soon.
What's particularly impressive is the level of attention to detail in terms of tracking your workout data. The built-in display offers real-time information, and it even includes a nifty feature called the fitness scan. This is a step above what many exercise bikes offer in terms of technology, making it a strong choice for those looking for advanced features.
So if your primary goal is a dependable and comfortable workout, it does the job admirably.
Conclusion
Despite its name, the JLL Sonic 1 Air Bike is not just for cyclists; it's an excellent fitness machine suitable for everyone, whether you're just starting or a seasoned fitness enthusiast. Designed with user-friendliness in mind, it boasts features like a sturdy frame, a direct-driven belt, and an adjustable seat, making it accessible to individuals of all fitness levels.
What truly distinguishes the Sonic 1 Air Bike is its exceptional versatility – it's perfect for cardio workouts, strength training, or simply breaking a sweat. No matter your fitness aspirations, you can count on the Sonic Air Bike to help you achieve them.
Frequently Asked Questions
Is the JLL Sonic 1 Air Bike similar to an Assault Bike?
No, the Sonic 1 Air Bike is not the same as an Assault Bike. An Assault Bike is designed for high-intensity workouts and is often used by military personnel and first responders to maintain fitness.
In contrast, the JLL Sonic Air Bike offers additional features such as a digital display and a phone holder, which the Assault Bike lacks. Furthermore, JLL's bike allows for adjustable resistance levels, letting you customise your workout intensity, while the Assault Bike typically offers only one fixed level of resistance.
How long is the warranty period for the JLL Sonic 1 Air Bike?
The warranty duration for the JLL Air Bike is 12 months, starting from the date of purchase. There's no need to call to activate this warranty; it's automatically provided with your purchase.
Additional readings: