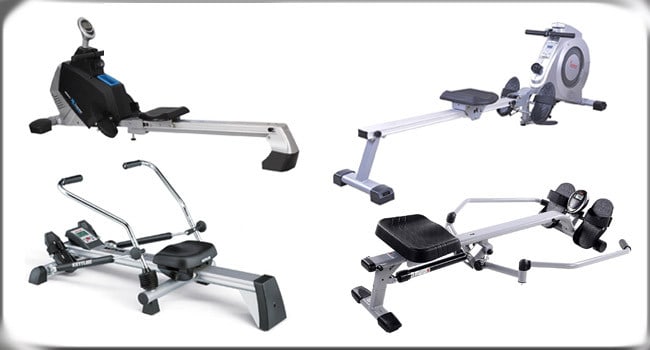 Rowing Machine Reviews 
Are you struggling to decide on which rowing machine is the best to spend your hard-earned money on? Does the overwhelming amount of different rowers and their many features stop you from making a purchasing decision? If the answer is yes to any of these questions don't panic. Our list of the best-selling rowing machine reviews UK customers can get their hands on is just what you need.
Here at Fitness Fighters we have tried, tested and reviewed many different models on the market today. In our reviews we will be showing you what we and many customers consider to be the best rated rowing machines.
What Are The Benefits Of Rowing Machines?
There are numerous benefits associated with using a rowing machine. If you are not familiar with them below is a list of some of the most important ones in terms of fitness.
Full Body Workout
When using a rowing machine an unbelievable amount of muscles are engaged. In the upper body the shoulders, upper and lower back as well as the biceps all receive a very good workout. When it comes to the lower body the glutes, calves, quads and thighs gain the most benefit. For a full body workout a rowing machine is a very good choice.
Low Impact Exercise
When compared to other exercise machines such as treadmills a rowing machine is far better for the joints. Running on a treadmill for example places a lot of force on the knees hips and ankle joints whereas using an indoor rowing machine places very little pressure on the same joints. Due to this using a rowing machine is considered a low impact form of exercise.
Good Cardio Workout
If you have used a rowing machine before then you will already know how hard they can get the lungs working. If you haven't used one before be prepared for a good cardio workout. Using a rowing machine for exercise will increase your heart rate and the amount of oxygen the body takes in, these are the basics of a good aerobic workout.
Weight Loss
If weight loss is your fitness goal then a rowing machine is the perfect exercise machine to reach them goals. using a rowing machine can burn up to 600 calories an hour. When compared to other exercise machines it would be a struggle to find one that burns more calories.
Best Rowing Machines By Price
Below you can find a list by price range of all the rower machines that feature in our reviews. All the models featured are some of the best-selling ones. In addition they all have very positive customer feedback on Amazon.
£100 – £200
JLL R200 Luxury Home Rowing Machine
£200 – £300
V-fit AR1 Artemis 2 Air Rowing Machine
£300 – £500
£500 – £1000
Concept 2 Model D Indoor Rower
Best Indoor Rowing Machine Reviews
Body Sculpture Rower and Gym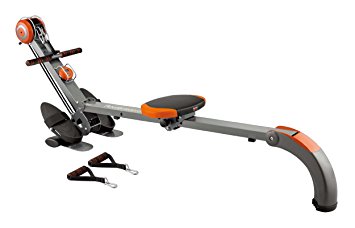 This rowing machine by Body sculpture is not the best rowing machine available but it is the best value rowing machine UK customers can buy.
In addition to been a rowing machine this model can also be used to perform some basic strength exercises. There are two handles than can be used to strengthen the arms, shoulders, back and abdominals. These work by using the rowing machines pulley system to create resistance similar to some gym equipment.
The Body Sculpture Rower and Gym is 75" long which is just over 6 feet. However due to it been foldable it is east to store away for those with limited space.
The resistance system is not the most testing that you will find on a rowing machine but there is still plenty enough to provide a good workout.
The on board display shows the users time, stroke count, total count, calories and scan. Been fairly simple the on board computer is easy to use.
The overall weight is 16Kg which is light enough to move around without too much trouble. When using this rower the foot plates do feel quite large but that isn't a bad thing , better than them been too small anyway.
<< Read Our Full Review >>
Overall this is a very affordable and versatile rower with some good features. Obviously there are a lot better rowing machines out there, as this one is less than £100, but for the money it is great value and ideal for beginners that don't want to spend too much.
£154.43
£199.99
in stock
3 new from £149.99

Amazon.co.uk
Free shipping
Last updated on May 19, 2019 8:34 pm
JLL R200 Luxury Home Rowing Machine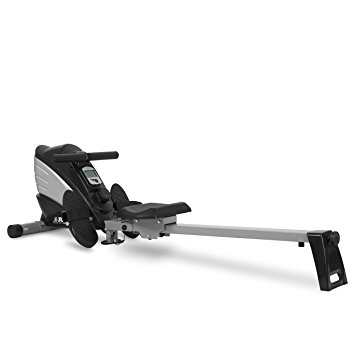 The JLL R200 is one of the best selling rowing machines about. With excellent customer feedback and a four and a half star rating on Amazon in addition to a massive discount this is probably the best rowing machine under £200.
First of all JLL make some very affordable and high quality home exercise equipment and this is a prime example.
The resistance system is one of the most notable features with this rowing machine. Due to it been magnetic and belt driven this rower gives the user a very smooth and quiet ride. There are 10 different levels of adjustment which offer a varied range of resistance making this a good rowing machine for both beginners and the experienced.
The LCD features seven functions and these are as follows total count, calories, count/min, count, distance, time and scan mode.
Again this is a foldable rowing machine so the length of 180cm or 6 foot doesn't pose a problem for those with limited space.
Weighing 23Kg this is a quite sturdy machine and when using it there isn't too much shaking around like with some cheaper models. The seat and handlebars are both comfortable to use and the foam padded seat is one of the best in terms of comfort when using. The foot plates are very secure and keep the feet firmly in place thanks to the secure straps.
To sum up this is without a doubt one of the best rowing machines and probably the best in its price bracket. With a big discount at the time of writing this is a great bargain and a joy to use.
£188.98
£209.99
in stock
1 new from £188.98
Last updated on May 19, 2019 8:34 pm
V-fit AR1 Artemis 2 Air Rowing Machine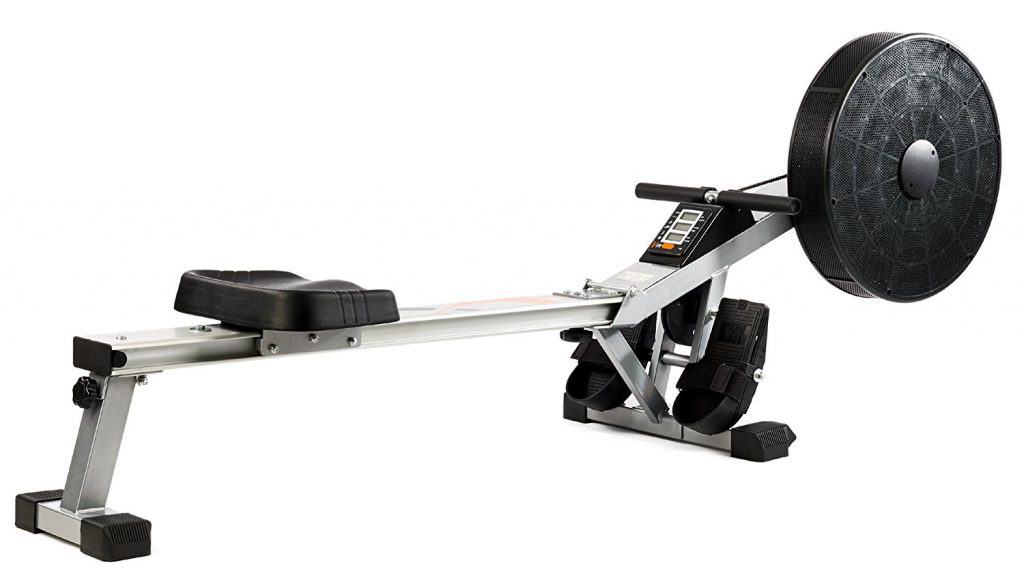 The V-fit air Rowing Machine has a reputation for raising the standard when it comes to home rowing machines. Since its first introduction many other brands have copied many aspects of its design.
This is an air rower and the resistance created gets stronger the harder the user rows. This is a feature that other rowers don't have and it has the benefit of saving you from manually changing the resistance.
The LCD has 6 functions which are calorie burn, distance, speed, stroke counter, stroke rate and time modes.
One notable feature are the pivoting footplates. The pivoting action allows the feet to have natural movement and not restrict them to one position which is a lot more comfortable than fixed footplates.
As with all the rowers in our best rowing machine reviews this is a foldable rowing machine. In addition there are also wheels attached for easy movement.
Been between the budget and mid price range this rowing machine is of good quality. There are better models such as our next one, but if it's an affordable rower that will give a solid workout that you are after the V-fit is exactly that.
£270.80
£425.00
in stock
2 new from £269.99

Amazon.co.uk
Free shipping
Last updated on May 19, 2019 8:34 pm
JTX Freedom Air Rower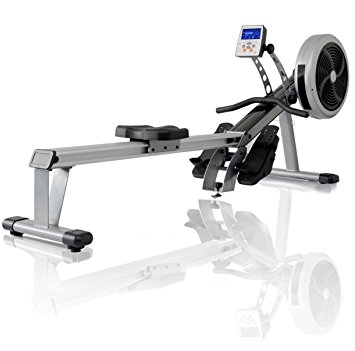 When you get to this price range the quality in design and overall features is noticeably different from budget treadmills such as the Body Sculpture Rower & Gym.
What you get with this rowing machine is a gym quality workout.  The resistance system uses a combination of both air and electromagnetic resistance for a very smooth ride. There are 16 levels of resistance and eight training programmes.
Furthermore there is a controlled heart rate monitor and a free chest strap which is used in conjunction with the 8 programmes for a controlled exercise. This allows the user to steadily increase their endurance and stamina levels. The LCd display shows a wide range of readouts and are as follows speed, distance, stroke, 500m split time, revolutions, time, torque or power, strokes/minute, heart rate.
The overall weight is 37Kg and considering this is made from reinforced lightweight aluminium that is quite heavy which adds significantly to the sturdiness and durability of the JTX R200.
When using this machine the seat and foot pedals allow the user to find a comfortable workout position which consequently usually leads to longer workouts which is always a good thing. another positive is that this is a foldable rowing machine making it one of the best rowing machines for home use.
All in all this is a very good piece of home exercise equipment. With excellent reviews on Amazon and overall positive feedback. this is one of the best home rowing machines that is available on the UK market today.
£499.00
£699.00
in stock
1 new from £499.00
Last updated on May 19, 2019 8:34 pm
Concept 2 Model D Rowing Machine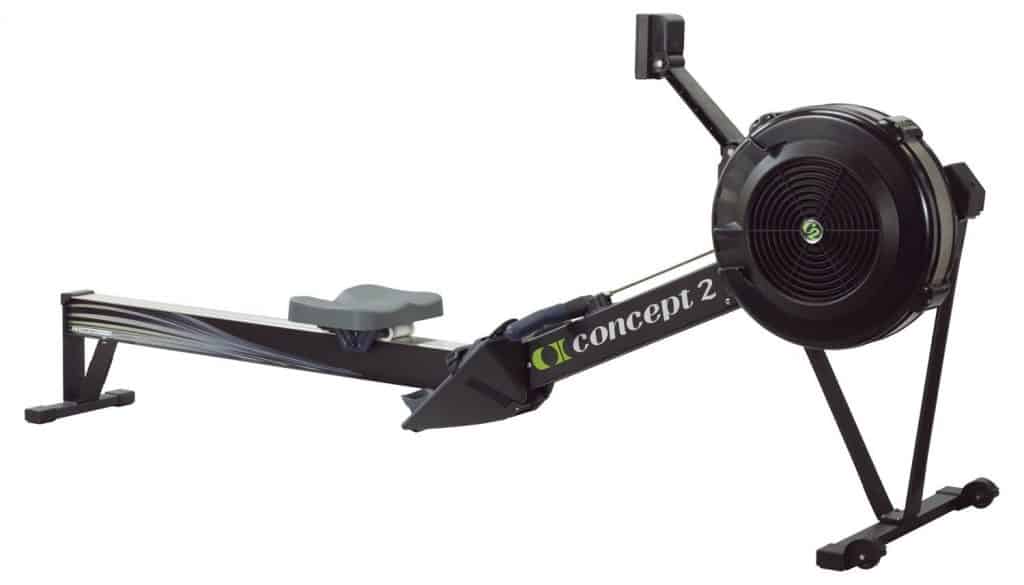 With a five star rating and nothing but good reviews the Concept 2 Model D rowing machine is considered by many to be the best rowing machine that UK customers can get their backsides on.
What you get with this rowing machine is a gym quality rower with all of the features expected of a gym quality rowing machine.
First of all this is the most durable and sturdy rowing machine around and is used by olympic athletes to train with. There is a maximum user weight of 225Kg which is a lot when compared to other models. This rowing machine is made for everyday use and is built to last. In addition to back up the durability credentials this rower comes with a 5 year warranty.
The LCD screen shows distance, speed, pace, calories burned, and watts. In addition there is an adjustable arm so you can move the LCD to within hands reach for easy use. There are other features such as pre set workouts and a host of games. Most noteworthy is the connectivity feature which wirelessly enables the user to race other people.
With adjustable foot plates and an ergonomically designed handle this rowing machine is a dream to use.
To conclude this is without doubt the best rowing machine UK customers can buy. If its a gym quality rower that your after this is the one to buy. Built to last a lifetime and with all the features that gym rowers have in addition to excellent customer feedback the Concept 2 model D is the best rowing machine for home use.
Last updated on May 19, 2019 8:34 pm
Final Words
In our rower reviews we have tried to cover all budgets so their should be something suitable for everyone. All of the models featured are some of the best sellers and have very good customer feedback. If you think we have missed any models out in our rowing machine reviews UK let us know in the comments below.
Last updated on May 19, 2019 8:34 pm