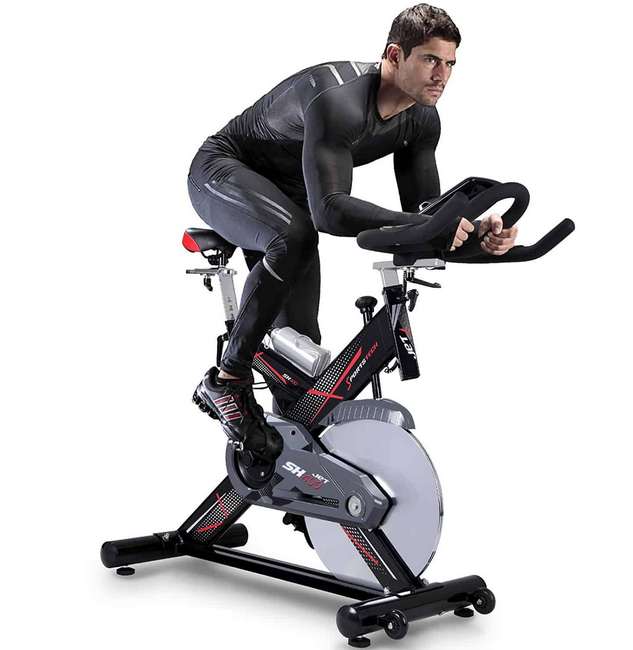 Sportstech SX400 Review
The Sportstech SX400 is the fourth out of five spin bikes in the Sportstech range. After only recently hitting the UK market the Sportstech brand are quickly gaining a reputation for high-quality home exercise machines. With some very good features and specifications the SX400 seems to be a very good model and has some good customer feedback on Amazon. In our Sportstech SX400 review we will be taking a look at the main features to see if this spinning bike is worth the price tag.
So lets take a look!
What The Manufacturer Has To Say 
With the app compatible console and tablet holder in connection with the fitness application you are able to train on your favourite route with the Google Maps StreetView function and track your training history.
Thanks to the belt drive system there is an optimal power transmission on the flywheel. It is also very quiet and nearly does not need maintenance in comparison to the chain drive system
Beside the leg musculature you train nearly all main muscle groups. This allows a more effective and balanced, joint-protected training. Beside the fat burning you are also training your endurance and condition.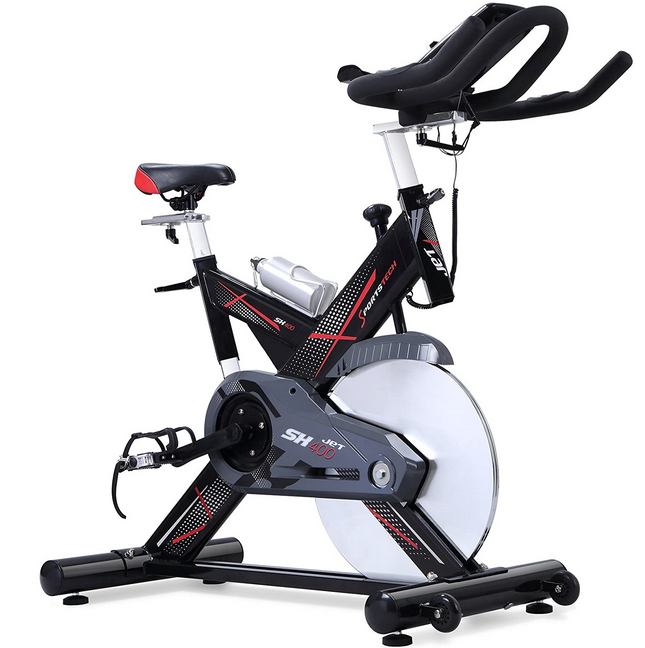 out of stock
as of September 19, 2021 8:37 pm
Last updated on September 19, 2021 8:37 pm
---
Bike Reviewed – 
Sportstech 
SX400 
---
The Need To Know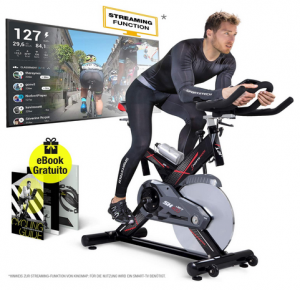 Type Of Exercise Bike: Spin Bike
Flywheel: 22Kg
Resistance Type: Magnetic
Monitor Functions: Speed, Time, , Pulse, Calories and RPM
Seat & Handlebars: Adjustable
Dimensions: 125cm (H) x 125cm (L) x cm 54(W)
Max User Weight: 150 Kg
Warranty: 12 months
---
What We Think
There is no denying that the Sportstech SX400 Professional Indoor Cycle looks the part, in fact it makes the majority of other models available look outdated. In terms of features and specifications it matches up and even betters other spin bikes of a similar price. Positives include a heavy 22 Kg flywheel, a good number of training programs and monitor functions and an overall solid and sturdy design. If you are looking for one of the best spinning bikes for home use this is definitely a contender.
Resistance/Flywheel
Any exercise bike with a 22 Kg flywheel will certainly give the user a hard workout that will put them through their paces. Due to the step free resistance level adjustment the smoothness of transition between resistance settings and the overall quietness makes for an enjoyable yet tiresome workout. Another positive is the belt drive system that allows for optimal power transmission. All in all the flywheel and resistance system are top-notch and can't be faulted.
LCD Display & Monitor Functions
The LCD display and all of its functions are one of the best-selling points of the SX400. In total there are five monitor functions for keeping track of workout data these are speed, time, pulse, calories and RPM. In addition to the monitor functions there is also a wide variety of training programs. Another good feature is the heart rate based training which is pulse belt compatible. Then there is the Google Maps function which allows you to train anywhere in the world through the use of a tablet. Finally the iBiking+ app is a nice touch which overall makes the SX400 a spin bike with a lot to offer.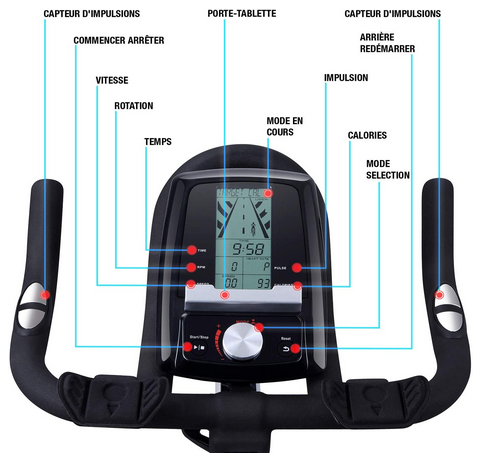 Seat & Handlebars
Anyone who has used a spinning bike before will know that the seat and handlebars are an important feature. The more comfortable the seat and handlebars are then the longer the user will tend to exercise. Luckily this model comes with a seat that can be adjusted both horizontally and vertically. this allows the user to find the most comfortable riding position. Furthermore the seat with this model is also padded for extra comfort. In addition the handlebars are also adjustable and feature padded armrests for extended training in the aero position.
Pedals
The pedals are anti-slip and come with adjustable pedal baskets for a firm and secure fit. For those that like to wear cycling shoes you may want to check out the Sportstech SX500 as it comes with an SPD click system for those that prefer to wear cycling shoes.
Max User Weight
If you want to know if you are going to get a solid, sturdy and well-built spin bike then take a look at the maximum user weight. This is a very good indicator of how well-built a spinning bike is. With a maximum user weight of 150 Kg the Sportstech SX400 is well above the average amount. That been said any potential buyer can be certain that this is a solid and very sturdy model.
Pros
Very quiet when in use
22 Kg flywheel
Exceptional overall quality
Variety of training options
Sturdy when in use
Cons
Good Customer Review
Excellent bike use it all the time and have no issues..would highly recommend.
Bad Customer Review
At the time of writing there isn't a bad customer review to be found.
Final Words
After reviewing a good amount of the Sportstech brands spin bikes its safe to say that they have set their standards high. Almost every model has better specifications than other spin bikes of a similar price. With all the features needed in a good spin bike this model comes highly recommended and with previous buyers giving it some excellent customer feedback at the very least it is worth taking a look at if you are considering buying a spin bike.