Best Treadmills UK – A Buyer's Guide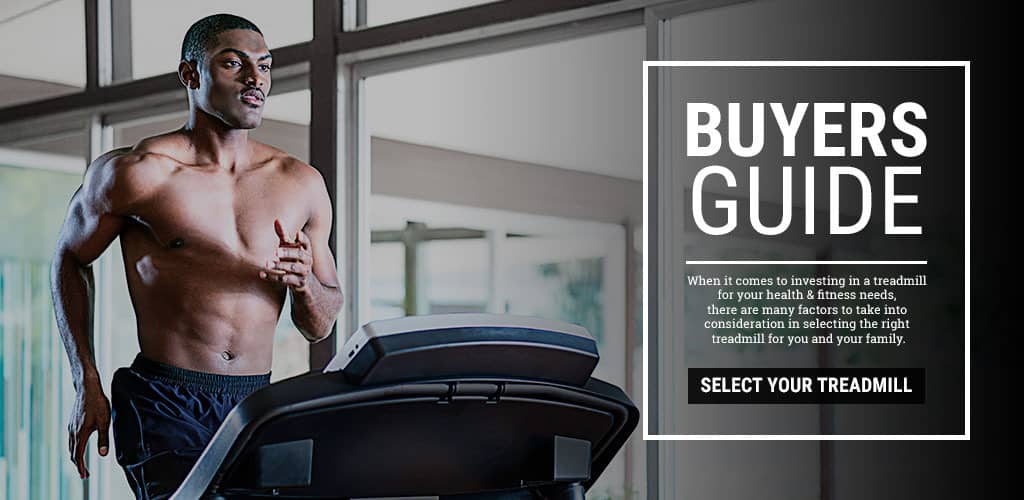 The Best Treadmill UK Buyer's Guide
Treadmills or running machines have been around for a long time now and they have a reputation of being one of the best pieces of home exercise gym equipment is set in stone. If you are considering buying a treadmill you will obviously want the best treadmill UK customers can get for the amount of money you are prepared to spend. In this guide we will be covering everything that is needed to be known before buying a treadmill and helping you to get the most for your money.
So what is the best running machine?
The answer to that question depends on what it is you expect to get from a treadmill. Obviously, as with any home gym equipment the more you spend the more you get in terms of features, programmes and overall quality. The key to buying the best running machine is to get the most for your money and exactly what you want in terms of features etc, and that is what this guide is for.

What Are The Benefits Of Using A Treadmill 
The benefits of treadmills are numerous and well documented. Due to this treadmills are considered the best exercise machine to use. For more in-depth information check out our article on treadmill benefits. Below is a list of some of the most helpful benefits associated with using a running machine.
Excellent cardio workout
Builds stamina and endurance
Improve muscle tone
Great for weight loss
Improves joint flexibility
Track your progress
Safer than running on roads
Reduces blood pressure
Easy to use
Different Types Of Treadmills
When deciding upon a treadmill it is worth recognising that there are a few variations of the treadmill. Below is a few words on the most important things to look for first before making your decision.
Manual or Electric
A manual treadmill is one that is powered solely by the force of the user. This type of treadmill will have handles for the user to hold and to help them to give the belt some momentum. Generally speaking it is mainly walking treadmills that are manually operated, but there are some budget treadmills that are also operated this way.
An electric treadmill is plugged into the mains and with the aid of a motor the belt is turned for the user. This type of running machine is far easier to use and gives a much smoother ride.
Foldable or Fixed Position
If space is limited you may want to consider buying a foldable treadmill. These are the same as a fixed position treadmill but with the additional benefit of being able to fold them up to save space. There are many very good foldable treadmills on the market with the JTX Slim Line Folding Treadmill been one of the best for home use. If space is something you don't have to worry about then a fixed position treadmill is the one for one for you. The benefit of a fixed treadmill is that they do tend to feel a bit sturdier when in use. There is not too much difference but it is slightly noticeable.
What To Look For When Buying
When deciding upon which treadmill to buy there is a lot to consider first, especially if you are to get what it is you want from using a treadmill.
Running Deck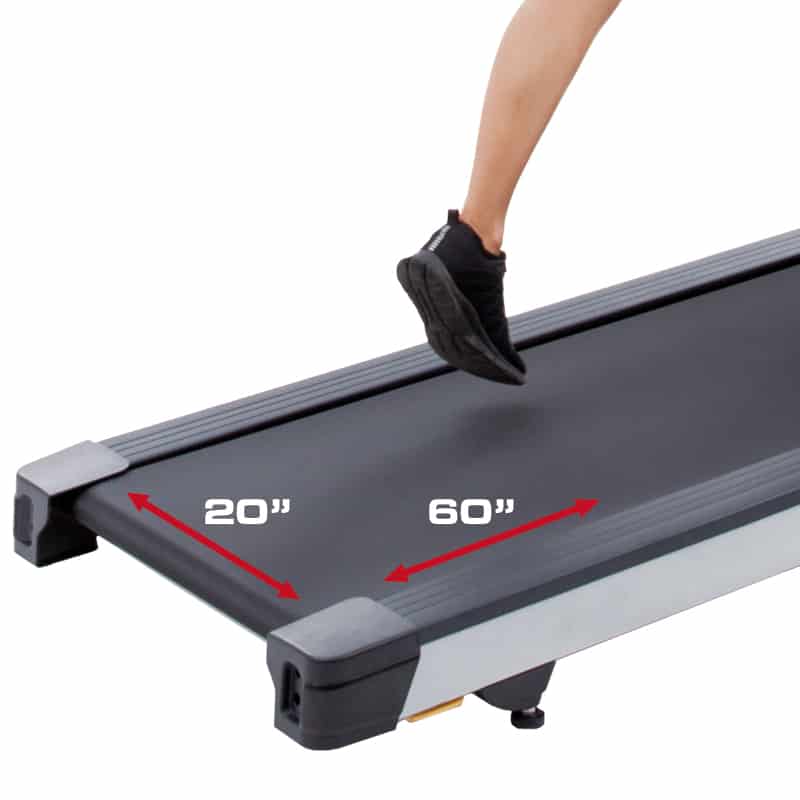 The running deck is a very important thing to consider before buying, if you get this wrong you may well end up not using your treadmill too often. Always remember the bigger the running deck the better. A good size for a running deck is anything above 120cm x 40cm. Having a treadmill with a good size deck allows the user to take full strides and not feel restricted with their arm and leg movements. Generally speaking the more expensive the running machine the bigger the running deck.
Incline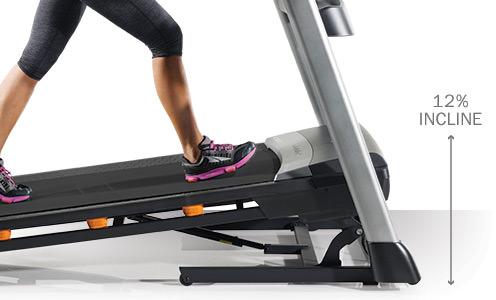 A treadmill that has an incline is much better in terms of functionality than one that doesn't. In addition it allows for a more varied workout. Having an incline feature also allows the user to replicate running uphill, which we all know is harder than a level surface. The level of incline a treadmill has varies in terms of the gradient. The higher the gradient or level as some call it, the harder the workout. So if it's a good workout you're looking for from a treadmill one with an incline is a feature to look out for.
Functions
Running machines can come with a host of functions that give the user all the workout readings they need. This is very useful as it helps to keep track of fitness target or goals. as with most features the more expensive the treadmill the more you get. A budget treadmill will more than likely show time, speed, calories and distance. A high-end treadmill will show the same as a budget model in addition there will be a heart rate monitor. These are usually built into the handles and take your pulse when holding them. There are also chest straps which wirelessly connect to some models.
Programmes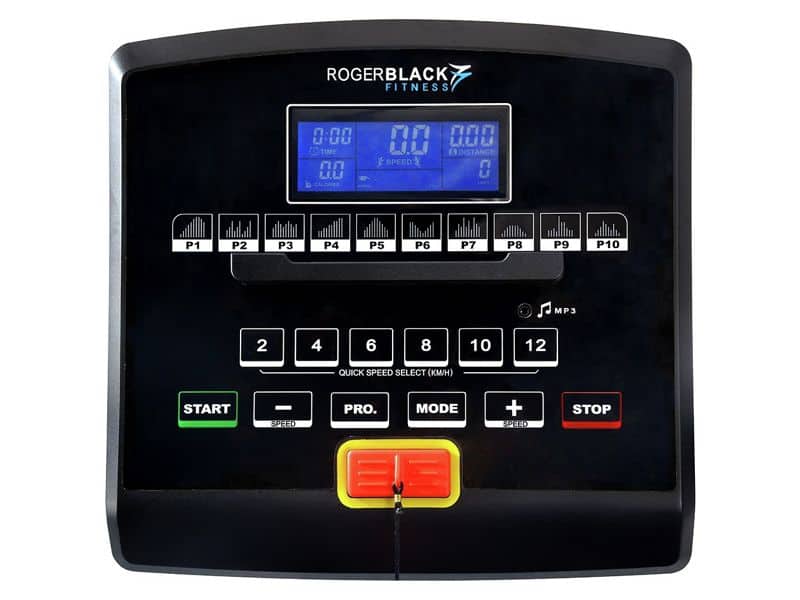 If you intend to use a treadmill for the foreseeable future then one with programmes is highly recommended. The programmes are basically pre-set workouts. These workouts vary in intensity, distance and speed etc. Some treadmills allow the user to set their own workout programme and save it to do at their leisure. Treadmill programmes are very important in preventing boredom as they offer a variety of workouts to keep you entertained.
Dimensions
The dimensions or size of a treadmill is something worth thinking about. Before buying always make sure that the running machine will fit where it is you want it to go. If buying off Amazon the dimensions can be easily found in the product description.
Motor/Maximum Speed
The motor is what turns the running deck on a treadmill. A good motor is anything at 1.5hp or above. usually with treadmills the better the motor the higher the top speed. The maximum speed of a running machine is very important.Obviously the higher the top speed the faster the user can run. The speed ranges from roughly 8kph all the way up to 25kph with the best treadmills.
Extras
Extras are something that are only really offered with mid-range and high-end running machines. These extras can range from something simple such as a bottle holder and water bottle, all the way up to built in speakers with iphone or mp3 connectivity. Extras aren't a necessity but some of them do help you to train longer which has its benefits.
Warranty
With some brands offering a five-year warranty and two years part and labour its something definitely worth looking into. Generally speaking the more expensive the treadmill the better the warranty. With a budget treadmill the warranty will be minimal. Due to it been a budget model which will not last forever there will be no five-year warranty maybe two years at best.
Best Treadmill Under £200
XM-PROIII TREADMILL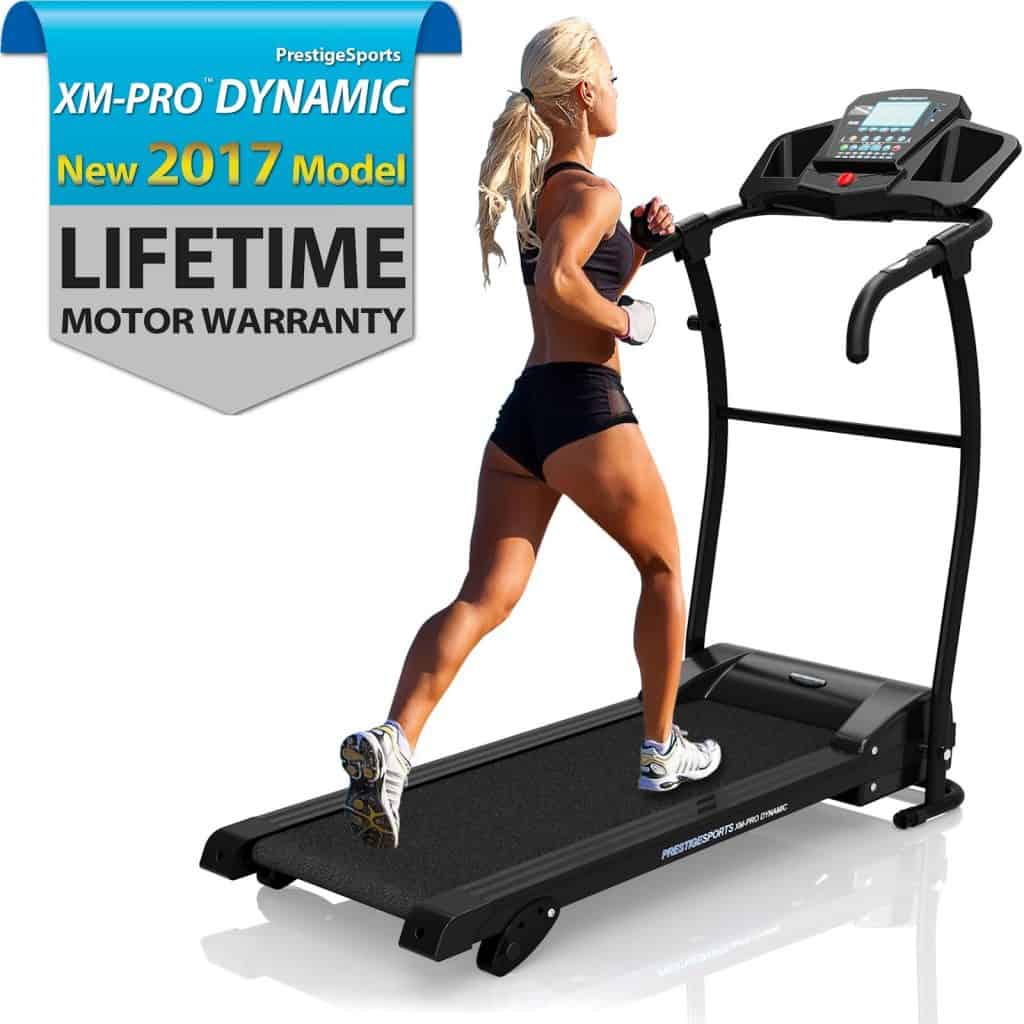 On a budget of £200 there really isn't a better treadmill than the XM-ProIII. There are a few other good running machines under £200 but this one gives better value for money.
If buying expect to get many features associated with much more expensive treadmills. For starters there are built-in speakers which can be hooked up to a phone, so you can play all your favourite music while running. There are 12 programmes which is a lot for a budget treadmill. In addition there is also a large running deck and a powerful motor that comes with a lifetime warranty.
The list of features goes on and on as there is also an incline, water bottle and towel holder, The LCD shows all the readouts that are needed to track progress such as time, distance and calories.
If £200 is your budget the XM-PROIII is the number one choice for been the best budget treadmill UK customers can buy. It has all the features of costlier running machines and costs half the price. Reviews on Amazon go on to say how good it really is check them out by clicking the link below.
£619.99
in stock
as of May 16, 2022 6:11 am
Last updated on May 16, 2022 6:11 am
Best Treadmill Under £500
JLL S400 Premium Digital Motorised Treadmill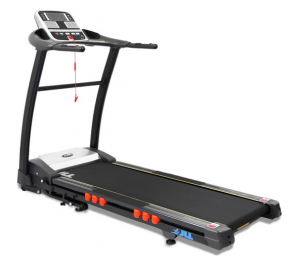 JLL are known to make some very good budget treadmills, so it's no surprise that their mid-range model is packed with features.
To start off there is a top speed of 16kph which is more than sufficient for a good workout. In addition the 20 level incline also adds to a tough workout.
For those looking for a good treadmill for running this one has a 16 point cushion system to help protect the joints.
There are 15 programmes built-in and three of them can be programmed to a tailored workout. The LCD monitor shows the time, speed, distance, heart rate and calories.
Plug your iPod, iPhone or MP3 into USB interface, or use the Bluetooth® wireless technology to stay motivated with your favourite music. Get rid of your earphones for incredible sound from the high-powered speakers.
The JLL S400 comes with a very good warranty. There is a lifetime frame warranty a five-year motor and 2 year parts and labour warranty. All in all this is very good and a good indicator of the overall quality of this treadmill.
With four and a half stars overall rating on Amazon and £350 discount the JLL is one of the best rated treadmills UK customers can buy.
£299.99
in stock
2 new from £299.99
as of May 16, 2022 6:11 am
Last updated on May 16, 2022 6:11 am
Best Treadmill For £1000
Branx Fitness Foldable 'Elite Runner Pro' Treadmill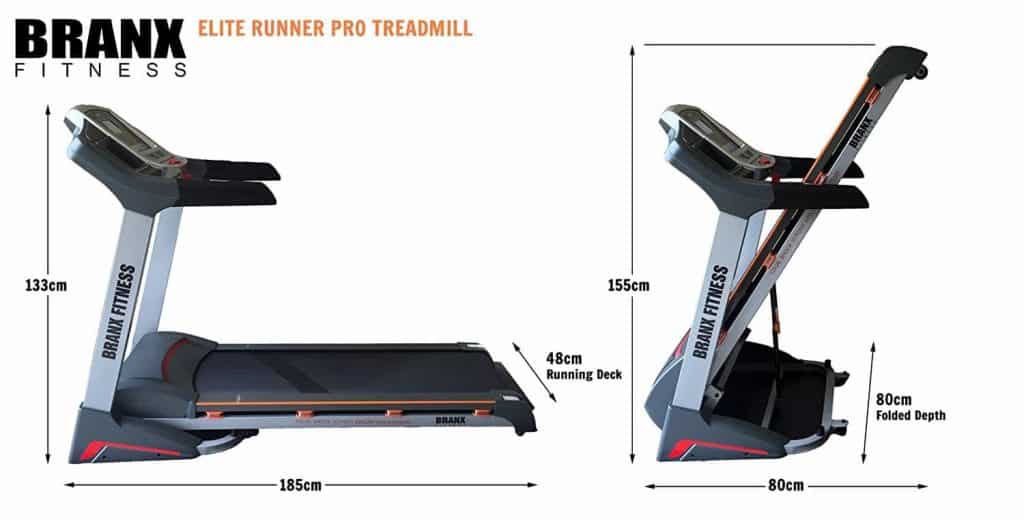 The Branx Fitness Elite Runner Pro comes highly recommended and is without doubt one of the best treadmills UK customers can buy. Here's a quick rundown of its features.
First of all there is a top speed of 23kph which is more than enough. There are also 22 levels of incline which is about as good as it gets when buying a running machine.
The running deck is a big size at 140cm x 48cm, again this is about as good as it gets, In addition the deck also features a ten point cushioning system for reducing the negative effects of heavy running.
Been a high-end treadmill the components are of the highest quality and the motor is one of them. This treadmill has a 6.5hp motor to power the 2mm thick belt and get it to its top speed.
Extras include built-in speakers and a very welcome plasma cooling fan.
If it's the very best treadmill UK residents can buy you seek the Elite Runner Pro is just that. Built to last and to give the user a varied workout this is probably the best treadmill under £1000
£999.99
in stock
as of May 16, 2022 6:11 am
Last updated on May 16, 2022 6:11 am
Best Treadmill For Heavy Runners
NordicTrack C100 T

readmill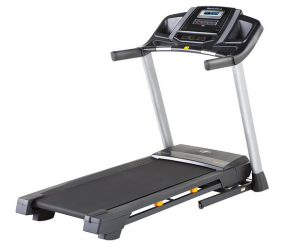 If clocking some miles up at a fast running pace day in and day out is your intention when using a treadmill then you may want to consider going for one that is best suited for this purpose.
The Nordic C100 is the perfect treadmill for running, why? First of all this running machine has a top speed of 20kph which is good-by any runners standards.
In addition there is also an incline of 10% to simulate running uphill and to get them calves, glutes and hamstrings working hard.
The running deck on the C100 treadmill is bigger than most. This is an essential when buying a treadmill for heavy running as there needs to be enough room on the deck for the long strides that heavy running requires.
Another requirement for the best treadmill for running is that there is a cushioning system. a cushioning system is located underneath the belt and helps to reduce impact forces on the joints, especially the knees, hips and ankle joints.
With plenty of programmes and built-in speakers as well as meeting all the requirements needed of the best treadmill for running, the Nordic C100 is one of the best treadmills for running on the market.
out of stock
as of May 16, 2022 6:11 am
Last updated on May 16, 2022 6:11 am
Best Treadmill For Walking
Office Fitness Walking Treadmill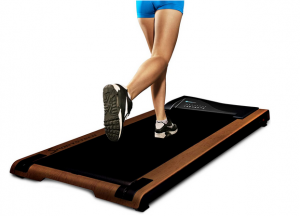 Believe it or not but not all treadmills are made solely for running. Due to the many benefits associated with taking a brisk walk there are some models designed for this purpose. The Office Fitness Walking Treadmill is one of the most popular walking treadmills.
Many walking treadmills are manually operated where as the Office Fitness model has an electric motor. The benefit of this is that the belt moves a lot smoother.
The multi-function display shows the speed, distance, time and calories burned. In addition here is a little fact, walking for an hour can burn up to 200 calories an hour.
Another positive about walking treadmills is that they are more compact than running machines. The reason for this is that walking doesn't require a big running deck like running.
If your body isn't quite up for running yet or you are wanting to steadily increase your fitness levels then a walking machine is a good choice. The Office Fitness is the best model available with excellent customer reviews and positive feedback.
out of stock
as of May 16, 2022 6:11 am
Last updated on May 16, 2022 6:11 am
Final Words
When looking for the best treadmill UK customers can buy there is an awful lot to consider, especially if you are to get the right model as well as most for your money. If you have read all of this guide making the right purchasing decision should be a lot simpler.
If you didn't find a treadmill suitable for your needs in our guide then be sure to check out our full guide and reviews on home treadmills featuring the best models in the UK
Last updated on May 16, 2022 6:11 am