Top 10 Best Boxing Shoes – A Fighters Guide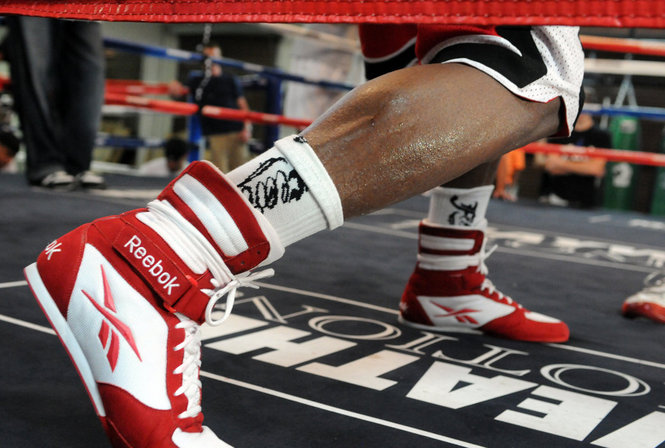 How To Choose The Best Boxing Shoes 
Boxing shoes, there more than likely not the first piece of boxing equipment to enter your head, are they ? The answer to this for most people would probably be boxing gloves. But having a good pair of boxing shoes if not the best boxing shoes is just as important as having a good pair of boxing gloves.
WHY ? Well that's what this guide is for.

In a fighters guide to boxing shoes we will be reviewing some of the best available boxing boots on the market today as well as explaining what makes a good boxing boot and why owning a pair will make you better at boxing. For a full run down of the guides contents head to the quick navigation menu.
---
First of all before we get in to our guide on how to choose the best boxing shoes, here are our top ten best boxing boots available to buy. Our recommendations are based on price verses quality, durability, comfort and support. All of our top 10 list are available to buy on Amazon.
Top Ten Best Boxing Shoes
---
 

 

Adidas Adizero
Product Features
Lightweight

Mid cut

Eva Midsole

Laced closure
Adidas make some of the best boots available for boxing and the Adizero is another fine example of the brands quality. This boot is lightweight in construction allowing for ease of movement when training/sparring. In addition to been light the materials the boots are made from allow good airflow making them very breathable. These shoes feature a mid foot torsion element which offers extra support. 
The Good
Lighweight

Very breathable

Good ankle support
The Bad
Some reviews on Amazon say they are tight fitting so not really the best Boxing shoes for wide feet.
Our View
These are one of the best beginner boots on the market been both stylish and extremely functional. There are cheaper boots if you don't want to spend too much but you won't get anywhere near the quality that these boots offer. After trying these on I can safely say your ankles will be thoroughly supported and your feet will receive adequate airflow.
Last updated on May 20, 2019 8:45 pm
---
Lonsdale Contender
Product Features
Mid cut

Laced clostfure

EVA midsole

Lightweight

Heavily gripped outsole
Be the best you can be when you enter the ring in the lonsdale contender boxing boots. With a quilted and padded ankle and a full laced front you are guaranteed to feel comfortable and supported in these boots. In addition the mesh panels allow for good breathability. Also features a boxing specific EVA midsole.
The Good
Good support

Comfortable

Cheap
The Bad
Our View
These boots are an ideal beginners boot been both cheap and durable. They provide adequate ankle support at the same time as not been too restrictive. Also they are comfortable and have good traction. For price you cant go wrong with these boots they give you everything you need from a boxing boot at a really affordable price.
Last updated on May 20, 2019 8:45 pm
---
Everlast Low Top Boxing Shoes
Product Features
Low top

Ribbed ankle support

Zip closure

Reinforced toe area for durability
The Everlasting lo top boxing shoes come with a reinforced toe tip for increased durability. Featuring a zip closure and a ribbed ankle designed for extra support.
The Good
The Bad
Some reviews say the sole came loose after a few uses although they were sent a new pair
Our View
If you prefer a low top as your choice of boxing boot and you don't mind a zip closure then you will be more than happy with these boots. They provide more ankle support than you would normally expect from a low top but are still comfortable to wear. For the price personally I think you would get more for your money buying the RSX guerrero. These boots are in the same price range but overall I feel the Guerrero is a better boot.
Last updated on May 20, 2019 8:45 pm
---
Lonsdale Mitchum Pro Boxing Boots
Product Features
Mid cut

Lightweight

Raised heel for comfort

Suede trim
The Lonsdale Mitchum are a mid cut, lightweight boxing boot with a raised heel for added comfort. Features are a breathable mesh upper with a suede and PU trim. The outsoles of these boots provide excellent ring and canvas grip and the EVA midsole provides boxing specific cushioning.
The Good 
Good grip

Breathable

Cheap

Lightweight
The Bad
Some reviews say they are hard to take off
Our View
If you are looking for a good quality cheap boxing boot then you can't go wrong with a pair of these. These boots provide excellent grip good ankle support and cushioning. In addition the EVA midsole provides extra cushioning and arch support.
Last updated on May 20, 2019 8:45 pm
---
Adidas Speedex
Product Features
Mesh upper

Ankle straps

Strap closure

AdiWEAR rubber outsole
The Adidas Speedex are ultra light for speed and agility in the ring. These boots have stability straps that can be wrapped around the ankle for good support. The single piece adiwear outsole is constructed to keep your feet secure to the ground. The grip on the sole is multi-directional for ease of movement in all directions. The single layer mesh is designed to expel warm air and to let cool air into the shoes.
The Good 
Very breathable mesh upper

Good support and stability

Feet stay dry

Durable outsole
The Bad
Quite loose (best boxing shoes for wide feet)
Our View
Although a little expensive these boots are perfect. They come with plenty of sports technology incorporated into their design to aid in your performance. Everything feels right when you arewearing these from the grip and ankle support to how comfortable they are. You would be hard-pressed to find a boxing boot that is as good as these.
Last updated on May 20, 2019 8:45 pm
---
Rival RSX Guerrero
Product Features
Gel insole

Low top

Non marking two tone rubber outsole

Breathable material
The Rival RSX Guerrero are a low top boxing boot and feature a gel insert for comfort and support. The materials allow maximum airflow to keep you cool at all times. The outsole is made of rubber and is two tone for a stylish look.
The Good 
Very comfortable

Breathable

Fairly cheap
The Bad
Can feel a little tight around the ankles
Our View
The Rival Guerrero boots are a good beginner/intermediate boot and give real value for money. They are one of the most comfortable boots that I have tried and you can tell that just by looking at them. The material they are made of is both lightweight and very durable so a pair should last a good while. All in all these boots give you real quality for a very reasonable price at the same time as providing just enough support and grip.
£66.99
in stock
1 new from £66.99
Last updated on May 20, 2019 8:45 pm
---
Adidas Box Hog 2 
Product Features
Single layer mesh

Partial EVA midsole

Gum rubber outsole

Suede overlays for durability
The adidas Box Hog 2 boots come with a very sturdy mesh that allows for maximum airflow and ventilation to keep you cool. The boots are made in a way that makes them as light as possible this is done by using suede overlays and woven textiles. In addition to been light as a feather and durable they also feature a gum rubber sole for good traction.
The Good 
Breathable mesh

Very comfortable

Good grip

Durable
The Bad
Our View
These boots would be a welcome addition to both beginners and pros alike, and are the perfect boot for training. In addition to been stylish they also do the job there supposed to do. These boots wiil keep your feet cool and provide adequate ankle support as well as been comfortable. Once again adidas have made a really good boxing boot and at a price that won't break the bank the only fault is some reviews say they are a little small so maybe buy a half size bigger than usual.
Last updated on May 20, 2019 8:45 pm
---
Asics Box Hit Ringer Split
Product Features
Split sole construction

Lightweight materials

Asymetric lacing system
The Asics box and ringer split have absolutely sole construction for increased flexibility and asymetric movement. The material mix means these shoes are very flexible and light in weight. An added feature is a new half shaft which helps protect the ankle.
The Good 
Very durable

Innovative design features
The Bad
Smaller than the size indicates (buy a size bigger)
Our View
These boots feature some really cool design features that help enhance your performance in the ring. In addition to been light and durable these boots provide really good ankle support thanks to the half shaft incorporated into them. Some would say these are not the best looking boots but when it comes to functionality they more than make up for it.
Last updated on May 20, 2019 8:45 pm
---
Adidas Box Rival II
Product Features
Torsion element

Non marking  adiwear sole

Thermoplastic arch support

Honeycomb mesh
The Adidas Box Rival boots have been designed to keep you moving with speed and confidence. These boots have been made to be very light with a mid cut for a fine balance between agility and stability. The upper mesh allows good ventilation to keep you cool in the heat of battle also the torsion element contributed contributes to better balance. Finally there is a non marking adiWEAR sole and the toe and heel are both reinforces for added durability.
The Good 
Incredibly light

Innovative design

Very comfortable
The Bad
Our View
These are one of the best boxing boots on the market today been incredibly lightweight and very comfortable at the same time as providing good protection and support. Although a little pricey for a beginner if you do invest in a pair you won't be disappointed as many of the best Boxing reviews say these are some of the best Boxing training shoes available.

Amazon.co.uk
Free shipping
Last updated on May 20, 2019 8:45 pm
---
Why Do You Need Boxing Shoes ?
If your new to boxing your probably thinking why do i need boxing shoes ? I've got my nike air max or my adidas whatever. Well in addition to the added ankle support that a good quality pair offers, the fact that they dramatically improve footwork and increase power transference, owning a good pair boxing shoes for training is an equipment must especially if you are serious about boxing and training.
In addition to improving your boxing, owning the right pair of boxing shoes also means you will be less prone to picking up an ankle injury. However on the flipside purchasing the wrong pair could have the opposite effect.
---
Benefits Of Owning A Pair Of Boxing Shoes
The benefits of owning a pair of boxing shoes might no seem obvious to most people, after all there just another pair of shoes right ! Wrong, boxing shoes are specifically designed to enhance all of the following attributes in a boxer.
Balance

Footwork/Mobility

Comfort

Power
For a more detailed analysis of how boxing shoes can improve your overall performance as a boxer and enhance essential attributes needed to become a good boxer see below.
Balance
Owning a pair of boxing shoes will considerably improve your sense of balance in the ring. The soles are specifically designed to provide just enough grip so that you are not caught off balance when suddenly moving, too much grip and your foot can stick to the floor, similarly not enough and your on your backside.
Footwork/Mobility
Similar to balance, the grip of your shoes can also drastically affect your footwork. Consequently in addition to having the right amount of grip, having the correct support, can help improve both your footwork and mobility.
Having too much support and by this I mean material on your boots that isn't really needed and is just there for the aesthetics of the boots can add unwanted weight to your shoes. This added weight can affect your movement  so try to go for a lighter pair unless of course you prefer a heavier boxing shoe as some do.
Comfort
The comfort that a pair of boxing shoes offers can't be beaten, when you find the correct pair you will instantly know what I mean.
Whether or not a shoe feels comfortable is down to the insoles and how the shoe feels when fully laced up. Furthermore having the right insoles and feeling comfortable in them is essential, as nobody wants to be thinking about their insoles when they should be training.
Once you have found a pair of boxing boots your comfortable in you should notice an improvement in your performance.
Power
Believe it or not boxing shoes can increase the power of your punch How you may ask ? Well, the thinner sole means that less energy is lost than when compared to thicker soles, Why ? Thicker soles absorb more of the energy when you are pushing down on the floor with your foot than a thinner sole does. Although the difference isn't huge, any advantage in a contact sport is a plus.
---
Different Types Of Boxing Shoes
There are three types of boxing shoe, these are Low top, Mid top and Hi top. In general these three types of boot are essentially the same the only difference been is how high they rise above the ankle.
The height of your boxing shoes can have a knock on effect, which can affect other boxing attributes. For example Hi-Top's offer more ankle support than Mid and Low-Top's. Consequently with them been so high that can also affect your mobility and ability to move around the ring.
Each of the three types of boxing shoe have their own pro's and cons, choosing the right pair is down to personal preference. We all want something different from the training equipment we buy to see what you will get when buying low, mid or hi-top boxing shoes see below.
---
Low-Top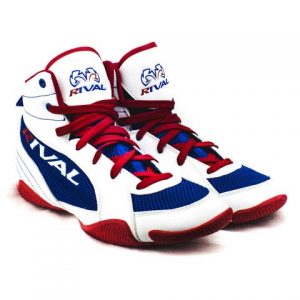 As the name suggests these are the lowest out of the three style's of boxing shoe. How low they rest depends on the brand, for example Rival make a low top that rests just above the ankle, where as Grants have one version that rests just a bit lower.
If you do decide upon a pair of low tops remember they provide less support than mid or hi tops. However because they are less restrictive than hi-tops you may find it easier to move your feet around.
Purchasing Do & Don't
 Do
Buy a brand that is established

Make sure you lace up when trying them on to get a proper feel of the shore
 Don't
Don't buy a pair if you are prone to ankle injuries
 Do You Need Them?
If you have strong ankles and are less likely to pick up an ankle injury than most and you are comfortable with a boxing shoe that provides little in way of ankle support, but gives you a little edge in mobility, then you probably would benefit from a pair of low tops.
---
Mid-Top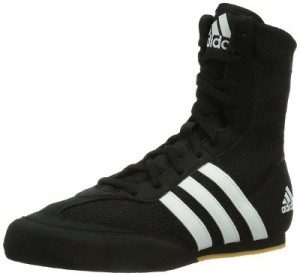 The mid top or mid cut as they are also known rise a few inches above the ankle. They are known to provide good ankle support at the same time as leaving you remaining agile on your feet. These are the preferred choice boxing boot cut for most professional boxers the world over making them the most popular boxing boot among amateurs as well.
 Purchasing Do & Don't
 Do
Try them on if possible
Make sure there is enough airflow

Buy a good brand because you get what you pay for with boxing boots
 Don't
Don't buy a brand you haven't heard of even if they look the part there more than likely not
 Do You Need Them ?
In my opinion yes you do need a good quality pair of mid tops. They are without question the best boot out of the three different types available. Whenever you watch a boxing match if you look at what kind of boxing shoe most professional boxers wear you will find that between 70% and 80% choose to wear a mid top. They provide enough support as not to be too restrictive at the same time. In addition because they are not too high they don't restrict mobility and foot movement.
---
Hi-Top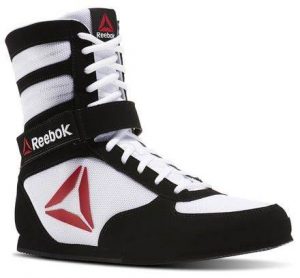 Hi tops rise a few inches higher than mid tops and typically stop just below the calf muscle. The benefits of hi tops are the extra ankle support that they provide and the added feeling of been more secure in your stance. The only downside is that some people feel a little restricted in their movement when wearing a hi top.
Purchasing Do & Don't
Do
Buy a pair if you have weak ankles the extra support will help prevent  injury

Make sure there is plenty of air holes (hi tops get sweatier than low or mid tops)
Don't
 Don't buy a pair if you like to feel light on your feet and not restricted with your foot movements
Do You Need Them ?
The answer to this question depends on a few things, if we are talking safety then yes you do need a pair. Hi tops offer the most ankle support and protection out of any boxing shoe. Typically the hi top is best suited for boxers with weaker ankles, although this doesn't have to be the case some people just prefer the way they feel when compared to other boxing shoes.
---
What Are The Best Boxing Training Shoes ?
This all depends on what it is that your looking to gain from your boots, if we are talking brands then Nike, Adidas and  are the most popular brands. However on overall performance and taking into consideration the support, mobility and height of the boots, then personally I would recommend a mid top.
The mid top gives you the best of both the low and hi-top, been in between them both in terms of height means you do get a fair bit of support from them. In addition the fact that they don't rise so high also means you still feel mobile in them. Also you have to ask yourself, why do most professional boxers wear them? The reason is that they feel most comfortable in a pair of mid tops.
Equipment Tip: The most popular boxing shoe is the Adidas Box Hog
---
Boxing Shoes

v

Trainers
In this match up we will be putting boxing shoes up against trainers. A lot of newcomers to boxing start off wearing trainers to the gym to practice pad or heavy bag work so it makes sense to put these two against each other.
First of all there is no denying that trainers are comfortable to wear but when it comes to boxing training they are not ideal. Trainers offer virtually no support to your ankle and with all the footwork and sudden movements that boxing involves at some point you are going to hurt yourself wearing them.
When it comes to grip again there is no denying that trainers provide excellent grip. However in terms of boxing and training the grip they provide is too much. If you are already wearing trainers to train in you will know what i mean when I say at times you will find your feet sticking to the ground when back peddling, and if your not careful you will lose your balance and end up on the floor.
On the other hand the boxing shoe provides perfect grip for pivoting and moving around the ring without sticking to the floor. In addition the added support is a must in any sport where you are constantly moving your feet.
And The Winner Is….
Without a shadow of a doubt the winner by a unanimous decision is………. boxing shoes
The boxing shoe
Less friction for faster movement , counter
---
Women's Boxing Shoes
A few years ago you would of found it quite hard to find a good pair of women's boxing boots. Nowadays there are many good quality women's boots on the market with Adidas and Lonsdale making some of the best. There are not any real differences between men's and women's boxing boots the only noticeable difference been in the colour. If you are a women into boxing and looking for some new boots my advice would be to search the internet with Amazon been a good starting point.
---
Purchasing Considerations
As you can see there is a lot to consider before purchasing your boxing shoes. Before buying yourself a new pair take into consideration all of the following and you will have a much better chance of finding the perfect pair for you and What you need.
Support
The amount of support your choice of boxing shoe provides is down to you. The three types of boxing shoes, low, mid and high top all offer different levels of ankle support.
The low top offers little in support mainly because they are generally ankle level or even below (depending on the brand). On the flipside this lack of support leads to more mobility, with the ankles been less restricted when it comes to moving.
On the opposite side hi tops offer plenty in support, however this leads to less mobility.
As mentioned earlier the level of support your shoes provide is up to you and down to personal preference.
Material
The materials your boots are made of is a good indication about the quality of the product. All good quality boxing boots are made from either leather or suede with rubber sole.
Sole
The sole is an important part of the boxing shoe, they provide the grip that is needed to keep you on your feet but at the same time provide just enough traction to be able to pivot or move around the ring without slipping.
Most soles are made from rubber and are a lot thinner than normal trainers. Consequently this leads to you feeling better connected with the ground which also leads to better power transference when throwing a punch.
A good sole should feel comfortable to wear and provide just the right amount of grip.
Quality
Obviously the quality of your boxing boots is a major purchasing consideration. If you want a pair that are going to go the distance then you are best off choosing one of the popular brands. When it comes to boxing shoes Nike and Adidas are the heavyweights and tend to be most professional boxers brand of choice.
The main features to look at when deciding upon the quality of your boots are the sole, materials and brand.
Final Thoughts
So now you know pretty much all there is to know about how to buy the best boxing shoes. Hopefully you found the information contained in this guide useful in helping you purchase your next pair of boxing boots. For more guides on boxing related equipment such as a fighter's guide to the best boxing gloves or a fighter's guide to the best punch bag check out our equipment page.