What's The Best MMA Headgear – Top 5 – Gear Guide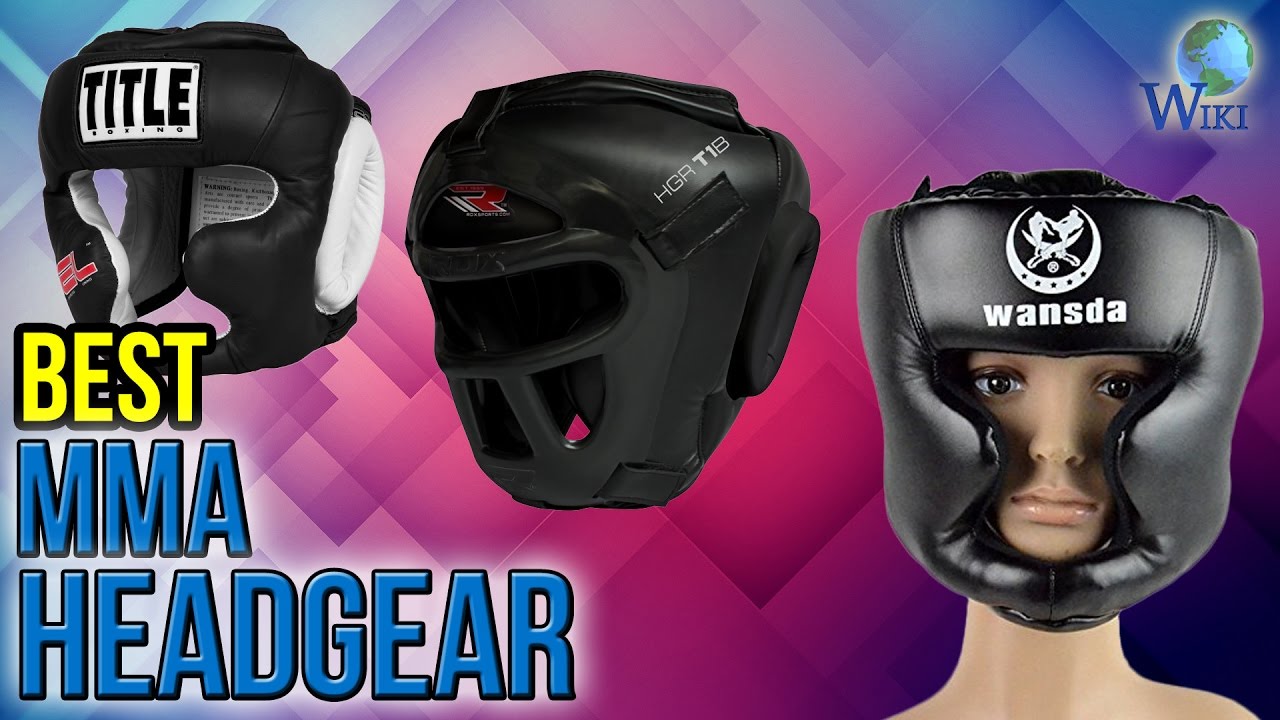 The best MMA headgear is arguably one of the most important pieces of kit that can be purchased, after all you do only have one head. More importantly it's the contents of your head that the headgear will be helping to save.
In this article we will be bringing you the best headgear that MMA brands have to offer and reviewing them to give you all the information needed before making a purchasing decision.
So here it is our top 5 list of the best headgear for mma training.
Top 5 Best MMA Headgear
RDX Maya Hide Leather MMA Headgear
What They Say
RDX® headgear makes sure your head is in the right place! When you're switching between boxing, Muay thai clinching or kickboxing and grappling when you're sparring in MMA, you want to make sure your headgear can withstand the punishment.
Key Features
Triple padded Tri-Slab padding for maximum protection
Made from high quality maya leather for durability
Optional/removable faceguard
The Good
Multiple colour options
Removable face guard
Comes with shell shock gel lining
Highly shock absorbent
The Bad
RDX is considered a cheap brand by some, however they make affordable high quality products the reviews on Amazon speak for themselves
Our View
If its good quality headgear at an affordable price that you are after then look no further. Featuring triple padding, Supremo-Shock foam padding in addition to a shell shock gel lining this headgear by RDX is super shock absorbent and offers maximum face protection. The optional removable face guard and maya leather construction  gives this headgear added versatility and durability making it a great buy for both beginners and MMA training veterans.
For Reviews & Latest Amazon Prices Click Here
---
RDX Maya Hide Leather MMA Headgear
What They Say
A legacy in the building, the RDX Supreme Head Guard Reinforced with moulded steel face bar & Gel Integrated Padding is redefined with technologies, fit characteristics. Train with enduring sports brand RDX Zero Impact G-Core twinned layer Gel Integrated technology Cow Hide Leather Head Guard with suede cow hide leather inner providing a non slip comfort fit.
Key Features
Reinforced moulded steel face bar
Lace up closure
RDX Zero Impact G-Core twinned layer Gel Integrated technology
Made from cow hide leather
The Good
Non Slip
Lots of protection
Good visibility
The Bad
Quite bulky which depending on how fast you are, can lead to getting hit more
Our View
As you may have noticed this is the only full face headgear in our top 5. The reason for this is because there really aren't that many good quality ones and most of them are far too bulky. However this model by RDX is ideal for MMA training.
First of all the padding and reinforced steel bar work a treat and offer more than adequate protection from kicks and punches. In addition to the protection the visibility of this headgear is also very good. With most full face headgear the visibility is noticeably a lot less when compared to open headgear, however with this headgear you can see plenty more than i expected.
This model is sold as a non-slip model meaning it wont shift or swivel upon impact. The padded chin strap helps a lot in keeping a secure fit and the lace up closure also allows for a snug fit both of these work together in making this headgear a very good non-slip one.
All in all this is a very durable, comfortable and affordable headgear and is probably the best full face headgear MMA enthusiasts can buy.
For Reviews & Latest Amazon Prices Click Here
---
RDX Cow Hide Leather MMA Headgear
What They Say
RDX® head guard is built to utterly protect the most vital part of your body – the brains. Durable and long-lasting, authentic full-grain cowhide leather compliments the already solid interior of this guard. Zero Impact G-Core gel technology incorporates Tri-Slab™ Shell-Shock™ integrated Supremo Shock™ foam padding to provide the most shock-absorbent head-guard you have ever worn. Exclusive R-Lock™ system adjusts snugness providing a comfortable fit with zero budge. This guard was made to provide confidence where it's needed the most, while sparring.
Key Features
Made from cow hide nappa leather
Two way rear head closure
Featuring G-Core foam for added protection
The Good
Adjustable chin strap
Very light
Excellent visibility
Absorbs perspiration and stays non-slip
The Bad
Our View
This is the second RDX headgear that features in our top 5 list and although its a little bit more expensive than the other you do get a lot more for your money.
From just looking at this headgear its easy to see how padded and protective looking it is. In addition to been extra padded up it still gives great visibility which you wouldn't normally expect.
There is a lot of technology incorporated into this headgear to make it as lightweight as possible at the same time as giving maximum protection.
Been made from high quality nappa leather the durability of this headgear isn't anything to worry about either. There is a lot to be said of the RDX brand. Although some people do see it as a cheap brand they undoubtedly make some very affordable high quality fight gear. Coming third in our top 5 list this headgear is up there with the best headgear for MMA.
For Reviews & Latest Amazon Prices Click Here
---
Venum Challenger 2.0 Headgear
What They Say
Head into bigger and better challenges with our Venum Challenger 2.0 Headgear. Made in Thailand with 100% Skintex leather, brings you the most perfect head gear protection at an affordable price.
Key Features
Made in Thailand from 100% Skintex leather
Triple density contoured foam
Flexible two way velcro closure
The

Good
Multiple colour options
very lightweight

Head, cheek, ear and chin protection

Very affordable
The

Bad
No protection on the top of your head
Our View
Coming in at our number 2 spot and almost our best headgear for MMA is the Venum Challenger 2.0 Headgear.
The fact this headgear is made in Thailand pretty much assures its quality as most of the best MMA gear is made there. This model provides plenty of protection covering the head, chin, cheeks and ears. However there is no protection in the form of padding on the top of the head, unlike with the RDX MMA headgear.
When wearing this reviews state there is hardly any movement or swivel when sparring and i agree, this headgear stays firmly in place during sparring sessions.
Is it the best headgear for MMA that money can buy ?
If the reviews are anything to go off then yes this is definitely up there with the best MMA headgear but not quite number 1.
For Reviews & Latest Amazon Prices Click Here
---
Venum Elite MMA Head Guard
What They Say
Our Venum Elite headgear is the answer for those who are looking for the right protection.To provide the highest quality protection, the Elite headgear is built with Skintex leather to provide comfort during expected intense blows to the head training after training. The head and face coverage was designed in order to combine full cranial protection while keeping a 180-degree view of your next opponent.Because an elite fighter always keeps his head in the game.
Key Features
100% Skintex leather construction for great durability and high fighting performances.
Ultra lightweight to allow faster head movement.
Specific face design for a perfect protection and an open 180-degree vision.
Triple density contoured foam for ultimate shock absorption.
Reinforced ear cover.
Open-Top design with mesh for a better evacuation of perspiration and moisture.
Flexible 2-ways Velcro closure for a customized no-slip fit.
Handmade in Thailand.
The Good
Great visibility
Excellent ear protection so no more cauliflower ears
The shock absorption is very noticeable when compared to cheaper headgear
The Bad
Takes a while to break in
Our View
Claiming our number 1 spot as the best MMA headgear is the Venum Elite Headgear. If you know anything about the Venum brand it's probably the fact that they make high quality boxing, Muay Thai and MMA gear.
The first thing to say about this headgear is that it offers plenty of padding, especially in the forehead area. In addition the padding in the cheeks is also more than sufficient. The wide arc of vision this headgear gives makes it ideal for MMA training, as unlike with boxing its not just punches that you need to spot coming your way.
When wearing this headgear you can be sure it wont swivel around when hit. The chin bar and the buckle on the back make sure this headgear stays firmly in its place.
Overall this is the best MMA headgear available to buy it offers excellent protection, great visibility a secure fit and it wont break the bank to purchase it.
For Reviews & Latest Amazon Prices Click Here
---
To Conclude
The best headgear for MMA should offer plenty of protection in the form of padding at the same time as remaining as light in weight as possible. In addition a wide arc of vision is another essential as its better to see more than less, especially when its fists, feet, elbows and knees coming your way. Furthermore a good no-slip and comfortable fit is another requirement. Buy headgear that meets this criteria and you should get yourself the best MMA headguard for your budget.