The Health Benefits of Martial Arts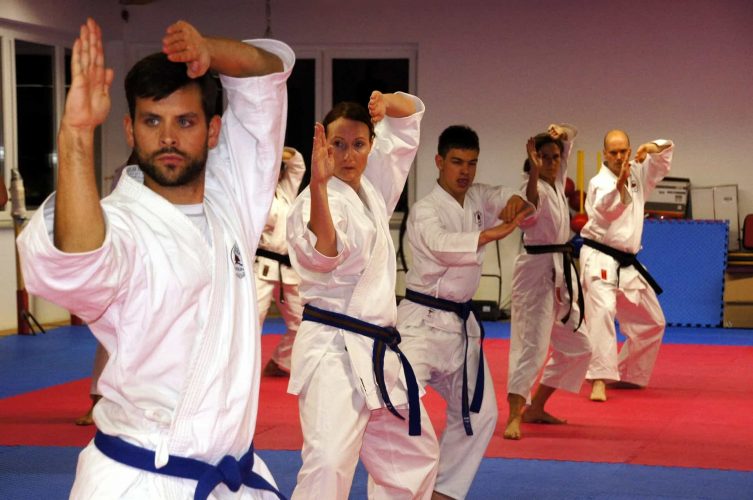 People often have misconceptions about practicing martial arts. They think that it's all about learning to fight, restraining your opponent, and forcing them to surrender as soon as possible.
But martial arts practice isn't just about fighting. It's not even about the physicality of it.
Instead, many people practice martial arts as a lifestyle and mindset. They embody the martial arts culture as a philosophy.
In pop culture and mainstream media, martial arts have been hyped up. For example, take movies like Enter the Dragon or TV shows like Dragon Ball and Naruto. And then there's the UFC mixed martial arts (MMA) sport.
Although this glamorization has allowed martial arts to reach many more people, it also helped fuel many controversies behind it. A common mistake, mainly by parents, is the thinking that if their children start practicing martial arts they'll become more prone to aggressive and problematic behaviour.
While movies and common beliefs suggest that, the objective facts are different. The only way to differentiate between the two is to do some scientific research.
In this article, we'll go over many research documents on the benefits that martial arts have on your physical and mental well being, and compare the advantages and disadvantages of practicing martial arts.
Martial Arts Benefits for The Body
There are two main types of martial arts:
Non-combat – these include Tai Chi, which is a discipline that focuses on precise movement and balance.
Combat – these include Muay Thai, Kung Fu, Tae Kwon Do, Karate, and Judo. They are more focused on hand-to-hand combat like kicking, striking, and grappling.
When you consider the fact that only 20% of adults get enough physical activity for a healthy lifestyle, according to the CDC, martial arts presents itself as a great way to be more active.
Aerobic Exercise Benefits of Martial Arts
Many recent studies suggest that aerobic activity has countless benefits for maintaining your physical health. And martial arts is an aerobic activity as well.
According to the Compendium of Physical Activities, you can burn around 720 calories per hour when practicing martial arts. That's more compared to other popular physical activities, such as basketball, swimming, or football.
Practicing martial arts has many health benefits, including:
Stamina improvement
Increased flexibility
Improved posture
Conditioning
It's clear that martial arts practice is beneficial for your body in many different ways, and scientific studies confirm that.
A 2017 literature review conducted observed studies of practitioners of Karate, Judo, Taekwondo, Soo Bahk Do, Kung Fu, and Kickboxing. What they found was impressive. People who practiced martial arts have improved their:
Bone density
Cardiovascular fitness
Cardiorespiratory fitness
Muscle strength
Heart rate
If we were to look closer at the results, things become quite interesting. Let's take the health benefits of martial arts for older adults as an example.
A 2014 study looked at the effects martial arts have for people older than 40 for their balance, flexibility, cardiorespiratory functions, and strength.
What they found is that those who practiced taekwondo or karate have shown remarkably improved balance (shown by the ability to stand on one leg for an increased period of time), and improved reaction time.
The conclusion was that older people can especially improve their posture and balance when practicing martial arts, as well as better their overall health.
Benefits of Martial Arts for Disabled People
The benefits of martial arts don't just apply to people with able bodies. People with disabilities can also benefit from it. One master's thesis from the University in Wisconsin in 2002 tried to answer whether martial arts can reduce the functional limitations caused by physical disabilities?
They did a survey interviewing people from martial arts schools aged 15-54. Out of all those, 60% had some sort of a physical disability, and some had cognitive and sensory disabilities. In most cases, the respondents said that they signed up for martial arts to improve their functionality.
Kung Fu Health Benefits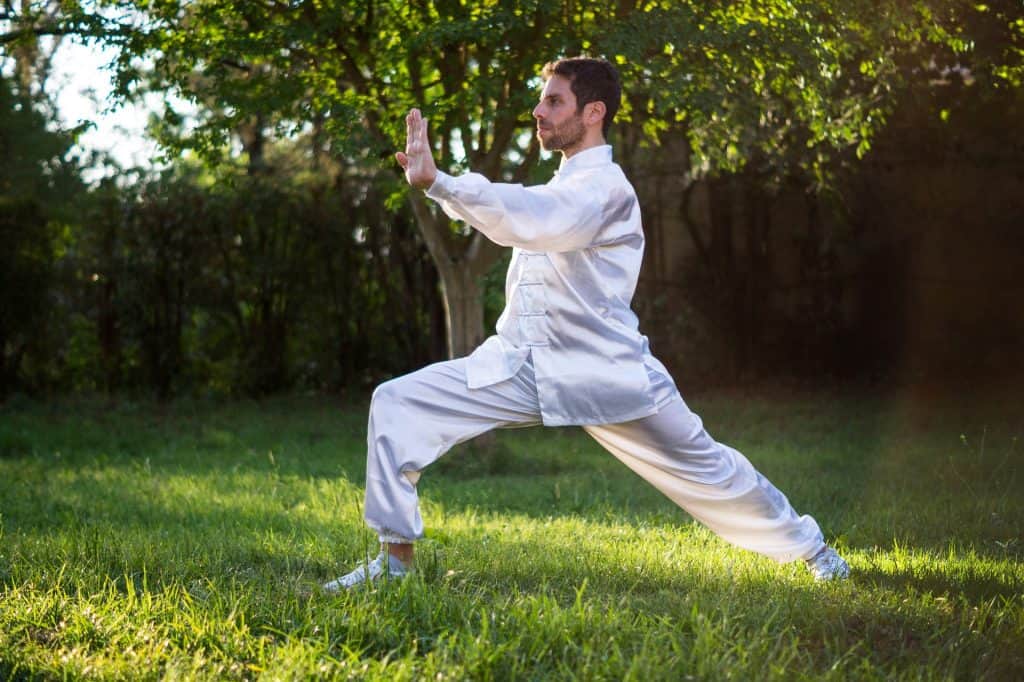 A joint study by researchers from Boston and Australia in 2008 examined the health benefits of Kung Fu. What they found is that Kung Fu has helped people who practice it have better isokinetic strength compared to people who led sedentary lives.
The benefits of practicing Kung Fu include:
Increased bone strength and density
Lower body fat for females
Increased muscle strength
Reduced acute stress
To enjoy the full benefits of Kung Fu, you need to practice the discipline at full, and having the best Kung Fu clothing helps a lot. Let's see what your options are.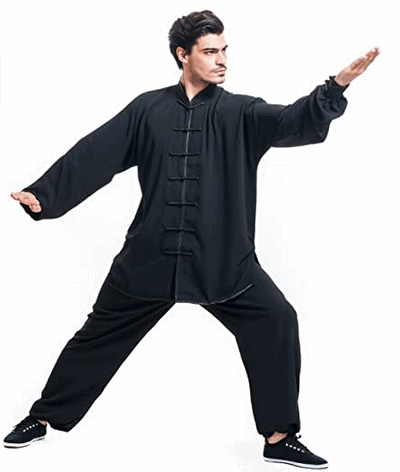 This Kung Fu uniform is made out of a special blend of fabrics, including cotton and rayon. This ensures that the uniform is breathable and soft at the same time.
The collar is made upright to prevent deformation, and the hand-made cuffs and buttons are traditionally mandarin.
Online reviews are full of praise for the fit, saying that this uniform was exceptionally well made, even for taller people.
Pros:
High-quality fabric
Nice look
Excellent fit
Cons:
The pants sizing can be tricky to get right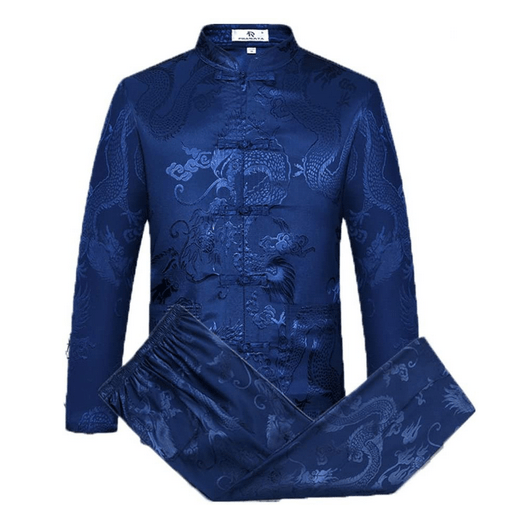 This traditional tang suit is made out of cotton and comes in two beautiful colours: navy blue and wine red.
The design is beautiful with high-detailed patterns and textures of dragons all around the material.
All the seams are very durable, and the fit is very comfortable so you can easily practice Kung Fu in it.
Pros:
Beautiful design
Quality materials
Fits nicely
Cons:
Health Benefits of Martial Arts for Your Mind
It's clear by now that martial arts is extremely good for your body, but how does it impact your mind?
Can practicing combat martial arts make you more aggressive or make you more susceptible to violent behaviour? And can practicing karate make people bully others like Cobra Kai in the Karate Kid?
Actually, no. It's the exact opposite.
There's been plenty of research that suggests martial arts actually reduces aggressive behaviour in those who practice it, and at the same time increases emotional wellbeing.
The reason behind this is that the roots of martial arts come from the Eastern spiritual practices, like Buddhism, that teach the importance of mindfulness or the art of living in the moment and always being aware of your surroundings.
Therefore, martial arts actually encourage spiritual and mental wellbeing, just like it does for your body. And there's a lot of scientific evidence to back this.
Martial Arts Reduces Aggression
A joint study by researchers at UCLA and in Israel done in 2016 looked at the relationship between anger, violence, aggression, and martial arts in more than 500 children aged 6-18.
The results were extraordinary. In contrast to popular belief, martial arts actually reduced violent and impulsive behaviour, as well as rule-breaking, all associated with criminal activity.
Another study done in 2017 done by Italian researchers compared two groups of people – one that practice martial arts, and one that has a sedentary lifestyle.
Those who practiced martial arts showed much better performance in attention and creativity tests, as well as higher self-esteem and self-efficacy. In addition, they also found a decrease in aggressiveness. The conclusion was that regular martial arts practice has many positive effects on personality and cognitive factors.
Martial Arts is Empowering For Women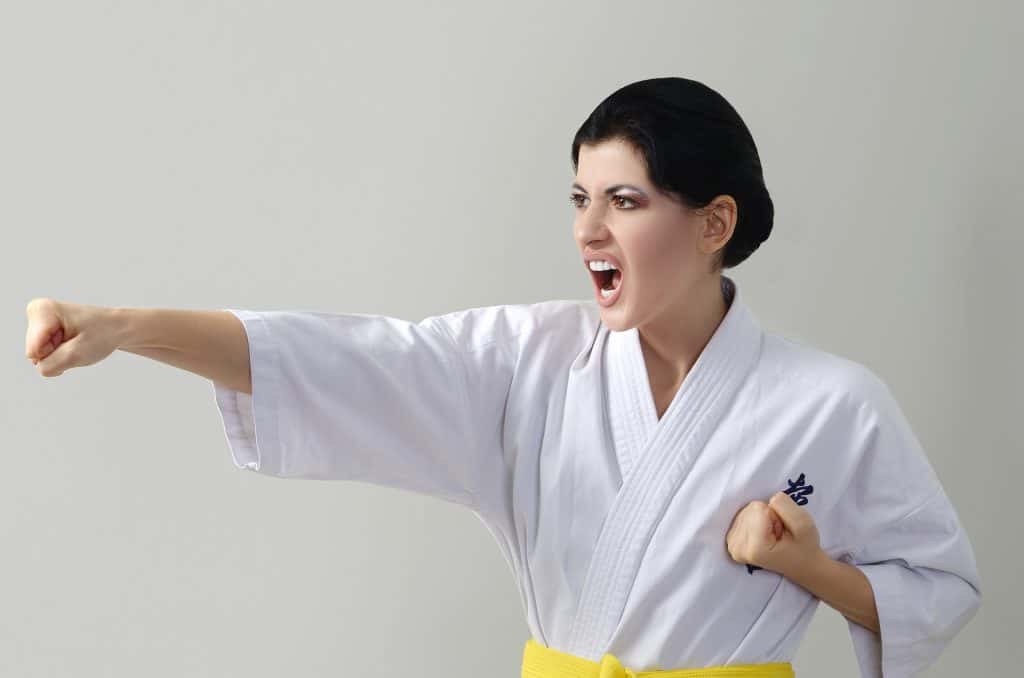 Oftentimes, martial arts are thought of as male sports. However, practicing martial arts has been shown to be empowering for women as well.
By practicing martial arts, women can nurture their sense of self-confidence and self-respect that often counteract social norms that teach women to be compliant and submissive to the rules and customs enforced by men.
How Taekwondo Affects ADHD
A 2019 study published in the International Journal of Environmental Research and Public Health looked at how Taekwondo affects women who practice martial arts. The results showed that women can become stronger both mentally and physically, helping them overcome problems and challenges they face in their day-to-day life.
What effect does Taekwondo have on teenagers that struggle with ADHD?
40 randomly selected teenagers were assigned to two groups: a white belt Taekwondo group, and a non-Taekwondo control group. Over two years, the teenagers in the Taekwondo group have shown much better results on cognitive function tests.
What this study shows is that martial arts can help people with ADHD to concentrate and increase their self-awareness.
And just like any other sport, having the proper gear can help you learn the Taekwondo practice much more easily. Let's see what is the best taekwondo clothing.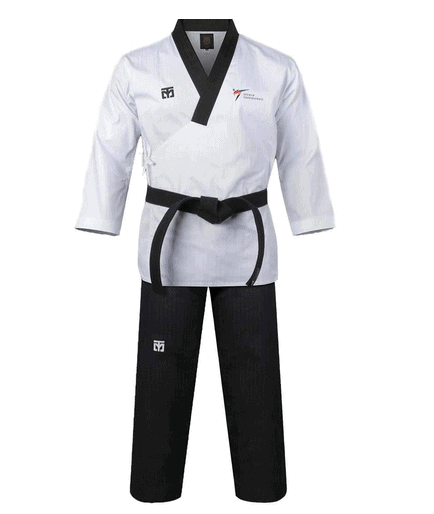 This uniform is officially approved by the World Taekwondo Federation and was developed together with Yonsei University to ensure a soft, yet strong sound from the fabric.
It's made out of 65% polyester and 35% cotton and runs one size larger, so make sure to check the sizing guide carefully before ordering.
The uniform includes a jacket and pants, but no belt.
Pros:
Elegant design
Approved by the World Taekwondo Federation
Comfortable fit
Cons: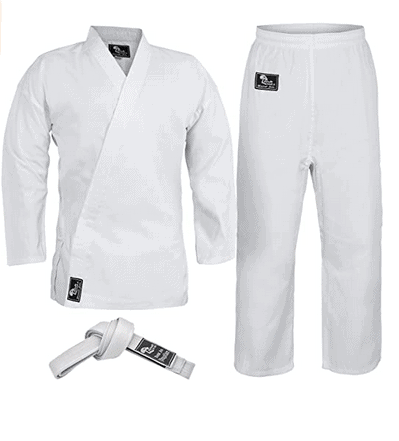 This uniform from Hawk Sports comes with a jacket, pants, and a karate belt, all in white colour. It's made out of a lightweight 220gsm poly-cotton blend to ensure minimum shrinkage when washed.
The jacket has a Y-vent to provide you that tailored cut fit, and all the stitches are double reinforced for greater durability.
To achieve a nice fit around the waist, the pants include an elastic waist-band and a rope drawstring which you can adjust based on your liking.
Pros:
Lightweight fabric
Durable
Cons:
Sizing can be difficult to choose
Benefits of Karate for Your Emotional Health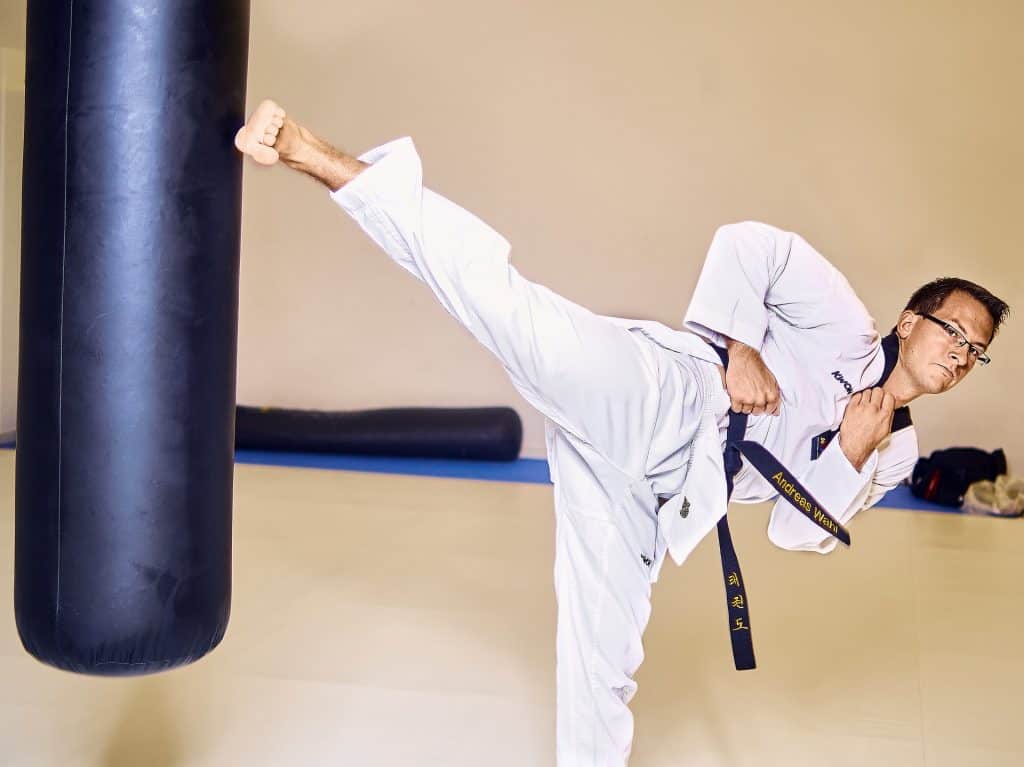 It's a well-known fact already that people who suffer from mental illnesses can greatly benefit from physical activity.
Martial arts is a good aerobic activity that encourages mindfulness at the same time, ensuring that people who practice it are much calmer and in control of their emotions.
The same is true even for elderly adults. A 2012 study conducted by German Scientists looked at the correlation between cognitive functions, emotional well-being, and practicing Karate for elders.
It studied 60 participants aged 67-93, some of which had been diagnosed with Parkinson's Disease, and some with Dementia. 14 of those subjects have done Karate training for 3-6 months and were later subjected to tests.
The results showed that there wasn't any improvement in their cognitive function, but there was a huge improvement in their emotional state. The elderly adults were much happier and well-adjusted after practicing karate.
Practicing karate requires specific clothing that we're all familiar with. However, there are too many options nowadays, and choosing the best karate outfit can be difficult. Let's see what are the two top options on the market.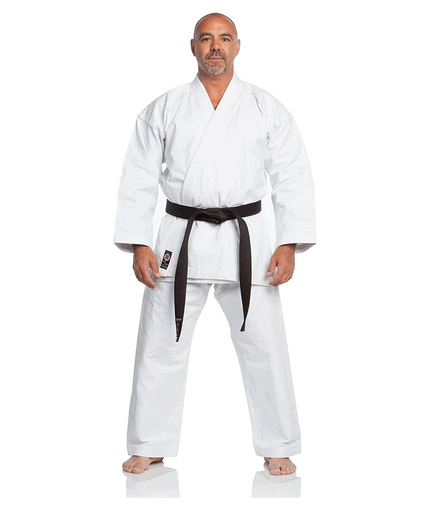 This white professional kimono from Ronin is crafted from 100% premium duck canvas cotton, which provides you with that heavyweight feeling you'd want for a karate training session. It comes with both the jacket and the pants and can be ordered in black or white colour.
It's cut in traditional style, without any patches or embroidery. The stitching is of very high-quality, with 7 rows of stitching on the bottom hems of the pants, jacket, and sleeves.
Note that the design is slightly larger and it will shrink 1-3 inches when you wash it, so don't panic if it doesn't fit at the beginning.
Pros:
Thick and heavyweight cotton
Great look
Reinforced stitching
Cons: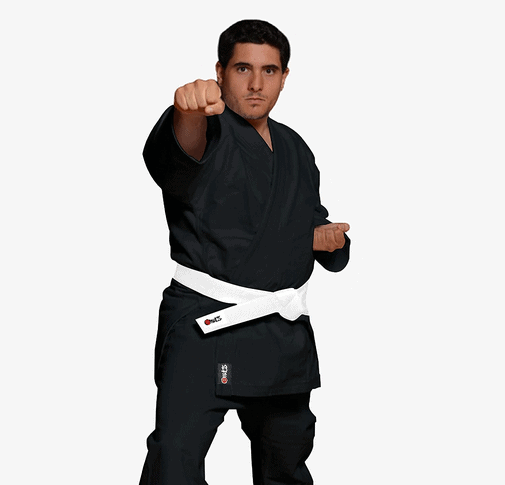 This karate canvas uniform from MACS is made out of 100% cotton that's brushed on the inside to provide you with a comfortable feel on your skin. The cotton is pre-shrinked before making the gi, so it runs true to size and will shrink only 2% when you wash it yourself.
This canvas also comes in black and white colours and has available sizes from3 to 7.
The pants include the traditional Japanese drawstring to give you that precise and comfortable fit, while all stitching has 9 rows, including that on the jacket hem, arm openings, and pant openings.
There's also extra room left in the crotch to allow you to kick and hold a low stance with ease.
Pros:
9 rows of stitching
Brushed cotton on the inside
Extra room for stretching
Doesn't shrink
Cons:
Some customers had sizing issues
Disadvantages of Martial Arts
We've seen so far that martial arts practice has impressive benefits to your body and mind, such as helping disabled people overcome their limitations, reducing aggression in teenagers, and helping elderly people feel better about themselves.
But can practicing martial arts be dangerous? Not always, but it can be.
We mentioned above that some martial arts require combat and are contact sports, and as such, they carry certain risks with them. Boxing, in particular, has an increased risk of head trauma.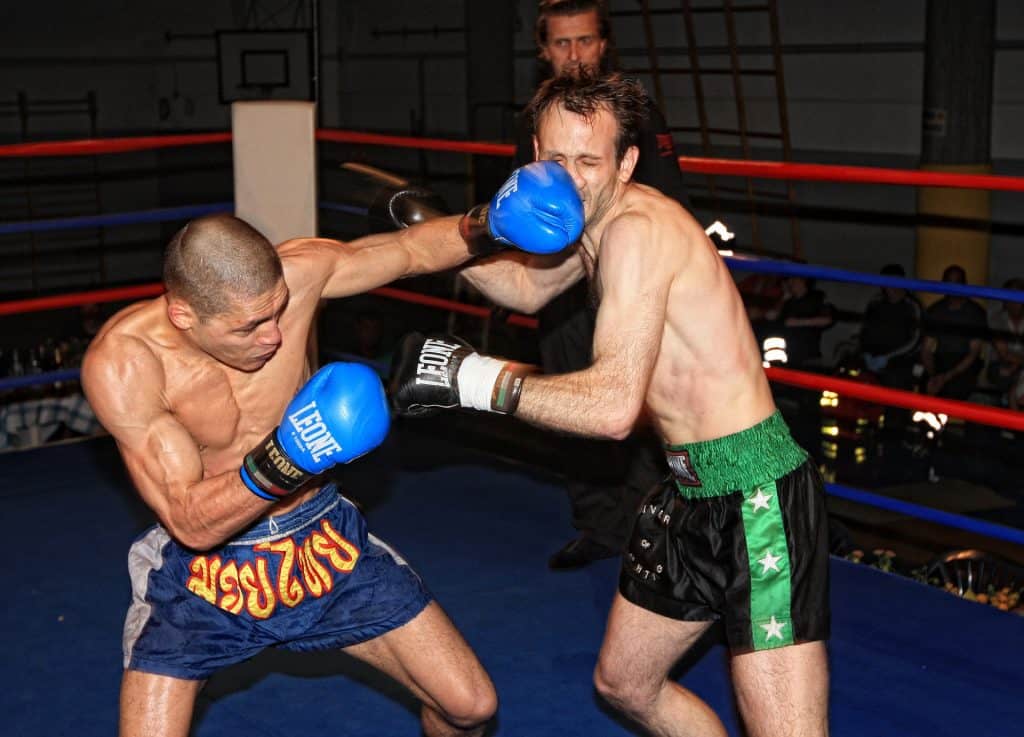 But similar to the other misconceptions we mentioned before, the research shows that it's not that dangerous. A study done in 2017 showed that martial arts have a lower injury rate than that of other sports.
But that doesn't mean that there's no risk. One practice that stands out is mixed-martial-arts (MMA) with the highest injury rate of any combat sport. The head-injury rate is very similar to boxing, somewhere around 68-78% of the injuries occur in the head.
In MMA the highest risk factor is the outcome – the losers of the match have a three times higher risk of injury than the winners.
Another outstanding fact is that the injury rate is twice as high for lower belt ranks than for higher belt ranks. In addition, professional fighters have much more risk of injury than amateur fighters.
So what can we conclude from this? Are martial arts worth the benefits when considering the risk of injury?
Yes, absolutely! But still, as with any other sport, the best way to avoid the risks of injury is to protect yourself by using proper gear and equipment.
There are many pieces of gear, such as foot pads, elbow pads, head guards, and punching bags that can help prevent fractures, sprains, and other injuries. That way, you can practice martial arts in a safe and controlled way.
The injury risk can be further reduced by doing other forms of exercise besides martial arts, such as resistance training.
In conclusion
Practicing martial arts brings along countless health benefits, both to the body and the mind. They have all been scientifically proven with research and review.
The available studies have shown that martial arts:
Is an intensive aerobic exercise that improves cardiovascular fitness, muscle strength, and bone density
Can improve balance and coordination
Helps disabled people overcome their disabilities
Practicing martial arts has many benefits for your mental health as well. Studies from the past decade all show that martial arts:
Reduce problematic behaviour in children and teenagers
Improves the cognitive functions and emotional well-being of elderly adults
Builds self-confidence and self-esteem for women
Helps treat ADHD symptoms for teenagers
Also, check out our Boxing Guide and MMA Guides