Top 10 Best Vertical Climber Machines In The UK 2023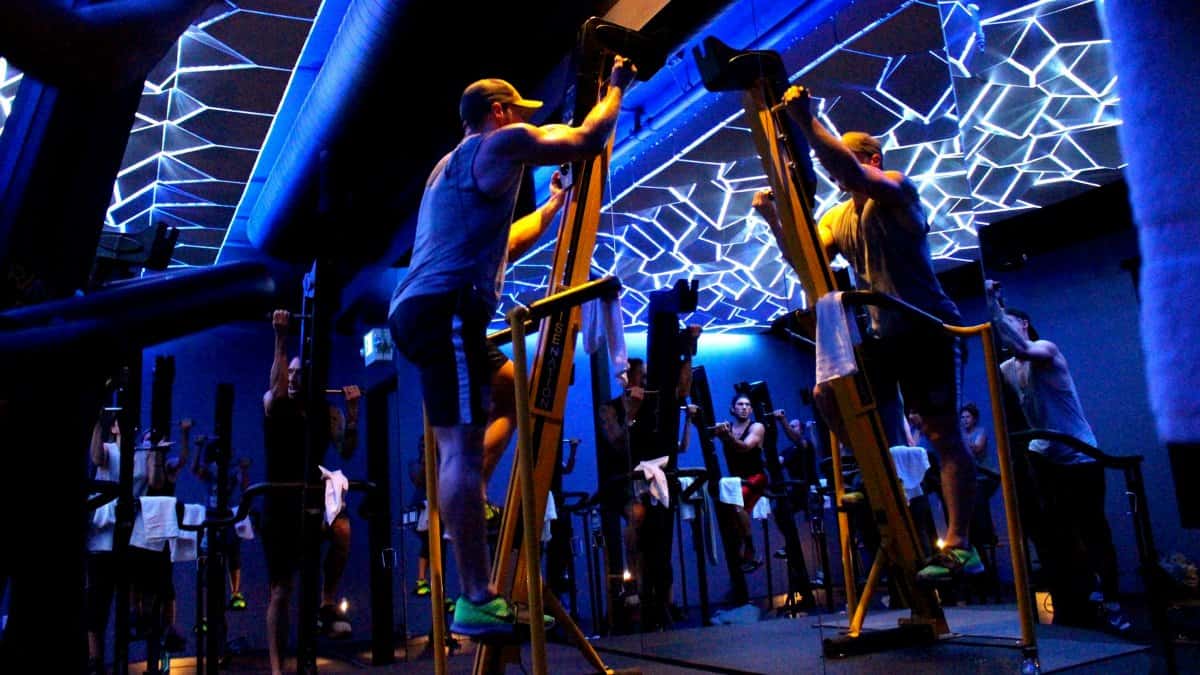 Embracing a vertical climber presents an excellent opportunity to enhance your fitness and engage in a comprehensive full-body workout within the confines of your home. These unassuming yet remarkably effective pieces of home gym equipment excel at building endurance and stamina. Moreover, they prove instrumental in calorie burning and fortifying various muscle groups, particularly the core muscles. The rising popularity of the best vertical climbing machines can be attributed to their compact footprint and budget-friendly nature, catering to individuals with limited space for bulky exercise machinery.
This guide on vertical climber machines aims to provide abundant useful information and navigate you through reviews of the premier options currently available in the UK. For those seeking a quick overview, our top 10 recommendations are conveniently listed below for your perusal and comparison.
Top 10 Best Vertical Climbers for Home
1

MaxiClimber Vertical Climbing Cardio Exercise Machine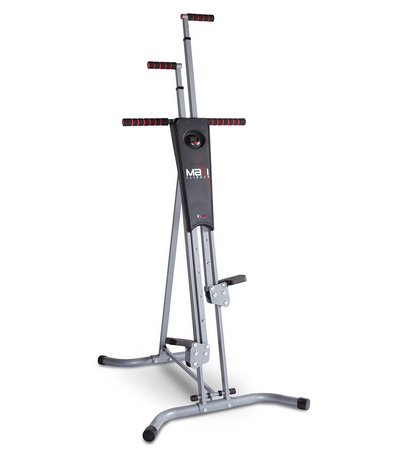 When searching for a full body workout that includes aerobic training that is more effective than running or cycling, a climbing machine is the number 1 choice for many people. The Maxi Climber is the model that many of these people go on to buy. With four and a half stars on Amazon the feedback looks positive.
So, let's take a look at why this climbing machine is so popular and the reasons it is the best climber machine UK residents can purchase.
When first opening this piece of home fitness equipment aside from the vertical climbers there is a few freebies chucked in. These include the Maxidiet and exercise plan as well as a diet and exercise wall chart. Two helpful tools in the fight for fitness.
The climber itself is solid in design been constructed from high-quality durable steel. There is a maximum user weight of 110kg which is roughly just over 17 stone. For anyone worried about the durability of this type of fitness product there is a 3 year warranty with model, which should alleviate those doubts.
Features include five different height settings, those on the tall side will be glad to know this machine is suitable up to a height of six-foot and five inches. The digital monitor shows the users step count and calories burned.
To sum up: For a very affordable price anyone who buys this vertical climber will get themselves a very sturdy, durable and high quality model. With excellent reviews and overall positive feedback this is the best climbing machine UK customers can buy. Furthermore it costs a lot less than some of the models featured in our top list.
Recommended Reading: MaxiClimber Vertical Climbing Review
View Latest Decathlon UK Prices
---
2

Sole Fitness CC81 Cardio Climber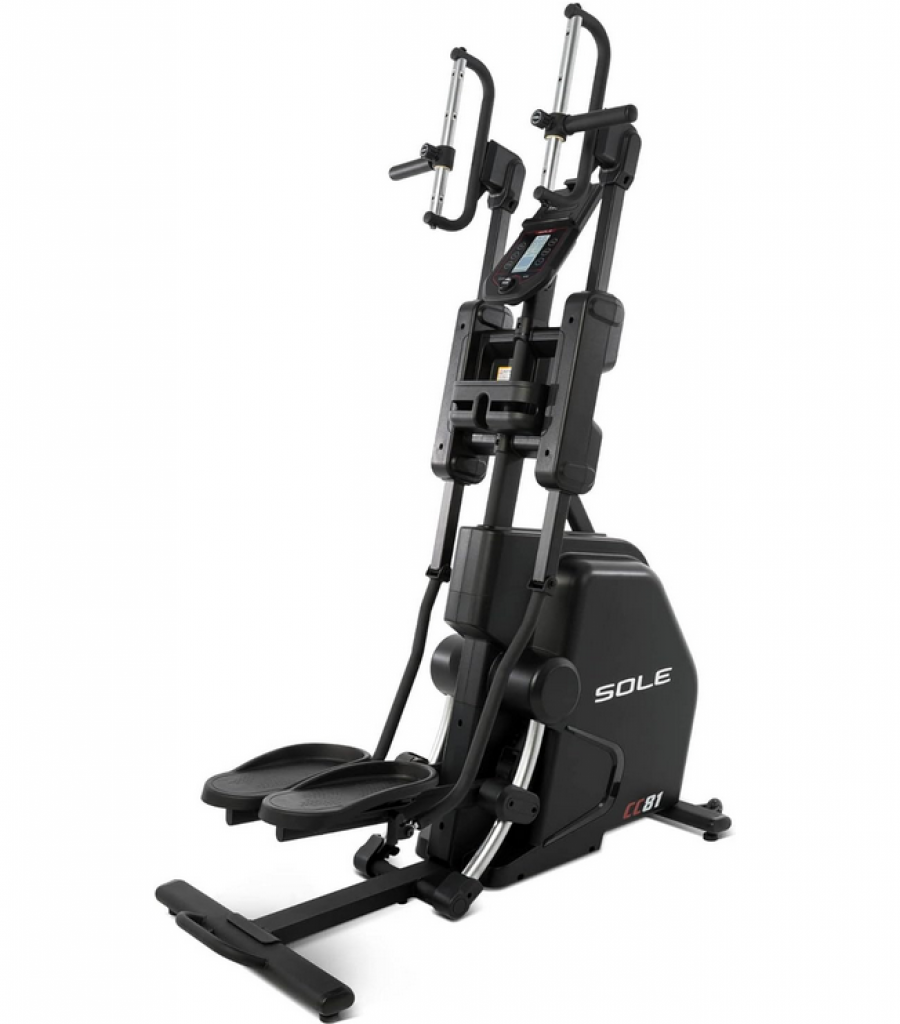 The CC81 Cardio Climber, by the award-winning Sole Fitness, once again proves that their design and engineering team never fail to amaze!
Sole Fitness products are some of the best available in the market, and CC81 is one of them. This cardio climber is vertically constructed to have the smallest possible footprint, making it ideal for use in a household setting. It is great for users up to 400 lbs (183 kgs). The 10.2 kg flywheel makes it a sturdy machine with smooth transmission.
The CC81 incorporates every aspect of climbing, so you can be sure your entire core and limbs will get a good workout. This high-powered, one-of-a-kind piece of equipment combines the best features of a stepper with an elliptical trainer.
You may work different muscle groups by changing your hold on the handlebars, which can be rotated to face outwards or inwards. The handlebars have four different height adjustments, so even the tallest riders will be comfortable.
Moreover, you will get 20 resistance levels, thanks to Sole's current braking design, and each can be easily adjusted with the help of a dial on the console. Ten workout programs are pre-installed and tracked on the 5″x3″ LCD to keep your training exciting. The CC81 has 15-inch pedals to keep your feet in position as you work out.
The only issue reported about CC81 on Amazon UK is the built material's quality. Some complained that the parts failed to fix properly, a cosmetic issue. But the good thing is, the equipment comes with a 5-year warranty for parts along with a 3-year labour warranty (terms and conditions apply).
To sum up: The space-efficient, robust Sole Fitness CC81 Cardio Climber can hold up to 400 lbs. It targets numerous muscle areas with 20 resistance levels and 10 training programs using stepper and elliptical characteristics. Despite construction quality issues, the manufacturer's guarantees make it an ideal option!
View Latest Sweatband.com Prices
---
3

MaxiClimber XL-2000 Hydraulic Resistance Vertical Climber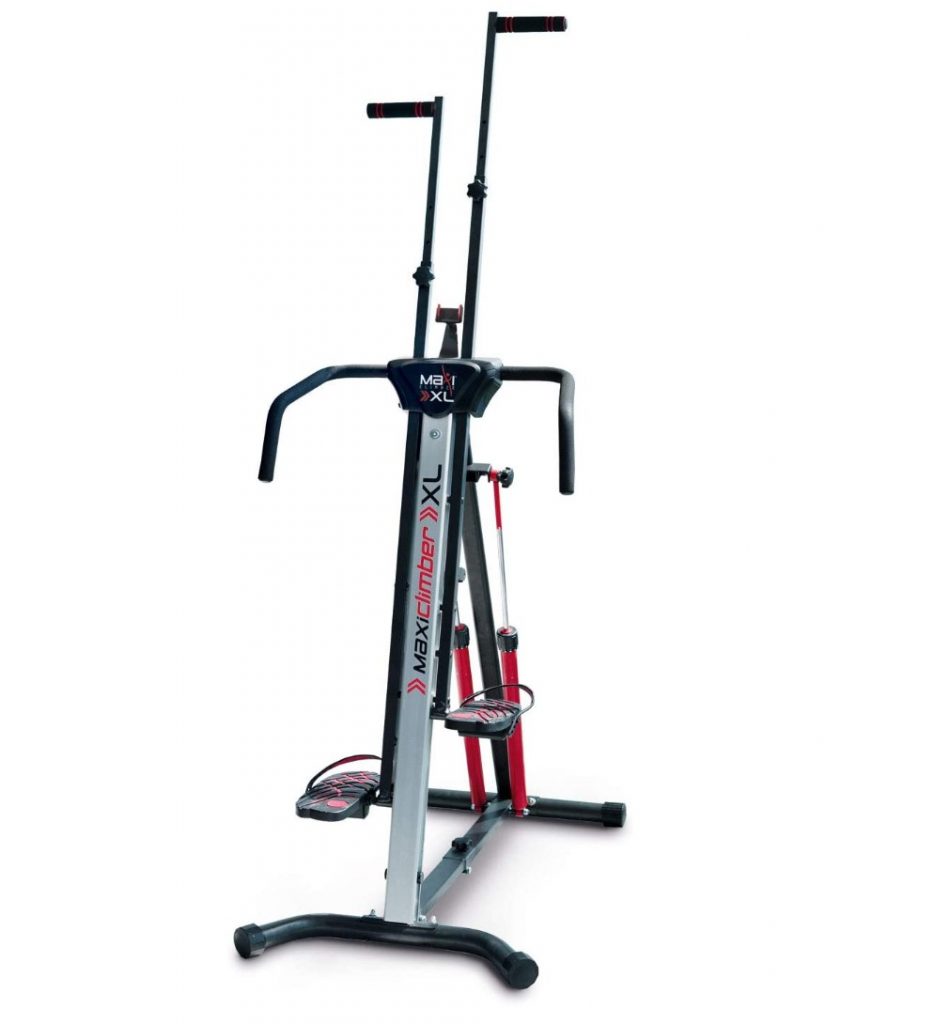 If you are looking for a full-body workout with the help of simulated rock climbing, the MaxiClimber XL-2000 is one of the best options for a climber. The well-constructed MaxiClimber Vertical Climber combines aerobic cardio exercise, muscle toning, and weight resistance. This super effective climber machine is good to tone your core, legs, and arms with no serious impact on your joints, such as your knees. That is why it has received a positive rating on Amazon.
This climber machine can support a maximum user weight of 136 kg and is adjustable for different user heights. The Climber also features non-slip hand-grips and full-size swivelling pedals which are not included in the original version. The MaxiClimber XL-2000 is the updated and brand new version of the Original MaxiClimber Classic Vertical Climber we discussed above. The XL-2000 is also heavier than the Original MaxiClimber Classic.
According to many consumers, another important feature that makes it one of the bestsellers is that you can burn twice as many calories per workout compared to other exercise machines such as treadmills. If you follow a HIT routine, you will activate up to 40% increase in AfterBurn once you have done your MaxiClimber workout.
The Climber  comes with a space-saving folding design, a high-grade durable aluminium frame, integrated rollers for easy transportation, a Free Fitness App., an integrated mobile device holder, a simple-to-use LCD monitor (battery operated), and bi-directional 12 levels of resistance. The majority of these quality features are missing in the Original MaxiClimber Classic Vertical Climbers.
To sum up: The all-new MaxiClimberXL-2000 features make it one of the best climbing machines UK customers can buy. The high-quality Hydraulic Resistance System makes a big difference. It is an ideal option for taller or heavier individuals.
---
4

Gym Gear Ascend 2.0 Vertical Climber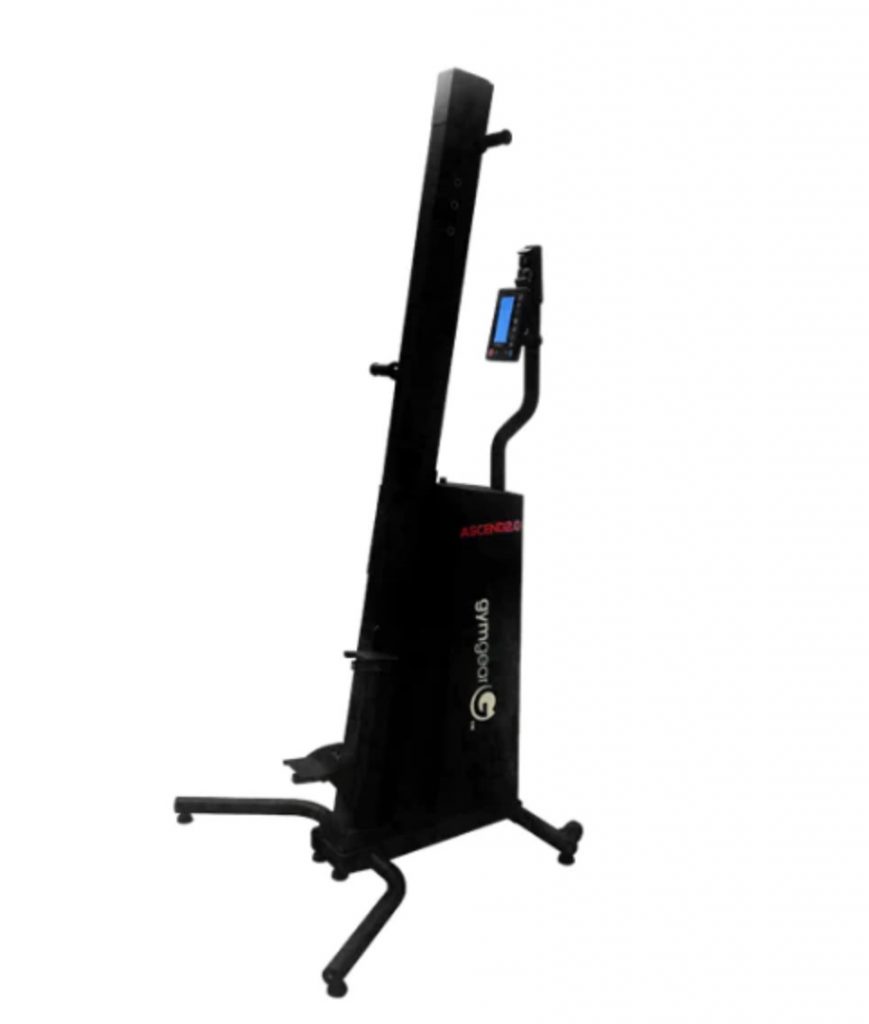 This vertical climber machine by Gym Gear is the most expensive product on our list and one of the most expensive in the standard UK market. The overall look of the machine reveals why it costs  little bit more than other climbing machines.
Gym Gear's Ascend 2.0 is built with a heavy-duty freestanding base with integrated wheels so you can easily move it. The product comes with a self-generating power option hence, no plugs are required. Also, as no floor or wall-mounting is required it makes it ideal to relocate anywhere you want. Once you have finished your workout, you can easily store it out of sight.
The vertical climbers is only 91.5kg in weight. This luxury unit offers a complete body workout that will help you to develop a lean body in the minimum time. This climber machine is specially designed for both group and personal HIIT training. A great advantage is that you can easily connect the machine with your smartphone and maintain a personal record. It also offers a Bluetooth connection and can easily measure and track resistance levels with the help of readouts available at the back-lit console. There are 16 levels of resistance controlled by the console.
Gym Gear's Ascend 2.0 comes with a variety of customizable training programs for HIIT, race options, and target goals. No matter what size athlete you are, the 4x adjustable handlebar positions offer the best workout experience.
To sum up: Is it worth the high price? No doubt this is a well-built model with some amazing features no other climber machine offers. Gym Gear's Ascend 2.0 is indeed the best value for money fitness equipment. If you want the best equipment you can buy, then this vertical climbing machine should be in your workout area!! 
View Latest BestGymEquipment Prices
---
5

Sportstech 2-in-1 Stepper & Vertical Climber
Sportstech are a fairly new brand in the UK, however, this German brand has quickly gained a reputation for their high-quality home gym equipment and exercise machines. The Sportstech Vertical Exercise Climber is a highly functional and very practical model, due mainly to its folding design. The folding mechanism means it can be folded up with ease and the overall footprint is very small making it ideal for those with limited space.
Due to this been a new product to hit the UK customer reviews are limited , however, all of the Sportstech brands home gym equipment that we have reviewed so far, tends to be of the best quality. This climbing exercise machine of theirs seems to be of the same quality. It comes with a very solid and robust look and with a maximum user weight of 120 Kg it is suitable for most people.
Other features include an LCD that comes with a step counter, chronometer and calories burned functions for keeping track of training results. Finally there are 5 heights adjustments with the highest setting been suitable for those up to 6 foot 4 inches.
To sum up: Like all Sportstech fitness equipment this climbing machine is top quality. It comes with a solid design and if customer reviews are to be believed, it is very sturdy in use. If you are looking for one of the best vertical gym machines for home use this one comes highly recommended.
---
6

Dripex Vertical Climber Exercise Machine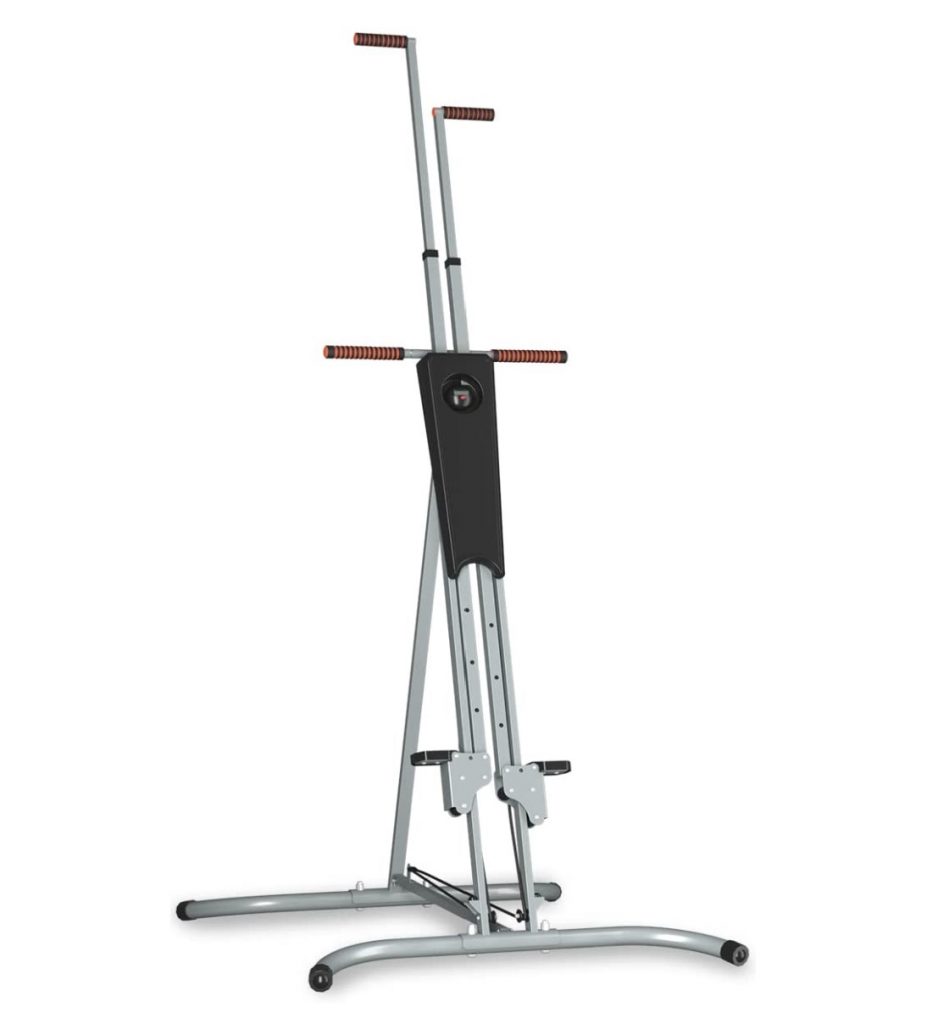 Presenting you with another top-selling climber machine on the list by Dripex, a reputable brand. This Dripex's Climber is an ideal choice for an all-over body workout. Climbing is one of the best workouts that use lots of muscle groups in your upper and lower body.
When you get the Dripex Vertical Climber Exercise Machine, the assembling only takes 10-15 minutes. The product is fairly light in weight (12.5 kg) and you can easily store and move it around. This climbing machine is very stable and can support a user's weight of up to 100kg. It is great for aerobic exercise within the comfort of your home.
Dripex Vertical Climber training engages the whole body. It strengthens your core muscles and tones your arm, abdomen, buttocks, and leg muscles. Some of the notable features of this climber include a heavy-duty steel frame, a stable triangular structure, thick pedals with non-slip rubber pads, and adjustable intensity levels (level 1-2 is jogging, level 3-4 is running, and level 5 is rock climbing).
The display allows you to track time, count, total steps, and calories.
To sum up: Dripex Vertical Climber is the best suited climber to develop an effective training plan with. You can enjoy a great aerobic workout session at home at the best price. It provides the ideal effect of fitness and shape you desire. So with an impressive 4.4 stars rating on Amazon and some very good reviews, the Dripex Vertical Climber is a recommended product.
---
7

Gym Master Vertical Climber Machine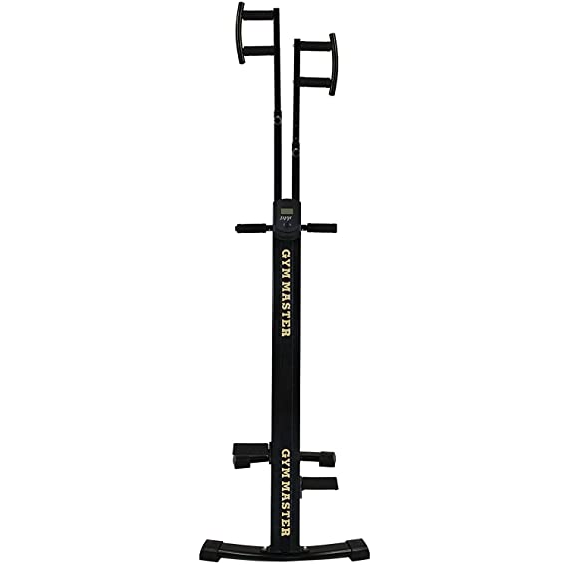 This is without any doubt one of the most sturdy and solidly built home vertical climbers on the UK market. Made from extra thick tubular steel and with a maximum user weight of 150kg, this is a very durable model which is well suited for regular use.
The on board digital counter shows the same readouts as other budget models. These include, speed, time, calories burned and distance. These four readouts are all that is really needed to set fitness goals and keep track of any improvements.
As mentioned this is a solidly designed vertical climber. Where as many budget models use cheap plastic pedals the Gym Master uses a heavy-duty metal design.
To sum up: the Gym Master is best suited for those that workout hard. The design is robust and perfect for the heavier person. Very affordable and receiving good reviews on Amazon this is a good great choice for a home gym.
---
8

Ancheer Unisex Vertical Climbing Cardio Exercise Machine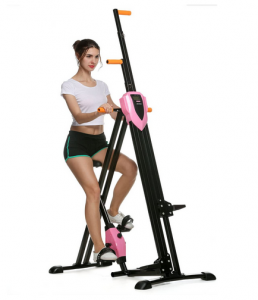 Here we have another 2 in 1 climber and exercise bike this time by the Ancheer brand. With an impressive four and a half stars rating on Amazon and some very good reviews this model comes with good recommendations.
The first thing to say about this fitness climber is that the overall design is solid and very sturdy. This is a mid priced range model and with that extra cost comes a high quality product than some cheaper fitness climbers.
The LCD screen tracks four readouts including the users step count, time speed and distance, calories. Overall these readouts are more than adequate to track any progress when setting fitness goals.
Especially relevant with this been a piece of home gym equipment is how quiet it is. The Ancheer Unisex Vertical Climber is specifically designed to run smoothly and quiet.
Another positive is the small footprint of this climber machine. With it been a folding design this is a good space-saving model, ideal for those with limited space for a home gym.
To sum up: with the added bonus of a built-in exercise bike this is a great value for money climbing machine. Built to a high standard and with multiple colour options this is one of the best 2 in 1 climbers for a home gym.
---
9

Capital Sports Climb High Climbing Machine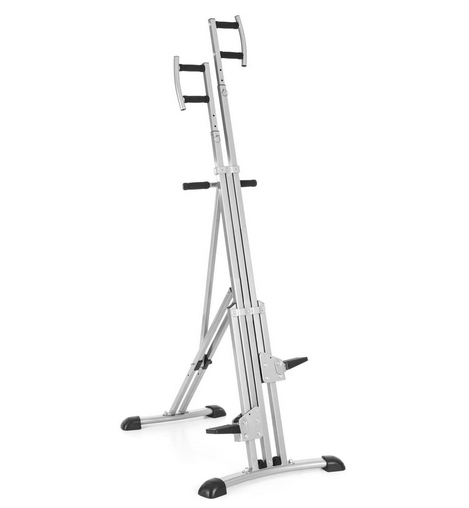 This vertical climber made by Capital Sports is one of the most expensive on the UK market. In terms of the way it looks, it is pretty much the same as more affordable climbers. So the question to ask yourself,
Is it worth the extra cost?
There is no denying this is a well built model and sturdy when in use. As with most climbers it is adjustable for multiple users. It is also a foldable climber with a small footprint which as mentioned earlier makes this type of exercise machine ideal for home use.
The most noticeable thing about the Capital Sports climber is that there is no monitor. Due to this when compared to other vertical climbers I would say this one doesn't give good value for money in the slightest.
One positive is that there are two colours to choose from which are black and grey. However, even though both colours are the same climbing machine the black one, for some strange reason costs more.
To sum up: despite what we have said about this model by Capital Sports it is a very sturdy and robust climber. But with Fitness Fighters aiming to bring the best value for money fitness equipment to our readers we would steer clear of this one. To prove our point, a buyer could get two Maxi Climbers for the price of one of these.
---
10

Homcom Vertical Climber Exercise Bike Stepper Cardio Home Gym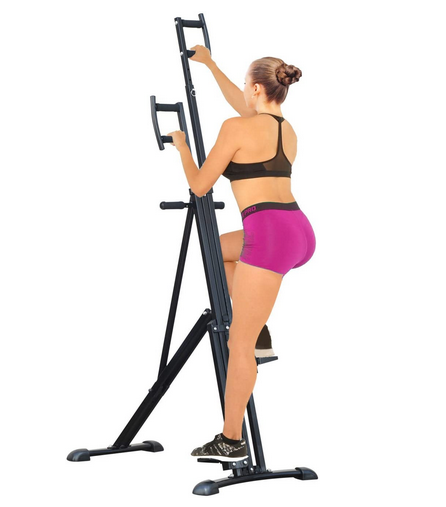 The last model in our list of the best vertical climbers UK customers can buy is made by Homcom, a brand well-known for their affordable home fitness equipment.
The most noticeable thing about this climbing machine is that it is a 2 in 1 version. In addition to the climbing capabilities there is also an exercise bike option which is great for a varied workout.
Features include a large LCD screen which tracks the users time, speed, distance and calories. The seat is adjustable up to five levels and is thickly padded for extra comfort. Made from a thick tubular steel the sturdiness and durability is not an issue unlike with some budget models.
Especially relevant is this is a foldable vertical climber with a small footprint making it good for those with limited space.
To sum up: for the price this piece of home gym equipment can't be knocked. Due to its affordability and versatility it comes highly recommended as a well-built 2 in 1 vertical climbing machine.
---
What Is A Vertical Climber?
If you still aren't sure what a vertical climber is and what one does, you are not alone. Compared to many other pieces of home gym equipment a vertical climber is relatively new and most people aren't as familiar with them as they are with cross trainers and exercise bikes, etc.
Basically a vertical climbing machine is designed to give the user a full-body workout. This is done by replicating the movements of climbing, hence the name climbing machine. Climbing is a very physical activity and one that works all of the major muscle groups. Most models available replicate the movements involved in climbing in a way that gives the user a heart pumping cardio workout.
In terms of options available, there are models suitable for all budgets. As with any home gym equipment you get what you pay for and vertical climbers are no different. In our reviews we have put together the models that offer the best value for money with the deciding factors been price, quality and customer feedback.
Vertical Climber Buying Guide
Before buying a vertical climbing machine there are a few features that you should be aware of first. Knowing what to look for will make it more likely that you buy the model that best suits your needs. Fortunately, there aren't that many features to a vertical climber and choosing one isn't as daunting as finding the right treadmill or rowing machine.
LCD Screen
The LCD screen allows the user to track progression with the aid of its functions. Generally speaking the more expensive a climbing machine is the more functions it will tend to give. As a rule of thumb a machine that shows time, speed, distance and calories should be enough to keep track of any self-imposed fitness goals.
Maximum User Weight
The maximum user weight is usually a very good indicator of the durability of a vertical climbing machine. As a rule of thumb any climbing machine with a user weight above 100 kg should be more than adequate for home use. In addition climbing machines that have a high maximum user weight tend to be made from better materials.
Warranty
When buying any fitness equipment it's always good to try to get the best warranty possible. With vertical climbers the standard is usually twelve months. Anything above a twelve month guarantee is a bonus.
---
Commonly Asked Questions
Below you can find the most common questions people ask when buying a vertical climbing machine.
How Many Calories Does a Vertical Climber Burn?
Due to the intense cardio workout they offer and the fact that they engage almost every muscle in the body, a vertical climber can burn up a lot of calories. The actual amount depends on your body weight and duration of exercise. On average a person weighing 150lbs can burn between 700 and 800 calories in an hour.
What Muscles Does A Vertical Climber Work?
Even though they are considered a low impact exercise using a vertical climber gives the user an intense full-body workout. If you have ever tried rock climbing before you will understand what I mean. Due to them mimicking the movements of rock climbing they engage every major muscle group. If you are looking for a full-body workout without having to buy a number of different exercise machines then a vertical climber should be on your list of options.
Conclusion – Best Vertical Climbing Machines
As you can see vertical climbers are a great way to get in shape and stay fit and healthy. They burn a tremendous amount of calories and are great for toning up. Hopefully, with the help of our guide and reviews of the best vertical climbing machine options available you managed to find the one that best suits your needs and budget.
Do you own a vertical climber? or are you thinking of buying one? Either way let us know what you think about them in the comments, we love hearing your thoughts.
References and further readings:
Journal of Physical Activity Research

. 2018 – 

Physical Intensity of Movement along Horizontal, Vertical, and Lateral Climbing Planes

Journal of Physical Activity Research

. 2020

 

– 

Eight Weeks of Supervised Indoor Climbing Significantly Reduces Arterial Pressure and Total Cholesterol in Recreational Climbers