Bodymax B2 Exercise Bike Review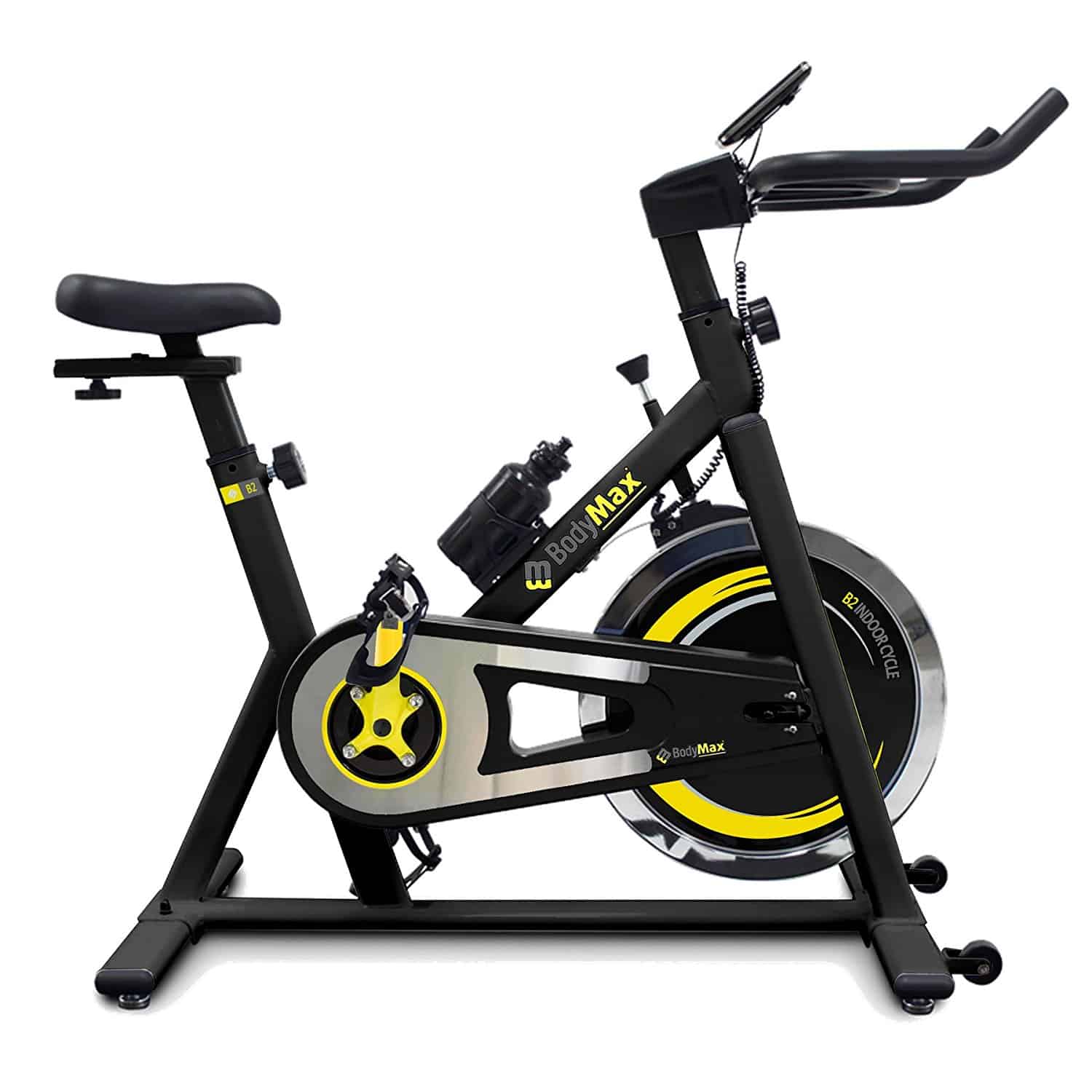 Bodymax B2 Exercise Bike
The Bodymax B2 Exercise Bike comes highly recommended by Amazon as it is their choice model for spin bikes. With a four and a half star rating from customer reviews, previous buyers seem to be very happy with their purchase. In this spin bike review we put the Bodymax B2 Indoor cycle exercise Bike through its paces to see if it is as good as it seems to be.
So lets take a look!
What The Manufacturer Has To Say 
The new 2018 Bodymax B2 Indoor cycle exercise bike represents unbeatable value.

Amazon.co.uk
Last updated on August 11, 2020 5:21 am
---
Bike Reviewed – 
Bodymax B2 Exercise Bike
---
The Need To Know
Type Of Exercise Bike: Spin Bike
Flywheel: 13 Kg
Resistance Type: Adjustable
Monitor Functions: Speed, Time, Distance, Pulse, Calories, RPM and Temperature
Seat & Handlebars: Adjustable
Dimensions: 112cm (H) x 105cm (L) x cm 48(W).
Warranty: 12 months
---
What We Think
Bodymax make some very good spin bikes from budget to top end models. The Bodymax B2 exercise bike has just been given an update and now has some added features making it even better than it was previously. For an affordable price buyers get a solid built and very sturdy indoor cycle with a wide range of resistance for a testing workout. In addition there is a very good amount of monitor functions. If customer reviews are anything to go off (they usually are) then this spin bike is a good buy for those looking for an affordable versatile model that can be used by the whole family. Let's take a closer look at some of the features of this spinning bike.
Resistance
Due to the 13 kg flywheel and the quick release tension adjuster that provides continuous tension any potential buyers can be certain that this spin bike provides a good range of resistance, making this a good buy for both beginners and more experienced users. In addition this model is chain driven which gives the feeling of riding an ordinary bike. Customer reviews go on to say that this is a smooth spin bike when in use.
LCD Display & Monitor Functions
The LCD display is quite large in size and it shows workout data very clearly. In total there are 7 monitor functions for keeping track of a workout and these are time, speed, distance, RPM, calories, temperature and pulse.
Been simple to navigate even a novice will get the hang of using the LCD in no time at all. In addition this model also comes with the optional extra of a chest strap for measuring your pulse while working out. The chest strap connects wirelessly and shows the users heart-rate on the LCD.
All in all there are a good amount of monitor functions with this spin bike and plenty for keeping track of progression towards any fitness goals.
Flywheel
Although the 13 kg flywheel does give a good workout, for the price you would expect something a bit heavier. For example the JLL IC300 Pro costs the same price but comes with an 18 kg flywheel.
Seat & Handlebars
As with all good spinning bikes the seat and handlebars are both fully adjustable with the Bodymax B2. The benefit of this is that it allows the user to find the most comfortable riding position. Consequently this generally leads to a longer workout. In addition the ergonomically designed and very comfortable padded seat will also help you to workout longer. One problem with a lot of exercise bikes is that their seat is painfully uncomfortable, however, that is not a problem with this bike.
Pedals
As expected with a spin bike of this quality the pedals are metal and feature fully adjustable footstraps. The previous model did lack footstraps and there was a few negative reviews about this. Consequently it seems Bodymax have listened to the buyers of their products and rectified this problem
Max User Weight
The maximum user weight gives a very good indication of how well-built an exercise bike is. Cheaper exercise bikes tend to have a fairly low max user weight as they are often made from thinner tubular steel. The Bodymax B2 Exercise Bike has a very good maximum user weight of 125 kg. This converts to just under 19.5 stone and is a good indicator that this is a very robust and sturdy spinning bike.
Pros
Very quiet to use
Easy to assemble
Great value for money
Sturdy when in use
Cons
Not suitable for those taller than 6 foot 4 inches
Good Customer Review
Fantastic bike. The whole family use it.
Was easy to build and does not take up to much room when not in use
Bad Customer Review
Good product but the monitor instruction manual (not the owner's manual) is of a poor quality badly printed and totally incomprehensible.
Extras
With every purchase there is a free water bottle and water bottle holder.
Final Words
The Bodymax B2 Exercise Bike has a lot to offer and gives great value for money. With a good range of resistance, plenty of monitor functions and an overall solid design this bike comes highly recommended as a very good budget/mid range spin bike.
Last updated on August 11, 2020 5:21 am