Vibration Plate Reviews – All The Best Selling Models Reviewed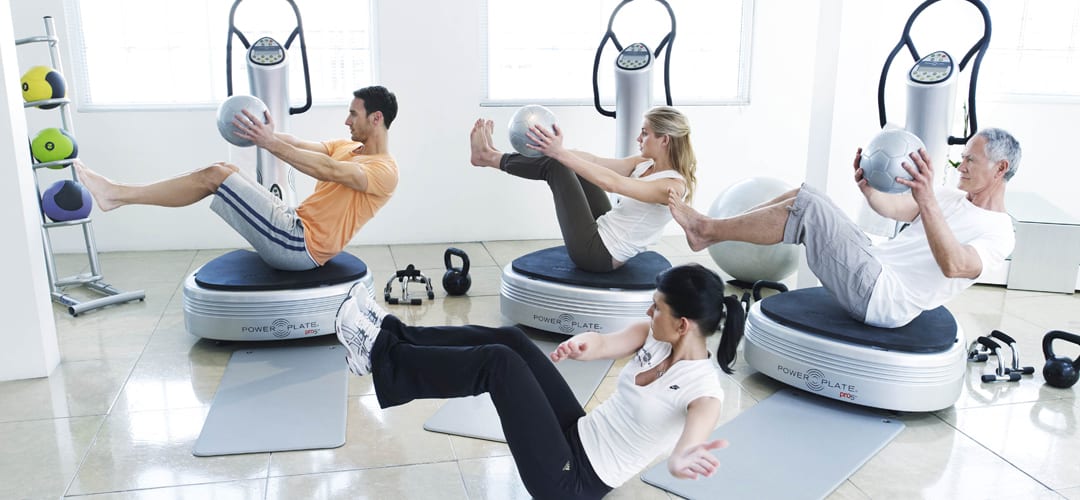 Vibration Plate Reviews 2019
Are you struggling to decide, which vibration plate is the best to spend your hard-earned money on? Does the overwhelming amount of different vibration machines and their many features stop you from making a purchasing decision? If the answer is yes to any of these questions don't panic. Our list of the very best vibration plate reviews is just what you need.
Here at Fitness Fighters we have tried, tested and reviewed many different vibration plates on the market today. This includes both oscillating and vertical plates. In our best vibro plate reviews we will be showing you what we and many customers consider to be the best vibration plates for home use.
For those that are looking for more information on buying a vibration plate such as the features and what to look for when buying check the link below.

Vibration Plate Facts
Studies show that using a vibration plate for six month can reduce cellulite by up to 25%
10 minutes on a vibration plate can achieve the same results as 60 minutes of regular exercise
Best Vibro Plate By Price
If there is a certain budget that you wish to stay within when buying a vibration plate the following list has all the best models we have reviewed and recommend by price. All the vibration plates featured are the bestselling models in their price range and have very positive customer feedback.
£100 – £200
CONFIDENCE FITNESS Vibration Plate Trainer
BLUEFIN FITNESS Crazy Fit Vibration Plate
£1000+
JTX Cyclo 10 Power Vibration Plate
---
Best Budget VibroPlate Reviews
With hundreds of different vibration machines on the market and a lot of them budget ones it can be hard finding the best one. In this section we have put together the best budget vibration plates that we have reviewed. All of these models are best sellers and come with excellent customer feedback.
---
Confidence Fitness Vibration Plate Trainer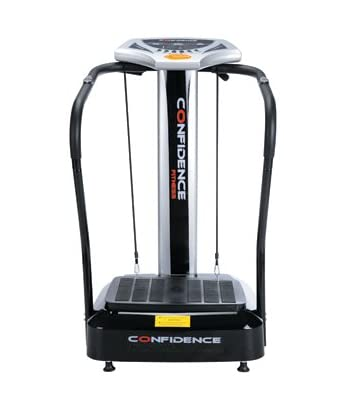 Confidence Fitness have managed to bring affordability and high quality together with this exercise vibration plate. Due to this model's popularity, excellent customer feedback and functionality it comes in at number 1 in our best budget vibration plate reviews.
Compact in design at the same time as leaving plenty of room for a good vibration workout, this is one of the best vibration plates for home use that money can buy.
With fifty speed settings, 10 preset programmes and adjustable space-saving handlebars this budget model has some good features for the price. For a cheap vibration plate there really isn't many other brands that can compete. The only negative thing we can think of is that when compared to the ZAAP TX 5000 it does look a little outdated.
Last updated on July 2, 2022 10:01 am
---
ZAAP-TX-5000 Vibro Plate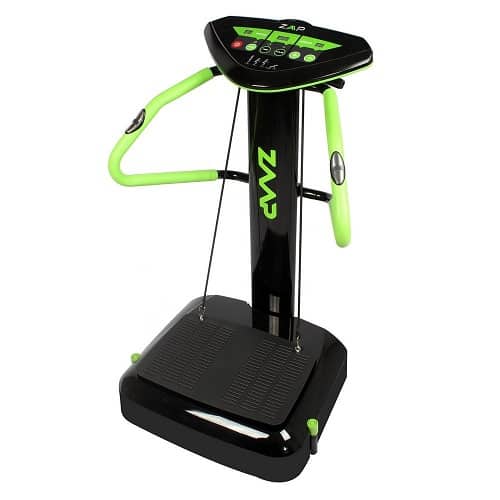 The ZAAP TX 5000 vibration plate trainer has made a big impact since its launch. With an ultra modern and sleek look, in comparison to other exercise plates in the same price range this one looks ahead of its time.
Quickly becoming a bestselling vibro plate hasn't taken long for the Zaap TX 5000. To date there are over 600 vibro plate reviews for this model on Amazon and a very impressive four and a half stars overall rating.
Does it give a good vibration workout ?
With a 600W motor and 50 speed settings the user will get a decent workout from this machine. However, and most noteworthy is that this model does only have 3 pre set programmes which isn't the most in this price range. If it is a wide variety of pre-set programmes that is needed then the Confidence Fitness Vibration Plate is an excellent choice with ten.  Furthermore there are some features that come with this model that you don't get with others such as the anti-jamming mechanism and anti static device which are both safety features. All in all a very good cheap vibration plate and ideal for beginners.
Last updated on July 2, 2022 10:01 am
---
Bluefin Fitness- Crazy Fit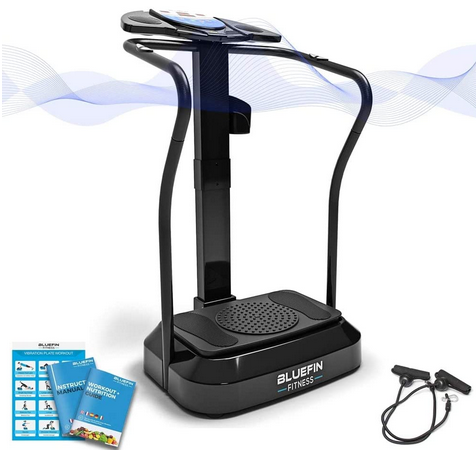 This Vibro plate has received a recent upgrade and is now even better than before. It now features a 2000W motor, 180 speed settings and built-in speakers.
READ OUR FULL REVIEW 
If a budget of £200 is your limit and you are wondering which vibration plate to buy, this is what you have been looking for.
For a little more than the price of the ZAAP TX 5000 you get a lot more for your money. There are a whopping 180 speed setting built into this machine and it has the safety features of the ZAAP 5000.
The most noteworthy feature is the 2000W motor which aside from been really powerful it is in addition silent. Consequently this is why there is built-in speakers in this model and quite loud they are too. The only downside to this plate is that again there are only 3 programmes. This is plenty for a beginner but more advanced users might prefer something more challenging.
£186.15
£219.00
in stock
3 new from £186.15
as of July 2, 2022 10:01 am
Last updated on July 2, 2022 10:01 am
---
High-End Vibro Plate Reviews 
If you have previously owned a vibration plate or are a beginner that is serious about using one for a long time, then you may want to consider investing in a gym style power plate.
The difference between a budget vibrating plate and a high-end model is considerable. The most notable difference is that this type of exercise plate is a tri-plane one and not oscillating. Tri plane power plates move in three directions opposed to the two of an oscillating machine. This basically gives the user a better workout in addition it is also more beneficial.
Another notable difference is the weight of power plates. These gym style power plates are very heavy and with that extra weight comes increased stability and sturdiness. The warranty offered for exercise machines of this price is considerably longer than with a budget one. Furthermore many brands offer free parts and labours for a good few years.
---
Power Plate MY3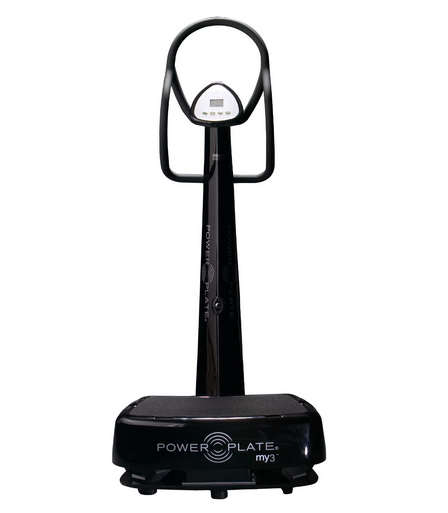 Power Plate is considered by many to be the best vibration plate brand and rightfully so. This brand makes only high quality gym specification vibro plates that leave many other brands shaking in their boots lol.
The Power Plate MY3 is one of the more affordable models and it would still take a chunk out of anyone's purse or wallet. But what you do get for your money is unbeatable quality in design and functionality.
Compact, space efficient and with 100 speed settings this is very well thought out exercise machine. There are two displays to change settings which is the norm with high-end models but still an excellent feature.
Overall this is an excellent piece of home gym equipment which is hard to match. in terms of quality and functionality the only thing that comes close is our next model.
Last updated on July 2, 2022 10:01 am
---
JTX Cyclo 10 Power Vibration Plate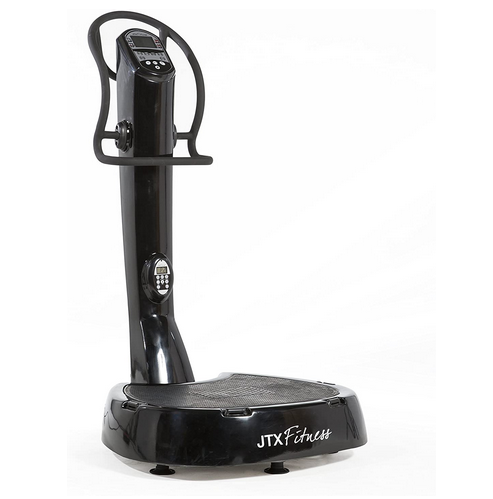 The JTX Pro 10 is a gym quality power plate designed with home use in mind. The ultra modern design in addition to its high quality construction make it the best-selling high-end vibration plate on the market today.
READ OUR FULL REVIEW
With this been a Tri-plane power plate the whole body workout it gives the user is of a higher intensity than a budget oscillating plate and therefore more beneficial.
This is a very sturdy and heavy power plate weighing in at 78 Kg which is more than twice as much as some cheaper models. There are two control displays on this machine. First of all there is the main big display at the top and for workout convenience, there is a smaller display that is built-in lower down. This saves the user from having to stand up to change a setting which is an excellent feature.
If you are an advanced user of vibration plates and looking for the best home vibration plate for a gym quality vibration workout then you have just seen it.
Last updated on July 2, 2022 10:01 am
---
How To Use A Vibration Plate
In this video the correct way to use a power plate is explained. If power plates are new to you then this is well worth a watch. One of the most important things to remember when using a power plate is that to get the most from them correct posture is of the utmost importance. Many vibrating machine brands give free DVD's and exercise posters to demonstrate the correct way to use a vibro plate.
Final Words 
In our vibration plate reviews we have brought you some of the best models that are available to buy today. all the models featured are some of the best sellers out there and all have excellent customer feedback on Amazon.
Last updated on July 2, 2022 10:01 am