Best Rowing Machines Under £500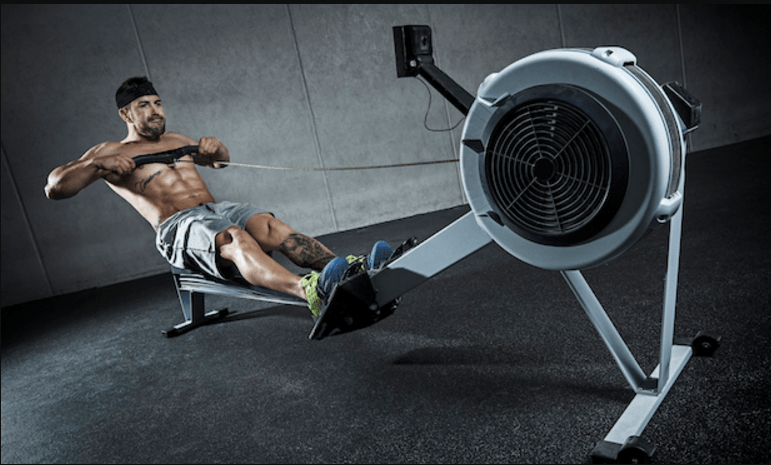 The Best Rowing Machines Under £500
There are literally hundreds of different rowing machines available to buy. Due to this it can be hard to choose the right one first time around. In addition not all of the rowing machines available provide great value for money or are made by a reputable brand. In this article we will be highlighting the very best rowing machine under £500 that UK customers can buy.
<< Rowing Machine Reviews – All The Best Sellers >>
All of the models featured are among the bestsellers on Amazon and have very positive reviews from verified buyer's.
Best Rowing Machine Under £500
All of the rowing machines in this article are between £350 and £500. When spending between this amount on a rower machine, the user should expect a good level of functions/readouts and a decent amount of exercise programmes. The sturdiness of a model at this price will be nothing to worry about as they are all very well-built. Below is a list of all the models featured and a quick link to more reviews and latest prices.
Bodymax Oxbridge HR Air Rowing Machine
York Excel 310 Rower Rowing Machine
Hammer COBRA XT Folding Rowing Machine
---
Bodymax Oxbridge HR Air Rowing Machine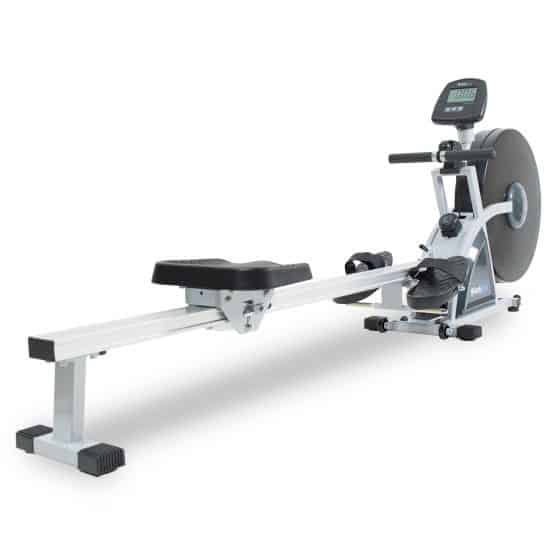 With four stars on Amazon and overall generally positive feedback the Bodymax Air Rower provides great value for money. When compared to other air rowers of a similar price this model has a lot to offer.
So let's take a look! 
There are eight levels of air resistance to  this rowing machine and although there are more expensive machines with a higher resistance, for the money this model gives a good workout.
The LCD screen shows the user's speed, time, calories and pulse. In addition there is also the option of using a wireless heart rate chest strap for pulse measurements. The only downside to the LCD screen is that there is no distance readout.
One thing that gets mentioned by multiple customer reviews is how sturdy this rower is. Weighing 38Kg goes a long way to providing a stable and sturdy rower. Furthermore the Bodymax Air Rower is also recommended for its smooth ride.
There is a maximum user weight of 115Kg. With transport wheels for easy movement and a folding seat rail for storage this is a good compact machine ideal for home use.
In the lower end of the mid price range this rower is great value for money. The user will get a good workout and a sturdy well-built rowing machine.
Last updated on July 2, 2022 10:02 am
---
York Excel 310 Rowing Machine
York Fitness are a very reputable brand that has been making high quality home gym equipment for a long time. The York Excel 310 Rowing Machine is a prime example of the brands quality and value for money.
So let's take a look!
First of all there are 16 levels of magnetic resistance with this rower. Reviews state how the resistance is hard at the top end and that a hard workout is guaranteed.
The 5.75″ LCD console shows key workout information including workout time, speed, distance, RPM, stroke count and calories. Most noteworthy is that this model shows distance unlike the previous one. The monitor is nice and big as well as been simple to use and easy to navigate.
There are 16 exercise programmes built into the LCD which provides for a varied workout. A wireless chest strap option for pulse measurement is also available.
To ride this rowing machine is a comfortable experience. The seat is quite big but also thickly padded which means a longer workout is more likely.
Sturdy, robust and quiet to use due to the magnetic resistance, this is one of the best rowing machines in the mid price bracket. With four stars on Amazon and excellent customer feedback this is a serious contender for those looking for a good home rowing machine.
Last updated on July 2, 2022 10:02 am
---
Hammer COBRA XT Folding Rowing Machine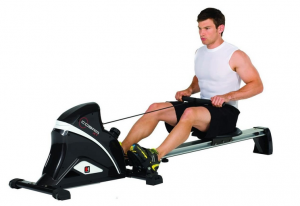 The Cobra XT folding rowing machine is made by the German brand Hammer. As with most things German engineered the quality and durability of this rower is top-notch.
Most rowing machines are made to the CE standard. The Hammer Cobra surpasses this and is TUV certified which is a higher standard than is required.
So let's take a look!  
Built in to this rower is a 5Kg flywheel and 10 levels of resistance. The resistance offered at the top end is more than adequate for a solid rowing workout. In addition the ride is smooth as can be and noise levels are at a minimum.
The LCD screen shows all the necessary readouts to track progression these are time, distance, calories and pulse. Furthermore as with all the best rowing machines there is a wireless pulse receiver. This is not included and has to be bought separately.
When in use this rowing machine feels very sturdy and comfortable to use there is none of the movement associated with budget rowing machines.
This is a folding treadmill and does have wheels attached for easy movement and storage.
To sum up this is a very well-built rowing machine with very positive reviews on Amazon. In addition there is a 2 year warranty included with the purchase. If it's a rowing machine that's built to last and has very good customer feedback that you are after then this may well be the one.
Last updated on July 2, 2022 10:02 am
---
JTX Freedom Air Rower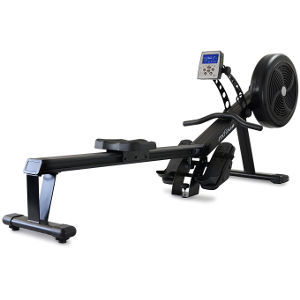 The JTX Freedom Air Rower features heavily in many reviews of the best rowing machines. The reason for this is because it is one of the very best if not the best in the £200 to £500 price bracket.
So let's take a look!
First of all this rowing machine uses a combination of air and electromagnetic resistance. This combination works well in providing a smooth and quiet workout.
This rower offers sixteen levels of resistance and if customer reviews are anything to go off the top end is of gym quality.
Most notable is the LCD screen on this rower. The amount of workout information it shows is the most that can be found in a rowing machine under 500 pounds. The readouts given are speed, distance, stroke, 500m split time, revolutions, time, torque, strokes/minute and finally pulse. Another positive is that a free chest strap comes with every purchase for accurate heart rate monitoring. Furthermore the chest strap can be used with the built-in heart rate exercise programmes. These exercise programmes are proven to provide the most effective workout.
Due to this been one of the best rowing machines available it is of course very sturdy when in use. The reinforced aluminium frame gives a stable rowing experience for users up to 130kg.
Overall this is a very versatile rowing machine with multiple functions and programmes. With four and a half stars on Amazon and glowing reviews the JTX Freedom Air Rower is the best rowing machine under £500.
£495.00
in stock
as of July 2, 2022 10:02 am
Last updated on July 2, 2022 10:02 am
---
Final Words
When buying the best rowing machine under £500 you should always take into consideration what it is you expect to get from that rowing machine. If it's something for moderate use then the best option would probably be a budget rower. However, if you are looking for something to use daily and gradually improve fitness levels, then all of the models featured in this article are fit for that purpose. Finally if you are still having trouble choosing a rowing machine be sure to check out our buyer's guide. The link is below and it includes everything needed to be known before buying a rowing machine. In addition there are also some of the best rowing machines UK customers can buy included, enjoy.
<< Rowing Machine Buyer's Guide >> 
Last updated on July 2, 2022 10:02 am